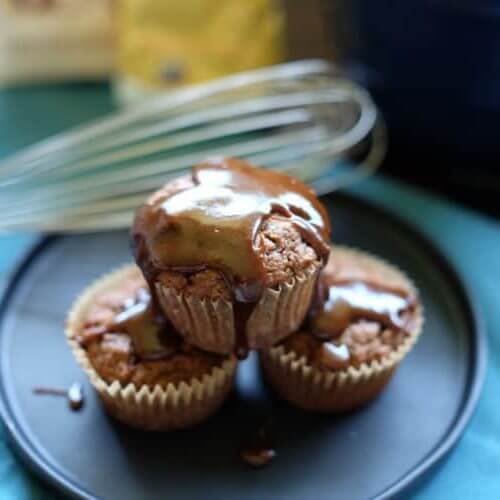 PALEO BANANA CARAMEL MUFFINS
Print Recipe
Preheat your oven to 350 degrees and line a muffin tin with silicone or paper liners.

In a large mixing bowl, whisk the eggs and coconut sugar together.

Add the vanilla and coconut oil or grassfed butter and mix until smooth.

Stir in the mashed bananas until ingredients are combined.

In a smaller mixing bowl, combine all of the dry ingredients.

Slowly pour the dry ingredients into the bowl of wet ingredients and continue mixing until all of the ingredients are combined and mostly smooth.

Pour the batter into the lined muffin tin so each muffin is about 2/3 full.

Bake the muffins in the oven for 20 minutes. A toothpick will come out clean when they're ready.

While the muffins are baking, make your caramel sauce.

In a small sauce pan or skillet heat the coconut sugar and coconut milk over medium heat, stir until a silky caramel forms.

Let the caramel simmer over low heat until the muffins are done.

When the muffins are done remove from the oven and let cool for a few minutes.

Drizzle your topping over the muffins and serve.