Do you ever find yourself looking for just a quick little pick me up? Sometimes I just need a little bite of something to hold me over to the next meal, or to re-energize in the afternoon. These no-bake cinnamon raisin n'oatmeal bites are the perfect bite!
No Bake
These delicious little bites require zero baking and they are also egg-free, so there's no worry about eating them raw. They are super simple to throw together. All you do is toss everything in a mixing bowl and stir it up. Roll the dough into balls and refrigerate. Done and done!
No Oatmeal
While these cinnamon raising n'oatmeal bites have a similar flavor and texture of cinnamon raisin oatmeal cookies, they actually have no oatmeal in them. Instead, shredded coconut is used to help emulate the texture of oatmeal cookies. They are super tasty, without tasting like coconut, too!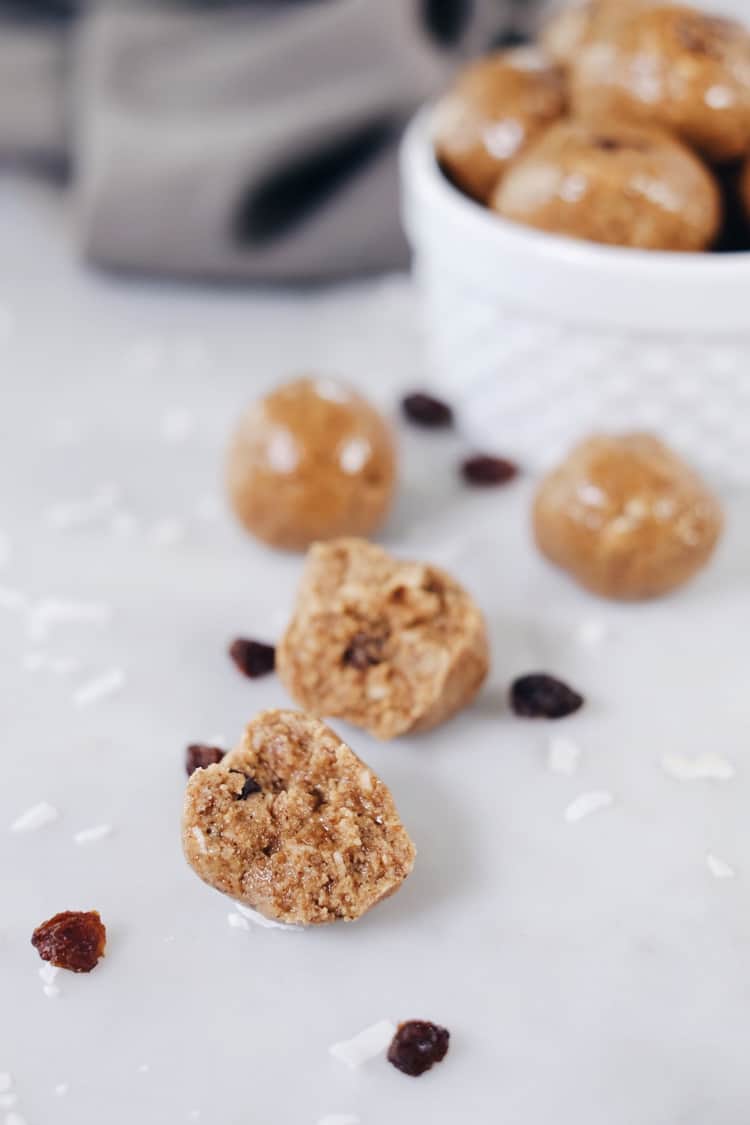 Grab + Go
Since these cinnamon raisin n'oatmeal bites are single serving, they are great for making ahead to have on hand. Storing them in the fridge keeps them out of sight, so you are less likely to overindulge, too! Take a couple with you as you head out the door on a busy day, or reach for one in the fridge in the afternoon. Either way, they are the perfect bite-sized snack or treat.
Your Turn To Try Our Cinnamon Raisin N'Oatmeal Bites
Make a batch of these no-bake cinnamon raisin n'oatmeal bites to have on hand for a healthy snack or treat! They're the perfect late morning or afternoon pick me up! Let us know how it goes by leaving a comment below. Also, take a photo and tag us on Instagram @realsimplegood, so we can check it out!

---
Instructions
Place all of the ingredients in a mixing bowl, and use a fork or your hands to mix and combine everything. Roll the mixture into tablespoon sized balls. Store in an airtight container in the fridge.

NOTE: If your almond butter is fresh out of a new jar and a little oily, you may want to refrigerate for 30 minutes or so before rolling into balls to let the dough firm up a bit.
Calories: 118kcal, Carbohydrates: 7g, Protein: 3g, Fat: 9g, Saturated Fat: 1g, Sodium: 2mg, Potassium: 113mg, Fiber: 2g, Sugar: 2g, Vitamin C: 0.2mg, Calcium: 51mg, Iron: 0.7mg