What readers are saying about this recipe
I have made this multiple times and LOVE ❤️ it. The flavors are amazing! Thank you for the great addition to our "go to" recipes.

Jen
This recipe is a reader favorite, with over 400+ ratings! Browse more reader comments below.
5 reasons you'll love this healthy ground beef recipe
Quick prep + cook – It's seriously the best healthy weeknight meal. Prep a few ingredients and cook them up with the ground beef, that's it!
So versatile – Keep it simple and serve with with rice or cauliflower rice. It also goes well with just about any veggies, check out the comments below to see what other people are serving with this Korean ground beef.
Family friendly – This is a meal even picky eaters will love. It's also a hit with the kiddos!
Great for meal prep – Double the recipe to make a big batch for meal prep or to freeze for later.
That spicy sauce – The 2-ingredient spicy mayo sauce is optional, but highly recommended. It's just the right mix of creamy and spicy with the beef.
Looking for more? Here are all of our quick + easy recipes!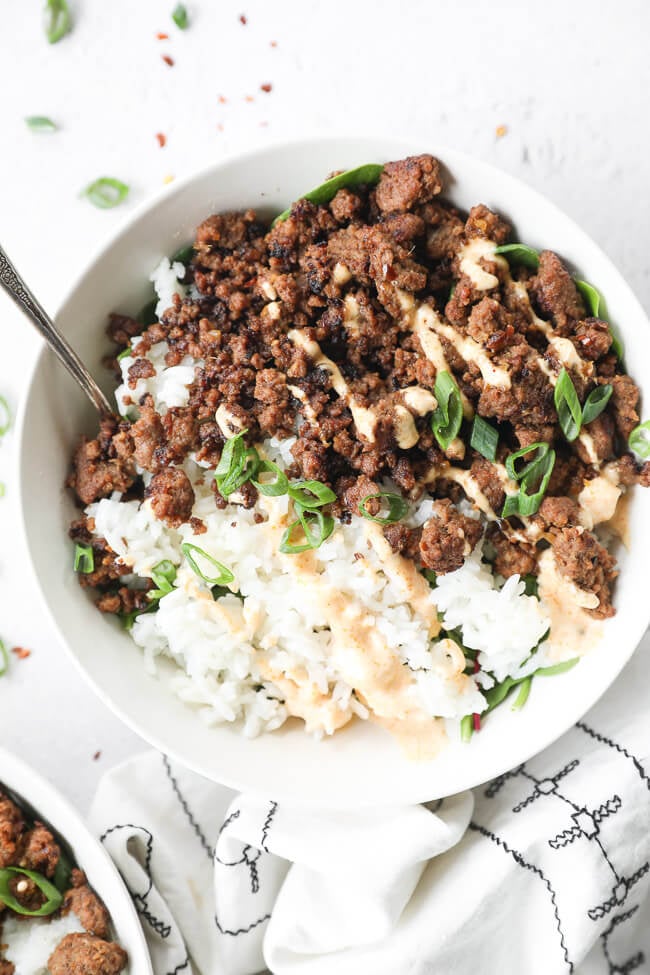 Ingredient notes
Coconut aminos – Gives the beef that sweet-salty flavor, similar to soy sauce. These are NOT liquid aminos, which are much saltier. If using liquid aminos you should cut the amount in half. See the recipe card notes.
Fish sauce – Adds more salty, umami flavor (and doesn't taste "fishy"). You can omit this if desired and replace with a little coconut aminos and/or a pinch of salt to taste.
Serving – There are tons of healthy serving options in addition to what's listed in the recipe. Use whatever you have on hand for rice or veggies.
Toppings – We love healthy sauces and toppings. Some good options here are fresh green onions, red pepper flakes, avocado – whatever you want!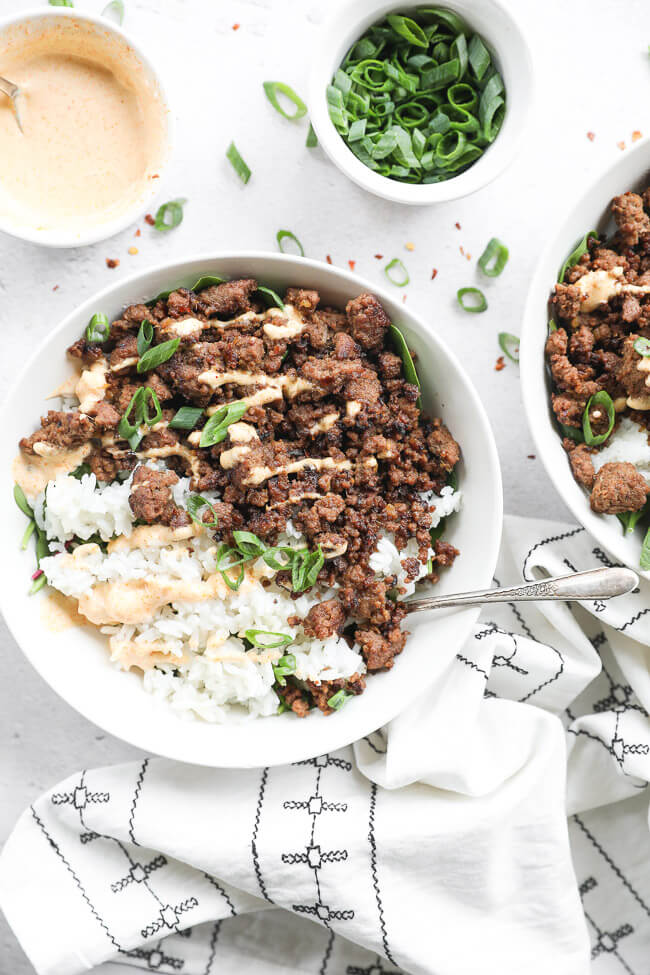 Tips from an expert home chef
Follow these instructions to cook cauliflower rice perfectly every time (it's delicious mixed up with the beef and sauce for this recipe).
Cook the beef in the sauce at the end until the sauce caramelizes the beef bits. Medium-high heat is needed to get those delicious, crispy bits.
For a different take on this recipe, try it with ground chicken, turkey or pork – they'll all work!
The red pepper flakes and spicy mayo can be left out if you don't want any heat with this dish.
More Quick + Easy Bowls To Try
We hope you love this recipe as much as we do!
Don't forget to leave a quick star rating and review below, we read every comment and truly appreciate your feedback. Also, be sure to browse the rest of our delicious, healthy recipes to find some other favorites too!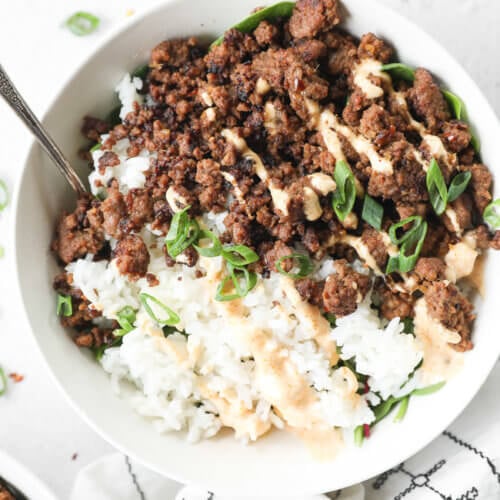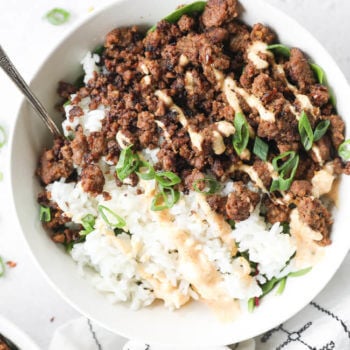 Get the Recipe:
Healthy 20-Minute Korean Beef Bowl
This delicious Korean beef bowl is ready in around 20 minutes and is a family-friendly meal. Made with ground beef, serve it with either white rice or cauliflower rice for a fast gluten-free dinner, and the leftovers make great lunches too!
Ingredients
1 shallot, diced
2 inches fresh ginger, peeled and grated on a microplane
1 tablespoon toasted sesame oil
2 pounds ground beef, (see notes)
1 teaspoon red pepper flakes
1 teaspoon garlic powder
1 teaspoon onion powder
1/2 cup coconut aminos, (see notes)
2 tbsp fish sauce, (see notes)
4 cups cauliflower rice, (can sub white rice if you're not doing Whole30)
6 cups greens of choice, (chopped romaine, arugula, spinach, etc.)
Optional sauce:
1/4 cup mayo
1 tbsp hot sauce, (adjust to taste)
Optional toppings:
chopped green onions
sliced avocado
Instructions
Start by preparing rice to have it ready. If serving with cauliflower rice, wait until the beef is almost done as it only takes a few minutes to cook.

Dice shallot and grate ginger to have it ready.

Heat a large skillet over medium-high heat and add sesame oil. Once hot, add in ground beef. Break the beef up into small bits.

Add the shallot, ginger, red pepper, garlic powder, and onion powder and mix with the beef. Continue cooking, stirring occasionally, until the meat is browned and developing some crispy bits, about 8 minutes.

Add the coconut aminos and fish sauce and cook for another 3-4 minutes.

If you are making the optional sauce, mix the mayo and hot sauce in a small bowl.

Serve beef in a bowl over a bed of greens with rice or cauliflower rice. Top with optional sauce and enjoy.
Notes
The recipe can also be made with ground pork, chicken or turkey.
The coconut aminos linked to in the recipe are the aminos we use (Coconut Secret coconut aminos). Braggs brand aminos are NOT the same thing. Braggs liquid aminos are a soy-based and much saltier than coconut aminos. If you use Braggs aminos, we suggest using only 1-2 tbsp to start and adjusting to taste. You can also omit the salt from the recipe.
As an alternative to coconut aminos, you can make your own using our DIY coconut aminos substitute recipe. 
If you wish to omit the fish sauce, you can replace it with more coconut aminos. Since fish sauce is salty, you may need to add more salt to suit your taste.