Why you'll love this one pot chicken and rice recipe
It only takes 6 main ingredients plus a simple seasoning mix to make a delicious one pan dinner in your dutch oven!
The juicy chicken thighs combine with a rice and vegetable medley to make an easy and healthy weeknight dinner.
There's only about 15 minutes of prep and active cooking time, the rest is hands off while the dish bakes in the oven.
It makes a big batch so you can prep it once and enjoy the leftovers for lunch or dinner later in the week!
Related ->> Check out this one pan Deconstructed Stuffed Peppers recipe!
How to make dutch oven chicken and rice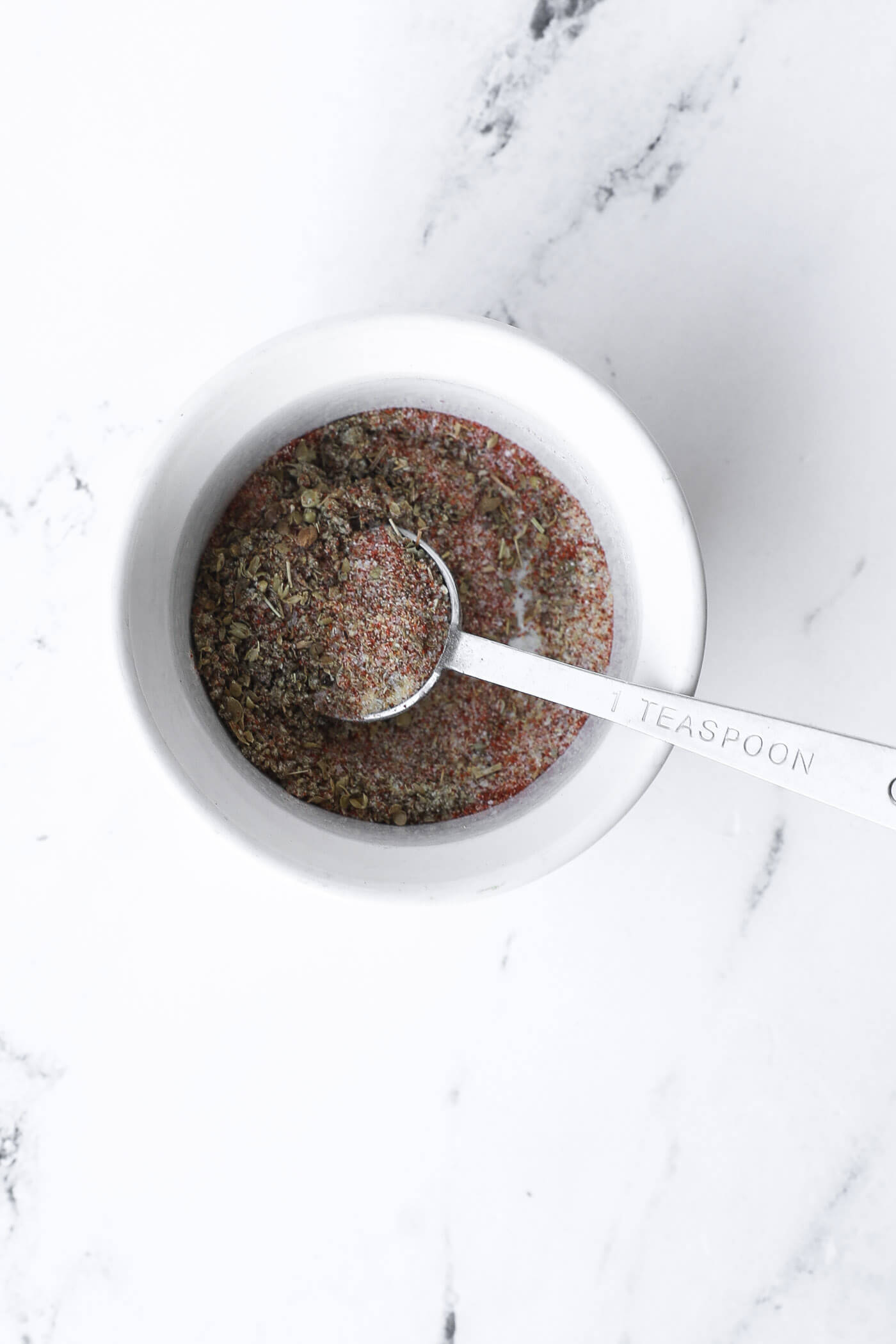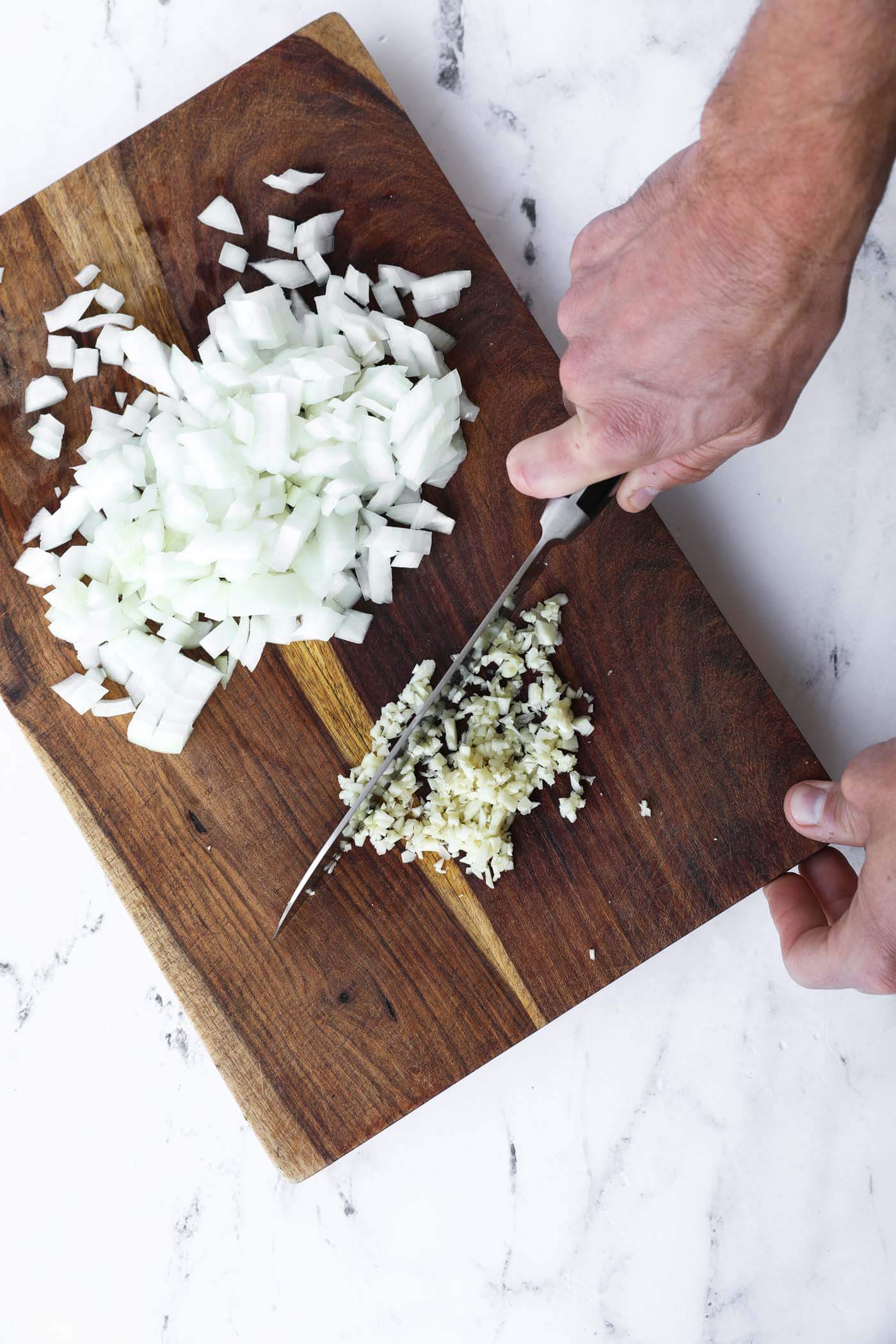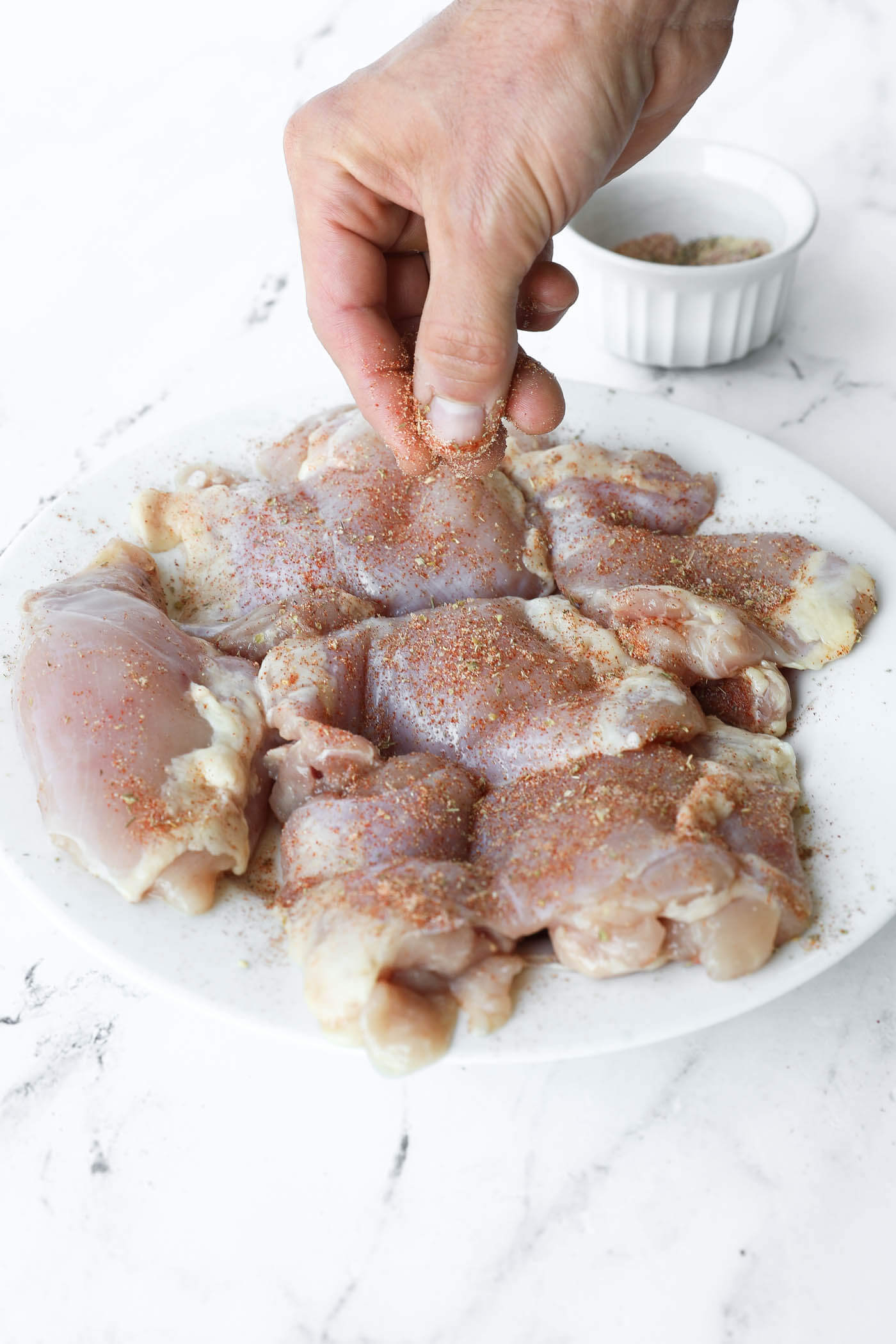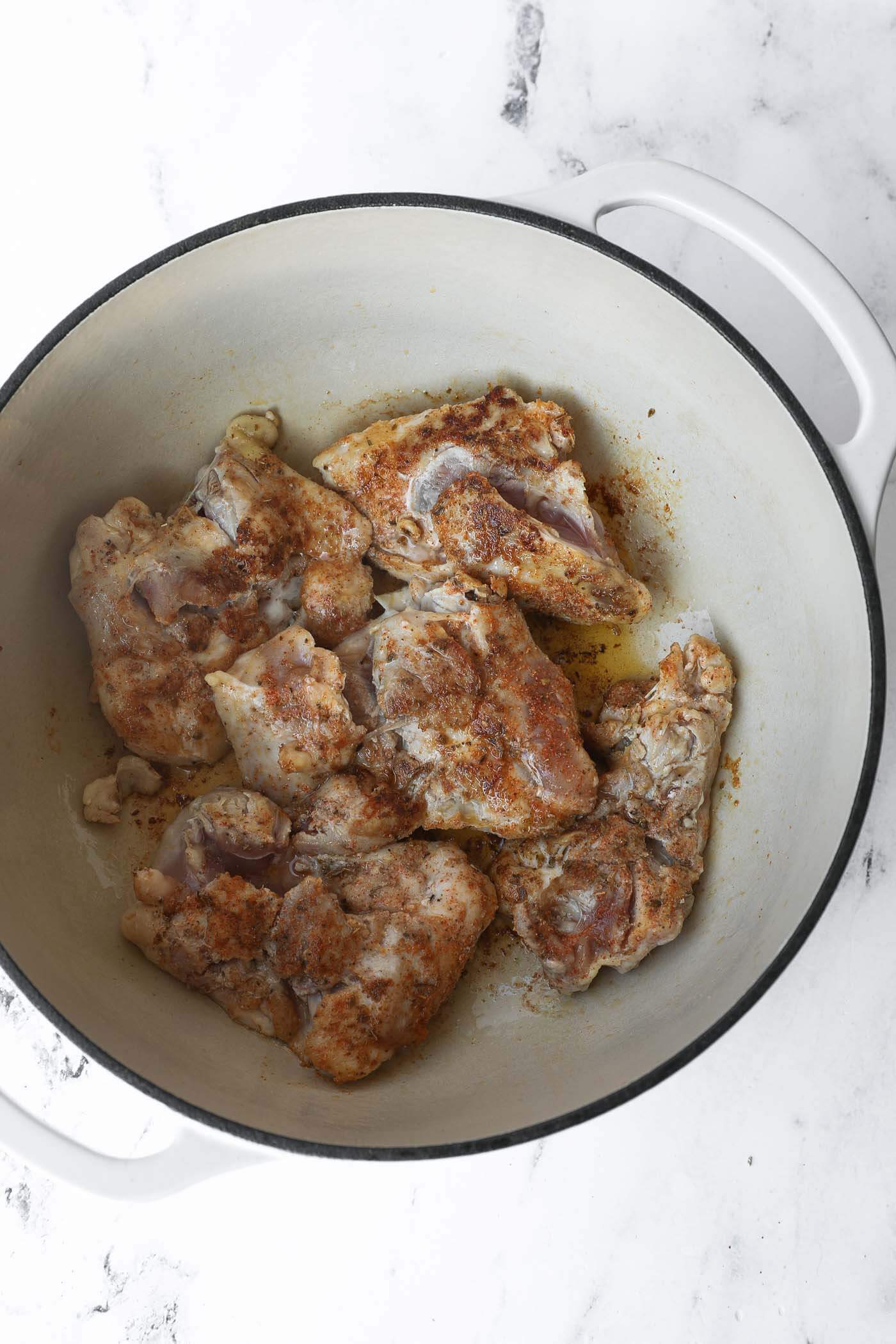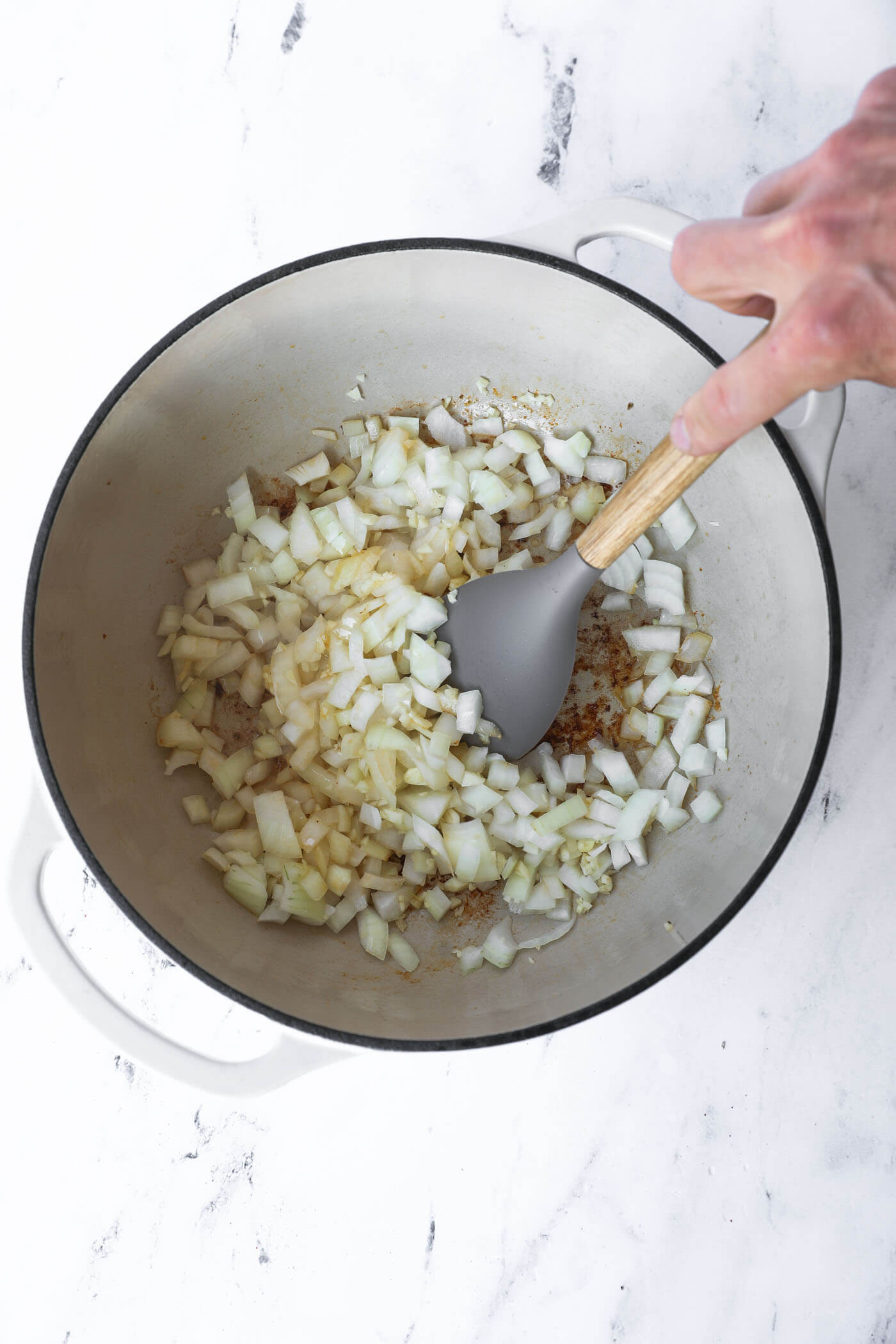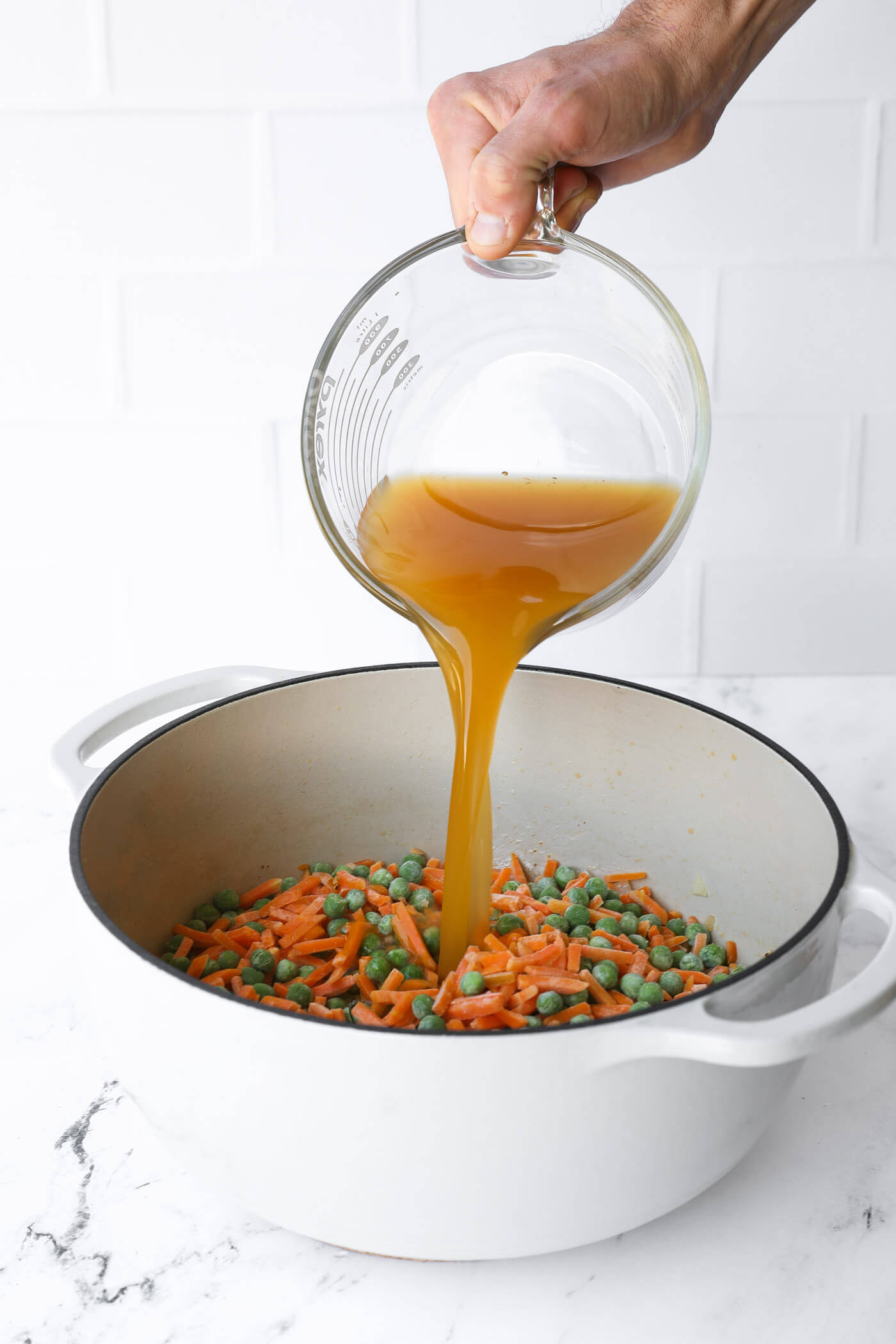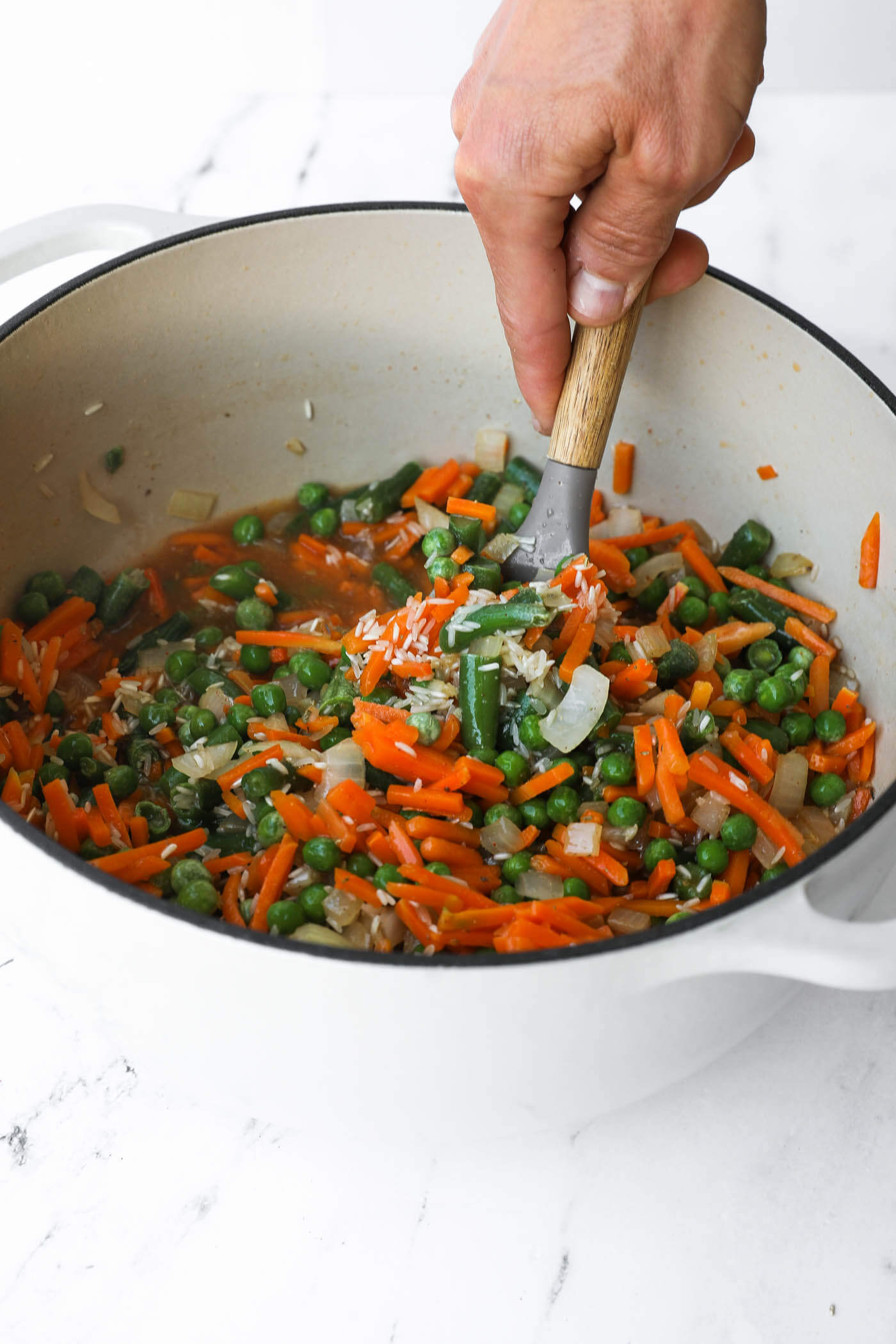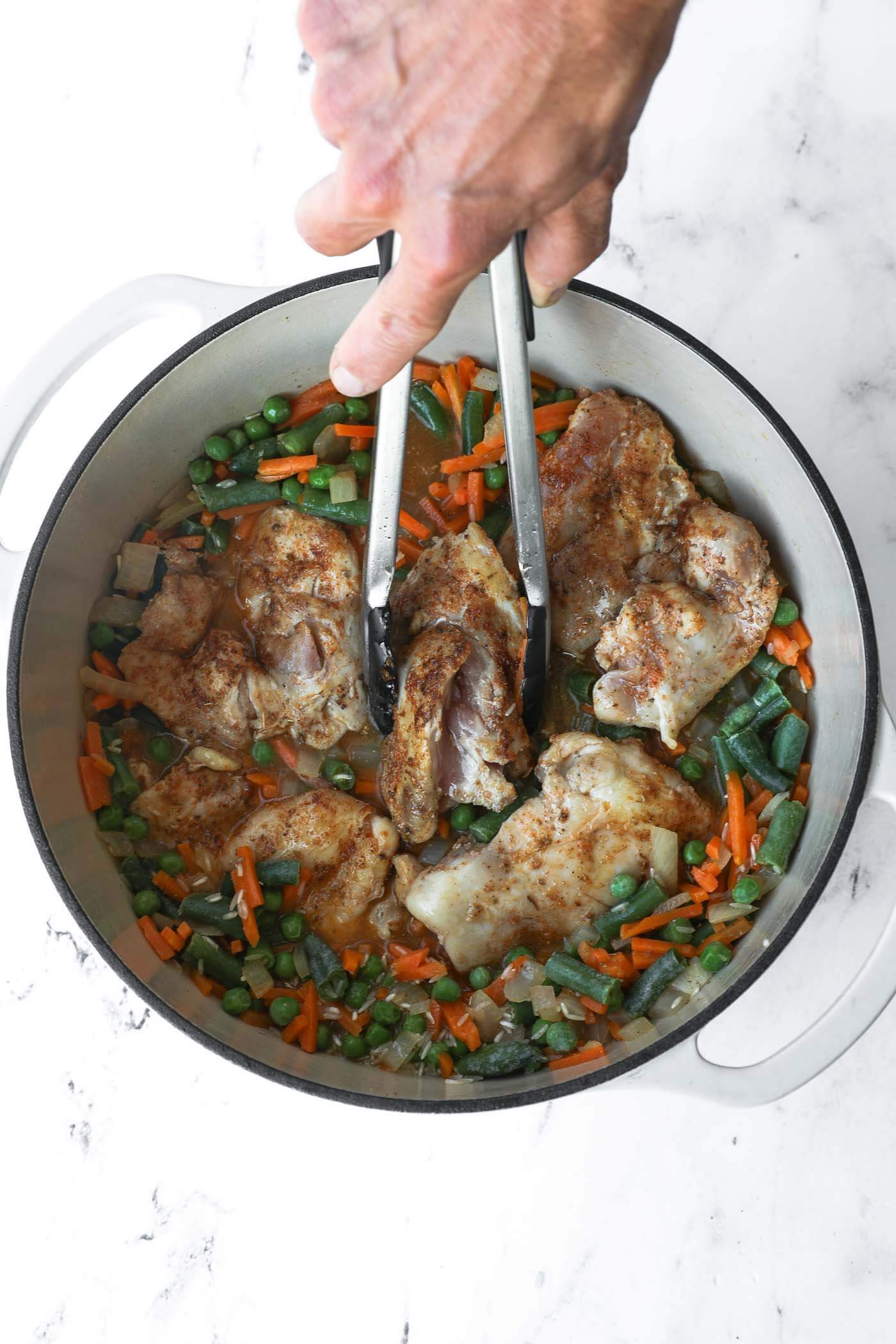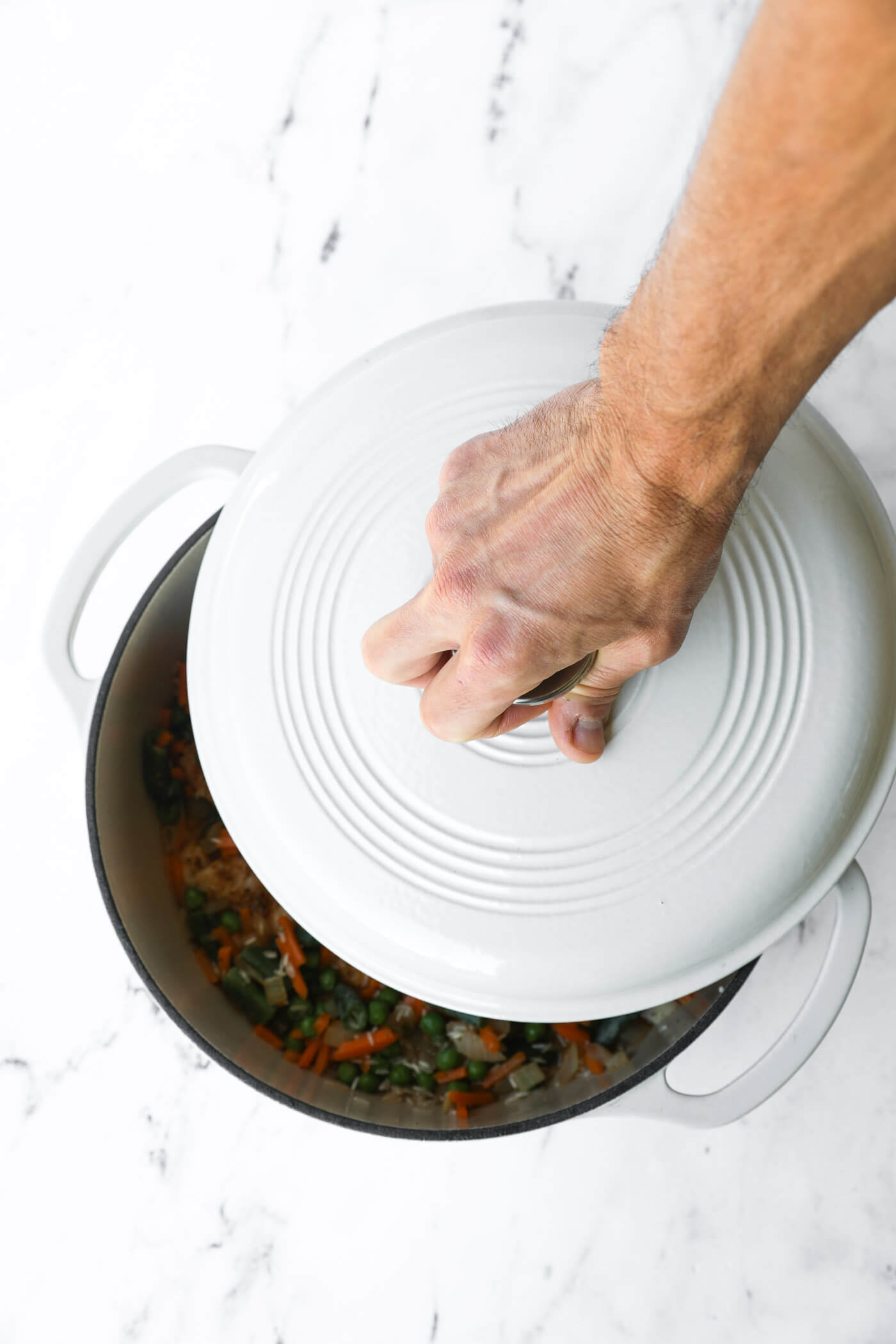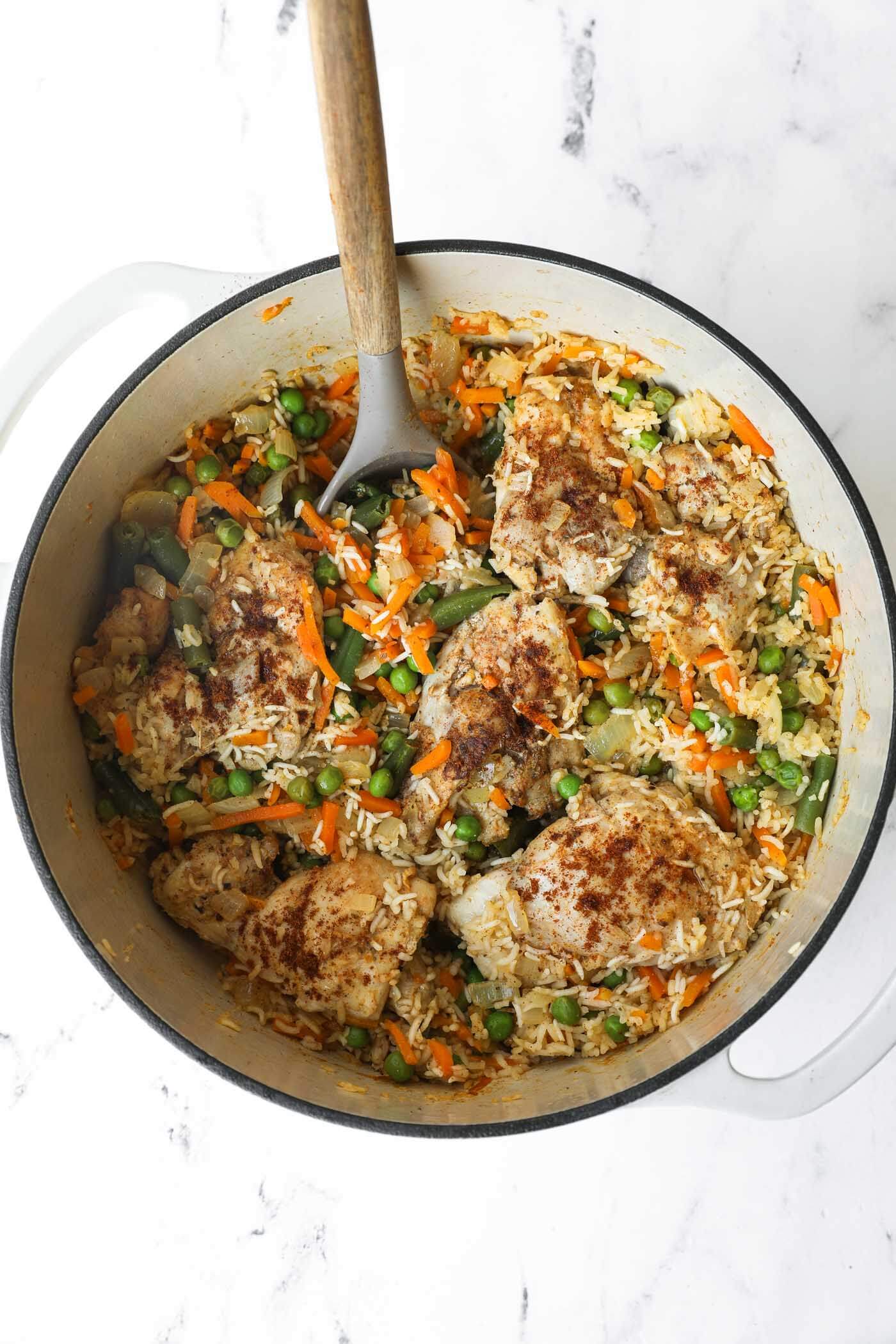 Ingredient notes
Chicken thighs – Chicken thighs are best for this recipe, as they will stay nice and juicy with tons of flavor. If you substitute chicken breasts, increase the cooking time in step 5 to 3-5 minutes per side and ensure the breasts reach an internal temp of 165° degrees after baking in the oven.
Frozen vegetables – You can use any frozen veggies you choose for this recipe. I like a mix of peas and carrots plus some green beans. Other good options are broccoli, snap peas and bell peppers.
Seasoning mix – Included in the recipe is a delicious chicken seasoning mix. You can use any seasoning blend you like for chicken if desired.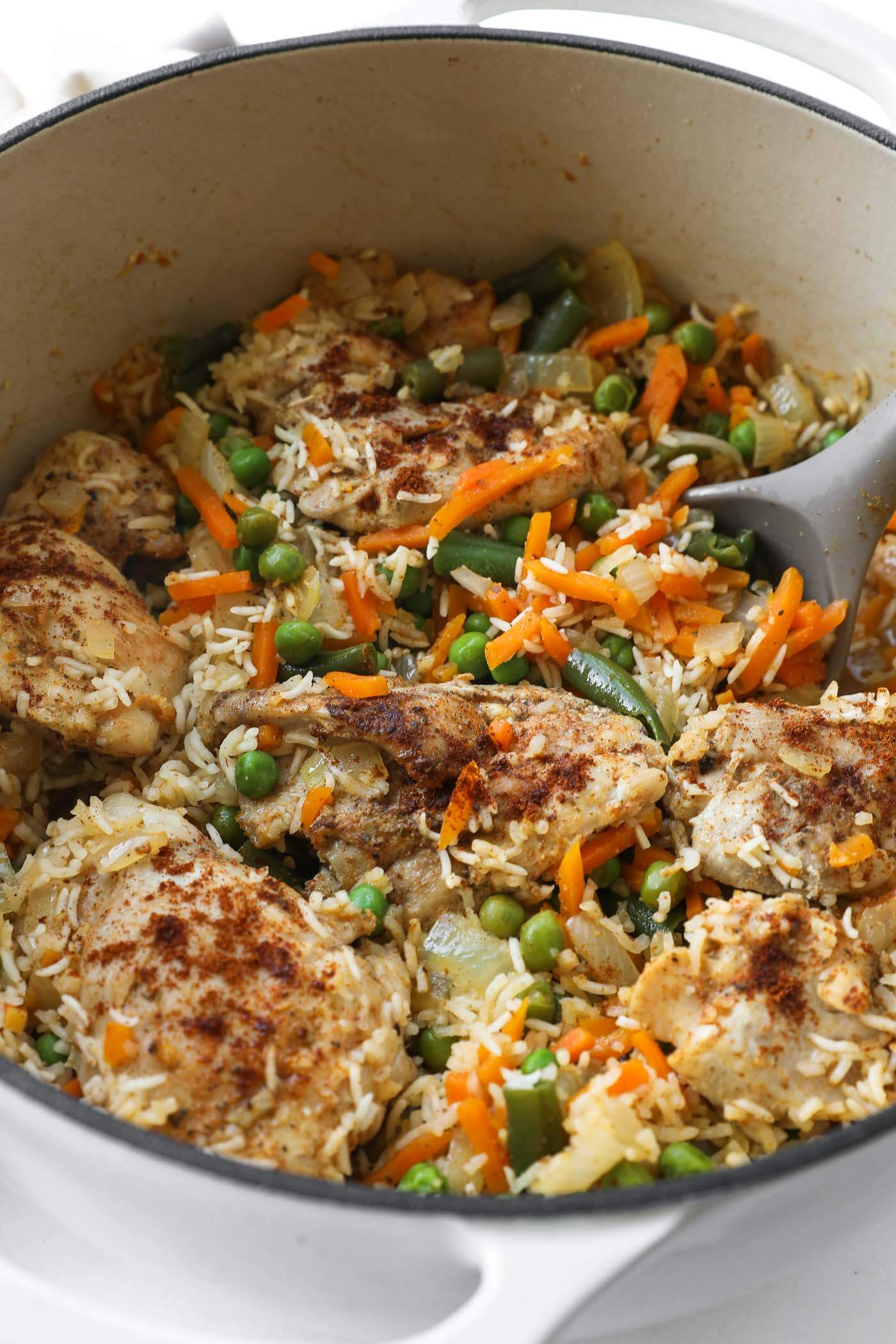 Tips from an expert home chef
Rice cooking times may vary. Brown rice will take longer to cook so that is why the recipe calls for white rice. Check the rice after 30-40 minutes and if it is still hard continue cooking until soft.
Other grains like quinoa or millet can be used instead of rice but they may require a different cooking time.
Although this is a dutch oven recipe, a large oven-safe skillet with a lid will work as well.
If you don't want to bake this in the oven, it can be made entirely on the stovetop. In step 8, instead of transferring the covered pan to the oven, turn the stovetop heat down to low and simmer for the recommended cooking time.
We hope you love this recipe as much as we do!
Don't forget to leave a quick star rating and review below, we read every comment and truly appreciate your feedback. Also, be sure to browse the rest of our delicious, healthy recipes to find some other favorites too!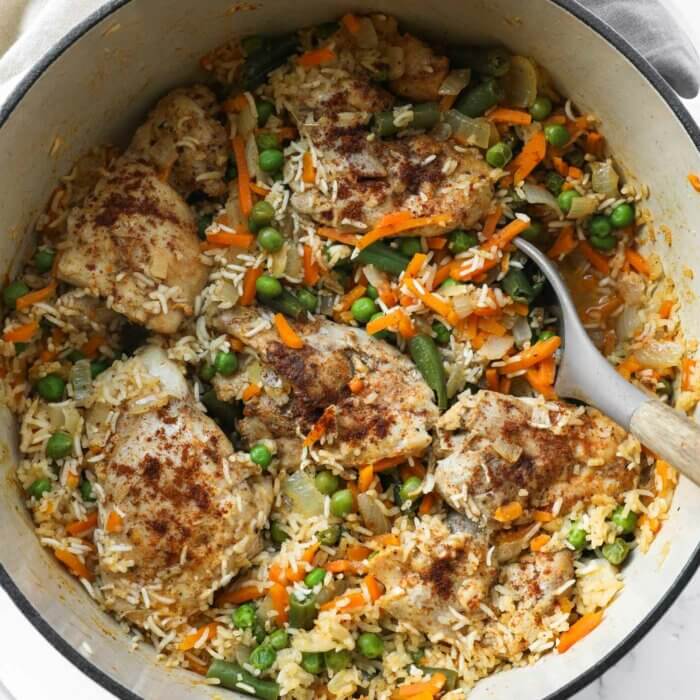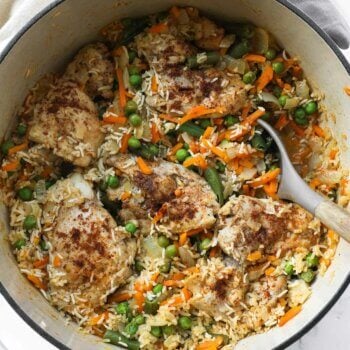 Get the Recipe:
6-Ingredient (One-Pot!) Dutch Oven Chicken Thighs and Rice
Juicy, perfectly seasoned chicken thighs combine with rice and veggies in this easy one-pan dutch oven chicken and rice recipe. Only 15-minutes of prep and active cooking time make for an easy and healthy weeknight dinner.
Ingredients
2 lbs Boneless skinless chicken thighs
3 tbsp avocado oil, (divided)
1 cup uncooked white rice
2 cups chicken broth, (or vegetable broth)
1 onion, diced
3 cloves garlic, minced
16 oz frozen mixed vegetables
For the seasoning mix:
1 tsp garlic powder
1 tsp onion powder
1 tsp smoked paprika
1 tsp ground sage
1 tsp oregano
1 tsp sea salt
Instructions
Adjust oven racks to accommodate your dutch oven if needed. Preheat oven to 400° Fahrenheit.

Make the seasoning mix by combining the spices in a bowl and mixing well.

Prep the garlic and onion as noted.

Season the chicken on both sides with 1/2 of the seasoning mix (3 tsp), reserving the rest for later.

Heat a dutch oven over medium heat and add in the avocado oil. Once the oil is shimmering, add in the chicken to sear for 2 minutes per side. Remove and place on a plate.

Add in more avocado oil to the dutch oven and the onion and garlic. Cook, stirring frequently, for 2-3 minutes.

Add the rice and broth to the pan. Dump in the frozen vegetables and the rest of the seasoning mix. Stir to mix. Make sure the rice is mixed in with the liquid.

Place the chicken on top of the rice and close the lid. Place in the preheated oven to bake for 40-45 minutes, or until the rice is fully cooked.

Carefully remove the dutch oven from the oven. Serve and enjoy.