This is a simple and delicious whole roasted chicken recipe using herb butter. Cooking a whole roasted chicken is really easy and you don't need a ton of cooking experience to make this classic herb roasted chicken dish. Just a little time and a few simple ingredients is all it takes.
If you guys haven't ever made or used herb butter, it's really simple and one of the easiest ways to add a ton of flavor to cooked meat – especially steak and chicken. All you have to do is pick (or buy) a bunch of fresh herbs, chop them up and mix with some room temperature butter. For this recipe we made up a quick batch of our herb and garlic compound butter to flavor the chicken.
The trick this recipe uses to get the extra buttery flavor is to put the herb butter under the skin, so it melts perfectly and flavors every bit of the chicken. You just have to cut into the skin a little around the chicken in a few places to create some holes to stuff the butter in. Then, just mix up your herb butter, stuff it into the little pockets under the chicken skin and bake it for and hour and a half.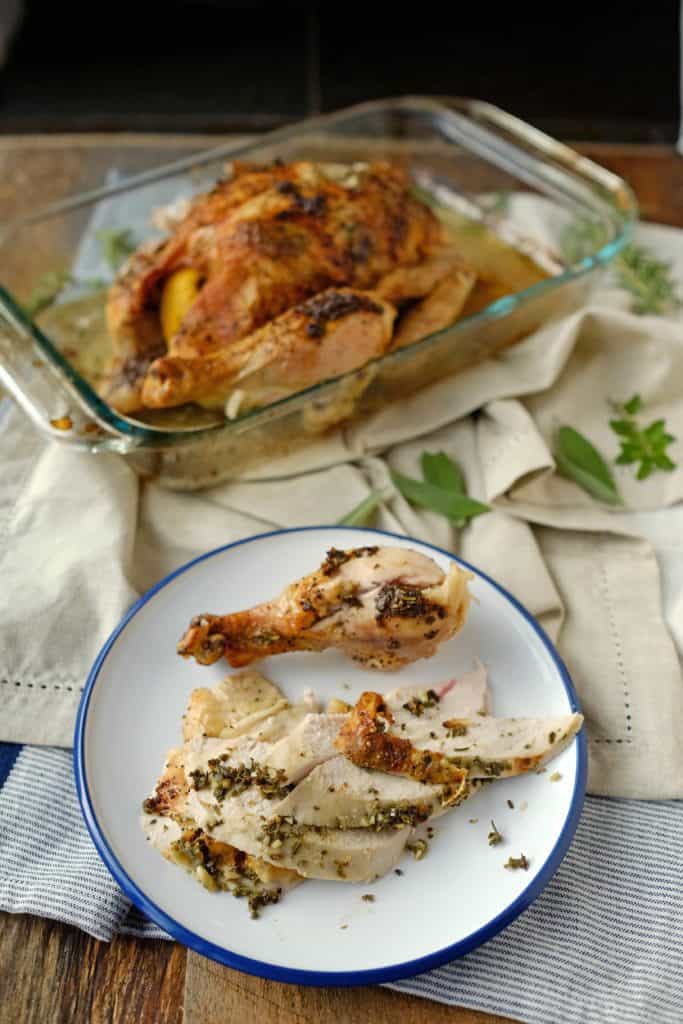 As you can see, this herb roasted chicken is a thing of beauty. It's cooked perfectly with a crispy, golden brown skin and packed with flavor from the fresh herbs and butter. The chicken is tender and juicy and drips all kinds of succulent juices when carve it up and bite into it.
If you didn't know already, this recipe will show you that cooking with butter just makes everything taste better.
If you try this recipe, we'd love to hear what you think about it. Leave a comment and rating below and don't forget to take a picture and tag us on Instagram @realsimplegood so we can find it!
---
Get the Recipe:
Herb Roasted Chicken
Ingredients
1 organic whole fryer chicken, (5-6 lbs)
1 tbsp salt
1 tbsp pepper
1 lemon
For the herb butter:
8 tbsp grass fed butter, - room temperature (if you use Kerrygold, this is half the package but equivalent to a normal stick of butter) (or sub coconut oil for dairy free)
2 tbsp sage, - diced
2 tbsp rosemary, - diced
2 tbsp chives, - diced
2 tbsp oregano, - diced
4 cloves of garlic, - minced
Instructions
Preheat oven to 350 degrees.

Chop the herbs and garlic up into fine pieces and mix together in a bowl.

Add the butter and mix everything together with your hands. You can try using a fork or other instrument but nothing really works better to mix it with than your hands.

Next, place the chicken in a baking dish.

Using a sharp knife, slice several small holes in the chicken skin on each side of the chicken. I did 4 holes each on the breast and back and one on each drumstick.

Next, stuff pieces of the butter under the chicken skin through each of the holes you created. You might need to stick your finger in the hole before the butter to create some separation between the skin and the meat. Continue stuffing until you use up all the butter.

Cut the lemon in half and squeeze the juice of the lemon on each side of the chicken.

Finally, season with salt and pepper on both sides.

Place the chicken in the oven to cook. We did a 5 1/2 pound chicken and it was cooked perfectly in 1.5 hours. Depending on the size of your chicken, adjust the cooking time accordingly. The chicken is done when the internal temperature is 165 degrees.