We can't decide whether these should be considered a snack or a dessert, but either way they make a tasty addition to your week! We like to whip up a batch of these no bake honey nut bars over the weekend, and then have them in the fridge for when a snack or treat sounds good!
Clean Ingredients
We love these honey nut bars because they are super easy to make. Even better though, they also have only clean ingredients, most likely things you already have in your pantry!
While the recipe calls specifically for almonds, pecans, walnuts and sunflower seeds, you could really use whatever nuts you have on hand, just making sure it is mostly softer nuts – like the pecans and walnuts. Cashews and hazelnuts would be great to try!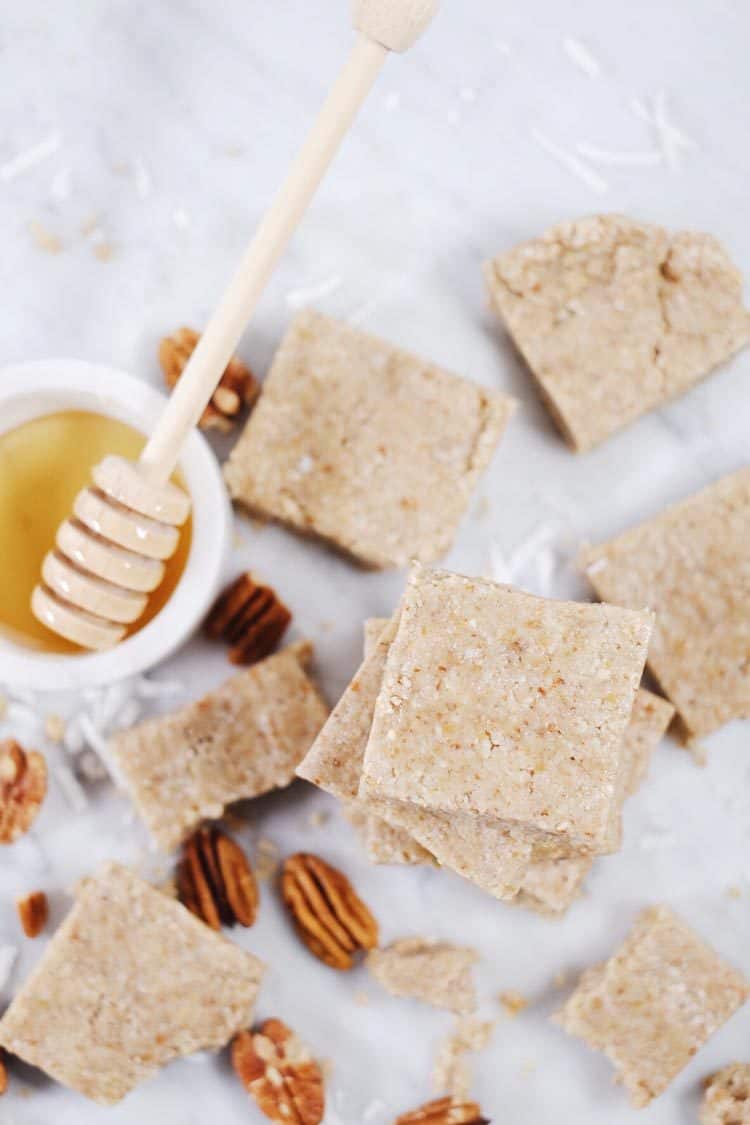 Super Easy To Make
If you're looking for a minimal effort snack or treat recipe, this is it! You just blend everything together in a food processor and then put it in a square pan and let it chill before slicing. That's really about it! Did you  watch the video above?!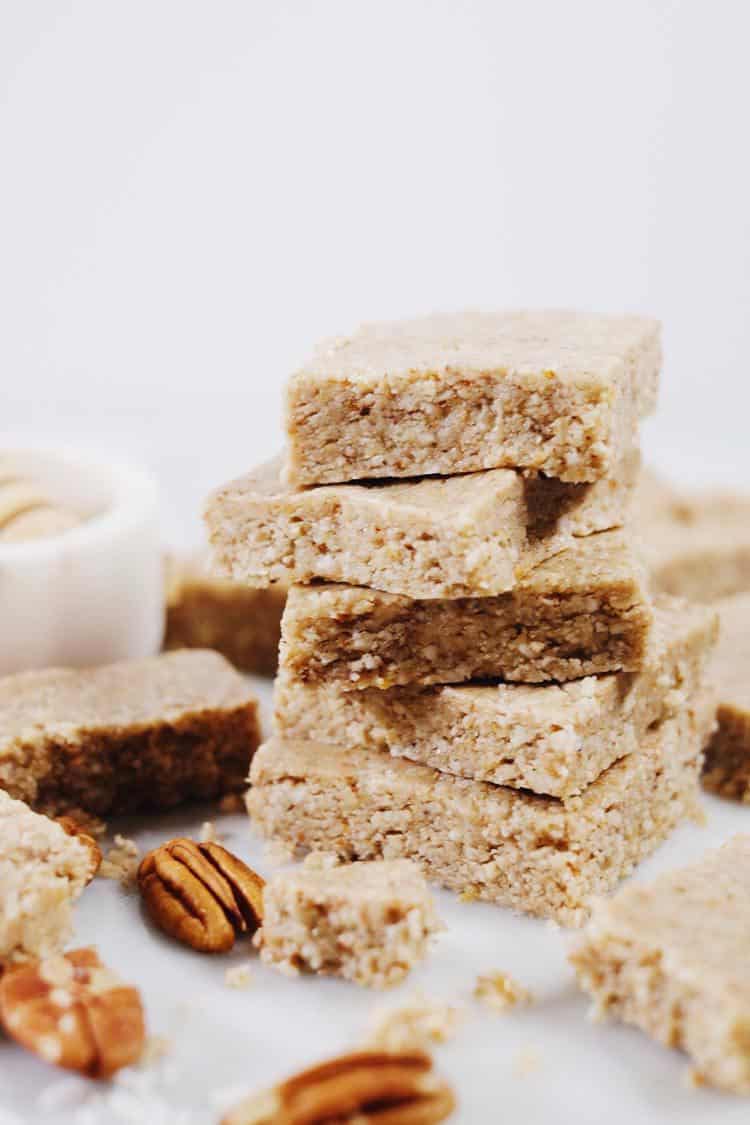 Sweetened With Raw Honey
These honey nut bars are sweetened with only raw honey. The recipe calls for 1/4 cup, but you can really use more or less to sweeten to your taste. With 1/4 cup they are already a little sweeter, which is probably why we can't decide if these are a snack or dessert.
Your Turn To Make Our No Bake Honey Nut Bars
Get these honey nut bars on your agenda for the upcoming weekend. They only take about 10 minutes of active prep time, and then you'll have them ready to go in the fridge to grab and go when you need a little snack or treat! Let us know how it goes by leaving a comment below. Also, take a photo and tag us on Instagram @realsimplegood, so we can check it out!

---
Get the Recipe:
Honey Nut Bars
These simple honey nut bars are quick to make and the perfect grab and go snack!
Ingredients
1 cup almonds
1/2 cup pecans
1/2 cup walnuts
1/2 cup shelled sunflower seeds
1/4 cup coconut oil
1/4 cup raw honey
2 tbsp collagen, (optional)
2 tbsp ground flax seeds, (optional)
Instructions
Add all the ingredients to a food processor. Pulse a few times just to break them up.


Process continuously for 30 seconds. The ingredients should all be broken down into crumb-sized pieces. Scrape the edges of the bowl to make sure nothing is sticking.


Process continuously for another 2 minutes or so, until the ingredients start to clump together and gather into a ball. They may not completely ball up, but process until at least some clumps are forming.


Line a 9"x9" square baking dish with wax or parchment paper and dump the dough on top. Press the dough with your hands into an even layer. Cover and chill for at least an hour.


Uncover the chilled dough and transfer to a cutting board. Cut into 8 bars or 16 small squares, as desired. Store in an airtight container in the refrigerator for up to two weeks.