I have been wanting to make chicken dip for a while and decided the perfect time to do it is now. Why now? It's finally football season! The time of year for tailgating, watching games, cheering on your favorite team (Go Ducks!) and of course – eating. You need something for people to snack on while waiting for the game to start and for watching the games on TV don't you?
This is a perfect dip for tailgating in the cooler weather since it is warm and a little spicy. Or, just bake it up to dip with while watching the games in the comfort of your own home. Either way, this dip won't last long, it's addicting! Everyone that has tried it (both paleo and non-paleo eaters) has agreed. We have made this a few times already and everyone loved it and kept coming back for more.
This paleo ranch chicken dip is really pretty easy to make but takes a few hours because you need to soak the cashews and cook up the chicken in the crock pot for shredding. Don't be deterred by the long cook time though, most of the time is for the chicken to cook and cashews to soak. Once those are ready, the dip is easy to put together with a quick blend of the cashews and some ranch seasoning in the food processor before mixing everything with the chicken and throwing it in the oven.
Hurry up and try this one out, you are going to want to keep this in heavy rotation during the season for any football parties. Dip away with plantain chips, celery and carrots, or you just might find yourself digging in with a fork. It's really that good and addicting.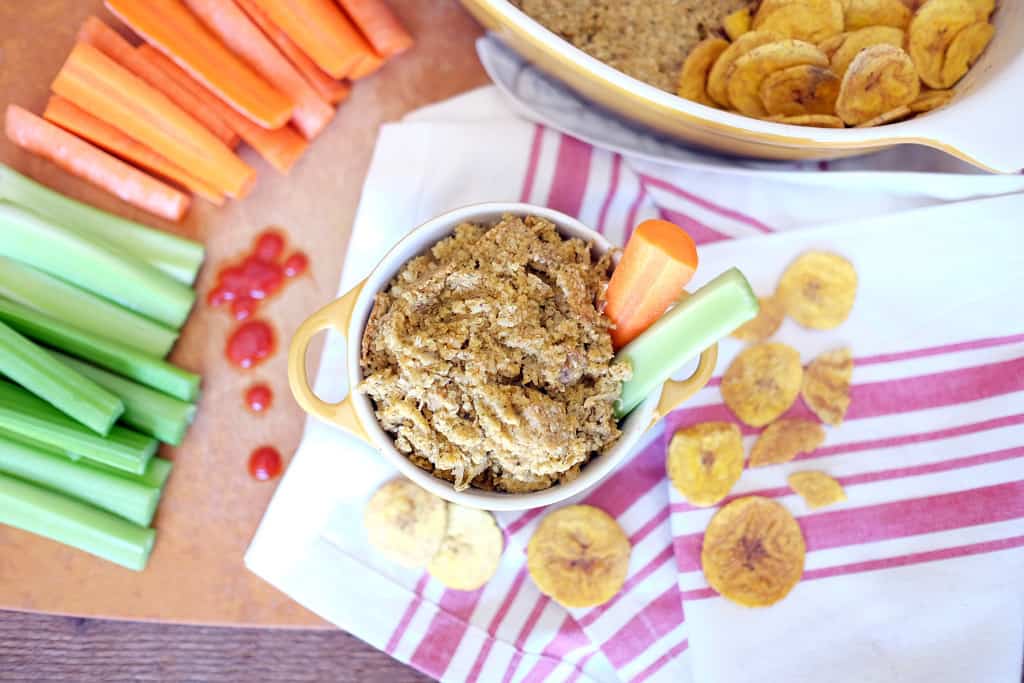 We hope you like this spicy paleo ranch chicken dip as much as we do!
If you try out this recipe, let us know what you think by leaving a comment below and adding a rating. Also, take a picture and tag it on Instagram #realsimplegood so we can check it out!
---
Get the Recipe:
Paleo Ranch Chicken Dip
Ingredients
2 cups cashews, - soaked in water to soften
1-1/2 lbs of organic chicken thighs, (you can use breasts also but we think the thighs have better flavor for the dip)
2 cups chicken stock or broth
4 cloves garlic, - peeled
3 Tbsp ranch seasoning, (our recipe is linked to above in post)
2 Tbsp hot sauce
1 Tbsp spicy brown mustard
Instructions
Start by placing your cashews in a bowl or container and covering them with water. Set aside. Note: you can soak your cashews overnight to make a creamier texture, but the recipe turns out great just soaking them for the 3 hours it takes the chicken to cook.

Place your chicken in a

crock pot

and pour the chicken stock in. Cook on high for 3 hours.

Once the chicken has finished cooking, place it in a bowl. Shred with two forks until all of the chicken is in small shreds.

Preheat your oven to 350 degrees.

Next, place the cashews, garlic, ranch seasoning, hot sauce and mustard in a food processor. Process until everything has reached a smooth consistency.

Add the cashew/ranch mixture to the shredded chicken. Mix well until the cashew mixture and chicken is evenly combined. Using a fork works well to mix things together evenly.

Place in a 9-inch shallow baking dish. Bake in the oven for 30 minutes.

Remove from oven and allow the dip for a few minutes.

Ok - dig in!