Why you'll love this classic beef stew in the dutch oven
The beef and veggies are simmered for hours in a flavorful broth so they are fork tender and delicious.
Everything is made in one pot and you have the option of simmering it on the stovetop or being more hands-off and tossing it in the oven.
Great for meal prep and leftovers, just make one big batch and feed a crowd or your family for a few servings.
The dutch oven is one of the best ways to make the most tender and juiciest stew meat that you will ever taste. Give it a try!
Related ->> Check out this Tender and Juicy Dutch Oven Pot Roast
How to make dutch oven beef stew (step-by-step)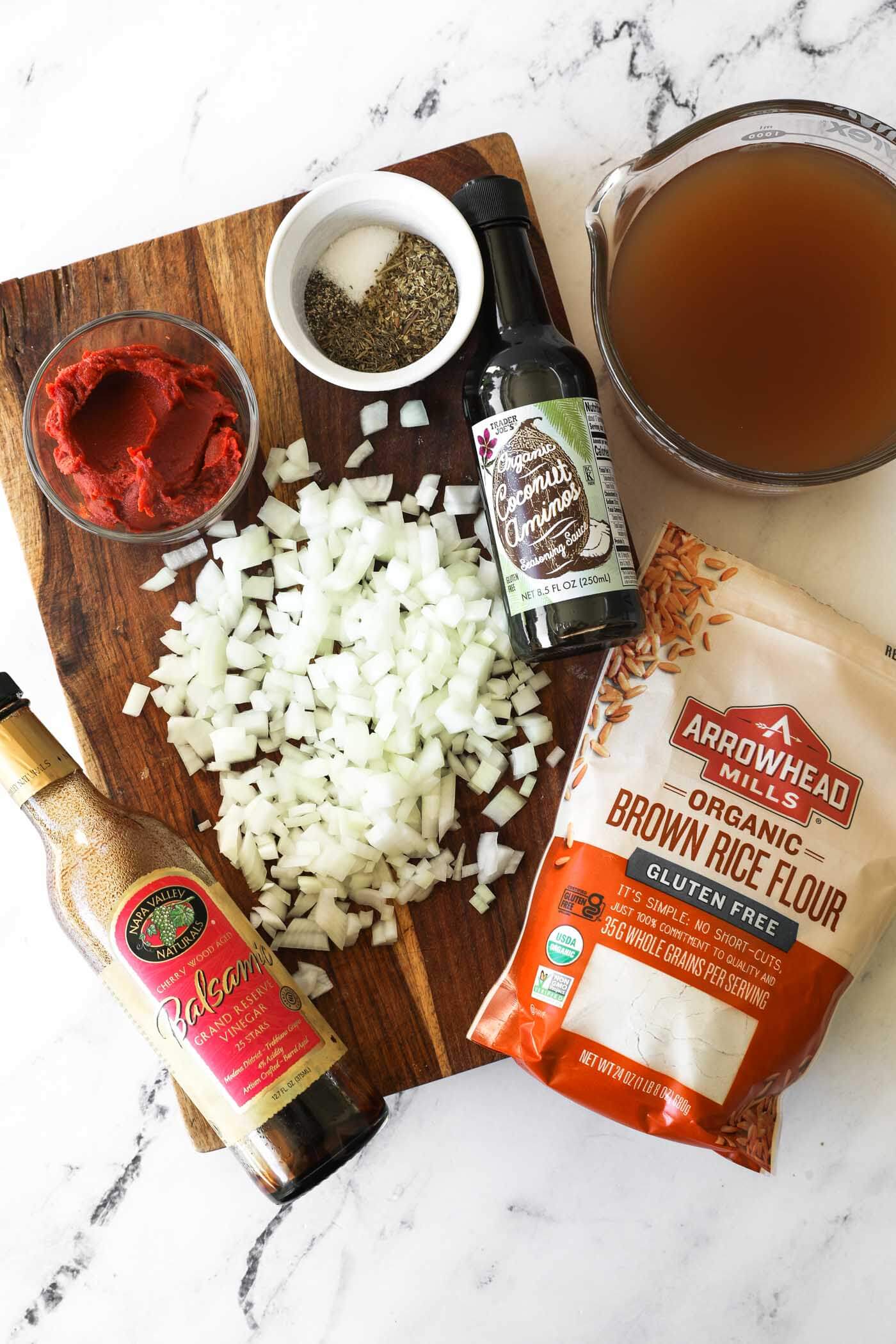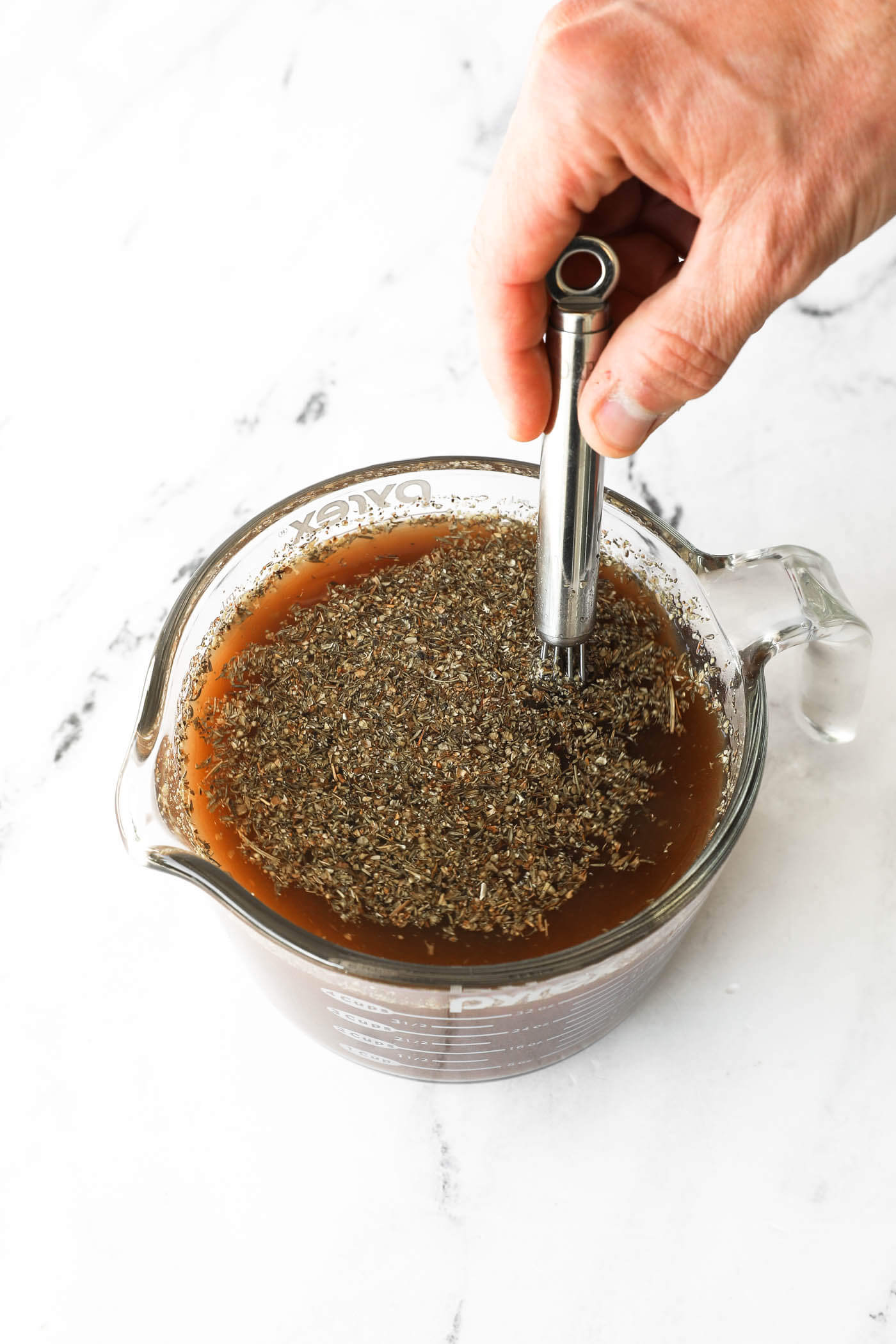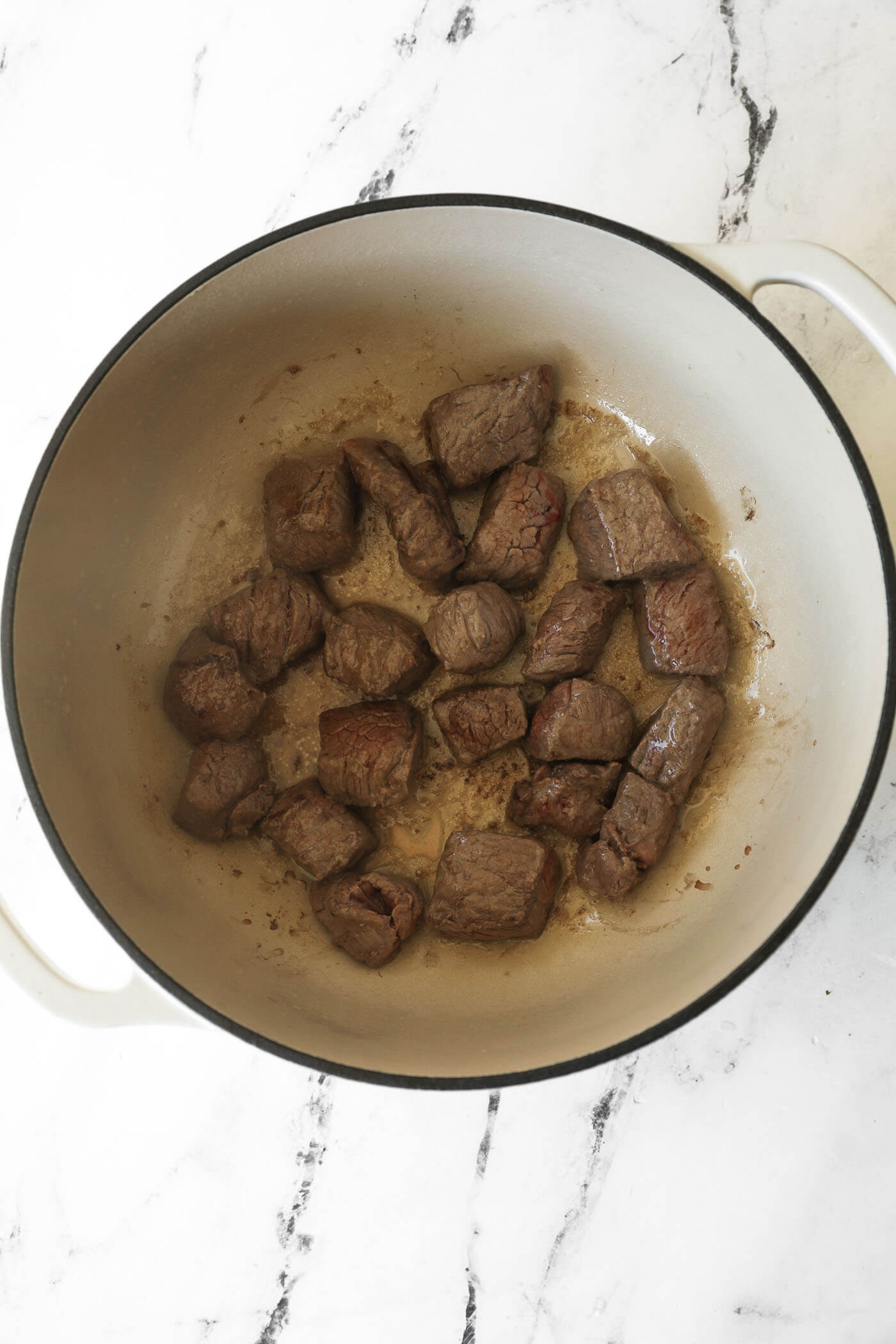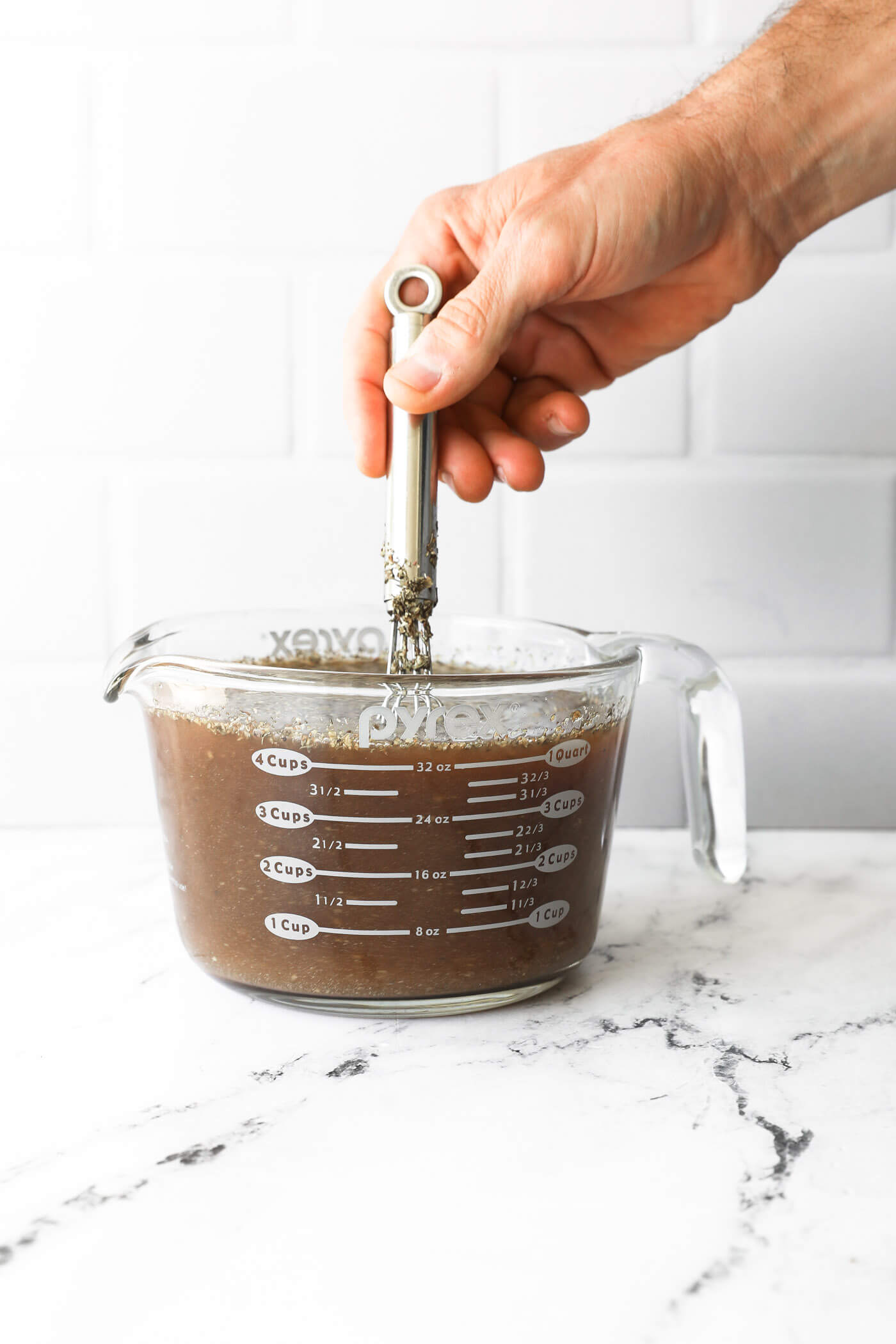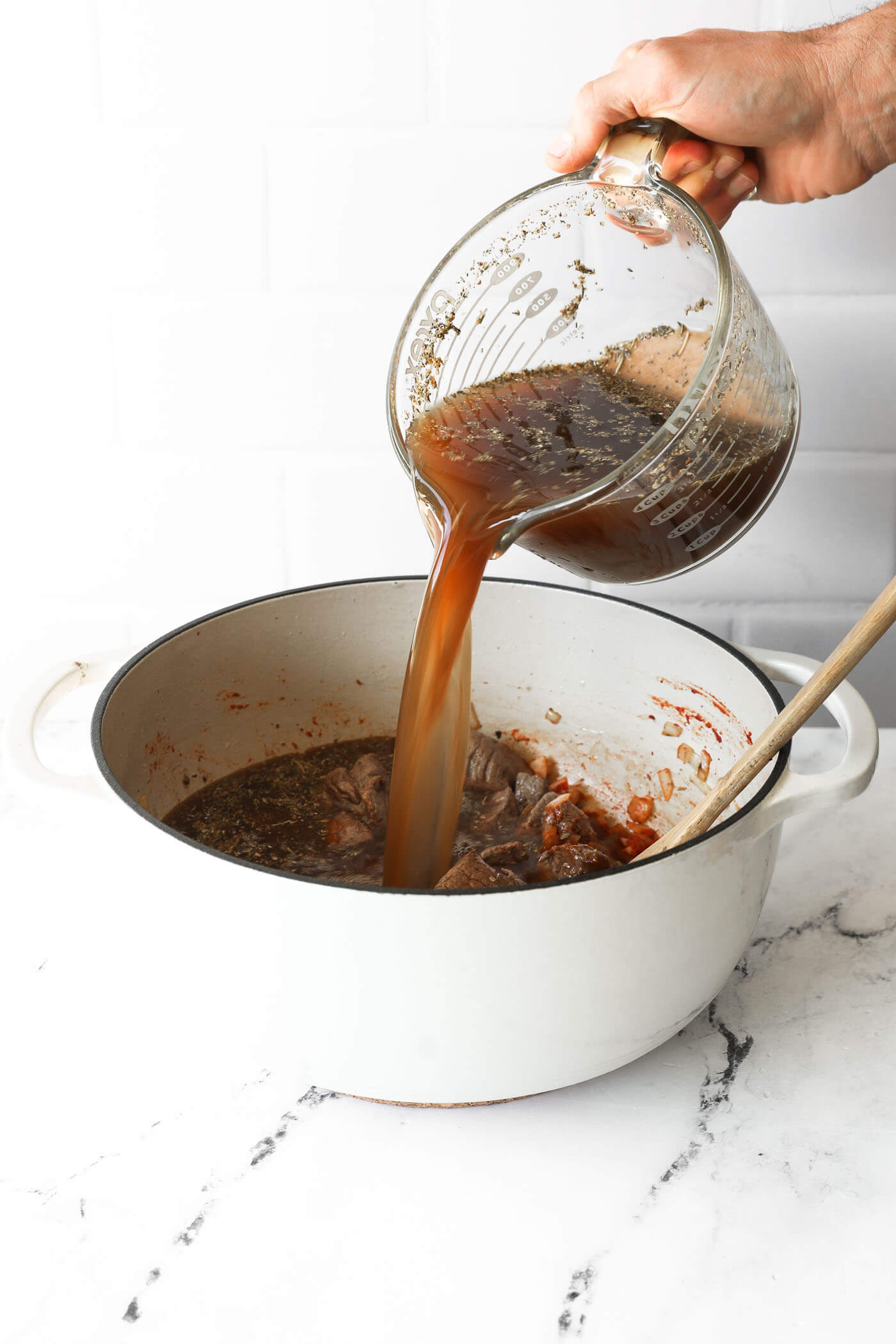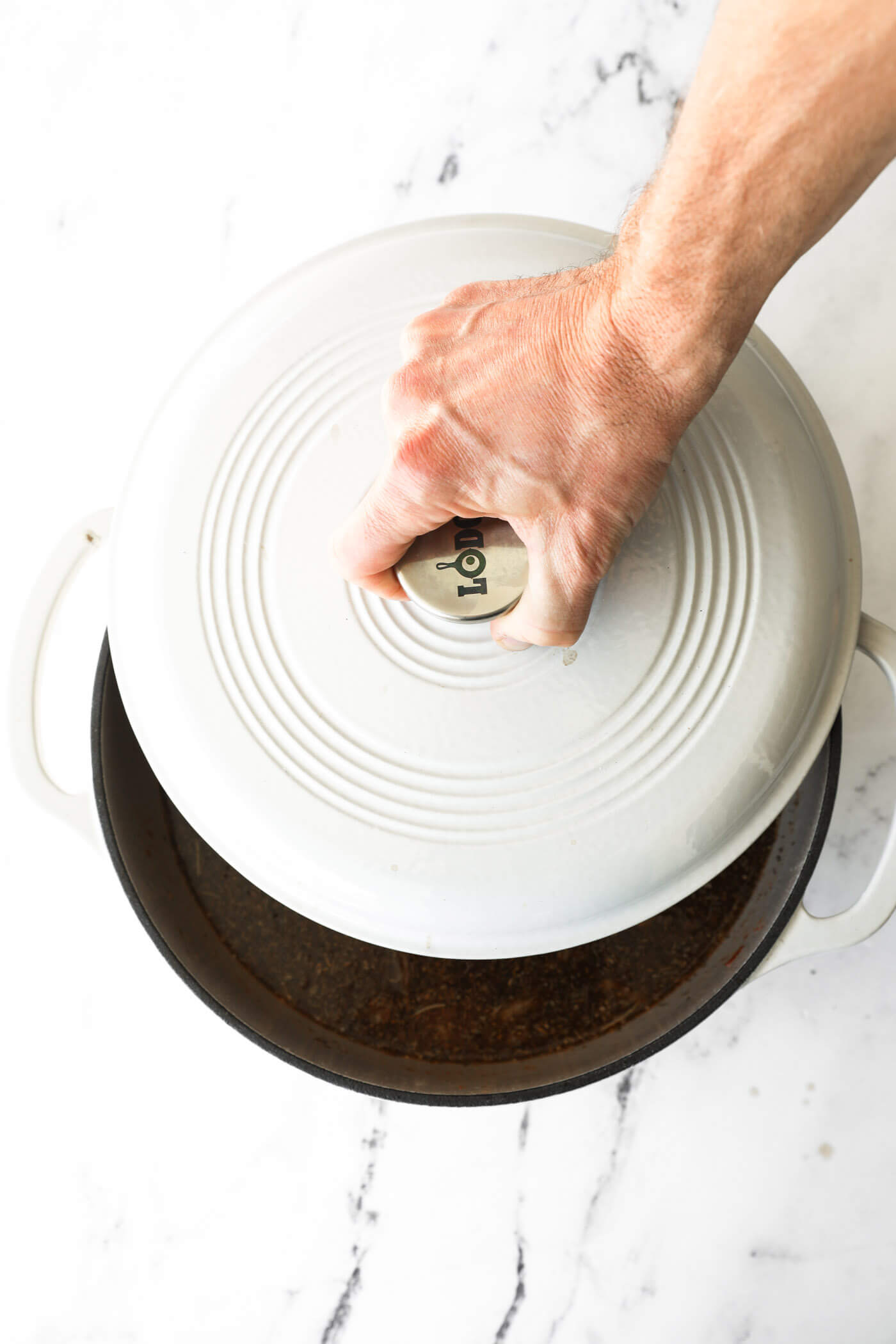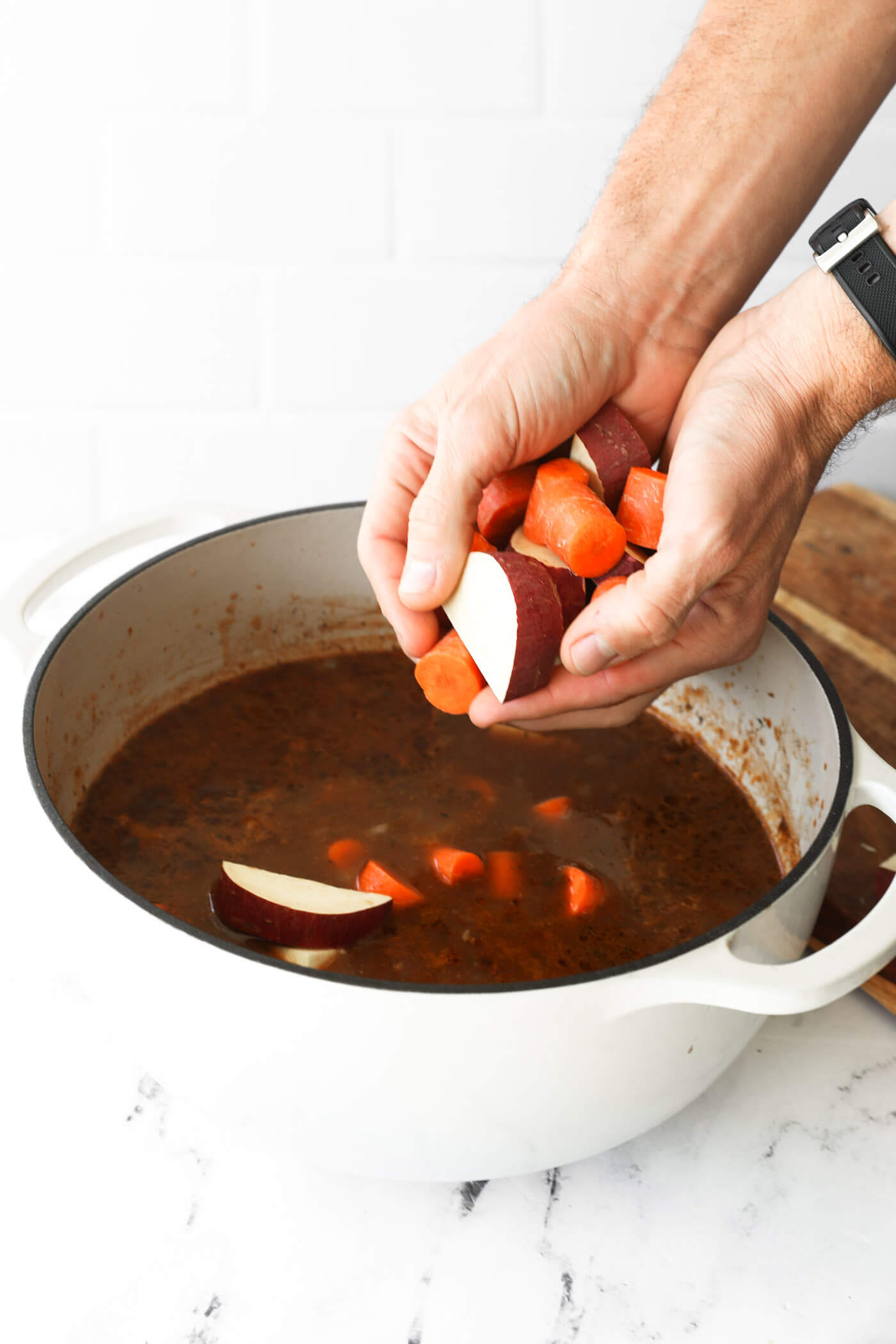 Ingredient notes
Stew meat – You can use a chuck roast and cut it into cubes or simply purchase stew meat from the store or butcher. Whatever you choose just make sure it is cut into bite-sized chunks of about the same size.
Rice flour – This is a thickener and you can substitute other flour thickeners like corn starch, arrowroot starch or tapioca starch if desired.
Potatoes – Any potatoes will work! Just make sure they are in pieces of about the same size so they cook evenly and finish at about the same time.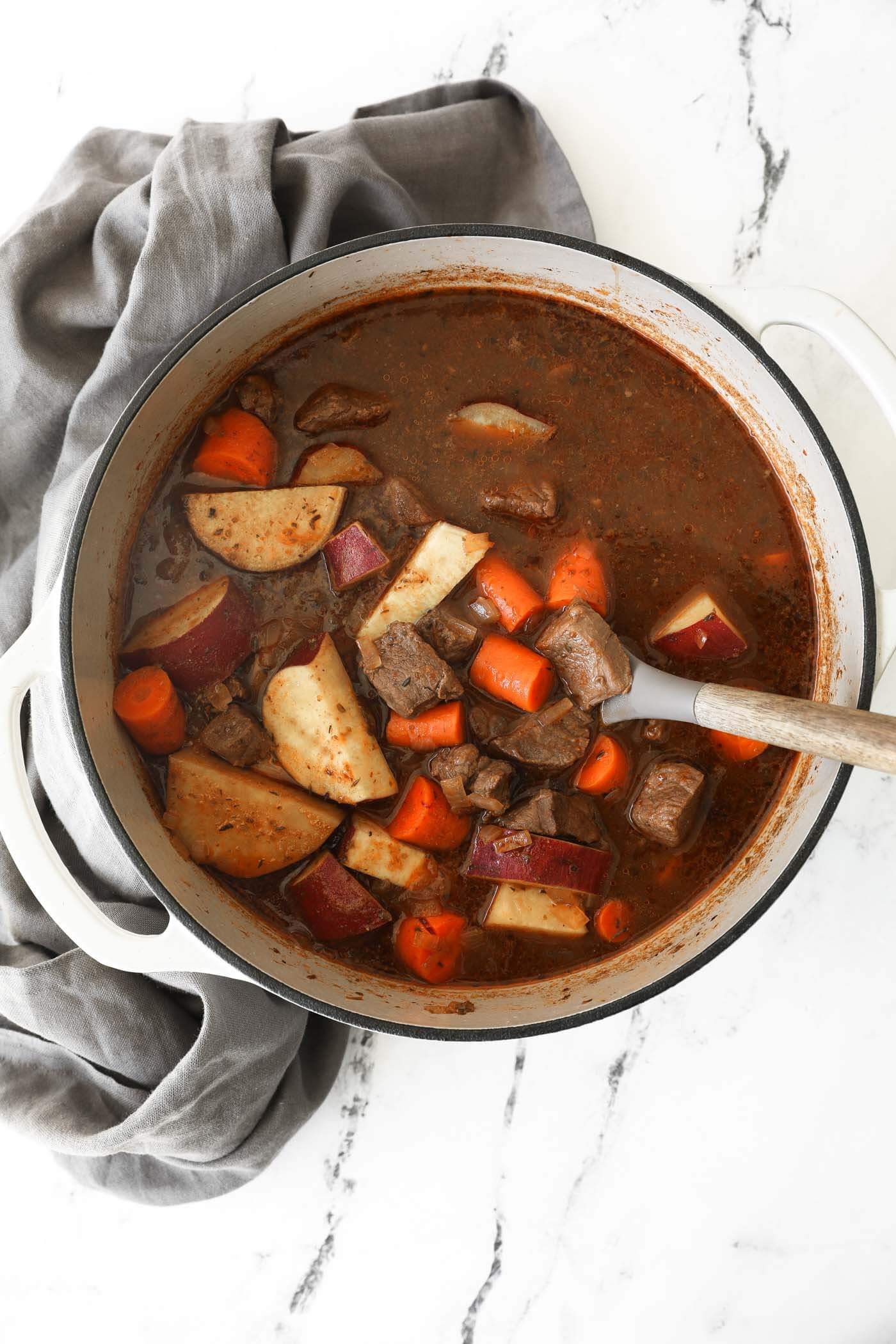 Recipe tips
See the recipe notes below for both the oven-baked and stovetop simmer method for this recipe. Your choice!
If the stew isn't thick enough, you can add more rice flour to thicken it up. Simply scoop out a little liquid (about 1/2 cup) from the pot. Then whisk in more rice flour with this liquid, and then dump it back in the pot and stir. Do this 1 tsp at a time until the broth thickens to your liking.
Leftovers will last for 4-5 days in the fridge. Simply reheat in a pan on the stovetop or in the microwave. This is also a freezer-friendly recipe!
We hope you love this recipe as much as we do!
Don't forget to leave a quick star rating and review below, we read every comment and truly appreciate your feedback. Also, be sure to browse the rest of our delicious, healthy recipes to find some other favorites too!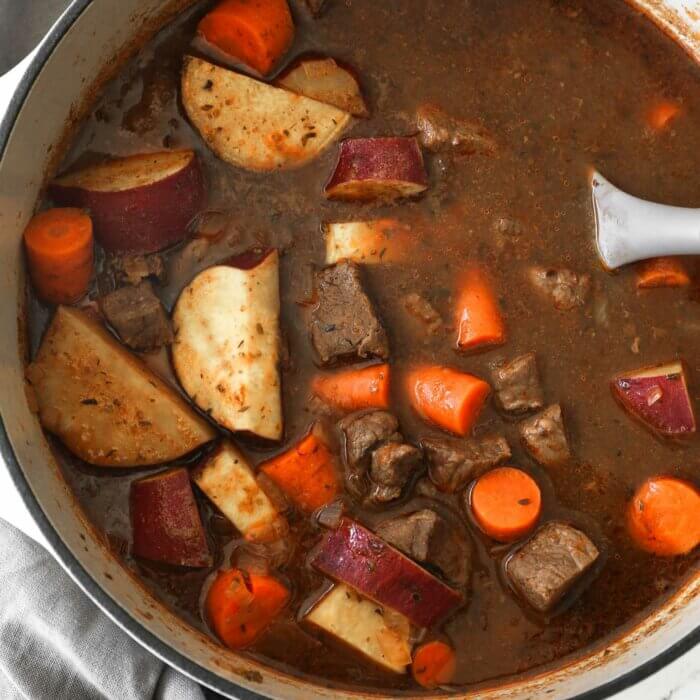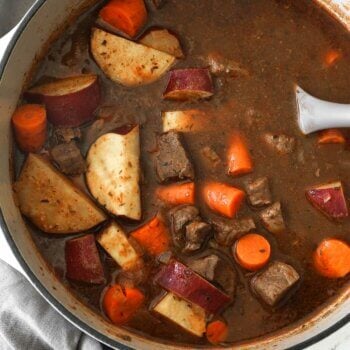 Get the Recipe:
Classic, Old Fashioned Dutch Oven Beef Stew
You can cook this dutch oven beef stew in the oven or simmer it on the stovetop. Either way, it's simple to make in one pot, hearty and delicious. It's a filling blend of beef cubes, onion, carrots and potatoes simmered in a flavorful broth.
Ingredients
For the beef:
2 lbs beef stew meat, trimmed and cut into inch cubes, (use chuck roast or just buy pre-trimmed stew meat)
2 tbsp olive oil
For the stew broth:
4 cups beef broth
1/4 cup coconut aminos, (can sub 2 tbsp soy sauce or worcestershire sauce)
2 tbsp balsamic vinegar
2 tbsp rice flour
1 tsp sea salt
1 tsp pepper
2 tsp Italian seasoning
1 tsp dried thyme
For the rest:
2 tbsp tomato paste
1 onion, diced
5 medium carrots, cut into 2 inch chunks
1 lb potatoes, cut into similar-sized chunks, (any potatoes including sweet potatoes will work, peeled or unpeeled)
Instructions
Preheat oven to 300° Fahrenheit. (See notes for stovetop only instructions)

Cut beef into cubes, trimming any excess fat as needed.

Prep the onion as noted and gather the remaining ingredients.

Add all of the stew broth ingredients to a bowl or large pyrex cup and whisk well to mix.

Heat a 5 or 6-quart dutch oven over medium heat and add in olive oil. Once the oil is shimmering, add in 1/2 of the beef chunks to brown on each side for 1-2 minutes. Don't crowd the pan, give the pieces a little space to help them cook. Sear the beef pieces quickly and remove to a plate. Repeat with the remaining beef and place all the seared beef on a plate and set aside.

Add more oil if needed and add the onion in to cook. Cook, stirring occasionally, until the onion is softened, about 3-4 minutes.

Add in the tomato paste and stir well for 1 minute. Then, add the browned beef chunks back in.

Give the stew broth a vigorous mix, as the flour will settle while sitting. Pour the broth mix into the dutch oven. Stir to mix and use your spoon to scrape the bottom of the dutch oven and deglaze any bits from the bottom.

Turn the heat up to high and bring to a quick simmer. Then, turn off the heat, cover and carefully transfer the dutch oven to the oven to bake for 2 hours.

When the 2 hours is almost up, prep the carrots and potatoes as noted.

After the stew has cooked for 2 hours, carefully remove the dutch oven. Add the potatoes and carrots in and give it a quick stir to mix. Cover and return to the oven to bake for another 1 to 1.5 hours.

After 1 hour check the tenderness of the meat and vegetables. The meat should be soft and easily cut with a fork. The potatoes should be easily pierced with a fork as well. If it needs more time to cook, cook for an additional 15-20 minute increments until done.

Once done, carefully remove from the oven. Ladle into bowls for serving and enjoy.
Notes
You can skip the oven for this recipe if desired. If you'd like to do this, simply simmer the stew (covered) for 1 hour on low on the stovetop. Then add the potatoes and carrots and simmer covered for another 1-1.5 hours, or until the veggies are cooked to your liking.