Natural Baby Products – Our Non-Toxic And Eco-Friendly Nursery
It took Justin and I a lot to get pregnant and create this little miracle baby of ours. With all the time and effort it took to unravel our infertility issues, we learned a lot about toxin exposure and really want to make sure our home, and especially our little one's nursery, is as non-toxic and eco-friendly as possible. In this blog post we'll share with you how we went about deciding on natural baby products, where we opted to spend our money and which products we invested in.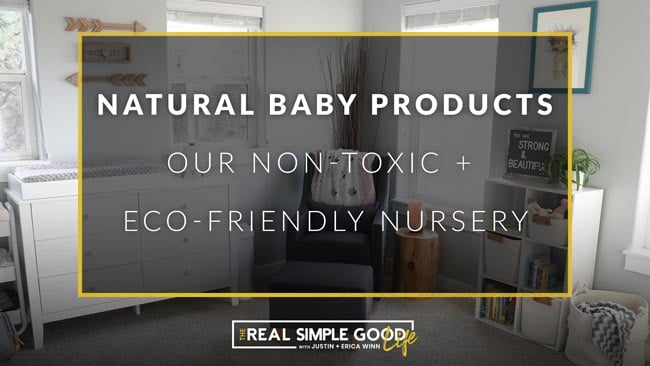 Disclaimer: We did A LOT of research on natural baby products and brands that make them. Once we determined which products and brands we were most interested in, we reached out to those brands and invited them to partner with us. Therefore, some of the products we share in this post were gifted to us by the brands. All of the opinions shared are our own. We've tried to balance quality with cost. There are other brands out there; these are the ones we ultimately went with.
A quick note on not getting overwhelmed
But before we dive in, I think it's important to address that you don't have to change your entire lifestyle and home overnight. That would not only be really expensive and impractical, but even more so it would overwhelming and make you feel pretty neurotic. You don't have to spend a fortune creating a safe space with reduced toxin exposure for your kiddos. You can also do it over time, and you can pick your battles. You can focus on where it counts the most. And slowly over time, you might just continue to make changes and create healthier and healthier spaces for you and your whole family. It's a process and a learning experience. Just do your best – take the nuggets and tips that resonate with you and go from there.
Why consider decreasing exposure to toxins with natural baby products?
Newborns are resilient, more than we think sometimes, but in today's world they are also exposed to so many more toxins and chemicals than ever before. And their little bodies aren't equipped to manage all of this exposure. The types of toxins and harmful chemicals they are exposed to can interfere with hormones, potentially cause cancer and a range of other negative impacts from respiratory issues to cognitive development. So, it's worth limiting your little one's exposure to help set them up for the best start in life.
Here is a list of some of the main toxins we sought to avoid in creating our little babe's nursery. There are many more, but if you find products that eliminate these, they are likely working to eliminate other toxins as well.
Volatile Organic Compounds (VOC's) – these are compounds that easily turn into vapors and pollute the air we breathe, and lots of VOC's are present in the products we use in our homes. Examples are the paint on our walls, our furniture, carpeting, rugs, BBQ's, etc.
Formaldehyde – is a specific VOC found in lots of household furniture.
Flame Retardants – found in clothes, car seats, furniture, rugs, etc.
Chlorine/Bleach – found in diapers, wipes, personal care products.
Fragrances – found in personal care and household products, wipes etc.
Dyes – found in furniture, paint, toys, clothes, textiles, etc.
Phthalates – found in personal care and household products, toys, wall coverings, plastic, etc.
Parabens – found in personal care and household products as a preservative.
Bisphenol A (BPA) – found in plastic and even canned goods.
Sulfates – surfactants found in personal care and household products.
Petrolatum – petroleum based products found in personal care and household products.
So, how do you find products that don't contain these common toxins?
There are some certifications we looked for when we started looking for natural baby products.
Greenguard Gold Certification – this certification means that products have been rigorously tested and scientifically proven to have low levels of chemical emissions (the VOC's talked about above). We looked for this certification for the furniture in our baby's nursery, especially the furniture where she or her things will spend the most time.
GOTS Certified Organic Cotton and Wool – "The Global Organic Textile Standard (GOTS) is the worldwide leading textile processing standard for organic fibres, including ecological and social criteria, backed up by independent certification of the entire textile supply chain." You can read more about this certification here.
Standard 100 by Oeko-Tex – "If a textile article carries the STANDARD 100 label, you can be certain that every component of this article, i.e. every thread, button and other accessories, has been tested for harmful substances and that the article therefore is harmless in human ecological terms." You can read more about Okeo-Tex here. We looked for either GOTS certified organic cotton or Standard 100 by Oeko-Tex for baby textiles, like clothing, burp cloths, blankets, etc.
In addition to looking for certifications to back up the reduced toxin exposure of various baby products, we also researched the brands making the products. Many of the brands themselves emphasize being eco-friendly and conscious of reduced toxin exposure. Lots of this info is available on their websites – if their products have a particular certification or standard and if the company itself has a commitment to reducing toxin exposure through their products. We share some of our favorite brands further down in this post.
How to decide what natural baby products to invest in
It can be overwhelming if you're trying to learn about reducing toxin exposure, pick healthier products and stay within a budget. So, we recommend considering where to invest your money to get the most bang for you buck. For us, we considered where our baby will be spending the most amount of time and/or where her things she uses daily will be spending the most amount of time. Here are some ideas for where you could invest in specific natural baby products to reduce toxin exposure as well as the brands we ended up choosing for our little one's nursery.
Furniture
Crib + Accessories
Baby spends hours and hours in their crib, so finding a crib and the necessary accessories was a first priority for us when we started looking into natural baby products. We ended up going with the Morgan Crib from the Carter's by Davinci Baby line, which is Greenguard Gold certified. It's economical – actually cheaper than so many cribs on the market, and it feels sturdy, durable and looks great, too! My parents gifted us the crib after we picked it out, and Justin and I put it together pretty easily. Some other brands we considered were Babyletto, West Elm, Pottery Barn Kids and Crate and Kids. They all have Greenguard Gold certified options. You can also find Davinci Baby products like the crib we got at Buy Buy Baby, which has 20% off coupons that you can stock up on when you sign up for their email list. And…if you live nearby to one of their stores, you can even use multiple coupons on your purchase if you have multiple items you're buying. Good tip for when you're stocking up on baby things.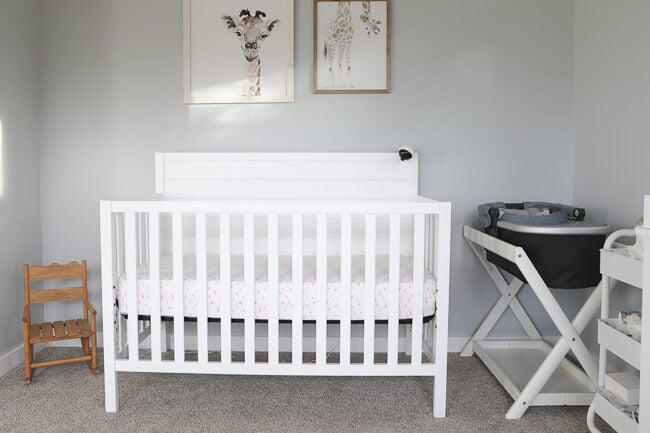 In addition to the crib we knew we wanted a non-toxic crib mattress. The brand My Green Mattress has non-toxic adult, kid and crib mattresses. We reached out to them and they were super excited for us and our little one and sent us the Emily Crib Mattress. It is made with natural materials like GOTS certified organic cotton, GOTS certified organic wool, and a certified organic coconut coir pad layered over a firm innerspring, making this mattress perfect for your baby's crib. They also sent us their Organic Cotton Waterproof Mattress Protector.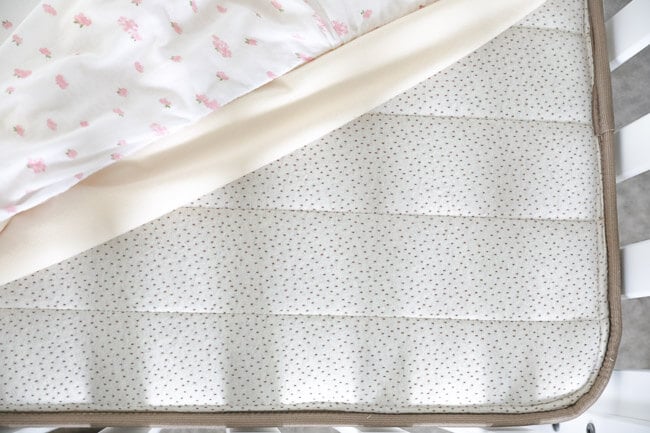 The last part of the crib equation is quality crib sheets. We ended up getting six crib sheets – per my mom you can go through a couple in one night and you might want several on hand. Who knew?! I thought two or three were going to be enough. Anyway, the ones we got ended up being from Burt's Bees and Gerber, both of which are made of organic cotton. Burt's Bees textiles are GOTS certified and Gerber is Standard 100 by Oeko-Tex. Lots of other brands are coming out with really cute organic cotton crib sheets – like Crate and Kids, Pottery Barn Kids, etc. The other brand I saw after we'd already gotten the ones we have is at Target called Cloud Island, which is not organic cotton but Standard 100 by Oeko-Tex, so another economical, safe option.
Dresser + Changing Table
Your baby's clothes and things will be stored in the dresser, so we wanted one that was Greenguard Gold certified. This felt like one of the bigger items worth investing in when it comes to natural baby products. We got the Morgan dresser from the same line as our crib. It matches, is sturdy, durable feeling and looks great. It's simple, and that's exactly what we wanted. We also got the changing table topper and contour changing pad to go with. The dresser and changing table topper are Greenguard Gold certified and the changing pad that sits in the topper is 100% non-toxic and free of polyurethane foam, vinyl and chemical flame retardants. The cute changing pad cover is from the Cloud Island line at Target.
Rocker/Glider
From what I understand baby and I will be spending A LOT of time in the glider nursing. For me, that meant I wanted to make sure it too was Greenguard Gold certified. We considered gliders at Crate and Kids, West Elm, Pottery Barn Kids, Davinci Baby and Babyletto. We ended up going with the Toco Swivel Glider and Ottoman from Babyletto. For the reviews, price and non-toxic certification it ended up feeling like the best deal. I was a little hesitant because we couldn't try it before we bought it, but the reviews I read gave me confidence and we went with it. It arrived fully assembled and Justin and I were able to get it upstairs together. It's comfortable and has a high enough back that I can rest my head while I'm nursing. It's not quite high enough for Justin to rest his head though…that might be our only complaint. We'll see how it goes once baby arrives.
On your baby
Clothing, Blankets, Burp Cloths + Other Textiles
These are the things that will be touching your baby all day long or throughout the day. We mostly aimed for GOTS certified organic cotton or Standard 100 by Oeko-Tex. We have several brands, but mostly the ones listed below. Again, there are other quality brands out there, you just have to do a little research to see what brands are committed to reducing toxin exposure and what fits your budget.
Burt's Bees (GOTS certified)
Gerber Organic (Oeko-Tex)
Hanna Andersson (Oeko-Tex)
Cloud Island from Target (Oeko-Tex)
L'ovedbaby (GOTS certified)
Aden + Anais (GOTS certified)
Diapers
We debated cloth diapering, and for me this was a moment of picking my battles. The extra laundry, mess and stink…let's be real…had me feeling overwhelmed. Then, I looked into local services that take care of the cleanup part and the cost was prohibitive. So…we are opting for non-toxic disposable diapers.
This one is a little tricky because there are several decent to great options on the market, but really at the end of the day you have no idea which diaper is going to best fit and perform well with your little one. So, here is our plan that will remain flexible until we find the right fit.
Initially we have a small investment in Pampers Pure newborn and size 1 diapers on hand for right when our little babe gets here. These are readily available on Amazon and at Target, so I felt like it was a good, cleaner interim option. Next up, we are going to try a diaper subscription. The two subscriptions I ended up being most interested in are Dyper and Abby & Finn. They both have really good reviews and non-toxic diapers.
I like the idea of a subscription because it's automated and one less thing for my tired brain to think about. Both services have the option for just diapers or diapers and wipes in each shipment. And both options give you flexibility on how often your shipments arrive. Dyper is made of super soft bamboo and is also compostable, while Abby & Finn is latex-free and crafted with wood pulp from sustainably managed forests and sodium polyacrylate SAP (super absorbent polymer). One thing of note from the reviews and info provided by both companies – it does appear that Abby & Finn diapers run a bit narrow, so something to consider based on the size and shape of your baby. Our plan is to start with Dyper.
Other safer diaper options on the market that are now pretty readily available are Honest Company, Seventh Generation and even Thrive Market has a line of healthier diapers. Seventh Generation is available on Thrive Market, and you can set up a subscription for them there. Some less widely available options are Andy Pandy, Bambo Nature (also available at Thrive Market) and Eco by Naty Diapers. You can try Thrive Market for free for 30 days and get a free gift with your first order with this affiliate link! Otherwise, you can find many of these options on Amazon and some at Target.
Along with diapers, you need wipes. They're often made with chlorine, fragrances and other harmful chemicals and preservatives. We are opting for wipes with the simplest of ingredients and none of the bad stuff. We have a big pack of Water Wipes that we're looking forward to trying first. We've heard good things from friends with babies, and the reviews were good as well. We may end up trying the wipes through Dyper or whatever diaper subscription service we end up sticking with since it would help to automate one more thing.
Personal care products
These are all the things that you'll use to diaper, bathe, moisturize and care for your little one. And it's the other household products you use as well – laundry detergent, cleaners, etc. It also includes all the things you put on your own body and your partner's body. Our skin is our largest organ and it absorbs what we put on it, so it's important to keep in mind what is going into you and your little's body through personal care products. We plan to use the brands below with our babe.
Other things
Car Seat + Stroller
Your babe is going to spend a lot of time in their car seat, especially as a wee little one. Many – ok almost all of them – are made with flame retardants, which just accumulate in the body and can "interfere with hormones and reproductive systems, stunting child development and harming fetuses." More and more baby and children brands are starting to reconsider the use of flame retardants, but doing some research to find a car seat without was a must for us. Our research led us to UPPAbaby. Their MESA car seat comes in two color options (Jordan and Henry) that are made with naturally flame retardant merino wool. What a great solution! This car seat also has really great safety ratings, user ratings and is easy to install.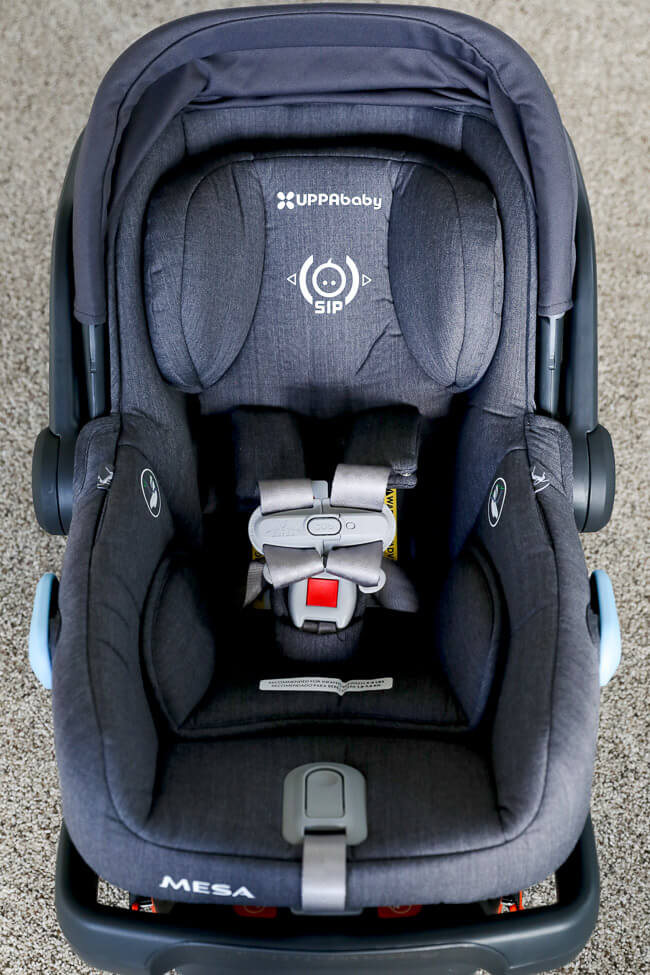 We reached out to UPPAbaby to see if they'd have an interest in partnering with us, and they did! We are super grateful because not only did they gift us the MESA Car Seat in Jordan, but they also gifted a slew of other UPPAbaby products including:
VISTA Stroller (which comes with a bassinet attachment in addition to the regular stroller seat)
Bassinet Stand (we plan to use the bassinet in our bedroom for the first couple months – photographed below)
Extra bassinet mattress cover (because babies make messes)
Cozy Ganoosh for the stroller (really excited about this accessory because it gets so cold here, and we like getting out for walks, so this will make sure baby stays warm and comfortable during the winter season and on chilly mornings)
Infant Snug Seat for stroller (so babe can ride safely as an infant)
Extra MESA car seat base (so we can easily go between cars)
There are a few other car seat options on the market that are less toxic that you could also consider – Britax Advocate ClickTight SafeWash (only the Otto color), Clek Fllo Infant Car Seat (only the Mammoth color) and Nuna Pipa Lite LX.
Baby + Children's Toys
Justin and I have tried to be on the minimalistic side of things as we've prepared for the arrival of our baby. We don't have much extra storage space in our home, so we don't want to accumulate things just to have things. This relates to baby toys because we have decided we want to be very intentional. I found the brand Lovevery, which is a montessori based toy brand that makes non-toxic toys meant to foster the development of your growing baby and child. They call it playtime with a purpose – which really resonates with us! So, as far as natural baby products go, this one felt like a good fit for our lifestyle. We reached out to them about partnering and they were on board! They sent of their Play Gym and The Looker Play Kit. We can't wait to introduce our babe to these "toys" and start to help her thrive and develop. We also can't wait to grow with Lovevery as she moves through the different stages!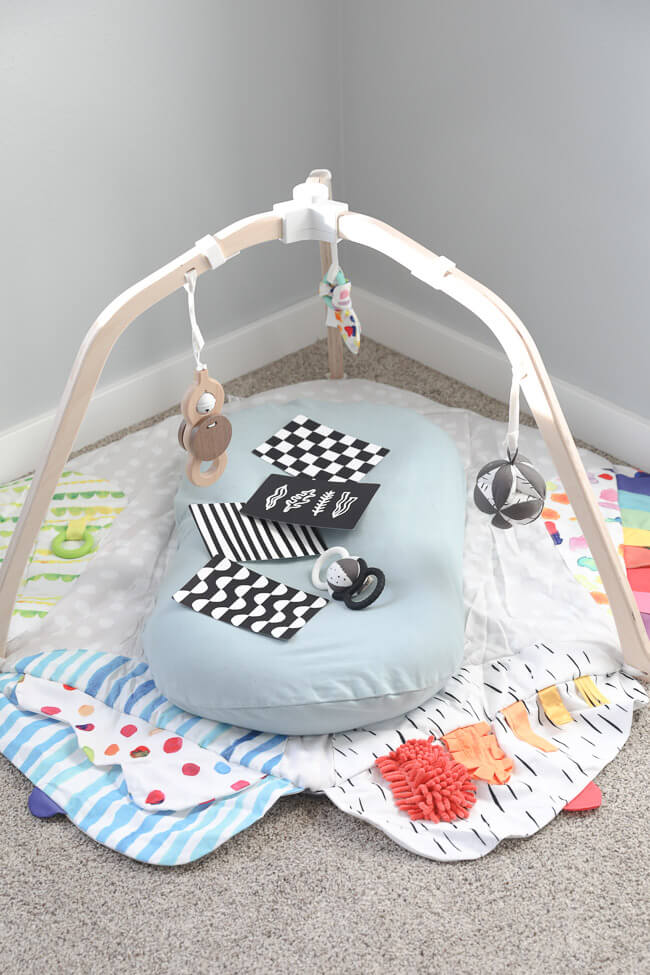 Wraps + Baby Carriers
With both Justin and I working from home, we expect we'll be wearing the baby a lot, especially in the early days of new parenthood. I reached out to Solly Baby because I'd heard good things about their wraps, and they kindly gifted us several of their products, including wraps, swaddles, sleepers and gowns. Their wraps are hip health certified. They use Lenzing Modal, which is a luxuriously silky soft, sustainable knit made from Austrian beechwood trees, and their products are manufactured in Los Angeles.
We also got a secondary carrier that we will use once the baby gets a bit bigger and we want more flexibility for which way she faces – the Beco Gemini carrier is ergonomic for baby's comfort and development, convertible with four different wearing options and is made from 100% cotton.
Baby Lounger
This is the one item that felt more like a splurge than necessity, but we will see. We took advantage of Black Friday deals and got a bundle of products from Snuggle Me Organic, which makes intentional natural baby products. I've heard great reviews about their infant lounger and thought it might just be super useful with both Justin and I working from home. We'll be spending a lot of time at home with the babe, trying to create a new routine and schedule for getting work done. With the lounger, we can keep baby right by us, but be hands-free. And, she can feel comfortable and snuggly held without us having to be physically holding her. Win-win, we hope! You can see the infant lounger in the photo above with the play gym.
Bottles + Pacifiers
The main thing here is to ditch plastic if you haven't already. There are plenty of glass and silicon bottle options on the market now. Plastic, even the BPA free kind, is really unnecessary at this point.
Bottles and pacifiers are like diapers where you don't really know which your baby will take to until you try. For this reason, we invested minimally in Comotomo bottles and a couple of pacifier options.
The Comotomo bottles are a silicone bottle with nipples that are supposed to mimic breastfeeding as close as possible and not create nipple confusion. Since both Justin and I will be home, our hope is that Justin can start to be more active in helping with feeding around four weeks when we plan to introduce bottles. Given the back and forth between bottle and boob, the Comotomo bottles felt like a good starting point.
For pacifiers, I mainly looked for ones that were made of silicone or natural rubber. The couple of brands we got to try initially are Bibs (natural rubber and mimics breast) and Nuk (silicone and has an orthodontic design/shape).
Share with us about your favorite natural baby products
That's it! This has been our approach to creating a non-toxic and eco-friendly nursery and examples of the natural baby products we decided to invest in. Was this helpful?! Have you found any great, reliable brands that you'd recommend. Leave us a comment below and share your own experience. We're excited to learn more about parenting and all things babies and family life. Also, tag us in your posts on Instagram @realsimplegood and use #TheRSGLife, so we can see how you're going about non-toxic living for your family and kids.
Like this Post?
SHARE IT NOW OR PIN IT FOR LATER!