Who doesn't love a quick and easy snack idea that is clean and a breeze to make?! Everyone loves that, right?! Or am I right? These no bake mango bars are one of our favorite snacks to make and have on hand. Our meal plan subscribers love them, too! 
Just 7 Ingredients + Easy Prep
We love simple recipes, and these no bake mango bars are great because they only require seven ingredients. You just combine all of the ingredients in a food processor and then press the mixture into a pan. Once the mixture sets in the fridge, you can cut it into squares or bars and have a real food snack ready to go whenever you need it.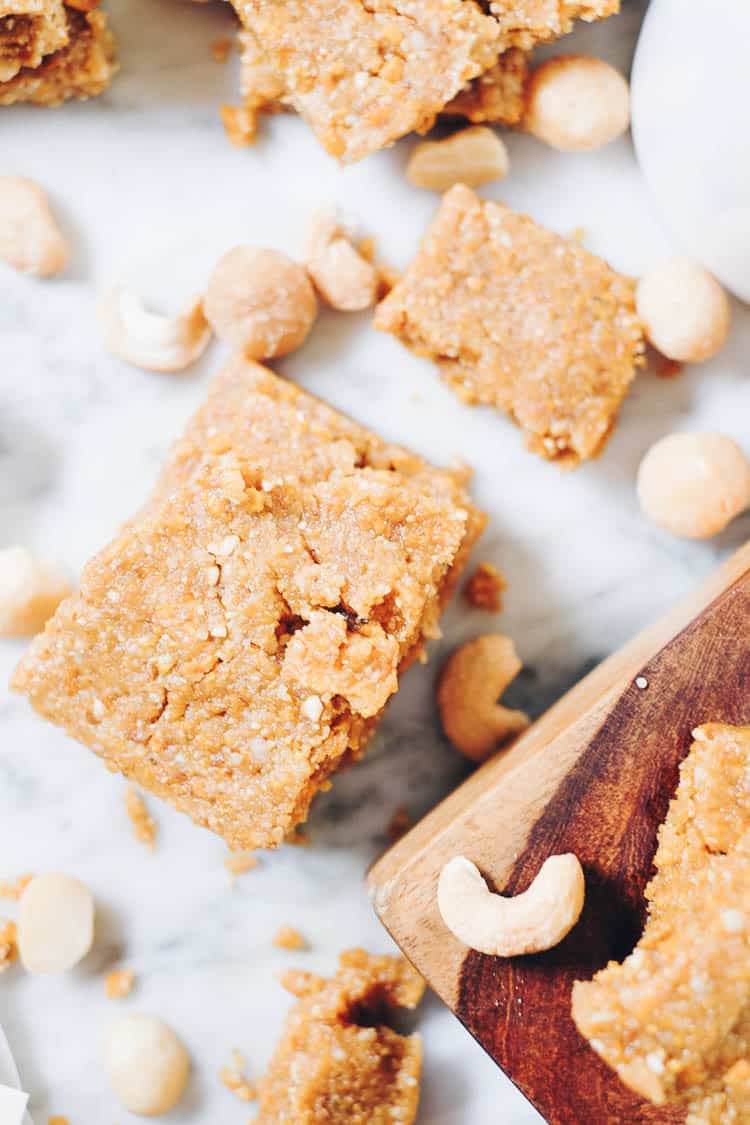 What's The Deal With Collagen?
Well, in short, collagen is really good for you! I try to get a serving of it in every day. Collagen is a protein found in our bodies. It is most prominent in the connective tissues and bones, and you can get collagen supplements in the form of hydrolyzed collagen peptides or gelatin. The benefits of collagen are that it is great for your gut, hair, skin and nails among other things.
Collagen is the perfect addition to recipes like these no bake mango bars and also to your coffee or tea in the morning, smoothies and really just about anything. It dissolves completely and is tasteless. Basically, it's a no-brainer, and we should all be adding collagen into our daily routine.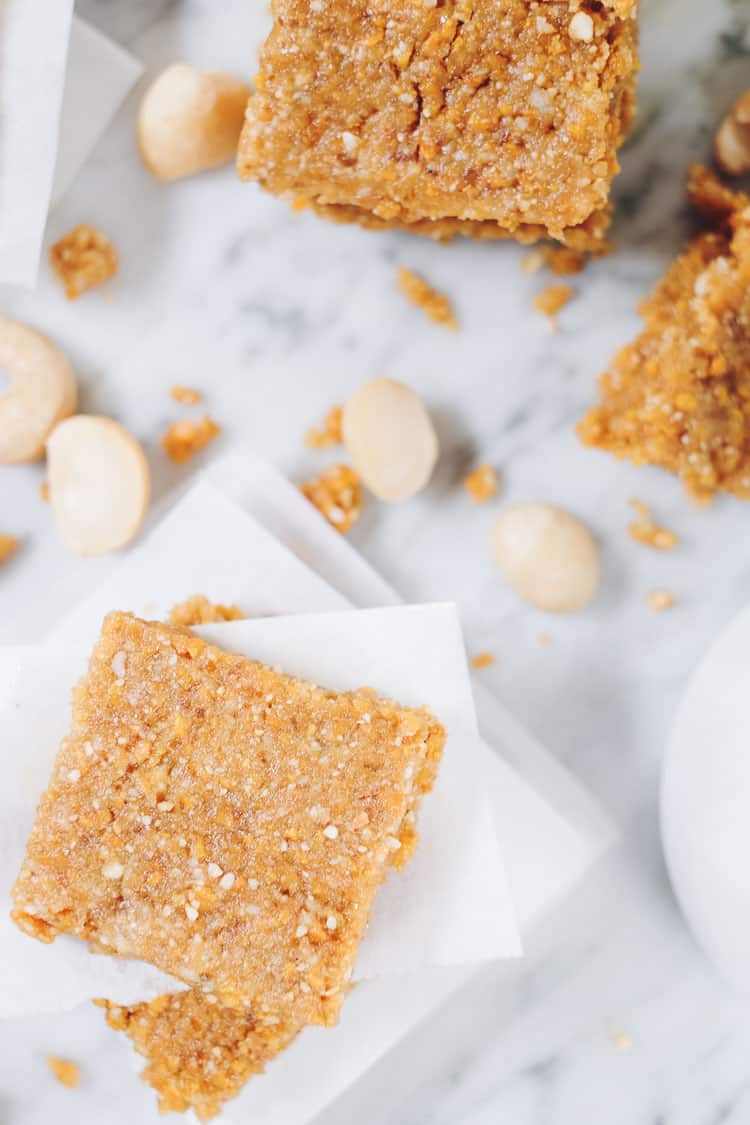 We use and love  the brand Perfect Supplements. Their hydrolyzed collagen is sourced from grass-fed cows, and we love the mission and practices of Perfect Supplements. We love partnering with them as an affiliate, and use their products regularly. You can get 10% off any Perfect Supplements order using our discount code "RSG10". We do earn a small commission when you shop using our link, which helps to keep Real Simple Good running. Our promise to you is that we only promote and share brands we personally love and use. Thanks for your support, you can shop here!
Give Meal Prepping A Shot
Our Paleo meal plans are one of our favorite ways to help people make eating clean manageable and fun. With simple tips like making breakfast and snacks ahead of time, our subscribers find it easy to eat well, especially during the busy work week. Even if you aren't interested in committing to our meal planning service, you should consider just a few meal prep ideas to help make your weeks less stressful. Try making these no bake mango bars over the weekend, and then having them on hand during the busy week ahead. You'll have a clean option at your fingertips when hunger strikes!
Your Turn To Try Our No Bake Mango Bars
Go ahead and make these no bake bars a part of your weekend meal prep and enjoy an easy and clean snack throughout the week. Let us know how it goes by leaving a comment below. Also, take a photo and tag us on Instagram @realsimplegood, so we can check it out!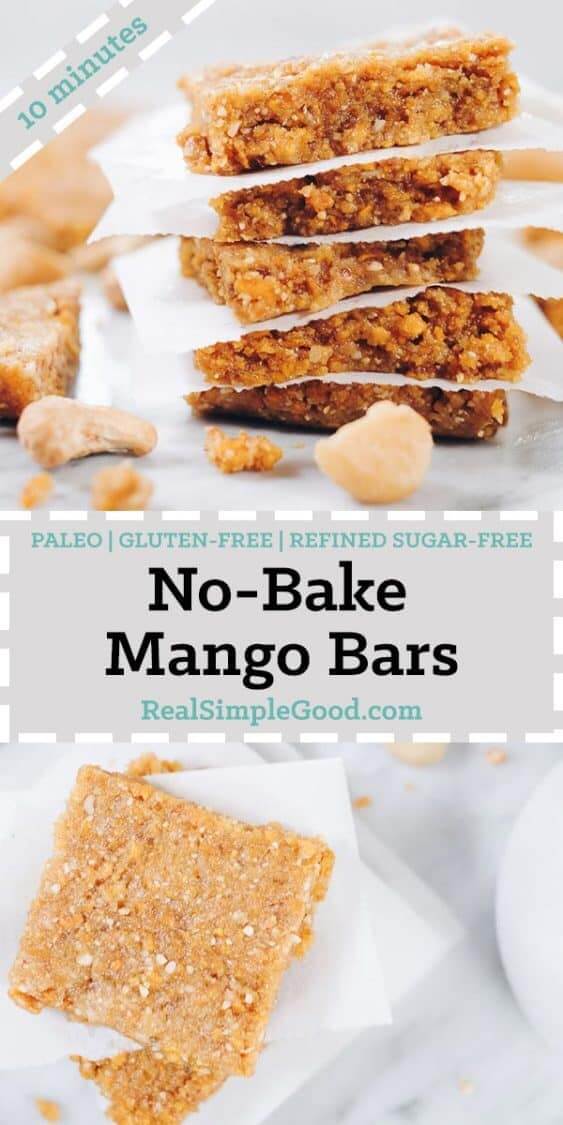 ---
Get the Recipe:
No Bake Mango Protein Bars
These no bake mango protein bars are easy to make and a great grab and go snack!
Ingredients
3/4 cup cashews
3/4 cup macadamia nuts
1.25 cups unsweetened dried mangos
3/4 cup Medjool dates, pitted
1/2 cup unsweetened shredded coconut
2 tbsp collagen, (optional)
2 tbsp ground flax seed, (optional)
Instructions
Add all the ingredients to a food processor. Pulse a few times just to break them up. Separate the dates if they start to clump together.

Process continuously for 30 seconds. The ingredients should all be broken down into crumb-sized pieces. Scrape the edges of the bowl to make sure nothing is sticking.


Process continuously for another 2 minutes or so, until the ingredients start to clump together and gather into a ball. They may not completely ball up, but process until at least some clumps are forming.


Line a 9"x9" square baking dish with parchment and dump the dough on top. Press the dough with your hands into an even layer. Cover and chill for at least an hour.


Uncover the chilled dough and transfer to a cutting board. Cut into 8 bars or 16 small squares, as desired. Store in an airtight container in the refrigerator for up to two weeks.