Do you love to spiralize veggies, or do you love to spiralize veggies?! Seriously, what's not to love? It is a fun and fresh way to eat more veggies, and we can totally get on board with that! This sweet potato spaghetti is a nourishing and healthy way to enjoy spaghetti! 
What If You Don't Have A Spiralizer?
Well, first of all you should really just invest in one. They aren't super expensive like some other kitchen gadgets, but affordable and something you'll definitely get a fair amount of use out of. Here's the one we like. I was able to find a 20% off coupon to save a few bucks.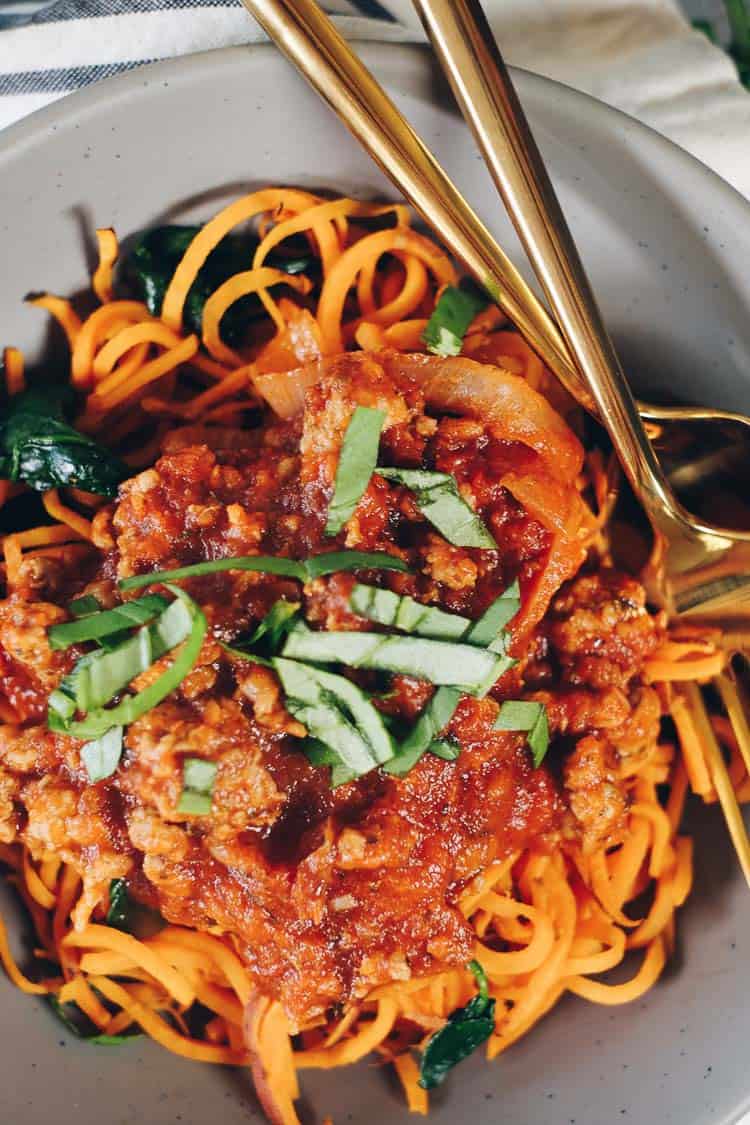 But…if you can'g get one in time to make this tasty sweet potato spaghetti you have at least one other option. There are those julienne peelers that turn veggies into thin strips that somewhat resemble noodles. Here's one from Amazon. We haven't used this before, but I have watched some youtube videos, and they appear to work quite well.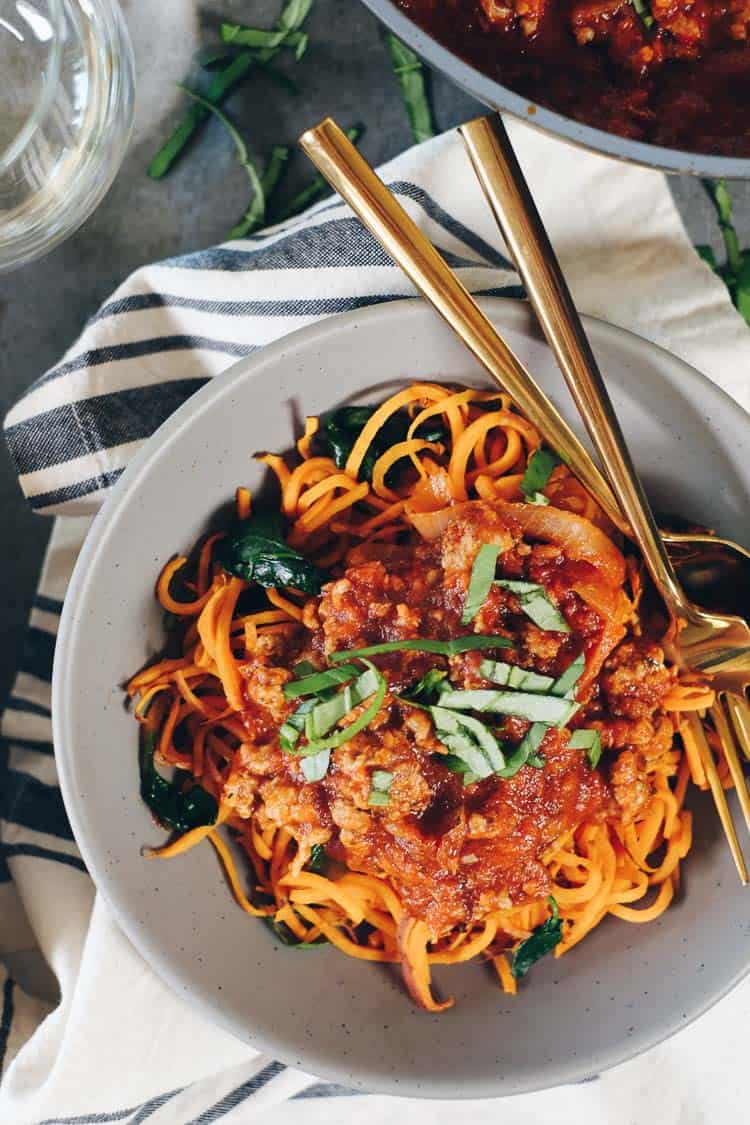 Simple Italian Sausage Meat Sauce
We like using Italian sausage for our meat sauce because it adds tons of extra flavor without extra ingredients. We recommend Mulay's Italian sausage brand, which we are able to find locally at Natural Grocers. You can look for where to purchase it in your area here. We also get Isernio's brand Italian sausage links at Trader Joe's sometimes, and then remove the ground meat from the casings. Either way, find a clean brand near you and see how much flavor it adds to your meat sauce.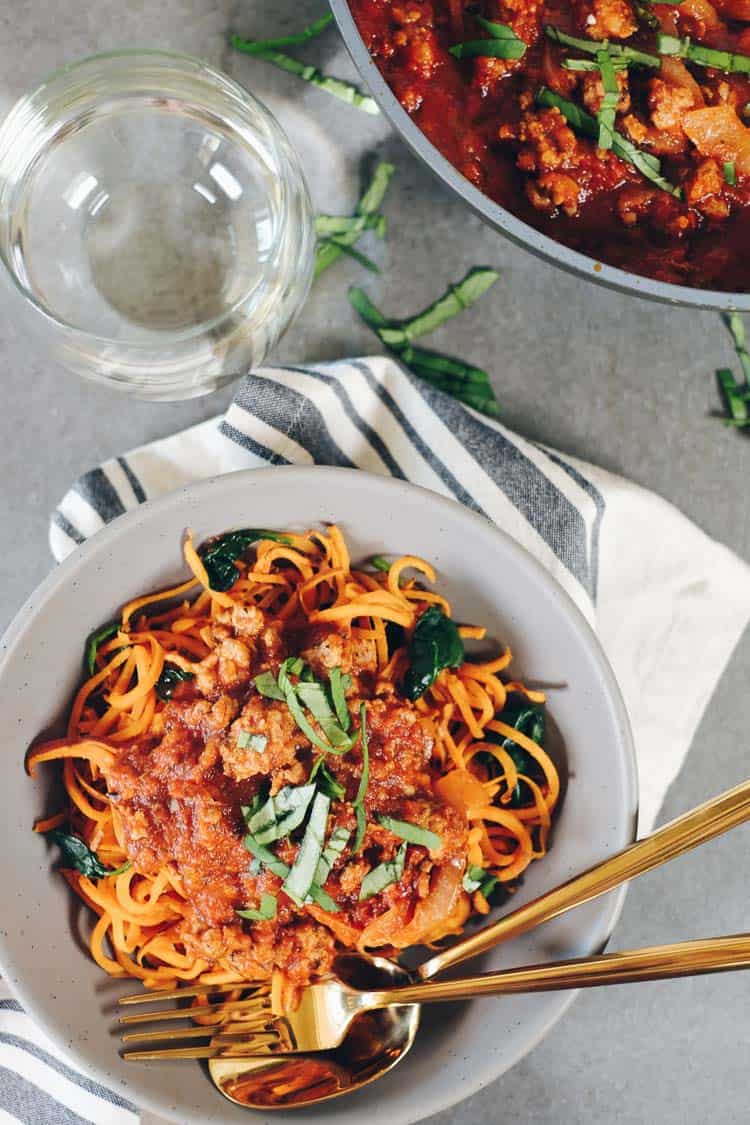 Add In Some Extra Greens
We are always looking for ways to get more greens into our day! With this sweet potato spaghetti, the perfect opportunity was to add some in right at the end of the sweet potatoes softening in a skillet on the stove. We just toss in a few big handfuls of spinach (or you could use whatever your favorite greens are) and let them wilt a bit. It is the perfect texture and flavor combo with the sweet potatoes, greens and rich meat sauce.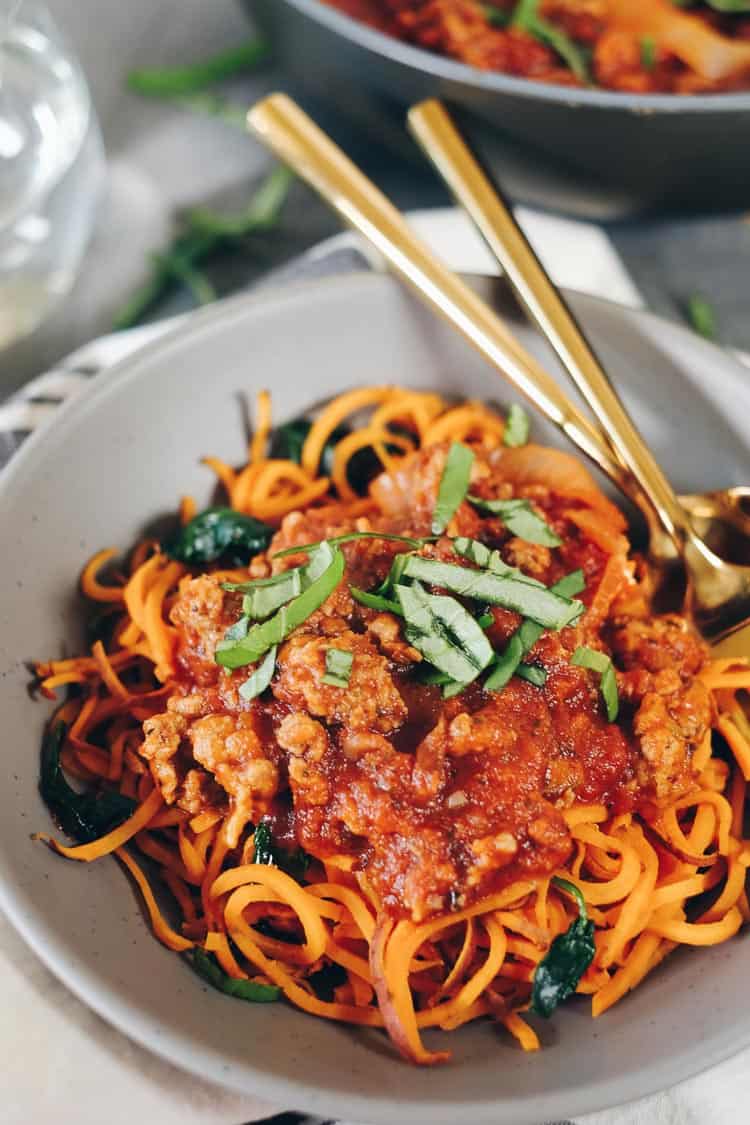 Other Spiralized Veggie Recipes
Like this recipe and want to try out some other spiralized veggie recipes? Go ahead, give these a shot!
Your Turn To Try Our Sweet Potato Spaghetti
Go ahead and plan this for a weeknight. It's a quick and easy recipe that is clean and full of flavor. Let us know how it goes by leaving a comment below. Also, take a photo and tag us on Instagram @realsimplegood, so we can check it out! Give us a follow, too!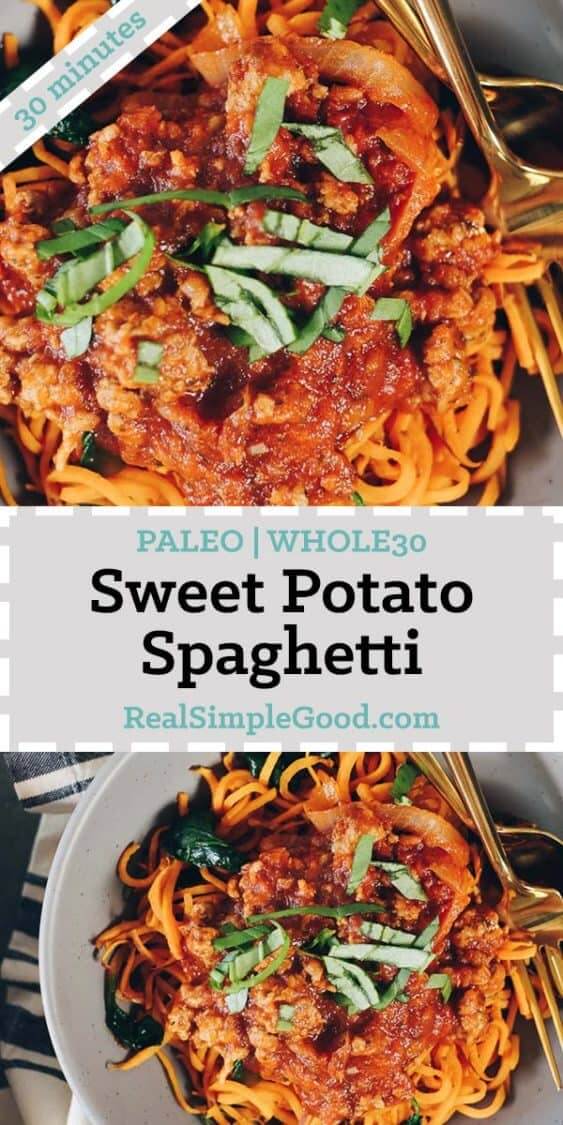 ---
Get the Recipe:
Sweet Potato Spaghetti
This Paleo and Whole30 sweet potato spaghetti is a nourishing and healthy way to enjoy spaghetti, with extra veggies and greens added in!
Ingredients
2 sweet potatoes
2 tbsp avocado oil, divided
2 cloves garlic, minced
1/2 onion, thinly sliced
1 tsp dried basil
1 tsp dried oregano
1 tsp dried parsley
1 lb ground Italian sausage
1 25 oz jar sugar-free marinara sauce
4 cups spinach
pinch of sea salt
Instructions
Start by spiralizing sweet potatoes to turn them into noodles. Use kitchen scissors or a knife to cut the long strands into more manageable sized pieces. Set aside.

Heat a large skillet over medium heat and add 1 tbsp avocado oil and onion to the pan. Once onion begins to soften (about 4-5 minutes), add dried herbs to pan.

Once herbs become fragrant (about 1-2 minutes), add garlic and ground Italian sausage to pan and cook until sausage begins to brown a bit.

Add marinara sauce to pan and stir to mix everything together. Turn down to low and let simmer while you heat up the noodles.

In another skillet over medium heat, add 1 tbsp avocado oil, the sweet potato noodles and a pinch of salt to the pan. Cook and let the sweet potatoes soften, stirring occasionally for about 5-6 minutes. Add spinach to the pan and continue to cook until spinach wilts.

Turn off all the burners and serve with a bed of the sweet potato noodle mixture and the marinara on top. Enjoy!