Do you eat breakfast for dinner as much as we do? Justin loves making breakfast, and I love eating it, so we do breakfast for dinner pretty often. We do breakfast for breakfast too, and these Paleo breakfast stacks are a new favorite of mine. I especially love them on a weekend morning, when there is that extra bit of time to really enjoy the runny egg yolk, letting it soak up into the plantain hash brown base of these stacks. For real, it is sublime!
It Tastes Better In A Stack
What is is about stacking food that just seems to make it taste better? I think it is because you get a little bit of everything in each bite, and it's like a flavor eruption in every mouthful. That must be it! For these Paleo breakfast stacks, you definitely want a little bit of everything in each bite. Starting with the plantain base and then the quick and easy guacamole. Don't miss the sausage, and finally the egg, with its runny, creamy yolk. Is your mouth watering yet?
Plantains For Hash Browns
Have you really gotten into plantains yet? For me, they started as a substitute for potatoes because I have a potato intolerance. I tried parsnips at first, but they just weren't as starchy, and I couldn't get them as crunchy as I'd like. For whatever reason I was unsure of plantains. Aren't they sweet like bananas, and why do they often look like rotten bananas at the grocery store? Yes, they can be sweeter, the more ripe they get. Those are the yellow and brown plantains you see at the store. The green ones that just look like oversized unripe bananas, those are the gems! They will yield all the starchy goodness you could ever want. Buy them, and make these Paleo breakfast stacks!
Your Turn to Try These Paleo Breakfast Stacks
Ok, enough talking. Get to it, and make these Paleo breakfast stacks for your next breakfast, or maybe make them for dinner. Stack them up and get a little of everything in each bite! Let us know how it goes by leaving a comment below. Then, take a photo and tag us on Instagram @realsimplegood, so we can check it out!

---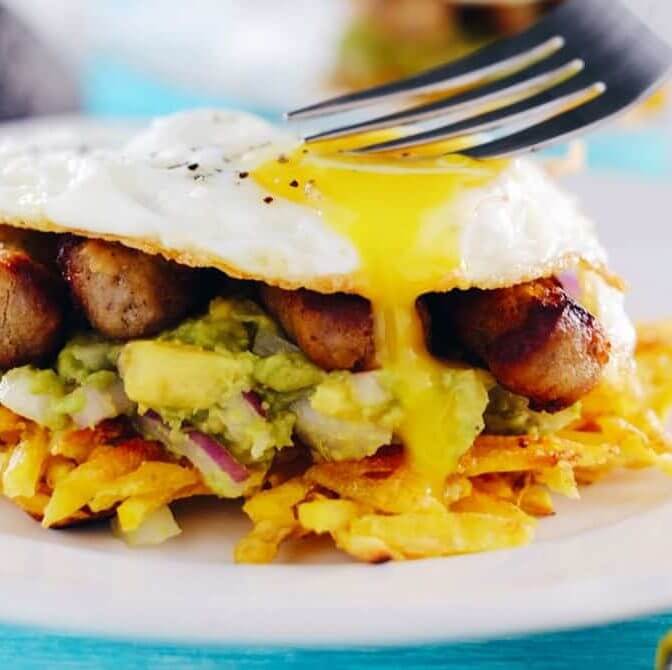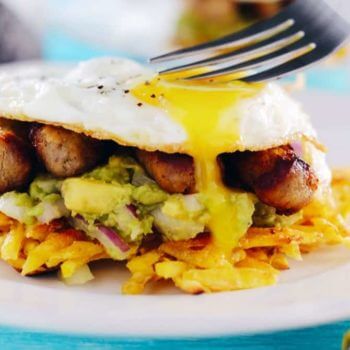 Get the Recipe:
Paleo Breakfast Stacks (Whole30, GF + Dairy-Free)
These paleo breakfast stacks are an easy to make favorite. A Whole30 breakfast with plantain hash browns, simple guacamole, sausage and eggs!
Ingredients
1 green plantain, - grated
1 avocado, - diced into chunks
1/8 red onion, - diced
Pinch of garlic powder
6-8 sausage links, (or about 1/3 lb ground breakfast sausage)
2 tbsp avocado oil
2 eggs
Salt and pepper
Instructions
Start by scoring plantain peels lengthwise with a knife, and then removing the peels. Grate the plantain with a hand grater and set aside.

Place avocado chunks in a bowl and add onion, garlic powder and a pinch of salt and pepper. Mix together well, slightly smashing the avocado. Set aside.

Heat a medium skillet over medium heat for the sausage. Form sausage into 2 patties if using ground sausage. Add sausage to the pan to cook for about 8 minutes, flipping halfway to ensure both sides are cooked.

After the sausage is started, heat another medium pan over medium heat and add the avocado oil. Once hot, add in the grated plantain, forming it into two small separate "hash brown" like patties. Cook for about 3-4 minutes on one side, until the plantains have developed a golden brown crust and slide around easily in the pan. Then, flip the plantains to cook on the other side for 3-4 more minutes.

When the sausage and plantains are almost cooked, heat up another pan to fry your eggs. We like them over easy, but you can prepare them any way you'd like.

Now, make your stacks. Start with a plantain hash brown base and add some of the avocado mixture, then layer the sausage next. Top everything with an egg. Serve and enjoy.