Do you have a thing for sauces?! I do, but I didn't realize it until Justin created the five minute roasted pepper sauce used in this Paleo chicken bowl. Don't you remember it? We posted about it last week, and I seriously cannot get enough of this sauce! It is so good! This whole meal is delicious! The highlights are that there are only eight ingredients and you can prepare it in less than 30 minutes. Plus, it is great for leftovers and lunches, too! BOOYA! (As Justin would say!)
Yes, five minutes is all it takes to make an out of this world sauce. The roasted peppers give it a bit of a smoky taste while the avocado adds a creaminess you wouldn't believe. This is about to be your new favorite sauce! We love it on this Paleo chicken bowl!
Simple Ingredients
The best part about this bowl is how simple, yet hearty and nourishing it is. First of all, we love that it is made in one pan (excluding the sauce) because who doesn't love less dishes. Let's be real! In addition, in a single bowl we were able to pack so much goodness! We've got you covered with greens, protein, good fats, and more flavor than you can imagine. You'll definitely put this one in your regular rotation.
A Paleo Chicken Bowl For Everyone
Another great feature of this recipe is that you can easily make more or less to fit your needs. Perhaps you just want dinner for one, or maybe you want to make extras to have for leftovers. It makes a great pack-and-go lunch!
Your Turn
Go ahead, you can do it! Make this Paleo chicken bowl and get all the goodness, plus a super delicious sauce you won't be able to stop eating! Let us know how it goes, and leave a comment below. Then, take a photo and tag us on Instagram @realsimplegood, so we can check it out! We'd love to see!

---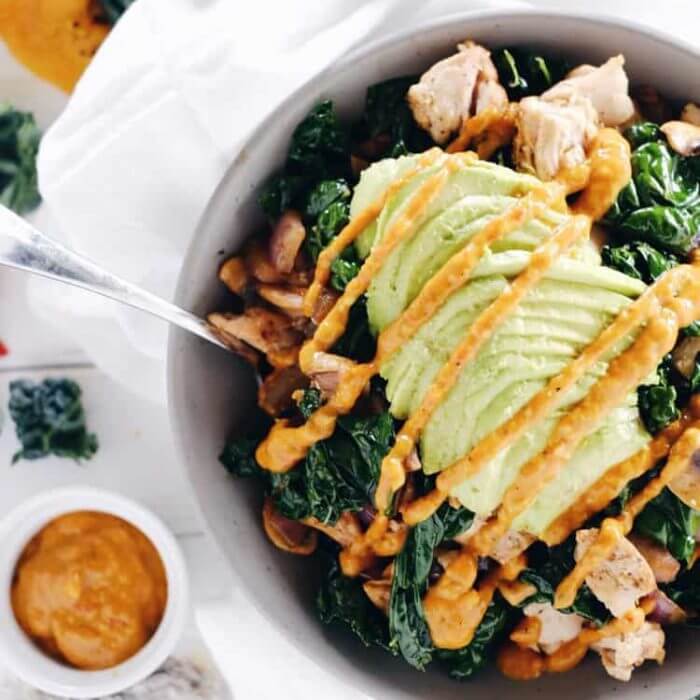 Get the Recipe:
Paleo Chicken Bowl (Whole30, GF + Dairy-Free)
This paleo chicken bowl has the most delicious roasted pepper sauce. Clean and Whole30 with only eight ingredients, you can prepare it in under 30 minutes.
Ingredients
2 avocados
12 oz jar of roasted peppers, - drained
2 cloves garlic, - peeled
1 pound boneless skinless chicken thighs
1 tbsp avocado or olive oil
1/2 red onion, - peeled and diced
2 cups mushrooms, - sliced
6 cups greens, (spinach, kale, etc.)
Salt and pepper
Instructions
First make roasted pepper sauce by placing 1 avocado, the peppers, garlic cloves and a pinch of salt and pepper into a food processor. Blend until smooth and place in refrigerator to chill.

Season chicken with salt and pepper on both sides. Heat a large skillet over medium heat and add avocado oil. Once hot, add chicken to cook, about 4-5 minutes per side.

While the chicken is cooking, cut up onion, mushrooms, and greens.

Once the chicken is cooked through, remove from skillet and place on a cooking board to rest.

Add onion to skillet and cook for 3-4 minutes, stirring frequently until onions begin to soften. Add mushrooms and cook until they start to soften, another 2-3 minutes. Add greens and cook until they begin to wilt, about 1-2 minutes. Remove from heat.

Slice chicken into bite-sized pieces and mix with veggies.

Serve in bowls and top each bowl with 1/2 avocado and a generous amount of roasted pepper sauce.