Chocolate chip cookies are another treat I had failed to find a solid paleo remake of. That is how this recipe was born. They're a little gooey, a little graham crackery, and a lot yummy! They come out a bit thinner than the chocolate chip cookies you're used to, and they are lighter. The jury is still out on whether or not that is a bad thing. Sure makes it easy for me to justify eating two cookies, rather than just one! Paleo problems, I know.

These paleo chocolate chip cookies are quick to whip up with only seven ingredients and require just one bowl for mixing. Easy cleanup. My favorite kind of treat – easy to make and breezy to cleanup. Done and done. Go make these!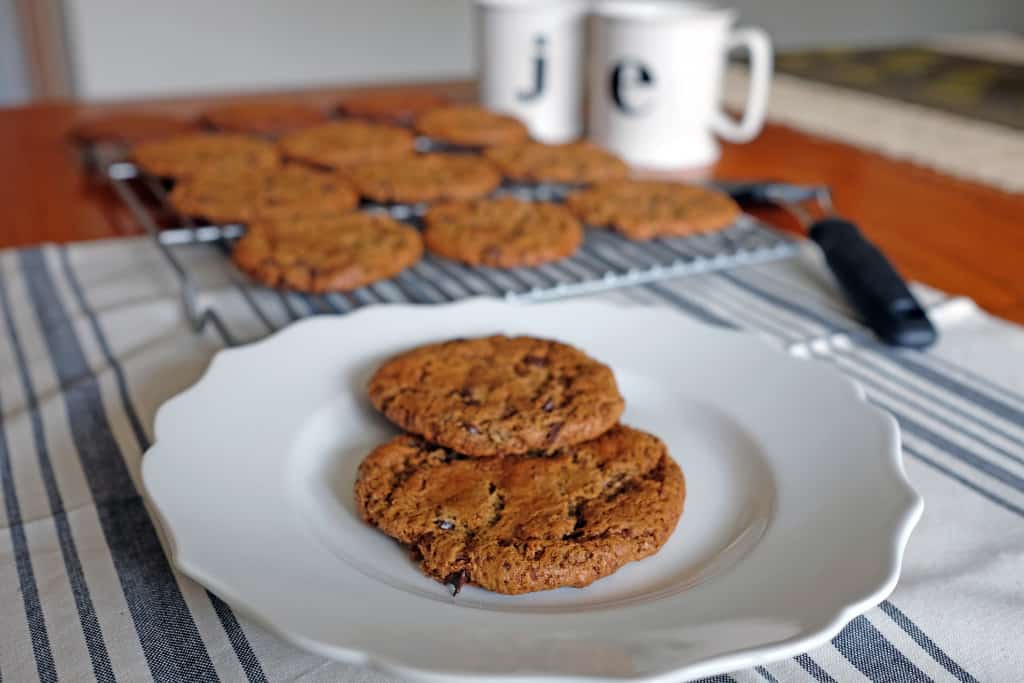 ---
Get the Recipe:
Paleo Chocolate Chip Cookies
Ingredients
1 cup sunflower seed butter, (or other nut butter of your choice)
1 cup coconut sugar, (I didn't try it, but I suspect maple sugar would work too)
1 egg
1 tsp vanilla
1 tsp baking soda
pinch of salt
1/4 cup enjoy life mini chocolate chips
Instructions
Preheat your oven to 350 degrees.

In a large mixing bowl, combine all of the ingredients except the chocolate chips.

Mix until a smooth batter forms.

Fold in the chocolate chips.

Line a cookie sheet with a silicon liner or parchment paper.

Spoon heaps of the batter onto the cookie sheet. I did about a tablespoon in size and they turned out well and made 16 cookies.

Bake in the oven for 10 minutes.

Remove and after the cookies have sat for a couple of minutes use a spatula to place cookies on a cooling rack.

Eat up!