Can you really ever have enough taco bowls in your life?! Am I the only one who could pretty much eat various versions of taco bowls every day? Every. Single. Day. These Paleo fish taco bowls are the perfect way to spice up your bowl game!
Marinate Your Fish
You'll want to start by marinating your fish for at least 15 minutes and up to 24 hours. We use cod for this recipe, which is great because it really takes on whatever flavors you cook it with. Place your fish in a glass dish and sprinkle the seasoning mixture all over. Use your hands to work the seasoning into the fish, and then wash your hands, cover the dish and refrigerate until you are ready to cook the fish.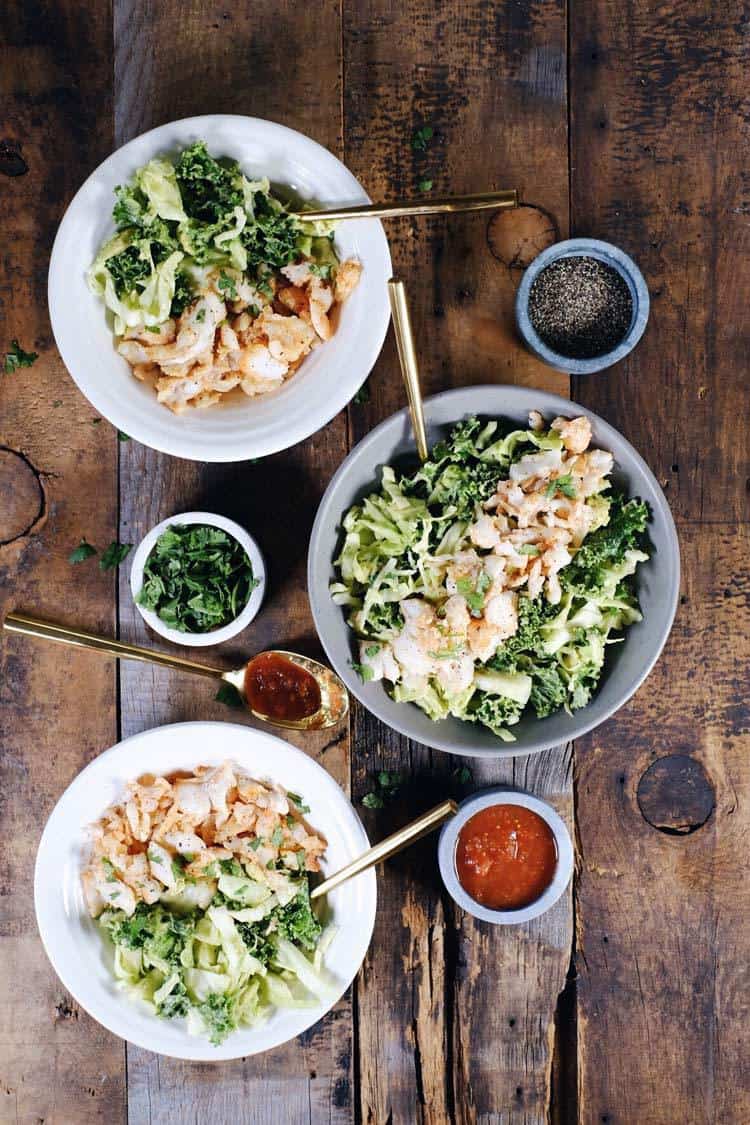 Make The Creamy Slaw
Chop up some cabbage and kale, and then add some avocado. Squeeze fresh lime juice into the bowl and mix everything up, trying to keep some bits of avocado a little chunky. Season with salt and pepper to taste. Avocado is a great way to make a creamy slaw without mayo!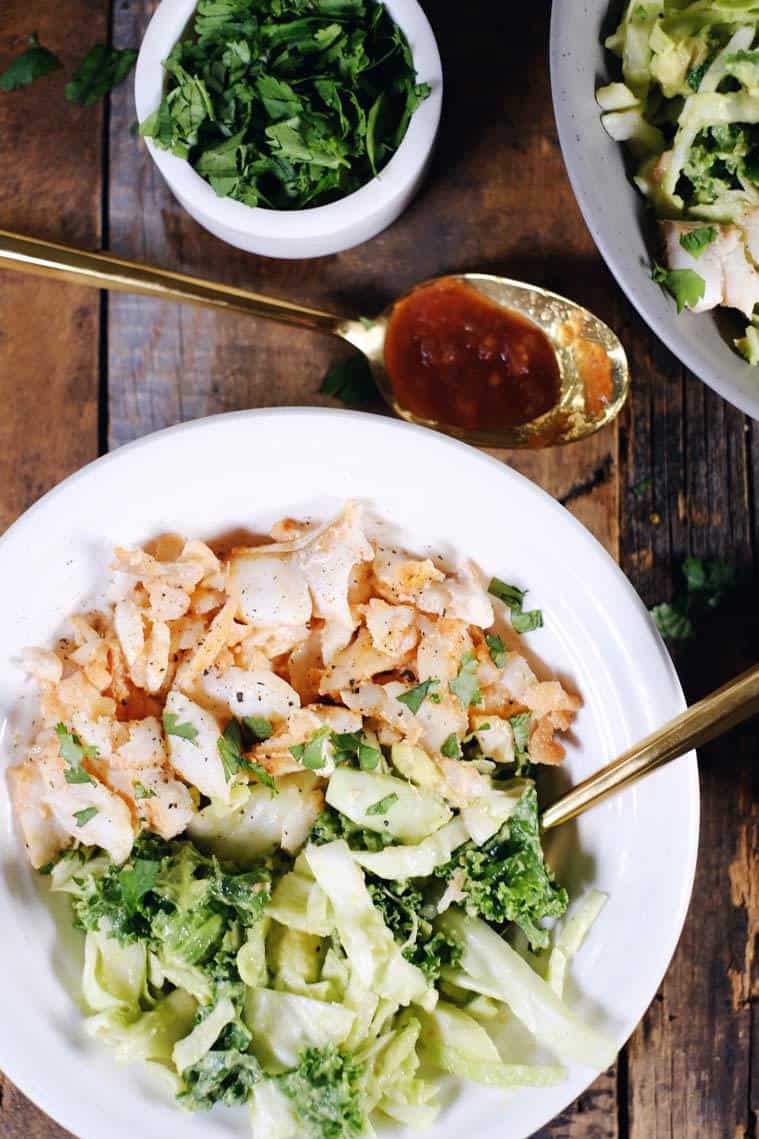 Cook Up The Fish + Assemble Your Bowls
Cooking the fish only takes about 5-6 minutes, just a few minutes on each side. Then, you break it up into smaller pieces in the pan once it is cooked and flaky. To assemble your bowls place the slaw as your base and then add the fish, salsa, cilantro and any other favorite toppings you have on hand!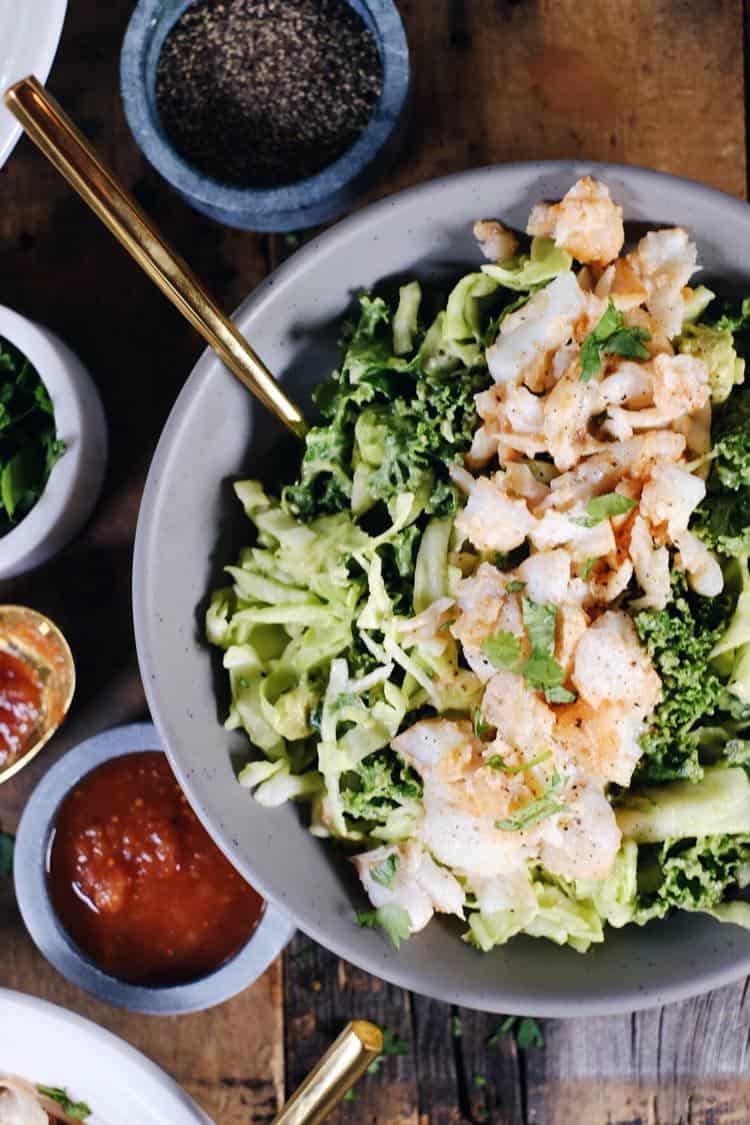 Your Turn To Make Our Paleo Fish Taco Bowls
Pick up some cod at the market and make these Paleo fish taco bowls. They are sure to be a new favorite and go-to for taco night! Let us know how it goes by leaving a comment below. Also, take a photo and tag us on Instagram @realsimplegood, so we can see! We'd love to see your creations!

---
Get the Recipe:
Paleo Fish Taco Bowls (Whole30, GF + Dairy-Free)
A quick and easy way to enjoy the flavors of fish tacos and slaw!
Ingredients
For the fish:
1.5 lbs flaky white fish, (try cod or halibut)
1 tsp garlic powder
1/2 tsp sea salt
1/2 tsp paprika
1/4 tsp cayenne
1/4 tsp cumin
1/4 tsp ground pepper
2 tbsp grass-fed butter, (or sub ghee or coconut oil)
For the rest of the bowls:
4 cups cabbage, shredded
4 cups kale, chopped
1 lime, juice of
2 avocados, cubed
salt and pepper, to taste
1/2 cup salsa
1/2 cup fresh cilantro, chopped
1 cup white rice, (optional)
Instructions
Place all of the seasonings for the fish tacos in a small bowl and mix until they are evenly combined.


Place fish in a glass dish, and add the seasoning mix. Work the seasoning into the fish with your hands. Cover and place in the fridge. Let fish marinate for at least 15 minutes and up to 24 hours.


Make the slaw by placing cabbage, kale, lime juice, avocado, salt and pepper in a large mixing bowl and mix them up until the avocado gets a little broken down but stays mostly chunky. Set aside till you're ready to plate.


Heat a large skillet over medium heat and let your butter, ghee or coconut oil heat up and melt in the pan. Transfer your fish to the heated skillet. Let the fish get to sizzling. Cook for 2-4 minutes.


Flip and cook for another 2-4 minutes. Turn your burner off once the fish is done. It will be flaky and you can break it up into smaller pieces in the pan.


Make your bowls. Start with the slaw in the bottom of your bowls, add optional rice and top with fish. Garnish with salsa and fresh cilantro.