Well, we love to get a little crispy chicken skin going on, and these crispy chicken thighs with zesty cauliflower are the perfect way to spice up your week!
Make It Spicy Or Mild
We've been known to like a little extra spice at times, and the blend of spice and citrus in this dish is the perfect way to take your taste buds on a little adventure. If you're daring, really go for it with the jalapeño, and if you're a little more cautious, pull back a bit or remove it all together. Either way, this dish is full of flavor and texture that will have you craving more!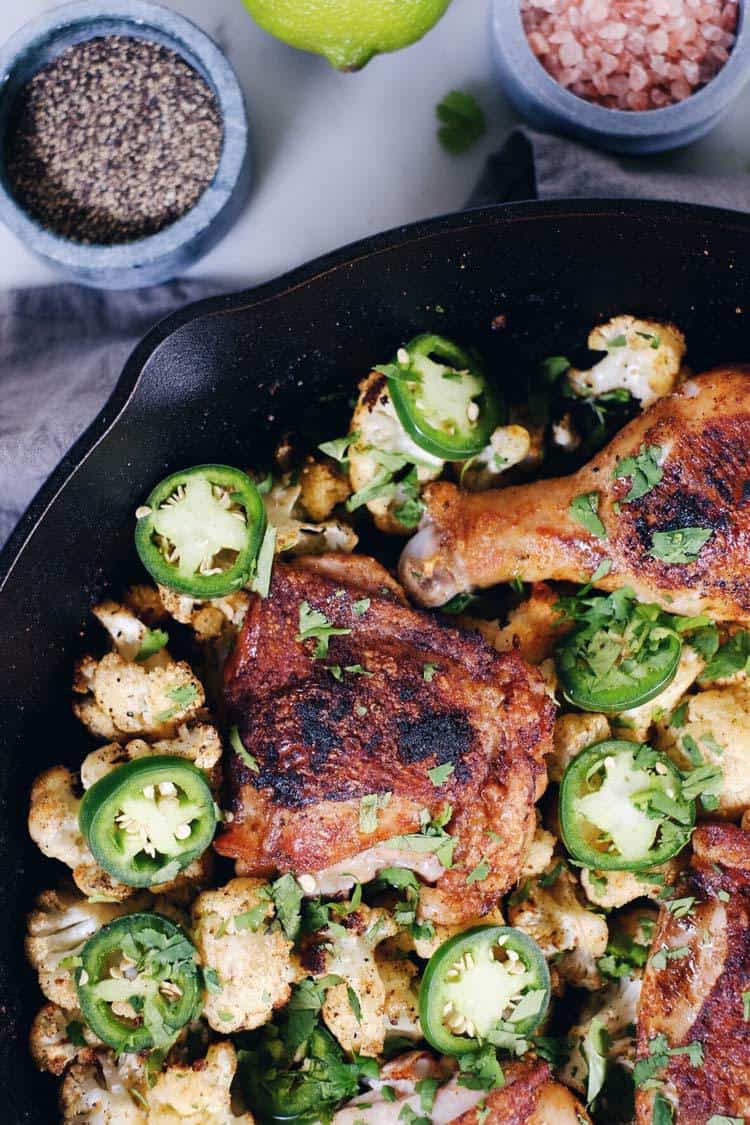 Bone In – Skin On Thighs
For this crispy chicken thighs recipe, use bone in, skin on thighs. You can also use drumsticks as well. We typically just get bone in, skin on chicken quarters and then cut the thighs from the drumsticks and cook it all up! Go with whatever works best for you based on availability and preference.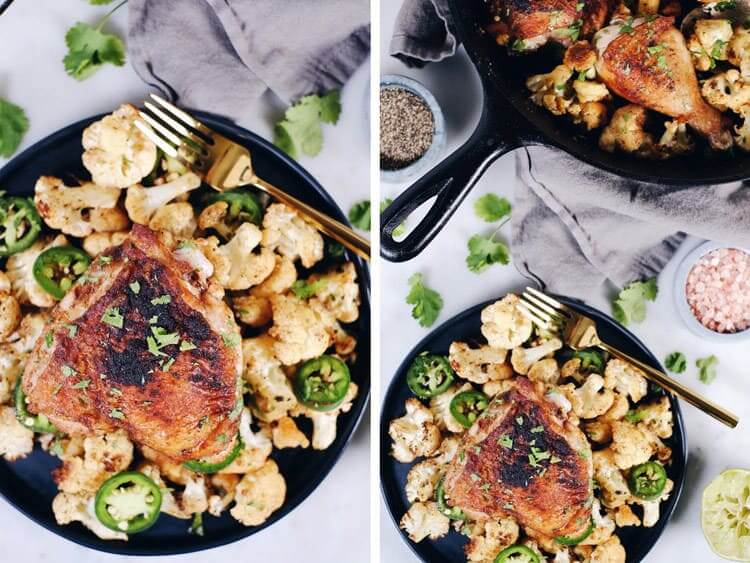 Getting A Little Extra Crisp On The Chicken Skin
A quick and easy tip for getting the chicken skin to crisp up just a little extra is to turn the oven to broil right at the end, and broil for a couple of minutes. You'll get an extra little crunch on the skin, that combined with the seasonings is a real treat!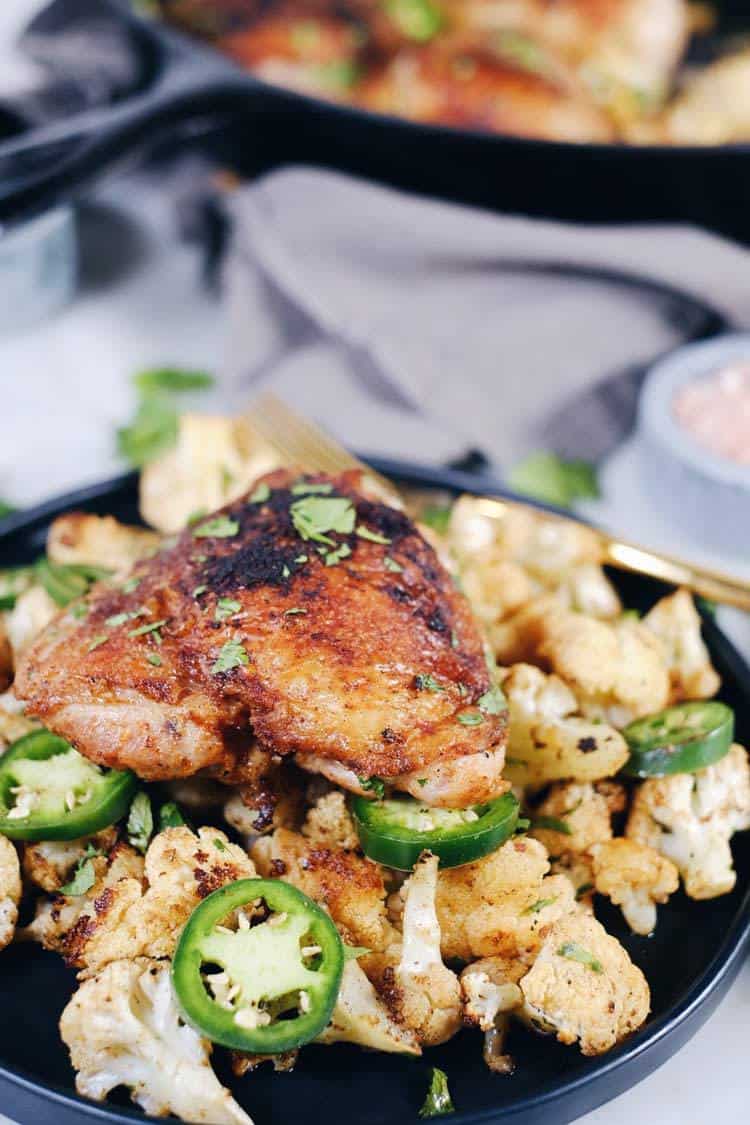 Your Turn To Try Our Crispy Chicken Thighs With Zesty Cauliflower
Go ahead and get your crispy chicken thighs on and enjoy the exciting flavors of the zesty cauliflower. Let us know how it goes by leaving a comment below. Also, take a photo and tag us on Instagram @realsimplegood, so we can check it out!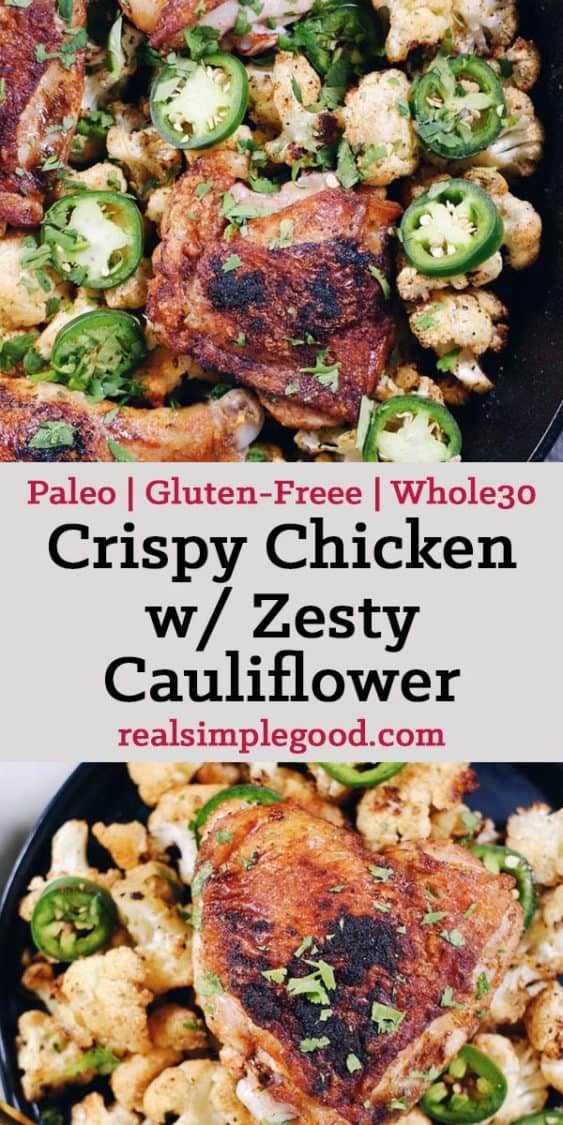 ---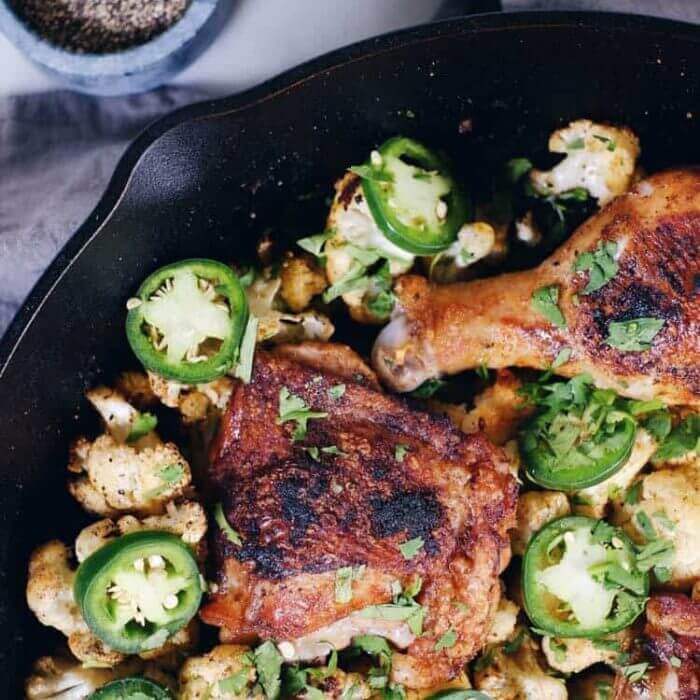 Get the Recipe:
Crispy Chicken Thighs with Zesty Cauliflower (Paleo, Whole30 + Keto)
Crispy chicken thighs with zesty cauliflower are the perfect Paleo + Whole30 spicy meal. Packed with flavor, including citrus, cilantro and jalapeño!
Ingredients
3 lbs bone-in, skin on chicken thighs, (can also use drumsticks)
1 tsp sea salt
1 tsp chili powder
1 tsp paprika
1 tbsp avocado oil
1 head cauliflower, cut into florets, (about 6-8 cups)
1 jalapeno, sliced
1/2 cup cilantro, chopped
1 lime, juice of
1 tsp cumin
Salt and pepper
Instructions
Preheat oven to 450 degrees Fahrenheit. Season the chicken all over with salt, chili powder and paprika. Cut up cauliflower to have it ready.

In a large ovenproof skillet over medium-high heat, add avocado oil. Once hot, cook the chicken (in batches if needed) skin-side down without disturbing until the skin side is crisp and golden, about 5-6 minutes. Flip and cook the other side for 1 minute to give it a quick sear. Turn the heat off and transfer chicken to a plate.

Add the cauliflower to the skillet and season with cumin plus salt and pepper to taste. Stir and toss to coat with seasoning and some of the chicken juices in the pan.

Next, nestle the chicken skin-side up in the cauliflower. If there is too much chicken to fit in the pan with the cauliflower, place remaining chicken on a sheet pan. Carefully transfer everything to the oven and roast until the cauliflower is tender and the chicken is cooked through, about 20 minutes.

While the everything is cooking, cut up jalapeno and cilantro.

When the chicken is cooked through, remove from oven and add in cilantro and jalapenos. Squeeze the lime juice over everything and toss to combine. Serve and enjoy.
Notes
Nutrition facts are an estimate provided for those following a Ketogenic or low-carb diet. See our full nutrition information disclosure here. 
Calories: 572kcal, Carbohydrates: 8g, Protein: 46g, Fat: 39g, Saturated Fat: 10g, Fiber: 3g