Early bird gets the worm, huh!? That must be why these paleo lemon bars turned out so delicious! I've been up since early this morning working on recipes, playing in the kitchen, and drafting posts. We've been having overcast skies which have proven to be quite fantastic for food photography the past couple days. I decided it was a good day to make these paleo lemon bars, so I could snap some dreamy shots. 
Lemon is a favorite of mine, mostly for its versatility. I love that it goes with savory, sweet and tart things. Lemon is like all the things of food. Justin and I always talk about how we want all the things. It's kind of the mantra of our life together. I don't mean all the things, like cars, big houses and fancy things. I mean all the things, like our dream jobs (working on that one right now, check!), lots of love, babies, and a cozy place to call home. That's about it, but it is oh so much when you share it with the right person I'm finding. So, these paleo lemon bars are all the things. They're sweet, savory and a little tart, too! They're also pretty and kind of airy and dreamy looking in these photos.
The crust on the bottom is graham cracker like, and the filling is quite lemony, infused with hints of honey. I just want to go back to these photos and soak up the bright and lemon scented air. We're going to make these for Easter brunch, and I can't wait to sit and sip some coffee while I gobble up one of these decadent squares.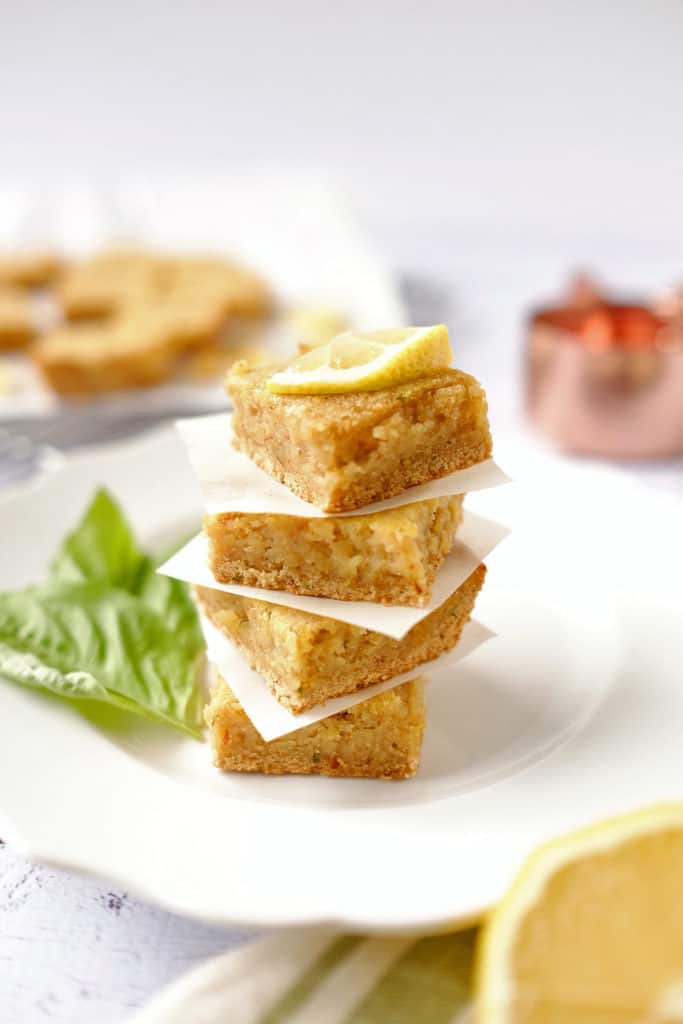 Get on board! These will be a great treat for Easter brunch. My step-dad loves lemon bars, and I can't wait to knock his socks off with our paleo version. I'll tell him after he has devoured one or two. It's like sneaking veggies into food for kids, but one of these days, I'm going to have him eating much more like we do.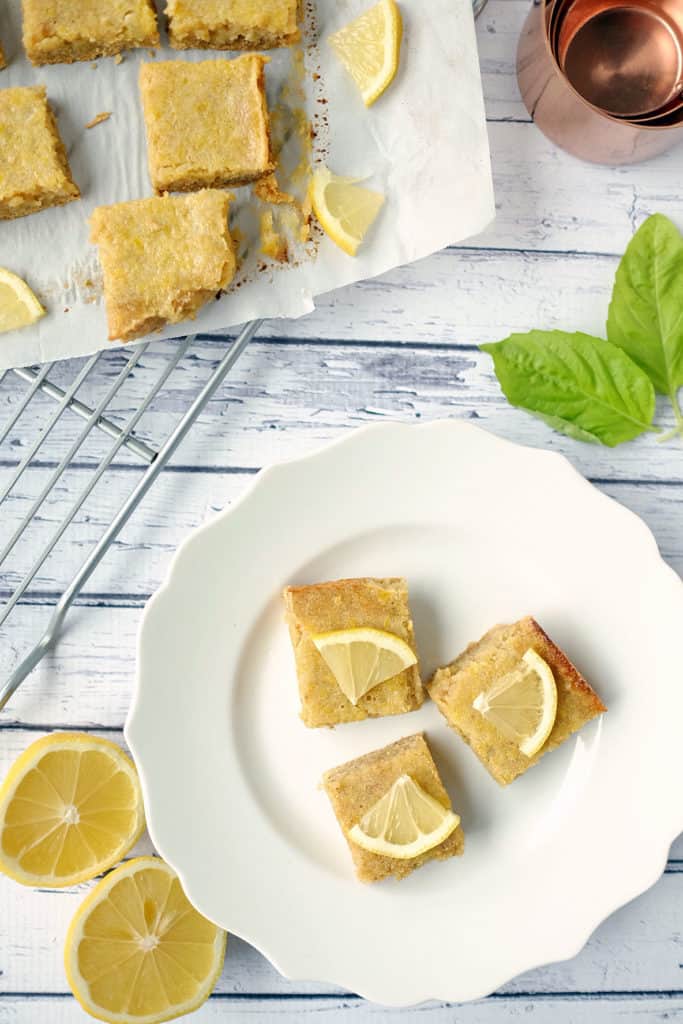 Go try out these paleo lemon bars, and let us know how you like them by leaving a comment below. Also, take a picture and tag it on Instagram @realsimplegood so we can check it out!
---
Get the Recipe:
Paleo Lemon Bars (Paleo, GF, Dairy-Free + Refined Sugar-Free)
Ingredients
For the filling:
3 eggs
1/2 cup honey
1 lemon, (zest and juice)
Pinch of sea salt
Instructions
Preheat oven to 350 degrees fahrenheit, and line an 8"X8" pan with parchment paper. I used a glass pan.

Next, make the crust. Start by placing all of the dry ingredients for the crust in a small mixing bowl. Use a whisk to stir the ingredients until they are combined.

In another small mixing bowl, add all of the wet crust ingredients and whisk them together. It will take a couple minutes to get the honey worked into the other ingredients.

Next, add your dry ingredients to your wet ingredients and continue stirring until a clumpy dough forms.

Plop the dough into your parchment lined square baking dish, and use your hands to spread the dough, making a uniform layer.

Place your dish in the oven and bake for 15 minutes until the crust starts to get golden brown around the edges and on the top.

While the crust is baking, prepare the filling. Place all of the filling ingredients in one of the bowls you used and already emptied. I used the dry ingredient bowl when I made them last time because it meant less dishes.

Whisk together all of the filling ingredients. Again, it will take a little effort to get the honey all the way worked into the rest of the ingredients. Stick with it, you're almost finished.

When the crust is done, remove from the oven and pour your filling right on top.

Return your dish to the oven and bake for another 20 minutes until the filling is set.

Remove from the oven and let your paleo lemon bars cool. Once cooled, slice into bars and serve.

Store in an airtight container in the fridge for 5-7 days.