This is such an easy meal with so much flavor, it's kind of absurd. These taco stuffed bell peppers not only look so amazing, they taste even better than they look. It's like a little single-serving bowl full of goodness – and you get to eat the bowl.
We like making these because they are simple, delicious and ready in about 30 minutes. Because they are so easy, we've found a reason to put them on regular rotation in our house for a quick weeknight dinner. They are perfect to have over and over because you can change-up the protein and toppings to get a completely different flavor each time you make them. Here are the peppers fresh out of the oven, before we loaded them with our toppings:
This recipe is for a "traditional" taco with ground beef, but you can easily substitute chicken, fish or steak to mix things up a bit. Play around with the toppings too, we'd love to hear about how you customize this recipe to suit your tastes!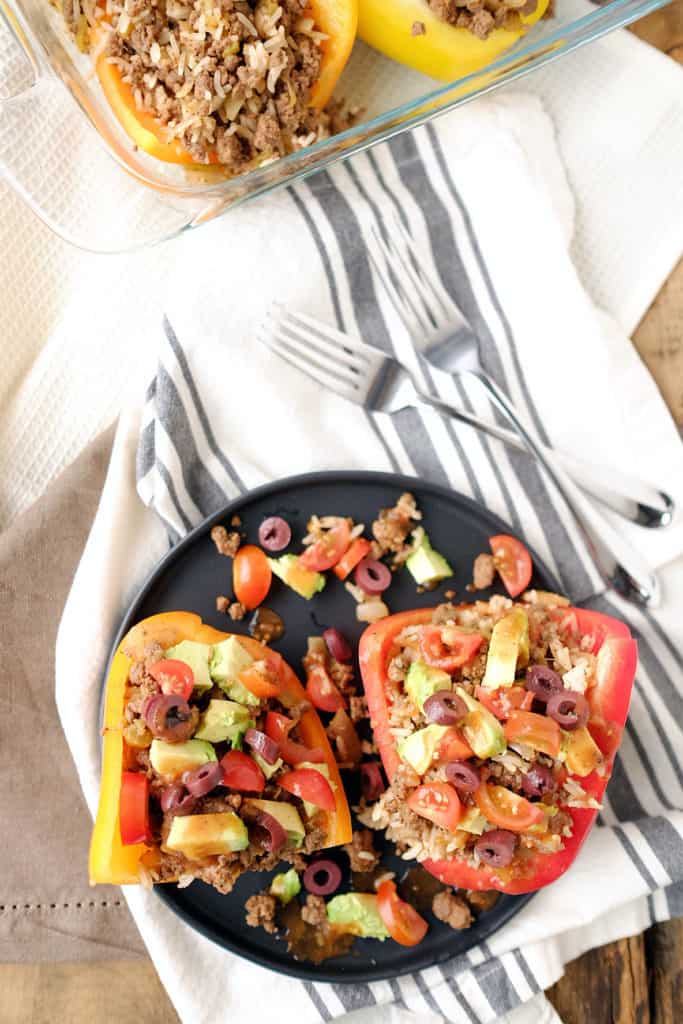 This recipe is a keeper, and anyone can make it with ease. Just cook up the ground beef, mix in the taco seasonings and other ingredients and stuff the peppers to the brim. Cook them in the oven for just 15 minutes and in no time you'll be devouring these easy taco stuffed bell peppers.
If you try out this recipe, let us know how you like them by leaving a comment below. Also, take a picture and tag it on Instagram @realsimplegood so we can check it out!
---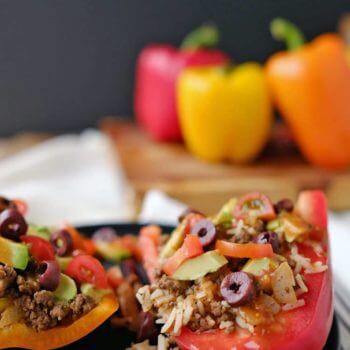 Get the Recipe:
Taco Stuffed Bell Peppers (Whole30 + Keto)
This is such an easy meal with so much flavor, it's kind of absurd. These Paleo + Whole30 taco stuffed bell peppers look so amazing and taste even better!

Ingredients
2 cups rice, (optional - omit for Whole30 & Keto)
1 lb grassfed ground beef
1/2 onion, diced
1 can diced green chilies, (~4oz)
4 bell peppers, cut in half with the tops cut off and seeds removed
1 batch of our homemade taco seasoning, (ingredients below)
For the taco seasoning:
1 tsp garlic powder
1 tsp chili powder
½ tsp paprika
½ tsp cumin
½ tsp onion powder
¼ tsp cayenne pepper
¼ tsp pepper
¼ tsp salt
¼ tsp oregano
Instructions
If you are using rice, cook the rice and have it ready. Or, if you are like us, just use the organic jasmine rice from Trader Joe's it is ready in 3 minutes in the microwave.

Heat a large pan over medium heat.

Add in the ground beef and onion to the pan to brown.

Mix up the taco seasoning and get your peppers ready while the beef is cooking.

Preheat your oven to 350 degrees.

Once the beef is browned, add the taco seasoning and green chilies. Mix well.

Add in the rice and mix everything together one last time.

Place the bell peppers on a baking sheet. Fill them up with the beef mixture.

Place in the oven to bake for 15-20 minutes, until the pepper is cooked to your liking. We like the peppers with a little crunch, so 15 minutes was just right.

Serve your peppers with optional toppings of salsa, tomatoes, olives, avocado, cilantro, etc.
Notes
Nutrition facts are an estimate provided for those following a Ketogenic or low-carb diet and do not include rice for this recipe. See our full nutrition information disclosure here.  
Calories: 345kcal, Carbohydrates: 13g, Protein: 21g, Fat: 23g, Saturated Fat: 8g, Fiber: 5g