I really think I could love pumpkin all year long! There is just something so comforting, warming and cozy about pumpkin treats! These Paleo pumpkin snickerdoodles have been the treat most frequently made at our house this fall. They are super easy to make and contain no eggs, so it's guilt-free spoon and bowl licking once they're in the oven!
Super Easy Recipe
Not only does this Paleo pumpkin snickerdoodles recipe call for only eight ingredients, it also requires only one bowl and a large spoon to mix everything up! That leaves little to clean up, making this one of my favorite recipes. It takes about 10 minutes to get these cookies on a baking sheet and into the oven, maybe faster if you make the recipe a few times and get more efficient like I have! Seriously though, these cookies come out a little chewy and full of fall flavors!
Baking Conditions
A few factors can lead to cookies that fall apart once you take them out of the oven. First, use a thicker almond butter. The thinner, more oily ones won't firm up quite enough. Second, use parchment paper or a silicone liner. It really is the best for Paleo baking. Third, you might have to play with the cooking time just a little since ovens vary. We use a convection oven for even cooking, and I've tried baking these Paleo pumpkin snickerdoodles for 10, 11 and 12 minutes. My experience is that 11-12 minutes is most ideal. At 12 minutes they come out the oven and appear a little overcooked, but give them a day on the counter in an airtight container, and they actually soften just a bit. It's divine, really. One last item of note…make sure you let the cookies cool completely before removing them from the parchment paper.
Your Turn To Try Our Paleo Pumpkin Snickerdoodles
Hurry, get into the kitchen, and make a batch of these Paleo pumpkin snickerdoodles. They are sure to be your new favorite fall treat! Let us know how it goes by leaving a comment below. Also, take a photo and tag us on Instagram @realsimplegood, so we can check it!

---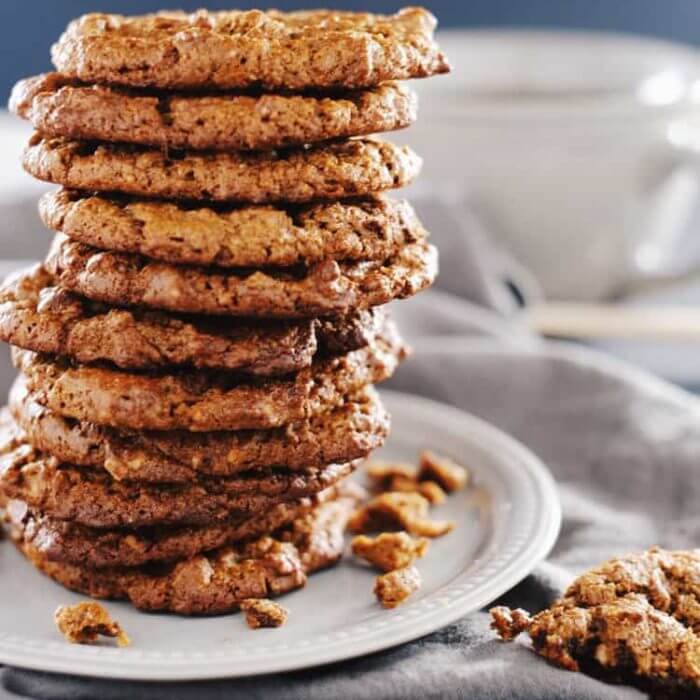 Get the Recipe:
Paleo Pumpkin Snickerdoodles (GF, Dairy-Free, Egg-Free + Refined Sugar-Free)
These Paleo pumpkin snickerdoodles are super easy to make and contain no eggs, so it's guilt-free spoon and bowl licking once they're in the oven!
Instructions
Preheat your oven to 350 degrees Fahrenheit, and line two baking sheets with parchment paper.

Place all of the ingredients in a large mixing bowl, and use a large spoon to mix until creamy.

Scoop out overflowing tablespoon sized dollops onto your parchment lined baking sheet, leaving plenty of room between cookies because they will spread out quite a bit. Sprinkle a little more cinnamon and coconut sugar on top.

Place your baking sheets in the oven and cook for 11-12 minutes, or until the edges turn golden brown. Remove from oven once done and let cool completely before removing from parchment paper. Store in an airtight container on the counter for about a week.