Cinnamon is really tasty AND good for you! The aroma reminds me of fall and the holidays, and sometimes it just makes me feel all warm and fuzzy inside. I like to add cinnamon to lots of things, like my coffee in the morning or in this case to my ice cream. Cinnamon mimics the taste of sweet things and can help to reduce sugar cravings, plus it is packed with antioxidants. Here's to making ice cream more flavorful and savory with a hint of sweet.

If I haven't convinced you to go out and purchase an ice cream maker yet, just know…I'm going to keep trying…and I can be persistent! I made this paleo salted cinnamon ice cream to go on top of our paleo chocolate chip fudge brownies and it was a success all around, so I recommend making the brownies too! If you do not use an ice cream maker pour the mixture into a freezer safe bread pan and periodically remove from the freezer to stir until it reaches your desired consistency. I'm not quite this patient, so I prefer the ice cream maker.
Get after it! This paleo salted cinnamon ice cream is indulgent!
---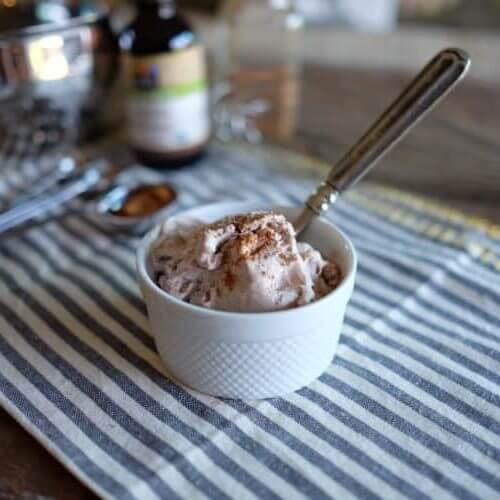 Get the Recipe:
PALEO SALTED CINNAMON ICE CREAM
Instructions
In a medium mixing bowl whisk all of the ingredients until combined. Note: If you use chilled coconut milk it will reduce the cooking time.

Pour mixture into your

ice cream maker

per the manufacturer's instructions.

Once the ice cream reaches a soft serve like consistency turn off the ice cream maker and serve.

Sprinkle a little salt on top.

Eat up! This is real good!