Scallops might just be one of my favorite "fancy" things to make and eat. It's kind of like putting on a cute dress…it looks like you spent a lot of time getting yourself together for the day, but really it was almost effortless. Sneaky…I know! Anyway, scallops may seem a little scary or daunting, but they don't take a lot of seasoning or extra work. Just keep it simple and you'll be happy every time. For this dish, we had leftover lemon artichoke pesto sauce in the fridge so it was very quick and made a weeknight dinner stress free. Baking the spaghetti squash was the most time-consuming part, so imagine if you had the squash leftovers as well, this would be the ultimate weeknight meal.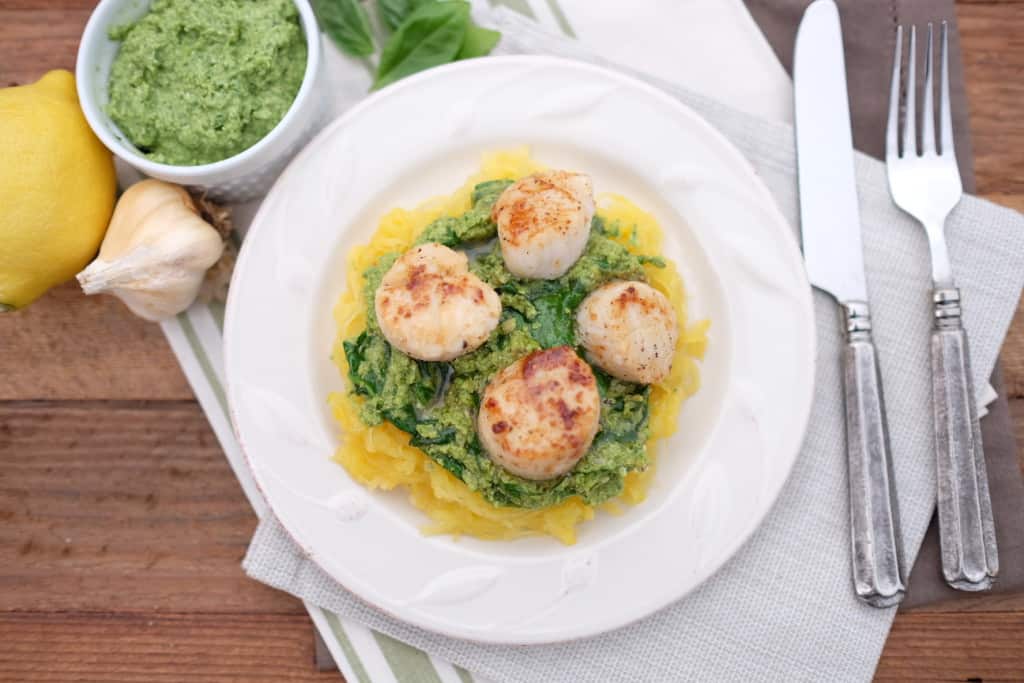 Enjoy!
---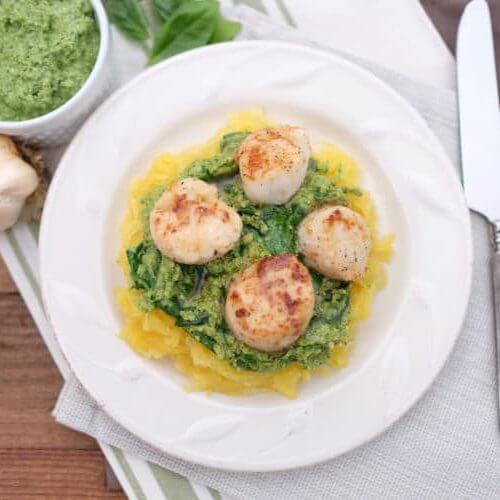 Get the Recipe:
Seared Scallops with Pesto Sauce and Spaghetti Squash
This seared scallops with pesto sauce and spaghetti squash is a simple, flavorful meal that looks and tastes like it takes hours but is really easy.
Ingredients
1 spaghetti squash, - small to medium
1-2 tbsp grassfed butter or other fat of choice, (coconut oil, bacon fat, etc), we love Kerrygold
8-10 scallops
salt and pepper to taste
1 cup pesto sauce, - see our lemon artichoke pesto sauce recipe linked above in post
1-2 handfuls of fresh spinach
Instructions
Preheat your oven to 400 degrees and line a baking sheet with foil

Cut your spaghetti squash in half lengthwise (this can be a real pain, but if you ask someone in the produce department at the store, they'll cut it for you)

Place the spaghetti squash halves facing down on the foil lined baking sheet and cook for 25-30 minutes

When the squash is almost done, remove from the oven and let cool while you heat your pesto sauce and sear your scallops.

Heat your pesto sauce in a skillet over medium heat

Add 1-2 handfuls of fresh spinach to the pesto sauce and let the sauce simmer

Once your spaghetti squash has cooled enough to handle it, use a fork to remove the pasta shreds and set aside

Next, to sear the scallops add 1-2 tablespoons of grassfed butter to a frying pan

Add the scallops to the frying pan once the butter is melted and hot and sprinkle with salt and pepper to taste

Sear the scallops for about 2 minutes on each side

Scoop spaghetti squash on your plate, then layer the pesto sauce and scallops on top. Eat up!