You don't need nuts or cheese to make a delicious pesto sauce! This healthy pesto has a garlicky kick to go along with a tangy lemon artichoke flavored base. It's so creamy and delicious and ready to be dipped or slathered on anything!
Ingredients in this nut free pesto
Most pesto recipes call for pine nuts, which I'm not a big fan of. So, I made up my own version of pesto without them and here's what you'll need:
Sunflower seeds – These have a more neutral flavor than pine nuts and provide the same texture and thickness to the pesto.
Fresh garlic – Can you really make pesto without a bunch of garlic?
Artichoke hearts – These add a slightly tangy and creamy flavor to the sauce.
Lemon Juice – Lemon + artichoke is such a perfect combination.
Fresh Basil – The base of every great pesto, add as much as you want!
Arugula – My favorite ingredient in this sauce. It adds a spicy, peppery flavor that can't be beat.
Salt, pepper and oil – I prefer a very light olive oil or avocado oil. A darker and more flavorful olive oil can be overpowering.
Looking for more? Check out all of our healthy sauces and dressings!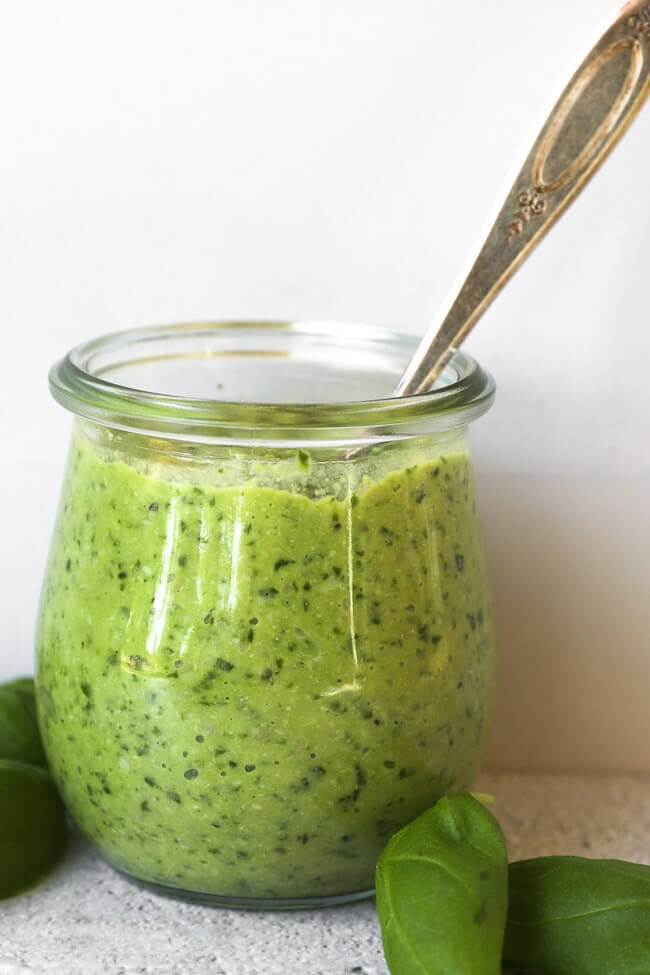 Why a dairy free pesto?
Not everyone tolerates dairy very well, but everyone should be able to enjoy a good pesto sauce!
I created this recipe when I first started on the Paleo diet. I was missing fresh pesto (and pasta) and couldn't find any good pesto recipes or alternatives without dairy.
So I went ahead and made my own and I couldn't be happier! This easy homemade sauce has become a staple in our house. It's so versatile and you can whip up a batch in about five minutes.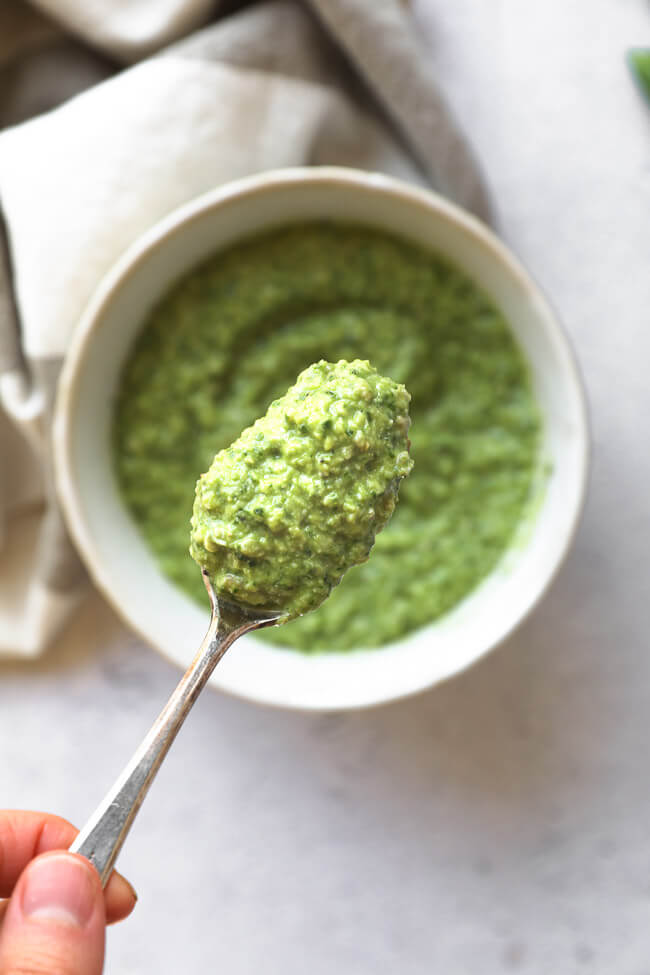 Ways to enjoy this healthy pesto sauce
We've eaten this sauce just about every way possible! Here are some examples: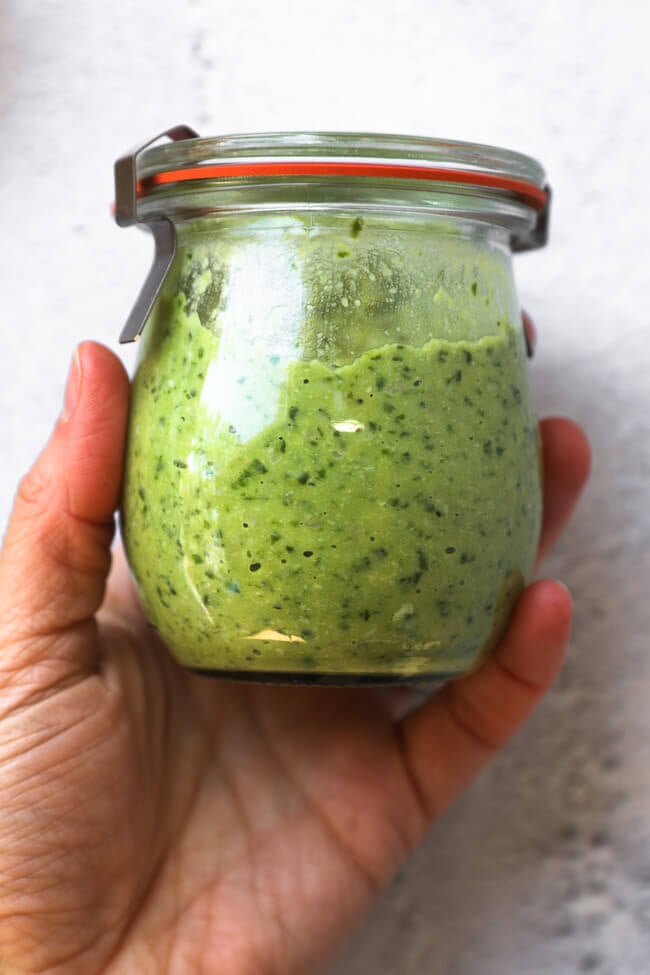 How to store homemade pesto
Because this is made with fresh ingredients, it needs to be stored in an airtight container in the fridge. It will last between 3-5 days when stored this way.
Alternatively, it can be frozen in a jar or container to be thawed out and used later.
Another way to freeze pesto is to pour it into ice cube trays and freeze it. Once it's frozen, pop the cubes out and place them in a container. Then, whenever you want some pesto you can just thaw out as many cubes as you want!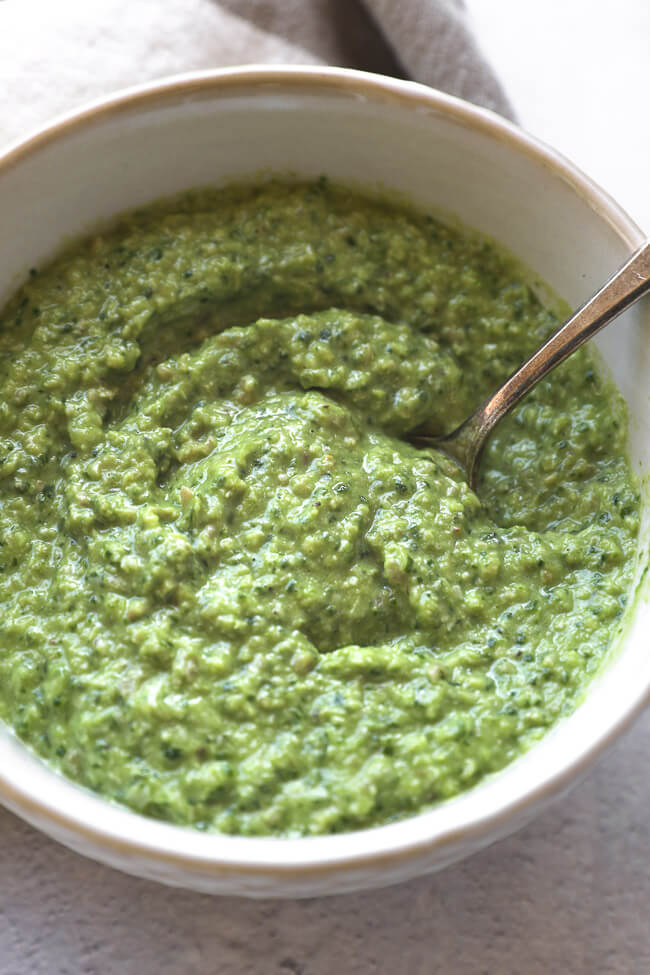 Your turn to try this easy pesto recipe
Plan on making this pesto sauce soon, I know you'll love it! You won't miss the cheese or nuts, I promise. Maybe it will even become a staple in your house like it has in ours.
If you make this recipe, take a pic to share on Instagram and tag us @realsimplegood so we can check it out! We love seeing you make our recipes and sharing them.
---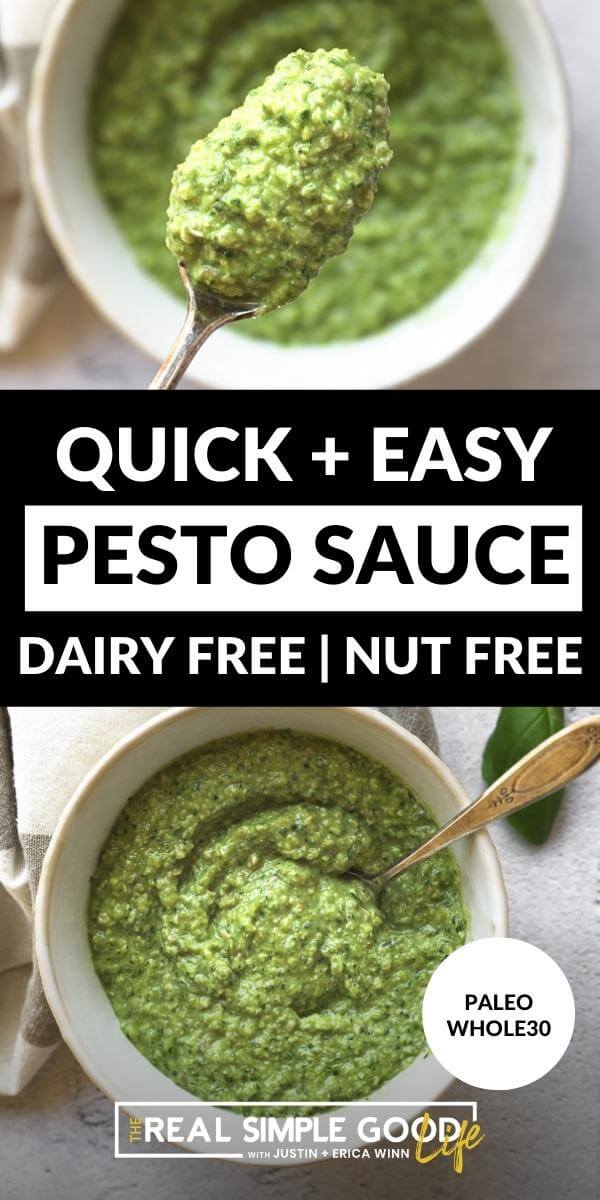 ---
Like this Recipe?
SHARE IT NOW OR PIN IT FOR LATER!
---
---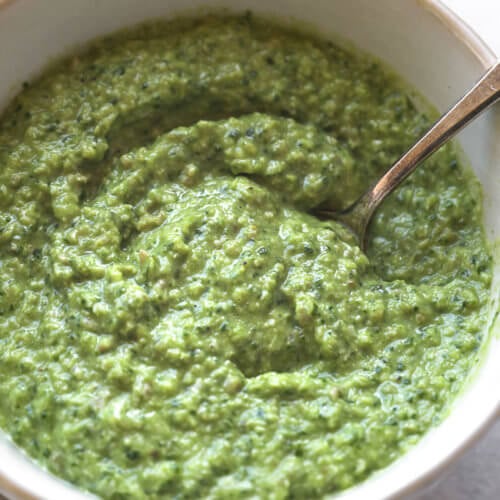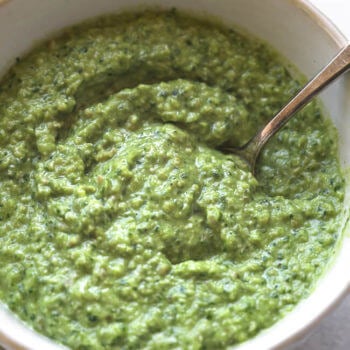 Get the Recipe:
Dairy Free and Nut Free Pesto Sauce
You don't need nuts or cheese to make a delicious pesto sauce! This healthy pesto is creamy and ready to be dipped or slathered on anything.
Ingredients
1/2 cup of raw unsalted sunflower seeds
3 cloves garlic, peeled
1 can artichoke hearts, drained, (14.5 oz)
1 lemon, juice of
15 fresh basil leaves
3 cups arugula, (or sub spinach)
salt and pepper to taste
1/2 cup olive oil + more for desired consistency, (or sub avocado oil)
Instructions
Add the sunflower seeds, garlic, artichoke hearts and lemon juice to a food processor. Pulse until combined.

Add the fresh basil and spinach.

Stream the olive oil (or avocado oil) in while the food processor runs until the consistency is smooth.

Use the pesto immediately or it will last in the fridge in an airtight container for about 3-5 days or freeze for longer. See storage tips in the post above.