Summertime is so great for barbecuing and one of my favorite things on the barbecue is pineapple. It's so delicious and reminds me of the Hawaiian dinners I enjoyed often as a kid. These days, tons of sticky rice and teriyaki sauce laden chicken are just not a part of our cooking. While it's certainly no loco moco (which there may be a paleo version brewing), these Hawaiian chicken burgers are seriously so yummy and hit the spot when a Hawaiian plate lunch craving sets in.
With only a few ingredients and some fresh onions and pineapple, these burgers can be prepped and on the grill in just a manner of minutes. We also tried out a new teriyaki sauce we found a Whole Foods in this recipe, and it turned out really great! Just mix up the seasonings with the teriyaki sauce and ground chicken and make some burger patties for the grill. Throw the burgers on the hot grill along with the onions and pineapple and you'll have a mouth-watering Hawaiian meal on your plate in about 10 minutes.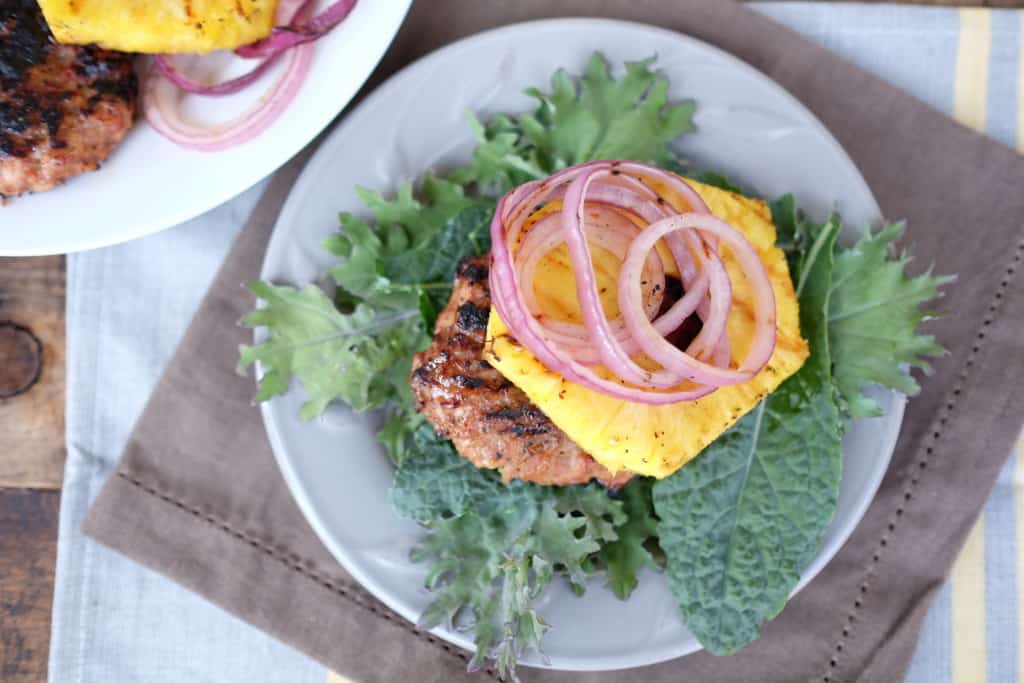 The teriyaki sauce on the burgers along with the grilled pineapple give this meal a smoky, sweet and savory flavor that you'll love. We just ate these on top of some fresh greens, but if you have a craving for a burger with a bun, try out the plantain buns in our paleo burger recipe. These would be a serious mouthful with some buns, so good luck if you try it out!
If you try out this recipe, let us know what you think by leaving a comment below and adding your rating. Also, take a picture and tag it on Instagram #realsimplegood so we can check it out!
Enjoy!
---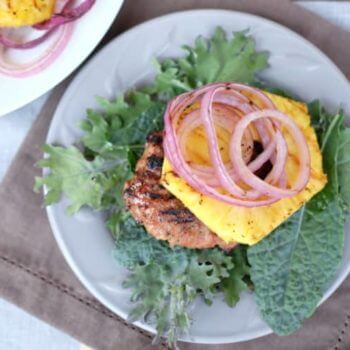 Get the Recipe:
HAWAIIAN CHICKEN BURGERS
Ingredients
1 lb organic ground chicken
2 Tbsp teriyaki sauce
1/2 tsp salt
1 tsp pepper
1 tsp allspice
1 tbsp ground garlic
1 red onion, - sliced into thin rounds
1/2 pineapple, - sliced into rounds with the center removed
Greens or plantain buns
Instructions
Fire up your grill and get it good and hot.

Combine the ground chicken with the teriyaki sauce, salt, pepper, allspice and ground garlic in a bowl and mix it all together well with your hands. Form the mixture into 3-4 burger patties.

Chop up the onions and pineapple and go put everything on the grill at the same time.

If your grill is good and hot, flip everything after about 5 minutes. Cook the other side another 5 minutes or so until everything is grilled to your liking.

Make up your plate with some greens, add the chicken burger and top with the grilled pineapple and onions.

Eat up!