Sad days over the past weekend. We lost a furry friend, and I'm thinking about the many happy times spent with her and shared amongst our family. It's got to be one of the roughest things to lose a pet. They sneak in and carve out these spaces in our hearts, and then they just don't get to live for nearly long enough. So, I am basically eating my feelings and these maple vanilla clusters are the perfect distraction.
Salty + Sweet Deliciousness
Admittedly, I've been having a bit more sweet than usual these past couple days, but even without the loss of a pet I do have a bit of a sweet tooth sometimes. And my favorite combo is always salty and sweet. That must be why I love these maple vanilla clusters. Justin  created them, and they disappear way too quickly after he makes some. They've got the perfect amount of salty, sweet goodness!
Vanilla + Maple Magic
I don't know that I've really ever played much with this combo of maple and vanilla, but it has quickly come to be a new favorite. These flavors really do go so amazing together. Add a little sea salt, and pure magic I tell you!
Nutty + Seedy Awesomeness
We chose a mix of nuts and seeds that we often have on hand and enjoy, but you could totally play with the mix of nuts and seeds to fit your own taste. I'm thinking the next time we make a batch, we might have to try adding pecans. I bet they'd be extra yummy with the vanilla and maple. What combos are you dreaming up?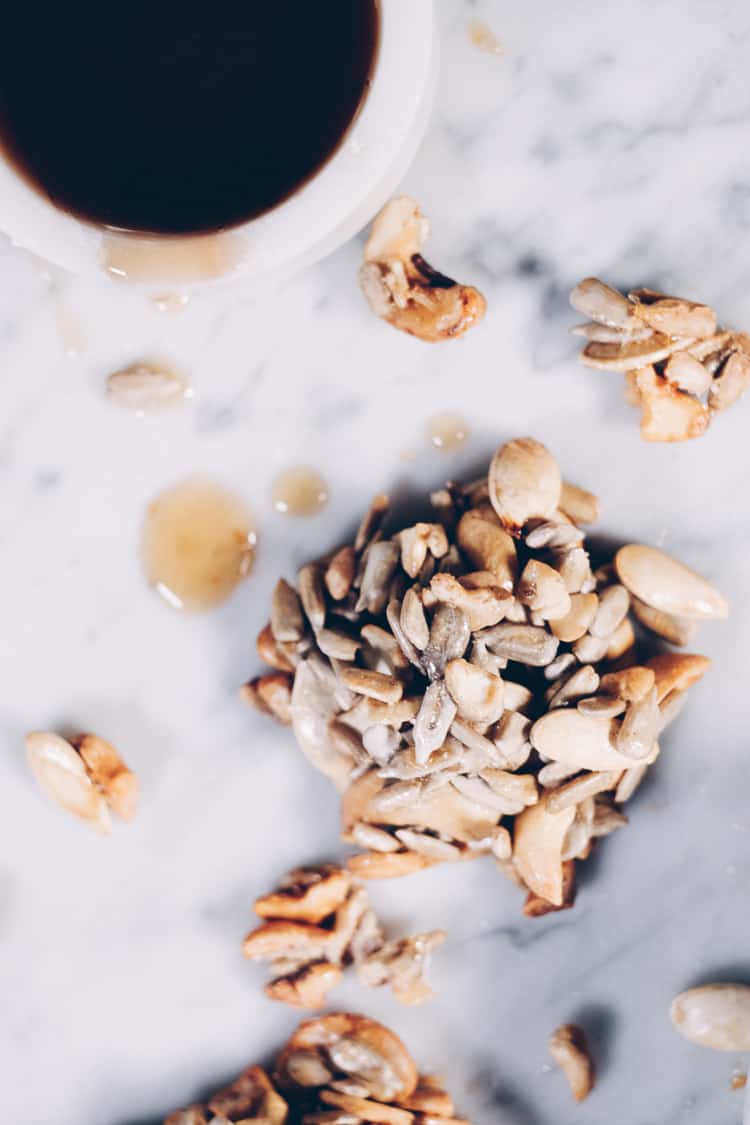 Some Other Salty Sweet Treats To Try
Your Turn To Try Our Maple Vanilla Clusters
Looking for a little treat, that's a bit salty and a bit sweet? Try these maple vanilla clusters! Let us know how it goes by leaving a comment below. Also, take a photo and tag us on Instagram @realsimplegood, so we can check it out!
---
---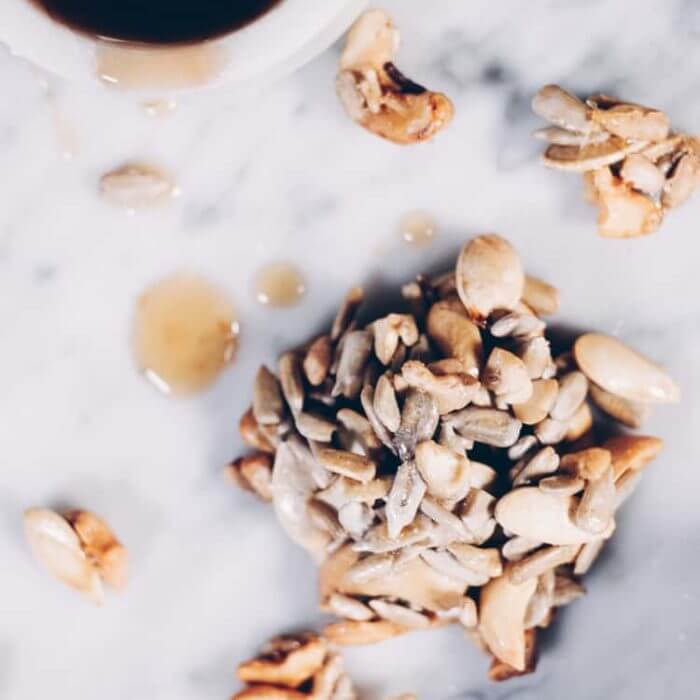 Get the Recipe:
Maple Vanilla Clusters Recipe
My favorite combo is always salty and sweet. That must be why I love these Paleo Maple Vanilla Clusters. They've got the perfect amount of salty, sweet goodness and they're refined sugar-free.
Ingredients
1/2 cup pumpkin seeds, (shell on)
1/2 cup sunflower seeds
1 cup cashews
1 tsp vanilla extract
3 tbsp maple syrup
Instructions
Preheat oven to 300° Fahrenheit and line a sheet pan with parchment paper.

Mix pumpkin seeds, sunflower seeds and cashews in a medium bowl.

In a small bowl, combine the maple syrup and vanilla.

Pour the syrup over the nuts and seeds and stir them around to evenly coat them.

Dollop a generous spoonful of the nut and seed mixture onto the sheet pan like you would cookie dough. Repeat until the nut and seed mixture is used up.

Place in the oven to roast for 15-20 minutes, or until most of the seeds have browned. Watch closely the last 5-7 minutes and don't let the clusters burn.

Remove from the oven and sprinkle the clusters with a little sea salt. Allow them to cool to the touch.

Once they've cooled a little (but are still warm) you can press the clusters together to make sure they don't fall apart.

Store in an airtight container at room temperature.