So I used to eat Thai and Asian food often prior to transitioning to a Paleo lifestyle, and it's definitely something I miss from time to time. These Paleo potsticker noodle bowls are the perfect cure! They're filled with cruciferous veggies, grain-free pasta and deliciously seasoned ground pork, and I can't decide if I like it best the day we make it or as leftovers.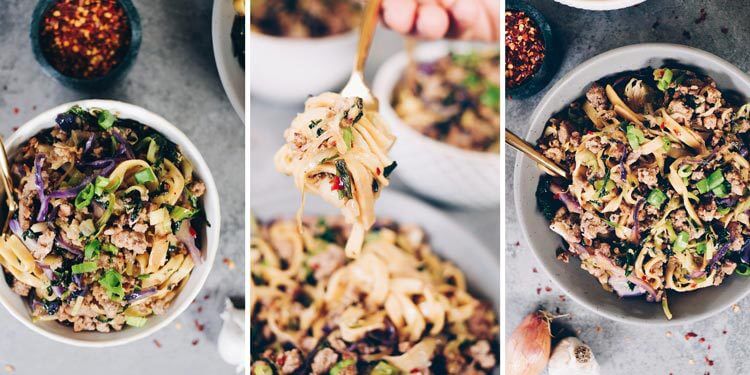 Gluten-Free & Grain-Free Pasta
If you have been eating gluten and grain-free for a while, but haven't delved much into the grain-free pasta world, you really must check out Cappello's pasta! They've got fettuccini noodles, which are what we used for our Paleo potsticker noodle bowls, lasagna sheets and gnocchi. While I don't necessarily recommend buying online through them (only because you have to buy in bulk and I don't know about you but our freezer doesn't have room for 10 boxes of pasta), we definitely do recommend you check them out, and pick some up at your local store.
Back to the pasta though…it's legit! You wouldn't know the difference in flavor or texture of Cappello's pasta compared to traditional pasta. You can find locations where it is sold near you here. We are able to find it locally at Whole Foods, Natural Grocers and Market of Choice.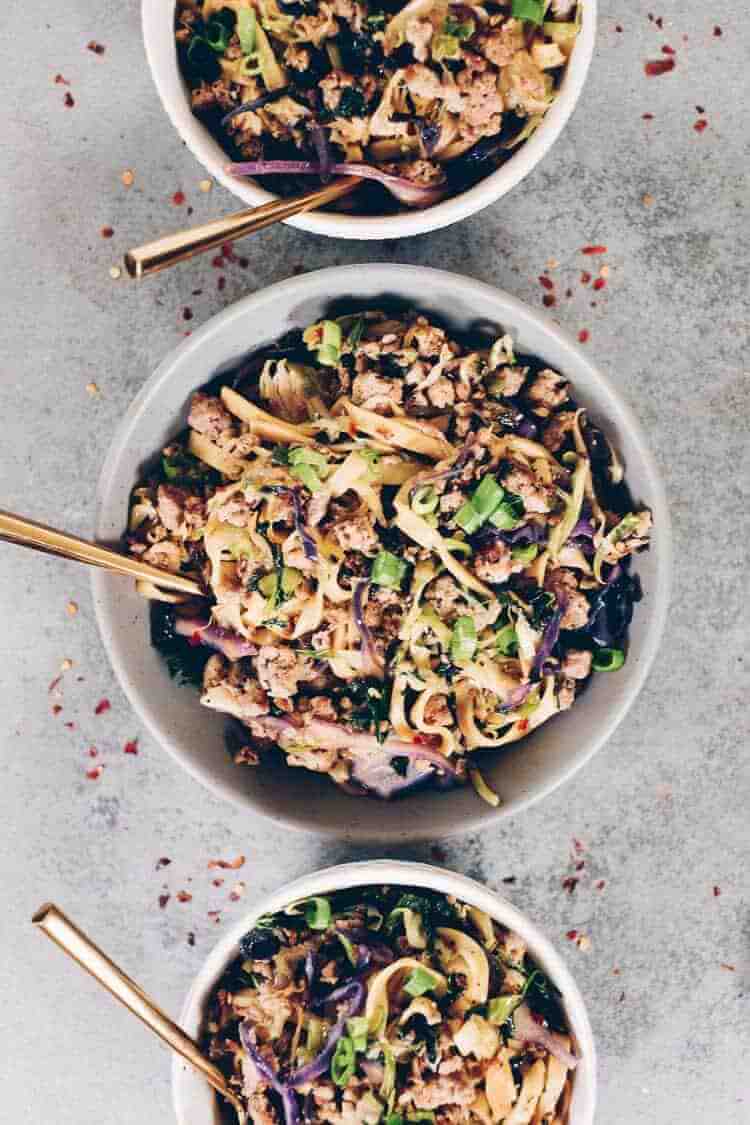 Not Digging The Pasta – That's Ok
Not interested in diving into Paleo pastas just yet? That's ok. You can sub the Cappello's pasta with zucchini for a veggie noodle variety. This swap would even make this dish Whole30 compliant, so if that is your goal, it is a simple switch.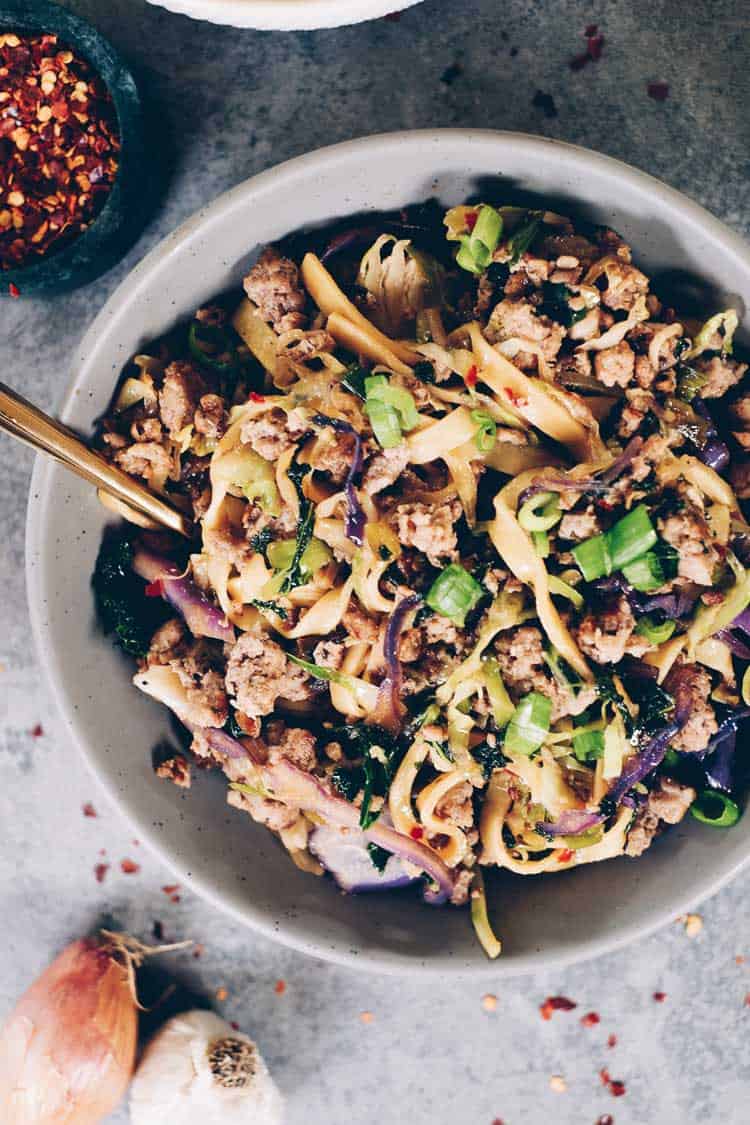 All The Veggies
We love this recipe because the prep work is easy. There is a simple sauce to mix up, and then a bunch of veggies to prep. All. The. Veggies. There are lots of veggies in these Paleo potsticker noodle bowls, including cruciferous veggies. You can pick your favorites, or if you have a Trader Joe's nearby you can pick up their pre-packaged cruciferous veggie mix. It is next to the greens and comes in white and purple packaging. It sure makes the prep work for this recipe a breeze!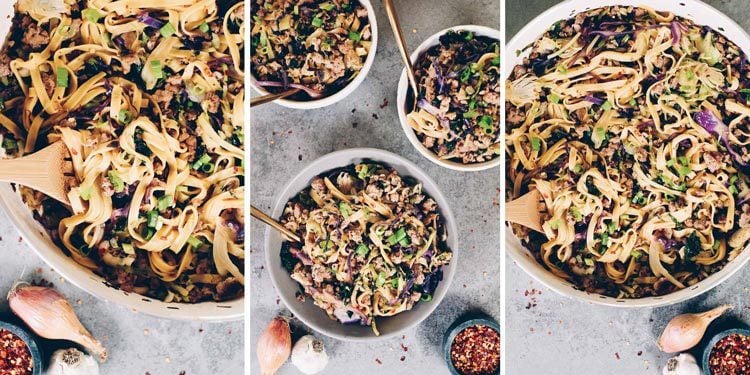 Some Other Bowls You Might Like
Here are some of our other favorite bowl recipes! Have you tried any of them yet?
Your Turn To Make Our Paleo Potsticker Noodle Bowls
Looking to spice up your weeknight dinner game? Add these potsticker noodle bowls to your plan, and try them with either Cappello's fettuccini noodles or with spiralized zucchini noodles. Let us know how it goes by leaving a comment below. Also, take a photo and tag us on Instagram @realsimplegood, so we can check it out!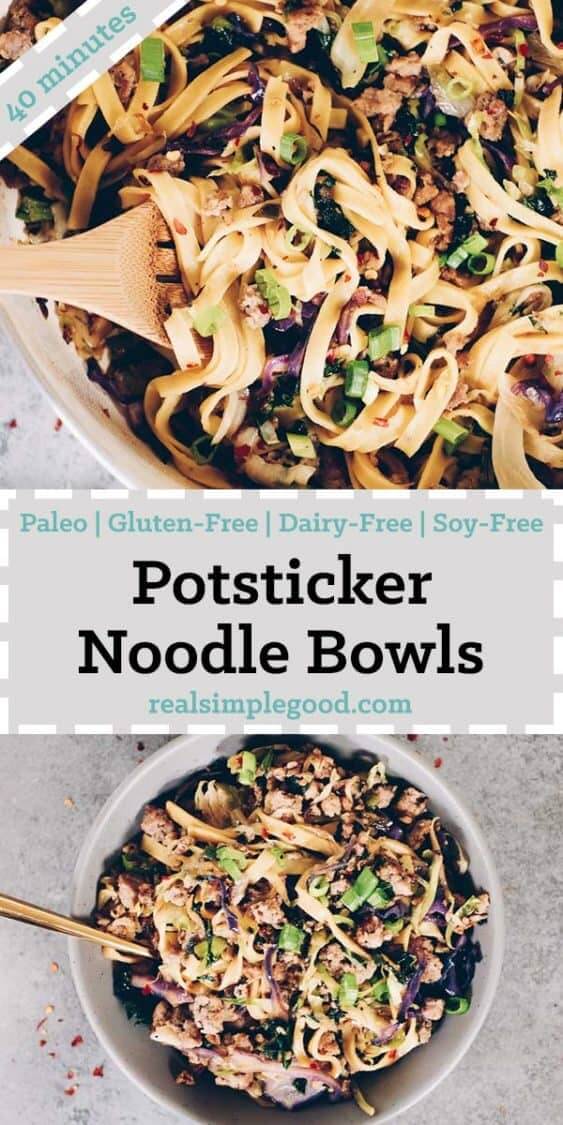 ---
Get the Recipe:
Paleo Potsticker Noodle Bowls Recipe (GF, Dairy-Free + Soy-Free)
These Paleo potsticker noodle bowls are filled with cruciferous veggies, grain-free pasta and deliciously seasoned ground pork!
Ingredients
For the bowl:
1 shallot, diced
3 cloves garlic, minced
6 cups cruciferous vegetables, chopped , (We used 2 cups each of kale and cabbage and 1 cup each of shaved brussels sprouts and broccoli)
4 green onions, chopped
1 package Capello's fettuccine noodles, (or sub one zucchini, spiralized into noodles)
1 tbsp sesame oil
1 lb ground pork
Salt and pepper
Instructions
Prepare the sauce by mixing all of the sauce ingredients together in a bowl. Set aside.

Chop shallot, garlic, cruciferous veggies and green onions as noted. If you are using Capello's noodles, heat a medium pot of water to boil. If you are using zucchini noodles, turn zucchini into noodles using a spiralizer.

Heat a large skillet or wok over medium high heat and add in sesame oil. Once hot, add in shallot and garlic. Saute for 2 minutes, stirring frequently.

Add in ground pork. Break the pork into bits and season with salt and pepper. Cook, stirring occasionally, until the pork is cooked and has formed some brown crispy bits on the pieces.

Once the pork is cooked, add in the cruciferous veggies and green onions. Cook for 4-5 minutes, stirring occasionally, until the veggies begin to soften. Turn heat to low.

Cook Capello's noodles and drain.

Add in the noodles (either cooked Capello's or raw zucchini) and the sauce to the skillet. Mix everything together well and cook for a few minutes until everything is warmed and mixed together. Remove from heat and serve.