This paleo spicy thai chicken stir fry is a quick dinner with many different fresh flavors. It has a slightly tangy flavor with some spice to it and the cashew butter provides an almost peanut-like flavoring that reminds me of Pad Thai. Don't be afraid of the long list of ingredients, everything can be prepped in about 15 minutes and the stir-fry cooks quickly.
You'll just have to chop up your chicken and vegetables and have everything on hand and ready to go because this cooks quickly and you'll be stirring most of the time. Then, just follow the recipe steps and add in the ingredients in the order shown. If you like the broccoli warmed through and still nice and crispy in your stir fry, follow the cooking times in the recipe and it will be cooked perfectly. Add more cashew butter if you want a creamier consistency.
If you happen to have any leftovers, I hear that this is even better the next day.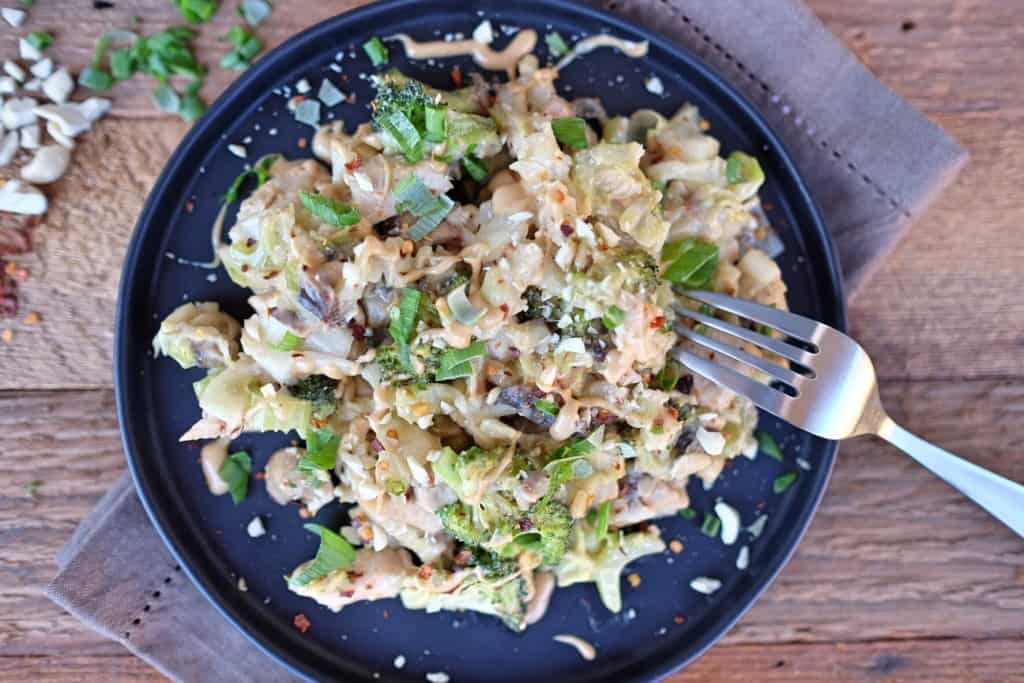 ---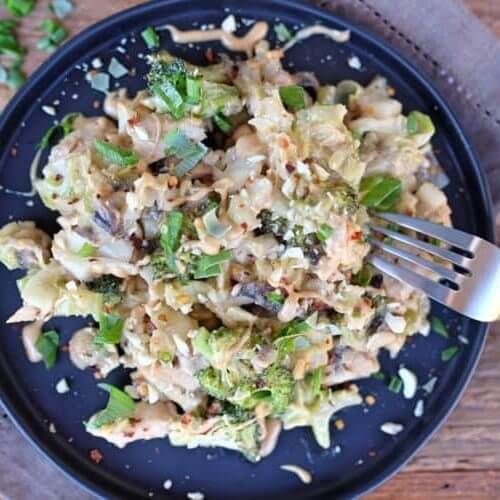 Get the Recipe:
Paleo Spicy Thai Chicken Stir-fry
This is a great paleo spicy thai chicken stir fry with the flavor of Pad Thai. Everything can be prepped in about 15 minutes and the stir-fry cooks quickly.
Ingredients
3 cups broccoli florets
1 cup celery, diced
3 cups shredded green cabbage
1 cup mushrooms, diced
1 shallot, diced
2 tbsp ginger root, diced, (or grated)
2 tbsp garlic, minced
1/2 cup cashews, diced
1.5 lb boneless skinless chicken breast, sliced into small 1 x 1/2 inch strips
2 tbsp sesame oil
2 tbsp apple cider vinegar
2 tbsp fish sauce
3 tbsp cashew butter
1 tsp red pepper flakes
Pinch of salt & pepper
Diced green onions for topping
Instructions
To start, chop up the broccoli, celery, cabbage and mushrooms. Place in a bowl and set aside.

Next, chop up the shallot, ginger, garlic, cashews and chicken. Now you are ready to go.

Heat a large skillet (or wok) over medium-high heat. Add in the sesame oil, shallot, ginger and garlic; sauté for about 2-3 minutes.

Add in the chicken and cook, stirring frequently for about 5 minutes, or until the chicken is mostly cooked.

Add in the broccoli, celery, cabbage and mushrooms; sauté for another 5 or so minutes, until the vegetables are starting to soften up. At this point the cabbage and mushrooms will have cooked down, releasing some liquid into the pan. Pour off all excess liquid.

Add in the cashews (reserving a few pinches for garnish), apple cider vinegar, fish sauce, cashew butter, red pepper flakes and salt and pepper. Mix everything well until the cashew butter is evenly distributed throughout the dish. Cook for 1-2 more minutes, stirring constantly.

Remove from heat, top with green onions and remaining cashews and serve.