There's just something very wintery about a peppermint mocha. Pretty much as soon as Thanksgiving is over, I'm all about it. It is basically the holidays in a cup. I think most of you can get on board with that! So, give our peppermint mocha a try for a healthier, lower sugar version of a holiday season favorite. 
We may have gone all out with our peppermint mocha, indulging in some coconut cream whipped cream and chocolate sauce to top it. It was so so worth it. You can find our recipe for coconut cream whipped cream from one of our early posts. You really can't go wrong with this peppermint mocha, with or without the whipped cream topping. It's a rich, bold, and cozy way to dive right into the holiday season. Go ahead and make yourself a peppermint mocha treat over the weekend and enjoy each and every sip.
Savor each sip, and let us know how you like our peppermint mocha by leaving a comment below. Also, take a picture and tag it on Instagram @realsimplegood so we can check it out and get cozy with you!
---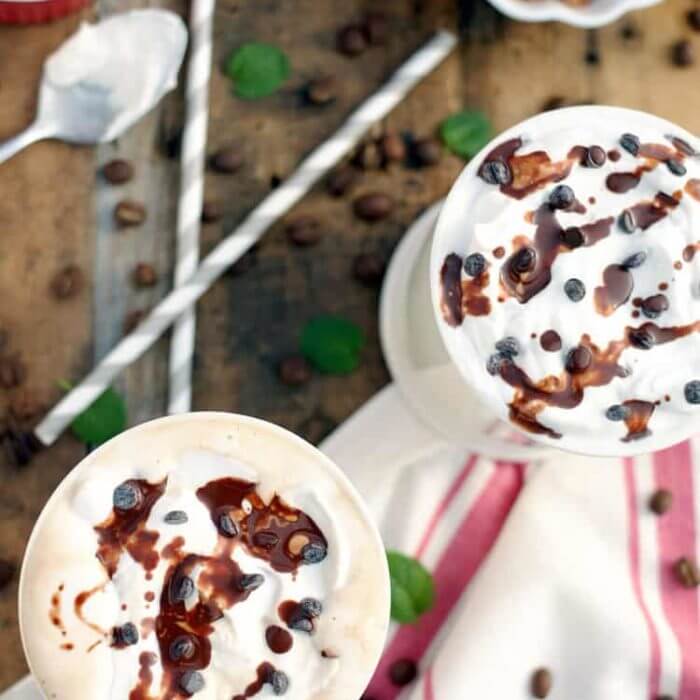 Get the Recipe:
Peppermint Mocha
This peppermint mocha is a rich, bold, and cozy way to dive right into the holiday season.
Ingredients
2 cups fresh brewed coffee
1/2 cup nut milk, (we usually use cashew milk because there is typically a fresh batch in the fridge)
1/2 cup coconut milk
3 tbsp cacao powder
1 tbsp raw honey, (more or less to sweeten to your taste a little less makes your cup taste richer and more bold)
1/4 tsp vanilla
1/4 tsp peppermint extract or oil
Pinch of salt
Instructions
Add all of the ingredients to your

blender.

Blend on high for about a minute until everything is thoroughly combined.

Pour your peppermint mocha into your favorite mug and savor each sip!