The Casual Veggie Cookbook: Introduction
Today we have some very exciting news to announce……..
We have been selected as contributors for an e-cookbook that will be released later this month!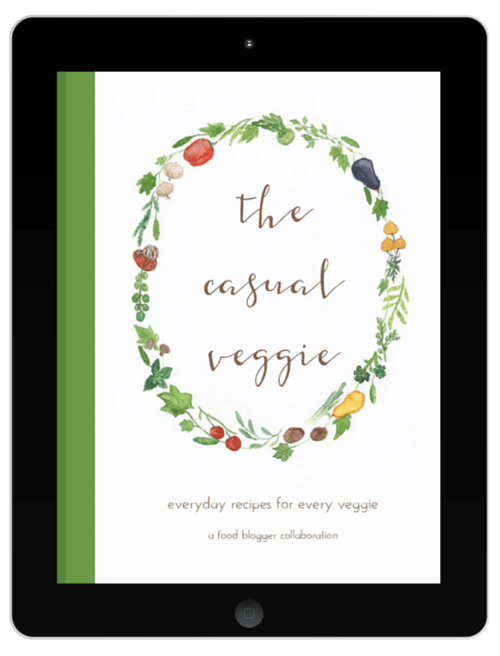 We are collaborating with 48 other talented food bloggers on a cookbook dedicated to giving you creative recipes for the most common vegetables.
Mollie Williams of Parsley & Pumpkins came up with the idea for this e-book called "The Casual Veggie". This is a cookbook where vegetables are the star of the show. Here's how Mollie describes the concept for the cookbook:
The idea for The Casual Veggie cookbook came from so many nights standing in front of my refrigerator wondering what to do with all the beautiful veggies I had bought. I'm what you would call an adventurous produce buyer. I get sucked in by the luscious displays of fresh fruits and veggies.
But I inevitably find myself wondering how to actually prepare those veggies. Not to mention, how do I keep them fresh until I'm ready to use them? I can't tell you how many times I've bought zucchini only to find it ruined in a soggy mess at the bottom of my crisper bin two weeks later. Oops.
We think this scenario is one we've all been through and can totally relate to.
Since vegetables are the foundation of the paleo diet, we are very excited to be part of this informative and creative cookbook! We are also looking forward to introducing you to the other incredible food bloggers that are part of the cookbook over the next few weeks. While not all of the recipes in the book will be paleo, there will be some great recipe ideas that we think everyone can benefit from. The book will be an excellent resource when looking for new and creative ways to incorporate more vegetables into your diet.
Here's what you can expect from the cookbook:
Each chapter is dedicated to a particular vegetable and will feature a variety of recipes to get you inspired to eat your veggies just like your mom always told you to! Plus, the book will be packed full of bonus information on each vegetable, such as:
A photo of the veggie growing in the field
Nutrition information
Summary of how the veggie is grown
What to look for at the market
How to store the veggie
How to prep the veggie
The book will focus on the 29 most common vegetables and will have 4-8 recipes featuring each veggie.
Look for more details about the cookbook and an introduction to the other bloggers we are collaborating with in our next post.
We can't wait for you all to see the final product, which will be available for purchase on October 19th. You can click here to purchase the cookbook.
Until then, we encourage you to visit the Parsley and Pumpkins blog to give the creator of this cookbook some love! Mollie has built a very beautiful and informative site that is all about veggies and is full of tips and tricks, how-to's and interesting facts about veggies. Check it out, it is a great resource and we guarantee you will learn something new while exploring her site.