Every once in a while a sandwich sounds really great, and while there are Paleo breads out there that we could make to enjoy a sandwich, I don't really miss the bread too much. It's more the flavors I miss, like a good BLT sandwich. Good news though…we've got all the flavors of a BLT wrapped up in this BLT chicken salad that we love to eat in little lettuce shells rather than between two slices of bread. 
Quick + Easy BLT Chicken Salad
We love how quick and easy this chicken salad comes together! You can use leftover chicken to make this as quick and easy as possible, or make a batch of shredded chicken in your crockpot. Just add your chicken and some bone broth or salsa and cook it on high for three hours or on low for six hours. We love having leftover chicken just so we can make this BLT chicken salad! Not including cooking the chicken it takes about 10 minutes. Such a breeze!
It's A Chicken Salad, It's A Dip, It's So Good
This BLT chicken salad can be eaten a variety of ways, like the recipe calls for on lettuce shells or as a dip for plantain chips and veggies. It is great for packing for lunch during the work week, as a quick and easy dinner, or as an appetizer at a gathering. You can bet we will be bringing this dip with us to tailgating season, starting this coming weekend! It's a real crowd pleaser, and nobody even realizes it is full of healthy fats since we use Primal Kitchen Mayo, made with avocado oil and only clean ingredients.
Your Turn To Make This BLT Chicken Salad
Go ahead and make this BLT chicken salad with your leftover chicken! It is delicious and filled with protein and good fats! Let us know how it goes by leaving a comment below. Also, take a photo and tag us on Instagram @realsimplegood, so we can check it out!

---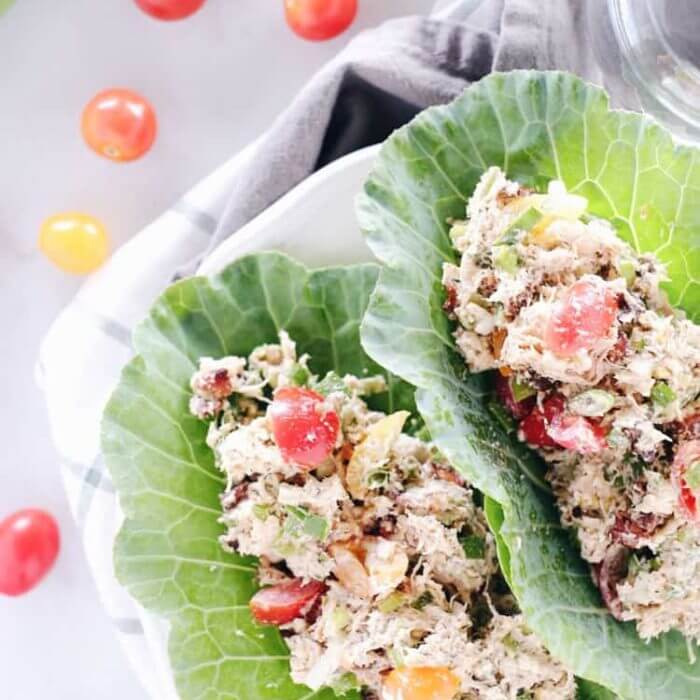 Get the Recipe:
Quick + Easy BLT Chicken Salad (Paleo, Whole30 + Keto)
We've got all the flavors of a BLT wrapped up in this Paleo + Whole30 BLT chicken salad! We love to eat it in lettuce shells or as an easy snack + dip.
Ingredients
6 pieces bacon, - sliced
3 cups shredded chicken or other leftover chicken
3 green onions, - diced
1 cup cherry tomatoes, - quartered
4 tbsp mayo
1 tbsp dill
4-6 broad leaf greens for shells, (chard, collard greens, romaine, cabbage)
Instructions
Start by dicing up bacon and putting it in a medium pan over medium heat to cook. Cook for 6-8 minutes stirring occasionally, until the bacon is brown and starting to get crispy. Remove to a paper towel-lined plate to cool.

While bacon is cooking, cut up onions and tomatoes and place in a bowl.

Add shredded chicken to the bowl. We used leftover crockpot chicken. For the crockpot chicken, you just put about a pound of chicken breasts or thighs in your crockpot with about a cup of bone broth or a jar of salsa and let it cook for 6 hours on low or 3 hours on high. After the chicken is done, take it on out and shred away. You could use a rotisserie chicken or other leftover chicken you have on hand as well.

Add in bacon, mayo, and dill to the bowl and mix well.

Prepare lettuce by removing leaves to use for "shells".

Fill leaves with BLT chicken salad mixture and enjoy!
Notes
Nutrition facts are an estimate provided for those following a Ketogenic or low-carb diet. See our full nutrition information disclosure here.  
Calories: 533kcal, Carbohydrates: 4g, Protein: 37g, Fat: 40g, Saturated Fat: 10g, Fiber: 1g