When it comes to getting organized and equipped for a successful week of eating clean and well, one of our favorite techniques is to do a make-ahead breakfast! Make it on Sunday, and this breakfast burrito casserole is a great way to have a large breakfast you can simply re-heat in the morning throughout the work week.
The Flavors Of A Breakfast Burrito In Casserole Form
This casserole has all of the classic breakfast burrito flavors you love. Eggs, sausage, potatoes, onion, salsa, avocado and cilantro all combine in the perfect mixture for this casserole. You won't even miss the tortilla! Okay, maybe you'll miss being able to pick this with your hands and eat it like a burrito, but that's it. You'll have to break out the fork for this one, but it's worth it to dig into this breakfast burrito casserole.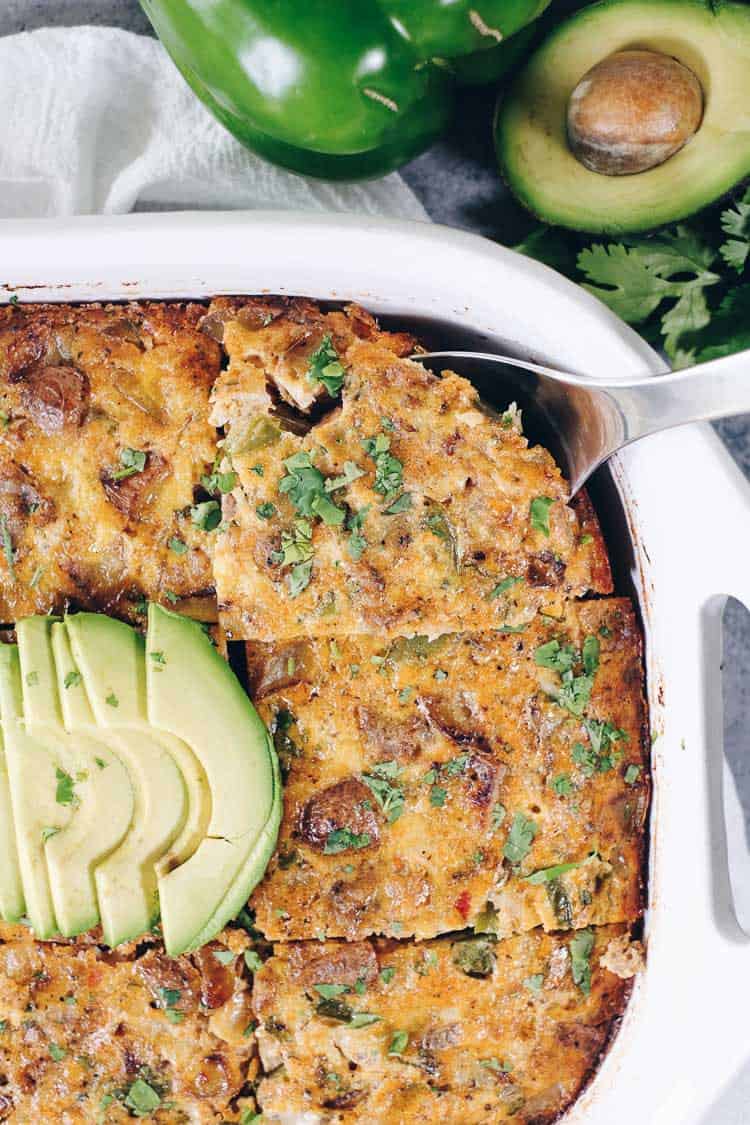 Make-Ahead Breakfasts
They really just make sense. It's such a game changer to spend a little time over the weekend setting yourself up for success during the week. Make-ahead breakfasts make it so that you don't have to carve out extra time in the morning to eat well. The work is already done, and all you have to do is heat it up and enjoy! There are less dishes to wash when you're trying to get out the door and you just generally have less to factor into your morning routine, which means you can focus on sleep and channeling your energy elsewhere.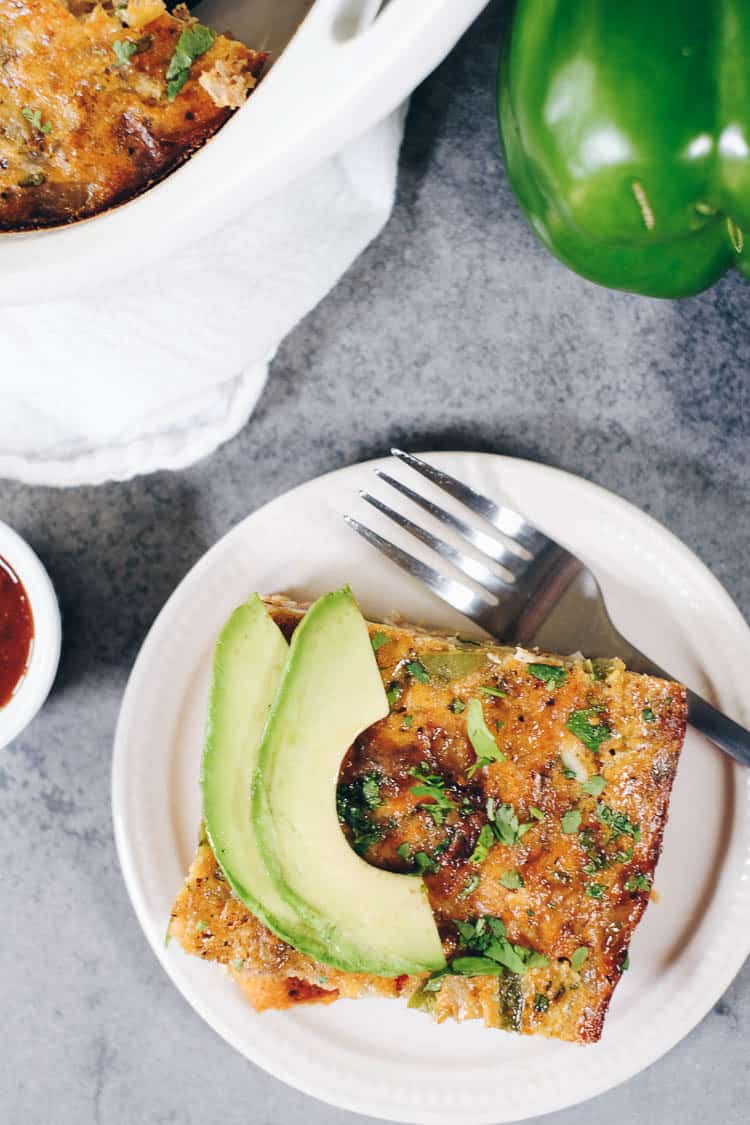 Meal Planning
Meal planning can totally feel like such a daunting task. It's true, right? However, when you have a system in place and take the time to effectively meal plan it can seriously be life changing. We know because we get that feedback from our Paleo Meal Plan Subscription members. Our Paleo Meal Plans include recipes like this make-ahead breakfast burrito casserole in addition to other make-ahead recipes like a snack and a treat. When you don't have to worry about the organizing, planning and dealing with grocery shopping during the week, it makes enjoying your downtime and time with family in the evening so much more enjoyable. Give our Paleo Meal Plans a try for 21 days for free!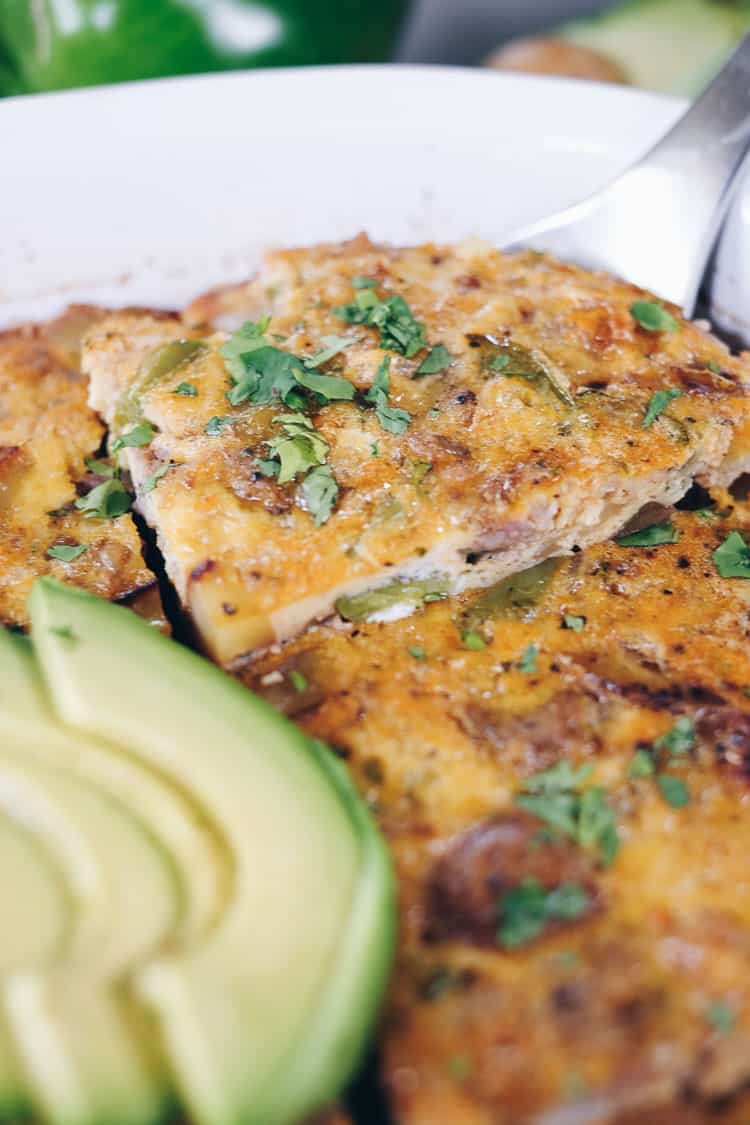 Your Turn To Try Our Breakfast Burrito Casserole
Go ahead and add this make-ahead breakfast burrito casserole to your weekend plans and enjoy the tasty breakfast and easy mornings the following week! Let us know how it goes by leaving a comment below. Also, take a photo and tag us on Instagram @realsimplegood, so we can check it out!
---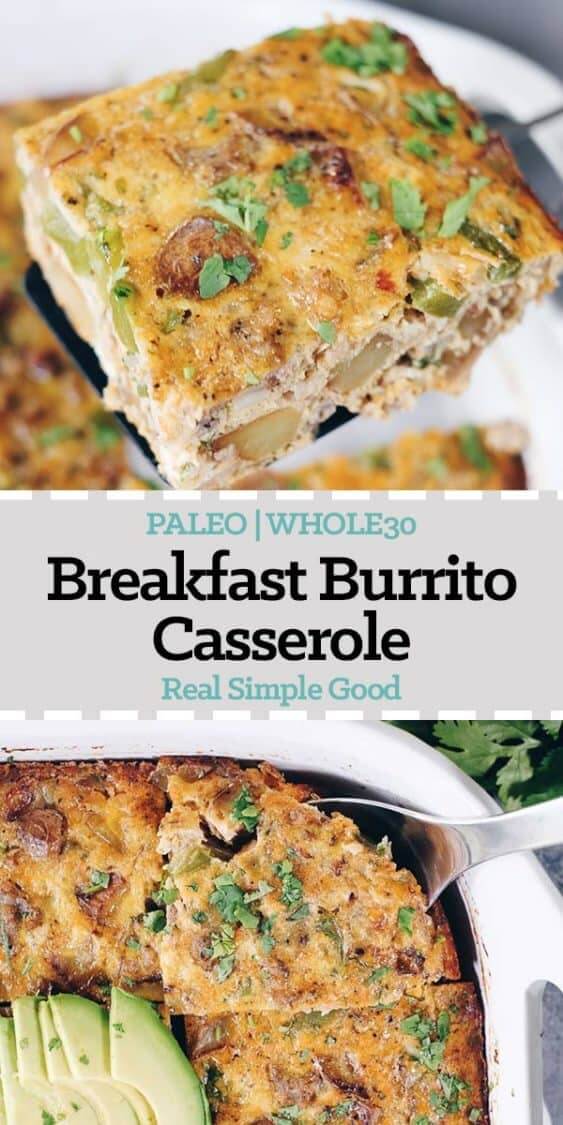 ---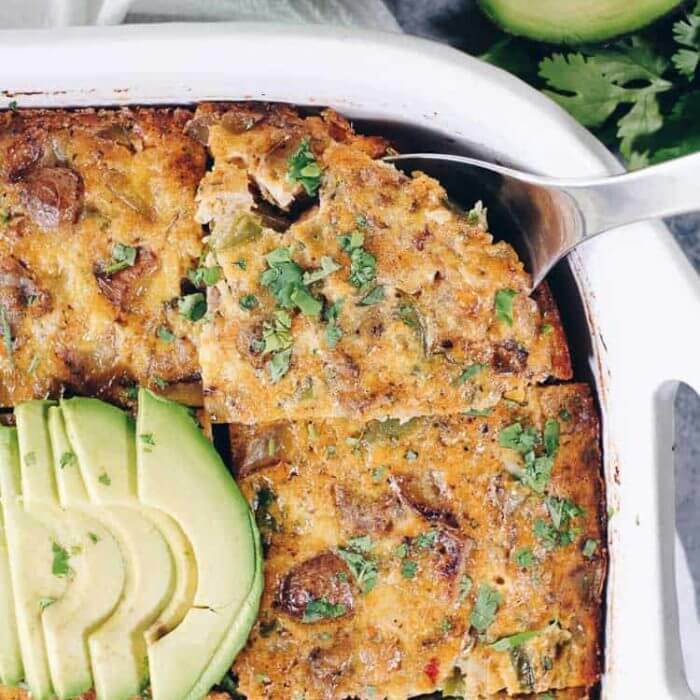 Get the Recipe:
Breakfast Burrito Casserole Recipe (Paleo + Whole30)
Make it on Sunday, and this Paleo and Whole30 Breakfast Burrito Casserole is a great way to have a large breakfast you can simply re-heat in the morning!
Ingredients
1 tbsp grass-fed butter , (or ghee or sub coconut oil for dairy free)
1 lb ground breakfast sausage, (or chorizo)
1 lb potatoes, cut into small cubes
1 bell pepper, diced
1 onion, diced
12 eggs
1 cup salsa
1/4 cup cilantro, chopped, (plus more for garnish)
Salt and pepper
2 avocados, sliced
Instructions
Preheat oven to 375° Fahrenheit and grease a 9×13 baking dish with butter or ghee.

Heat a large pan over medium heat. Once hot, add in sausage. Break into small bits and cook, stirring occasionally, until the sausage is browned, about 7-8 minutes. Remove, reserving the fat in the pan, and place on a plate for later.

While the sausage is cooking, chop potatoes, bell pepper and onion as noted.

In the same pan you cooked the sausage in over medium heat, add the potatoes. Season with salt and pepper (about 1/2 tsp each) and cook, stirring occasionally, for about 8-10 minutes, until they just start to soften.

Add the onions and peppers to the pan. Add some more oil/fat to the pan if needed. Continue to cook until the onions and pepper soften and the potatoes are tender, about 5-6 minutes. Remove from heat.

Crack all of the eggs in a large bowl. Add a pinch of salt and pepper and the salsa and whisk well.

Add the sausage, potatoes, bell pepper and onion to the bowl. Chop the cilantro and add it to the bowl. Stir to mix.

Pour the mixture into the baking dish.

Place in the oven to bake for 30-40 minutes, or until the eggs are set in the middle. Cooking time will depend on the oven, so check the casserole after 30 minutes and continue cooking as necessary. Serve topped with avocado slices.