I love eggs. I eat them nearly every day. I eat them scrambled, fried, over-easy, poached – pretty much every which way. I eat them for breakfast, lunch and dinner (not on the same day, but you get the idea). Eggs are tasty, filling, easy to make and compliment many other foods. On top of all that, eggs are incredibly nutritious, containing a very large amount of nutrients, healthy fats and quality proteins. So let's mix up my "normal" egg routine with these curry scrambled eggs.
Generally, I'm pretty satisfied with your typical fried egg with a runny yolk or scrambled egg with some greens and sausage. But every once in a while I look for something to switch it up a little in my egg game, and these curry scrambled eggs turned out to be just the thing to turn the same old eggs into an exciting new dish with an exotic flavor kick.
I didn't do anything too fancy for these, just switched out the normal sausage for some leftover chicken, mixed in some onions, mushrooms and greens with some curry powder. Voila! A new way of eating eggs that I hadn't ever thought of before that totally blew me away. It's a unique flavor for breakfast (or lunch or dinner if you are like me). Erica was a little skeptical at first when I started making these, but she came around after tasting them for the first time.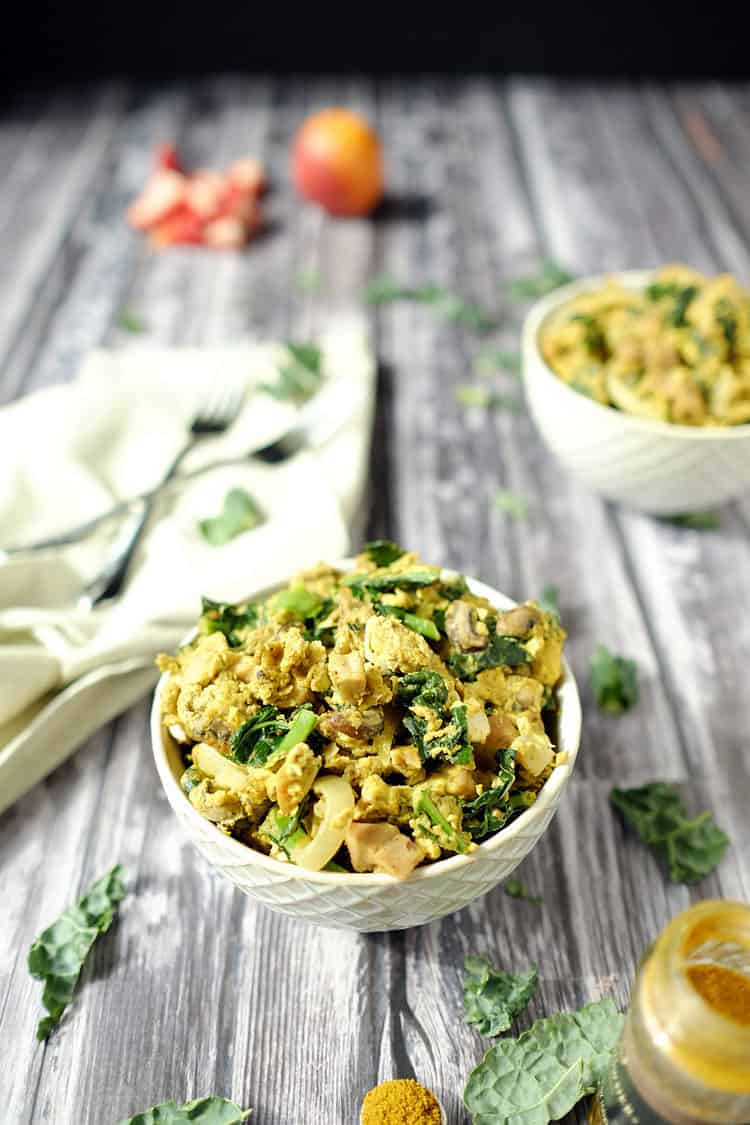 I never thought that curry scrambled eggs would be something I ever tried, let alone something I now crave every once in a while. The flavor profile of this dish is unique and appealing; don't be afraid to try something new, and give it a shot!
If you try out these curry scrambled eggs, let us know what you think by leaving a comment below. Also, take a picture and tag it on Instagram @realsimplegood so we can check it out!
---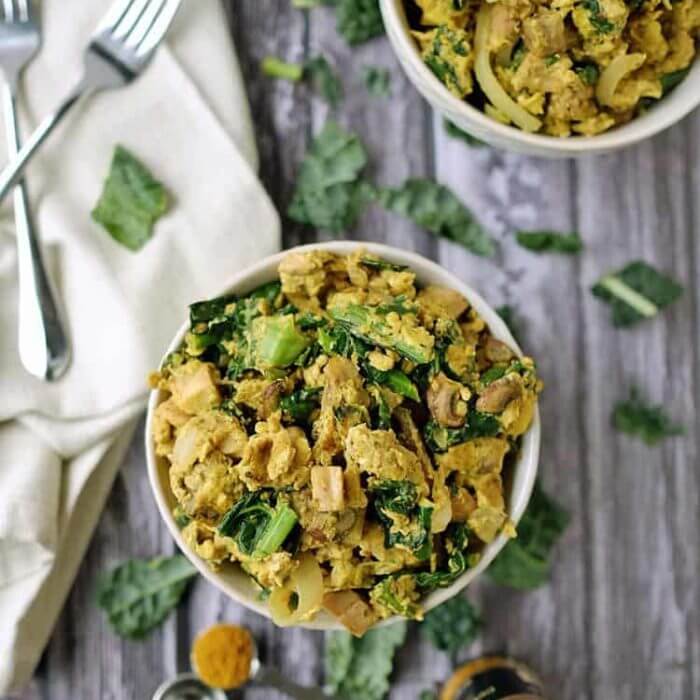 Get the Recipe:
Curry Scrambled Eggs (Paleo, Whole30 + Keto)
The flavor profile of these Paleo + Whole30 curry scrambled eggs is unique and appealing. Eggs flavored with curry seasoning for a simple breakfast!
Ingredients
1 tbsp avocado oil
2 cups leftover chicken breast or thighs, diced, (you can substitute pre-cooked sausage, ham, etc.)
1/4 onion, diced
1 cup mushrooms, diced
4 cups kale, (or sub spinach or other greens work too)
6 eggs
1 tbsp curry powder
Salt and pepper to taste
Instructions
Heat a large skillet over medium heat.

Add in the leftover chicken and onion. Cook for about 5 minutes, stirring occasionally.

While the chicken is cooking, crack your eggs into a medium bowl. Whisk with a fork until the eggs are mixed well.

Add in the kale and mushrooms to the skillet. Cook for another 5 minutes stirring occasionally.

Dump in the eggs and curry powder. Mix everything together well to get the curry powder all mixed in. Cook the eggs for a few minutes until they are no longer runny and are to your desired scrambled state.

Season with salt and pepper to taste.

Serve and enjoy your breakfast...or lunch...or dinner!
Notes
Nutrition facts are an estimate provided for those following a Ketogenic or low-carb diet. See our full nutrition information disclosure here.  
Calories: 275kcal, Carbohydrates: 8g, Protein: 27g, Fat: 15g, Saturated Fat: 3g