For some reason salmon always sounds like a good idea, but then sometimes I just don't look forward to it once it's on the meal plan for the week. BUT….it's packed with so many healthy benefits, and we are really trying to make an effort to eat more salmon and seafood. These easy Paleo salmon salad bowls are the perfect way to sneak more salmon in and make a meal that you will absolutely look forward to making again!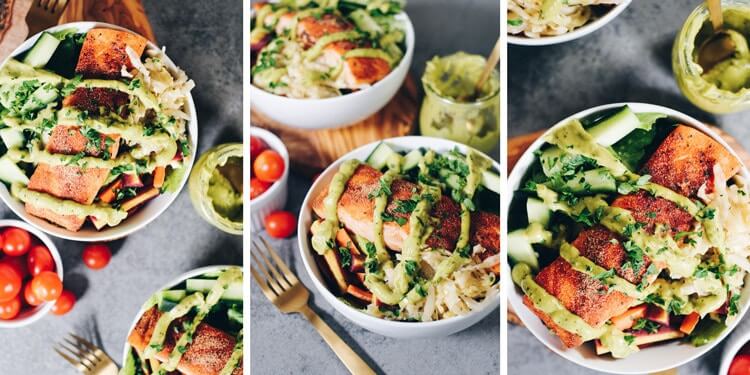 These Bowls
If you've been following along with us for any amount of time, you've probably noticed I LOVE to make bowl meals! I don't know exactly what it is about a bowl that just makes me enjoy whatever I'm eating that much more, but I do! So there's that…and this is another tasty bowl recipe! This Paleo salmon salad is a quick and easy recipe – only about 30 minutes. It's also super flavorful, and your body will love the healthy fats and colorful veggies!
The Green Sauce
In addition to loving bowls, I adore avocado and avocado based sauces! This one is a lemony, avocado sauce with a little bit of dijon mustard thrown in there. It's super tasty, and you can add water to thin it out until it reaches your desired consistency. We love it a little thicker and creamier.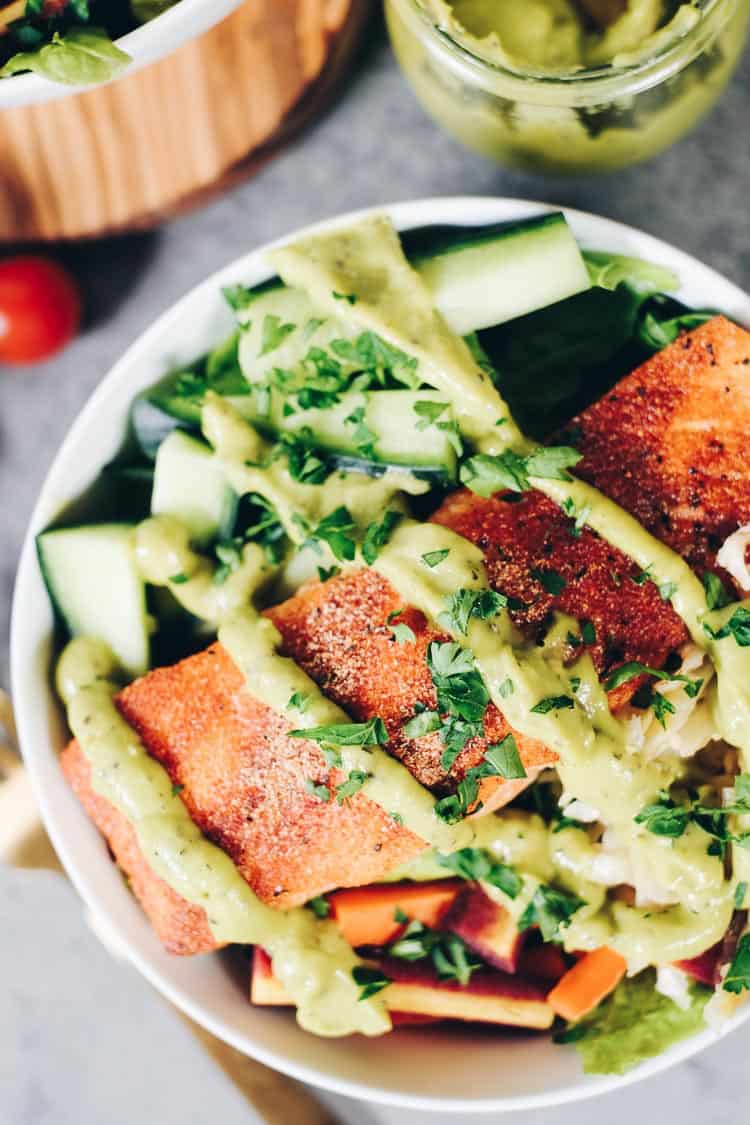 Eating More Fish
A goal of ours for 2018 is to eat more seafood and power our bodies with healthy fats, lean protein and nutrient dense foods. It sounds easy, but it's also hard for some reason. We've found that when our freezer is stocked with seafood it does two things. First, we eat it because it's there and what is readily available. Second, we eat more variety of seafood – salmon, scallops, swordfish, shrimp, tuna, etc. It's amazing! That's why we are SO excited about a newer fish delivery service – Fish Fixe! They've helped to keep our freezer stocked and the creative juices flowing for developing new seafood recipes!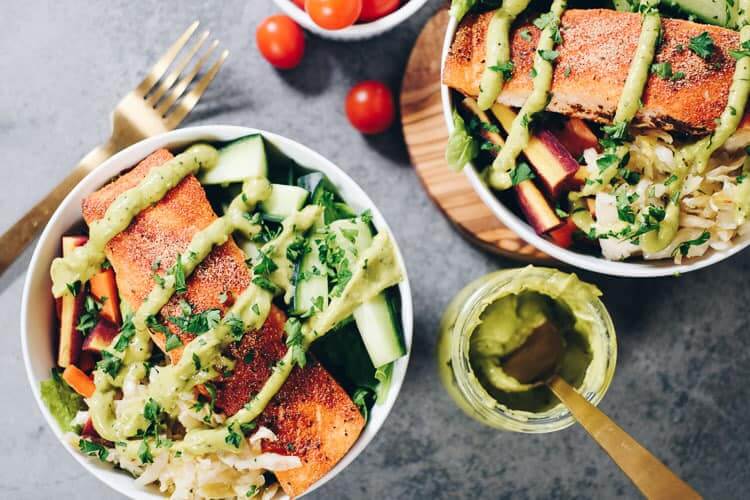 More About Fish Fixe
Fish Fixe is a family owned fish delivery service that delivers perfectly portioned, premium seafood proteins that your family can thrive on. It's a great way to aid in your meal prep and add more nutrient dense foods to your weekly routine. Fish Fixe hand-selects premium, nutrient dense proteins, portions them to make meal-prep easy, blast freezes the portions to seal in the "off the boat" freshness and deliver them to your door. All of our fish has been quick to thaw, easy to prepare and high quality. Seafood can be tricky, but we love relying on the quality of Fish Fixe. All of their seafood has No Antibiotics, No GMO's, No Chemicals, and is Sustainably Sourced.
We've partnered with Fish Fixe to bring you a special discount – use the discount code REALSIMPLEGOOD at checkout to receive $10 off your first box! You can get their regular box filled with an assortment of seafood, or you can also customize your box to contain exactly what you prefer! If you're looking to up your intake of healthy fats and seafood like us this year, make sure you check out Fish Fixe!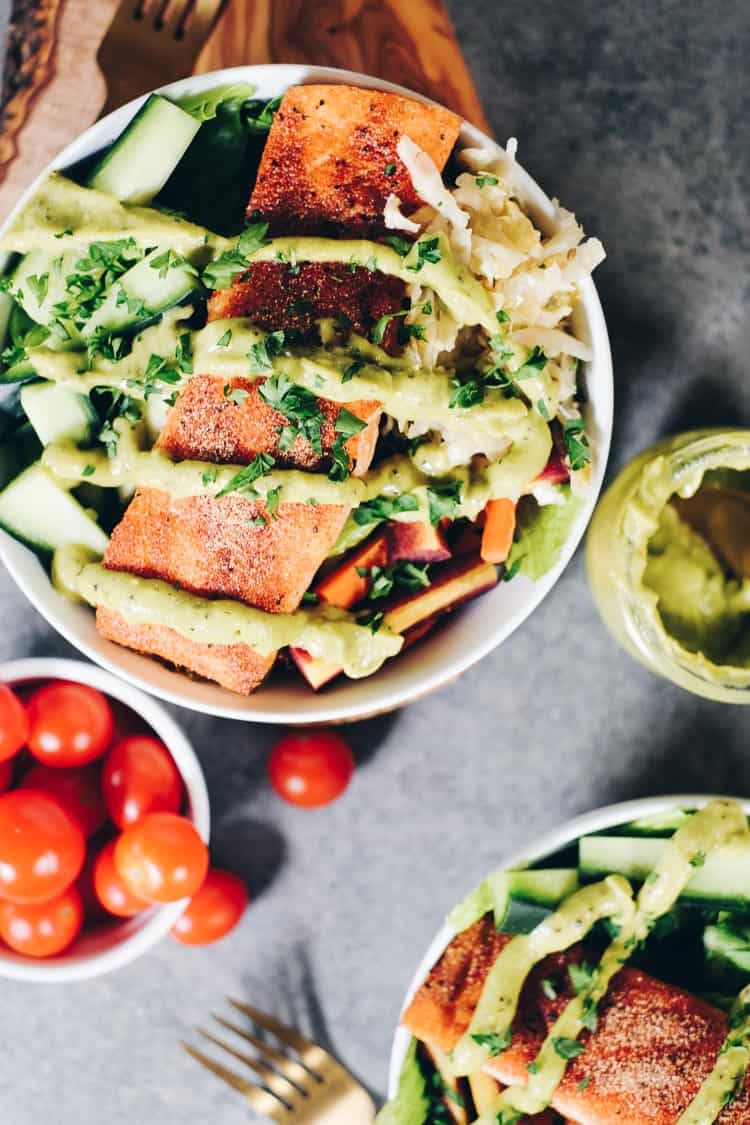 Your Turn To Try These Easy Paleo Salmon Salad Bowls 
Go ahead and plan this Paleo salmon salad into your meal plan for the upcoming week! You'll love how quick and easy it is to make a nourishing and flavorful meal. Plus, your body will love the healthy fats and colorful veggies. Let us know how it goes by leaving a comment below. Also, snap a photo and tag us on Instagram @realsimplegood, so we can check it out!
---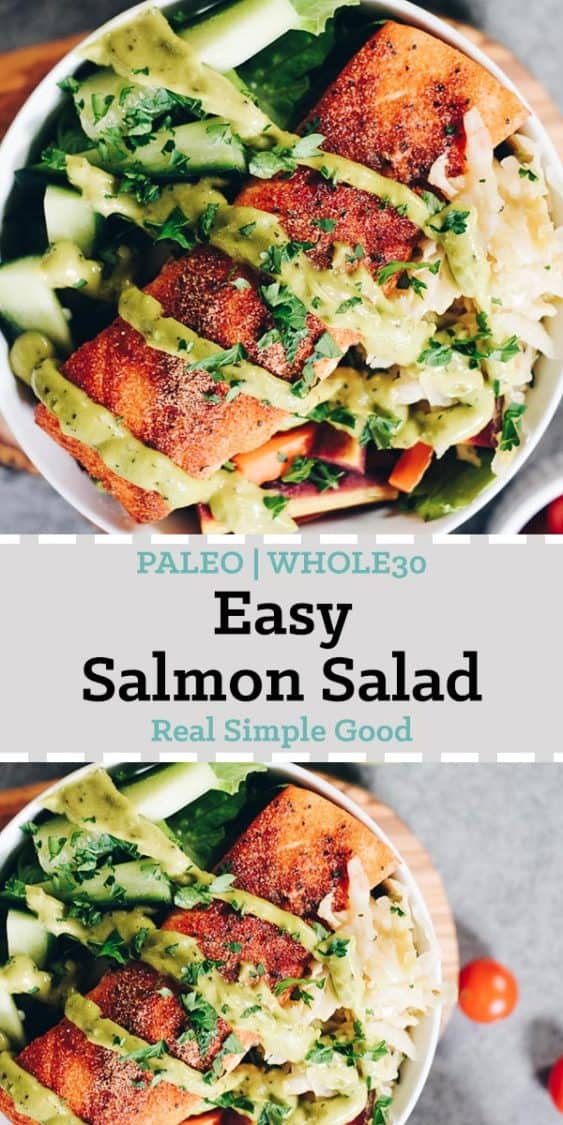 ---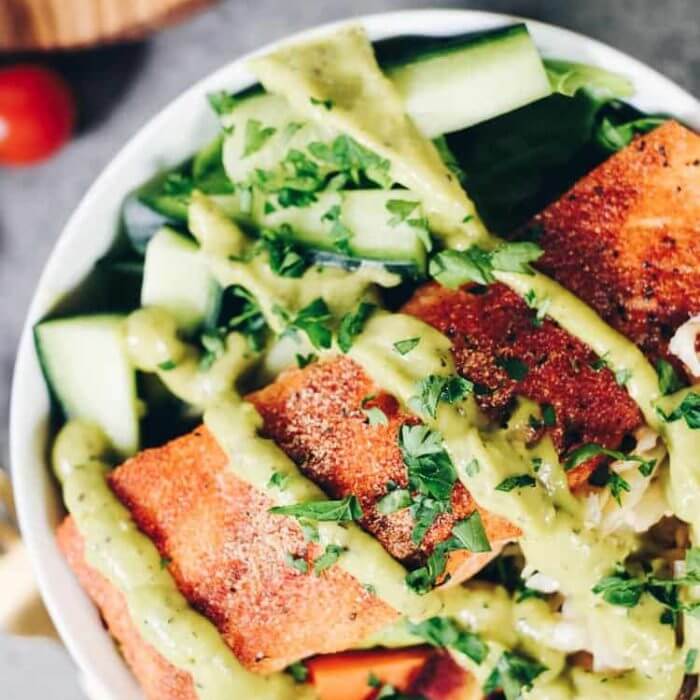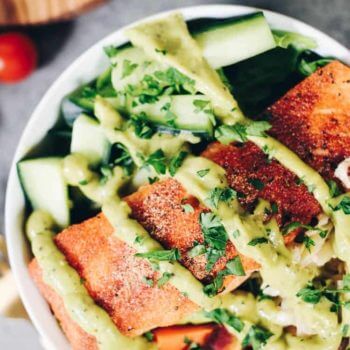 Get the Recipe:
Easy Paleo Salmon Salad Bowls (Whole30 + Keto)
These easy Whole30 and Paleo Salmon Salad Bowls are the perfect way to sneak more salmon in and make a meal that you will absolutely look forward to making again! It's packed with healthy fats and colorful veggies your body will love!
Ingredients
8 cups romaine lettuce, chopped
4 salmon fillets, (of about even size)
1 tsp smoked paprika
1 tsp garlic powder
salt and pepper
Veggies, (whatever you have on hand - we used cucumber, carrots, tomatoes and kraut)
Instructions
Preheat oven to 400° Fahrenheit, line a baking sheet with parchment paper.

Place salmon fillets on baking sheet and season with the smoked paprika, garlic powder and a pinch each of salt and pepper. Place in the oven to bake for 15-20 until flaky with a fork. Cooking time will vary depending on the size of your fillets.


While the salmon is cooking, chop romaine and set aside.

Make the dressing. Place all of the ingredients except the sea salt and olive oil in a food processor and blend until everything is combined. While the food processor is still running, stream in olive oil until smooth and creamy. Once creamy taste and season with sea salt as desired.


Pour 1/2 of dressing over romaine and toss to coat. Set aside. You will have leftover dressing. Use it for dipping veggies in as a snack or adding an extra drizzle on top of your salad bowls.


Once salmon is done, remove from oven and make bowls. Fill up bowls with romaine and top with salmon. Add an extra drizzle of dressing if you'd like. Enjoy!
Notes
Nutrition facts are an estimate provided for those following a Ketogenic or low-carb diet. See our full nutrition information disclosure here. 
Calories: 470kcal, Carbohydrates: 10g, Protein: 36g, Fat: 32g, Saturated Fat: 4g, Fiber: 5g