When it comes to breakfast, we love easy! Ok, really we love easy for every meal of the day, but especially breakfast. This easy shakshuka recipe is another great make ahead breakfast that will have you feeling well fed right at the start of your day. 
Make Breakfast In Advance
One of the main premises of our approach to meal planning, and our RSG Paleo Meal Plans subscription service, is the concept of make ahead breakfasts. When you make a large breakfast over the weekend to have on hand in the fridge during the busy work week, you make a healthy breakfast an automatic thing. All you have to do is re-heat your breakfast in the morning, and call it good. It makes for less effort and dishes in the morning, and I'm pretty sure everyone can get on board with that!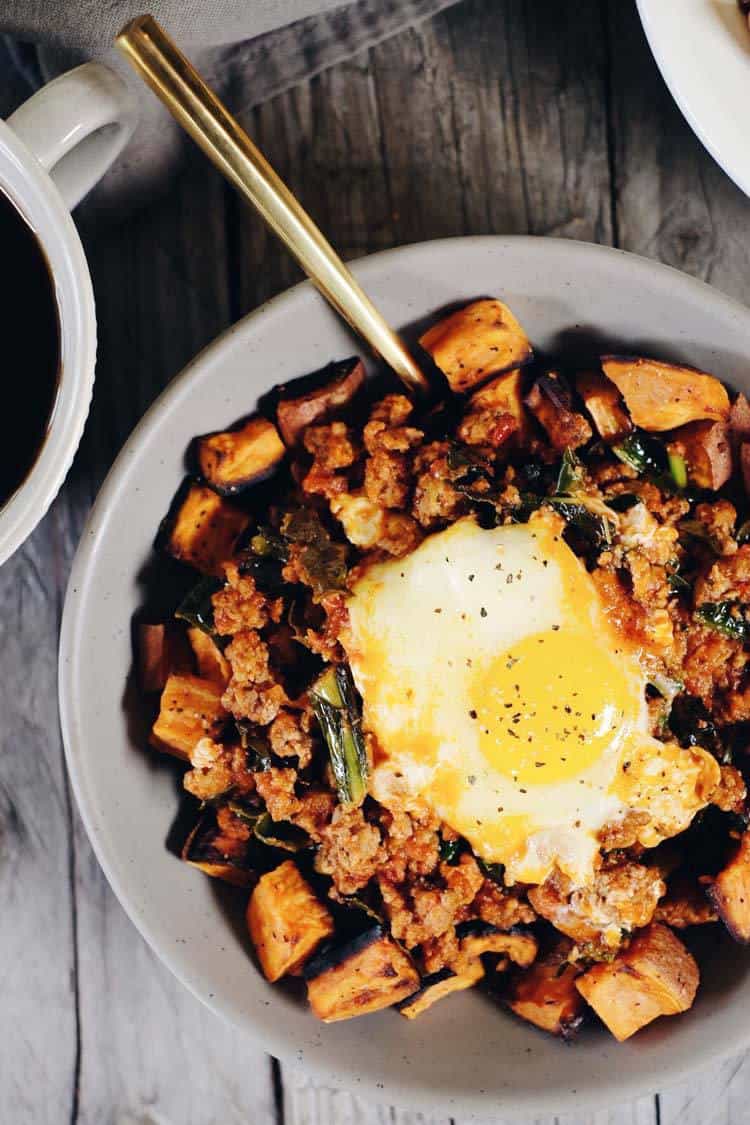 What is Shakshuka?
Shakshuka is traditionally a simple egg dish where the eggs are poached in a spicy tomato sauce. It requires few ingredients and is easy to make. We have veered just a touch from a traditional shakshuka with our addition of kale and meat to the sauce as well as some roasted sweet potatoes to eat the saucy egg mixture over.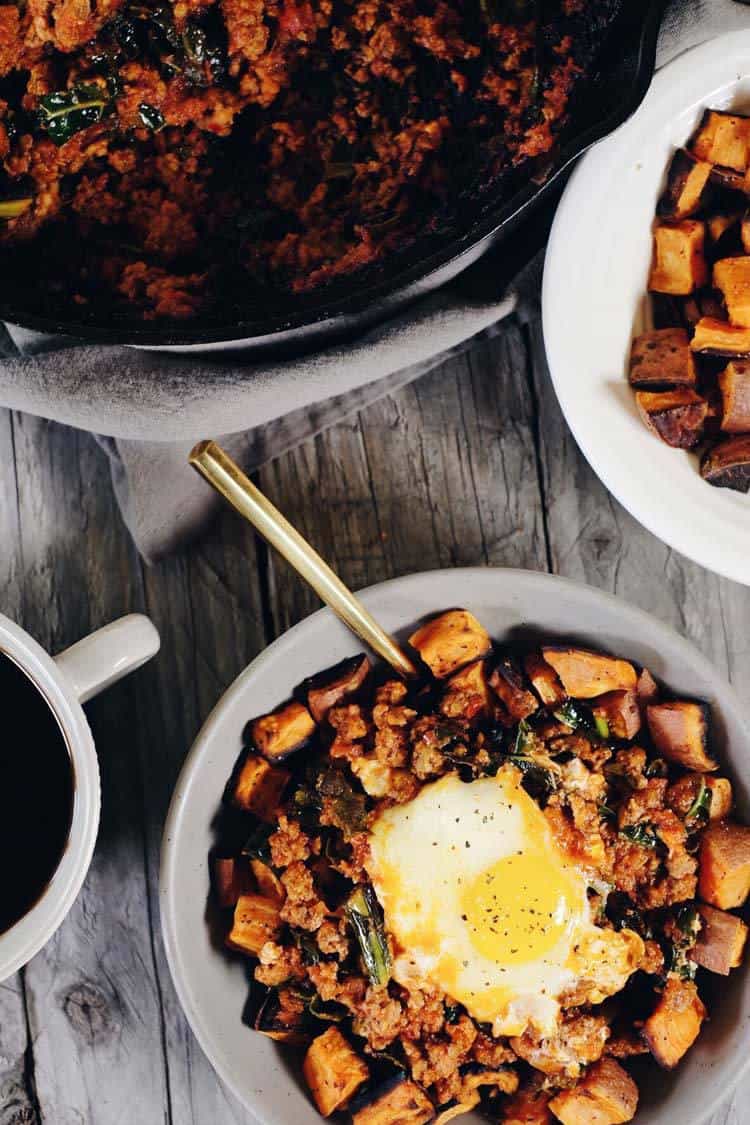 Why You'll Love This Easy Shakshuka Recipe
This easy shakshuka recipe is the perfect way to spice up your breakfast routine! It is packed with flavor and even sneaks some healthy greens and sweet potatoes in. If you have a potato intolerance like me, you can skip the potatoes and if you have an egg allergy you can skip the eggs. However you break this one up, you will have a tasty and satisfying breakfast on your hands. For real, give it a try! You'll be looking forward to breakfast in the early morning hours of the work week when you make it ahead of time.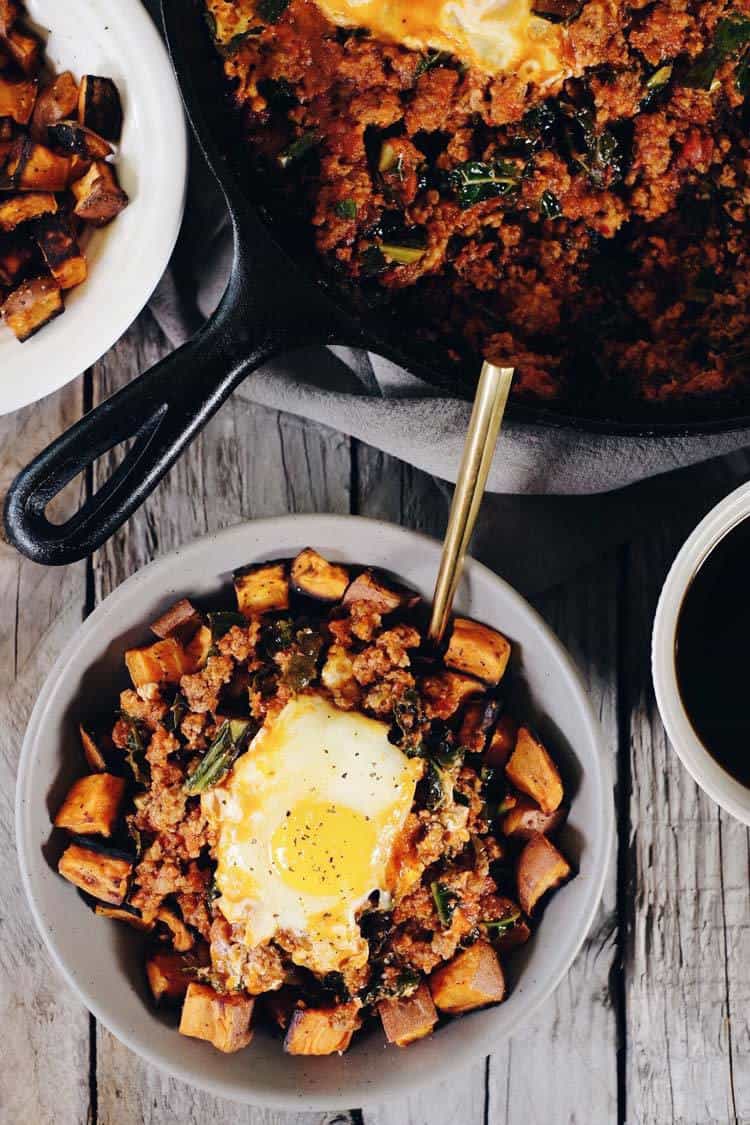 Your Turn To Make Our Easy Shakshuka Recipe
Go ahead and plan ahead for next week! Make this easy shakshuka recipe over the weekend, so you can have a flavorful and fresh new breakfast idea for the work week. Let us know how it goes by leaving a comment below. Also, take a photo and tag us on Instagram @realsimplegood.com, so we can check it out!
---
Get the Recipe:
Easy Shakshuka Recipe (Paleo + Whole30)
This Paleo and Whole30 Easy Shakshuka Recipe is a hearty and filling make ahead breakfast that will have you feeling well fed to start your day.
Ingredients
2 sweet potatoes, cut into small cubes, (or sub russet potatoes)
2 tablespoon grass-fed butter or ghee, melted, (or coconut oil for dairy-free)
1 pound ground breakfast sausage
1 pound ground beef
1 jar marinara sauce, (25 oz)
6 cups kale, thinly sliced
1 tsp crushed red pepper flakes, (optional)
2 avocados, (for topping)
6 eggs, (optional)
Salt and pepper
Instructions
Preheat oven to 400° Fahrenheit and line a baking sheet with parchment paper. Place diced potatoes on the sheet and toss with melted ghee and a bit of salt and pepper. Place in oven to bake for about 30 minutes, until the potatoes are slightly crispy around the edges.

While the potatoes are cooking, heat a large skillet over medium heat. Once hot, add in sausage and beef. Break it into small pieces and cook, stirring occasionally, until the meat is browned and becomes slightly crispy, about 10 minutes.

Add in the jar of marinara sauce, kale and crushed red pepper flakes and mix to combine. Let simmer for about 5-6 minutes, until kale is soft and cooked through. Taste and season with salt and pepper as desired. Turn down to low to keep warm until the potatoes are finished.

Serve sweet potatoes topped with shakshuka mixture and avocado slices for topping. If desired, add in an egg cooked to your preference.