If you haven't figured it out yet, one pan dinners are our go-to during the busy work week. They are a great way to get a flavorful, delicious meal on the table in a short time with relatively little effort. When we first tried this recipe we weren't quite sure how a one pan steak dinner would turn out because getting everything cooked right and ready at the same time can be tricky. We learned that picking the right veggies to go with the steak is key, and if you follow the directions here the entire meal will cook to perfection and be ready to eat in just about 15 minutes.
To start you'll chop up some red onions, mushrooms and zucchini. After that, just get the oven going, season the steak and veggies up and sear the steak in a hot pan.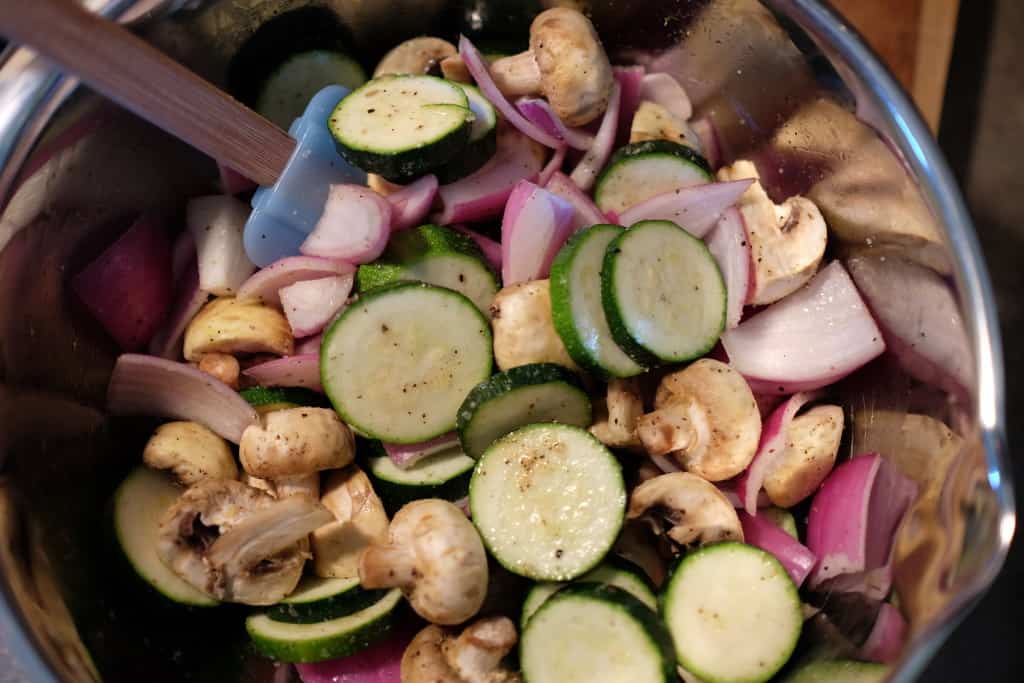 After you've seared the steak, just add your veggies into the pan and transfer everything to the oven to broil. The result is a perfectly cooked steak with some roasted veggies in just a few minutes.
We like our steak medium rare, so I used the hand trick to figure out exactly when to pull the steak out of the oven. After searing each side in the pan, it only took about 6 minutes under the broiler.
Enjoy this easy one pan steak dinner.
---
Get the Recipe:
ONE PAN STEAK DINNER
For this one pan steak dinner, you'll have a steak dinner with a side of vegetables perfectly cooked in about 15 minutes. It's an easy week night meal.
Ingredients
1 red onion, - cut into chunks
2 zucchini, - sliced
8 oz mushrooms, (about 15 medium sized mushrooms)
1 Tbsp olive oil
Garlic powder
Salt
Pepper
1 lb grass-fed filet, (The thicker the better for this dish you'll want a cut at least 1 inch thick to allow some time for the veggies to cook in the broiler without overcooking the steak)
1 Tbsp fat of choice, (We prefer bacon fat or butter for cooking steaks)
Instructions
Chop up the onion and zucchini and add them to a bowl with the mushrooms. Toss with olive oil and sprinkle with garlic powder, salt and pepper to season. Set aside.

Set your oven to broil.

Heat a cast iron (or other oven safe pan) on the stove over medium-high heat. Toss in your fat of choice.

While the pan is heating, season your filet liberally with garlic powder, salt and pepper.

When the pan is hot, place the filet in the pan to cook for two minutes. Flip it an cook for another two minutes and remove from heat.

Add your vegetables into the pan and transfer it to the oven.

Broil everything for 5-8 minutes, until the steak is cooked to your liking. We cooked steaks a little over an inch thick and they were cooked to a perfect medium rare in about 6 minutes.

Check the doneness of steak by using the hand trick

here

.

Take out your steak dinner, let it rest for a few minutes and then serve and enjoy.