I don't know anyone who went Paleo and doesn't miss pizza sometimes! Am I right or am I right?! Our meal plan subscribers specifically requested a pizza recipe, and that is how this one was born. Then, they liked it so much we thought we ought to share it with all of you on our site! This Paleo pizza recipe is not only delicious, but also uncomplicated and easily customized. 
The Crust
After many Sunday night pizza nights spent tweaking the recipe and trying various flours, I can tell you that this is the BEST Paleo pizza crust we've had! We use blanched almond flour and tapioca flour along with some seasonings, eggs and grass-fed butter, ghee or coconut oil. It is a super simple crust that mixes up real quick. The texture is a little buttery and flaky, but solid enough to pick up and eat without the toppings sliding right off. If you've tried many Paleo pizza recipes you know exactly what I'm talking about.
The Toppings
One of our favorite things about this Paleo pizza recipe is that the toppings are entirely up to you! We provide recommendations in the recipe because they are our favorites and most often what we have readily available and on-hand. You can really use whatever your favorite veggies and sauces are though. Sometimes we do pesto instead of marinara sauce. Other times we skip the buffalo mozzarella all together or do runny eggs on top. Seriously, there are so many directions you can go with this.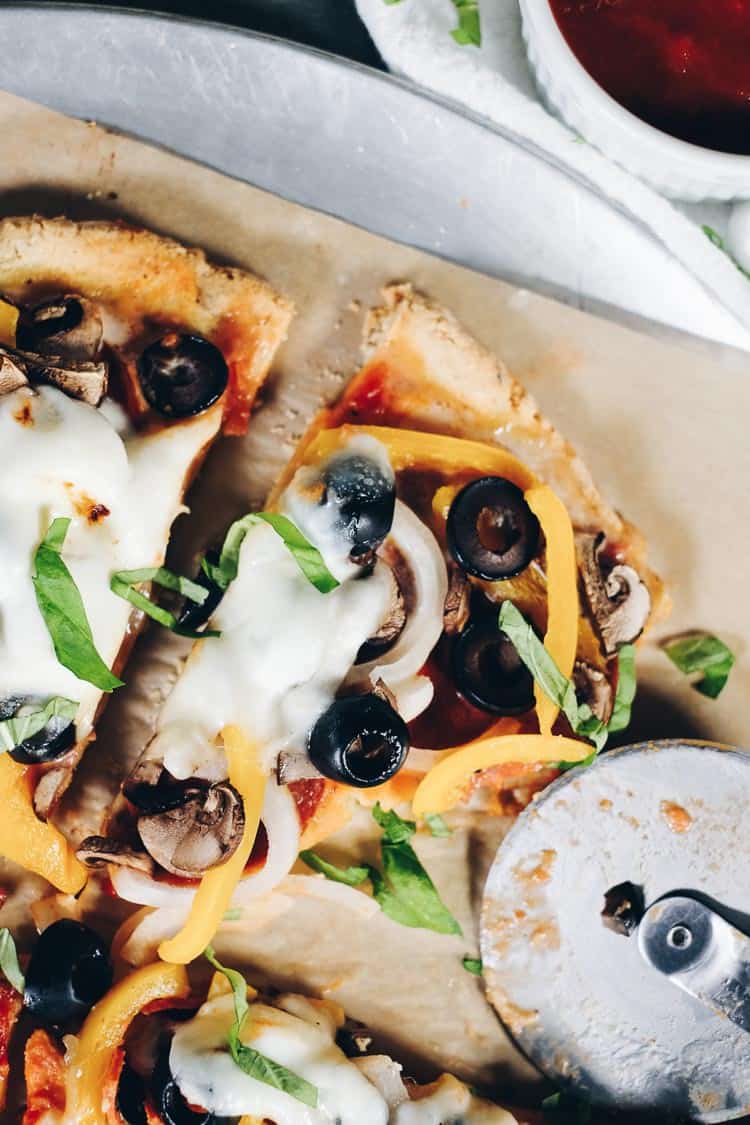 Pair This Paleo Pizza Recipe With A Yummy Side Salad
It can be as simple as some greens with olive oil and balsamic vinegar. Or maybe you use the caesar dressing from our kale caesar burger bowls. Whatever sounds good, go with that! Add some greens, fresh veggies, your favorite dressing and call it good!
Your Turn To Try Our Paleo Pizza Recipe
Have you been eating Paleo for a bit now, but totally miss pizza night?! Go ahead and make this Paleo pizza recipe to get your fix. Let us know what toppings you decide on and take some photos. Tag us on Instagram @realsimplegood when you share them, so we can see! We can't wait to see what you come up with!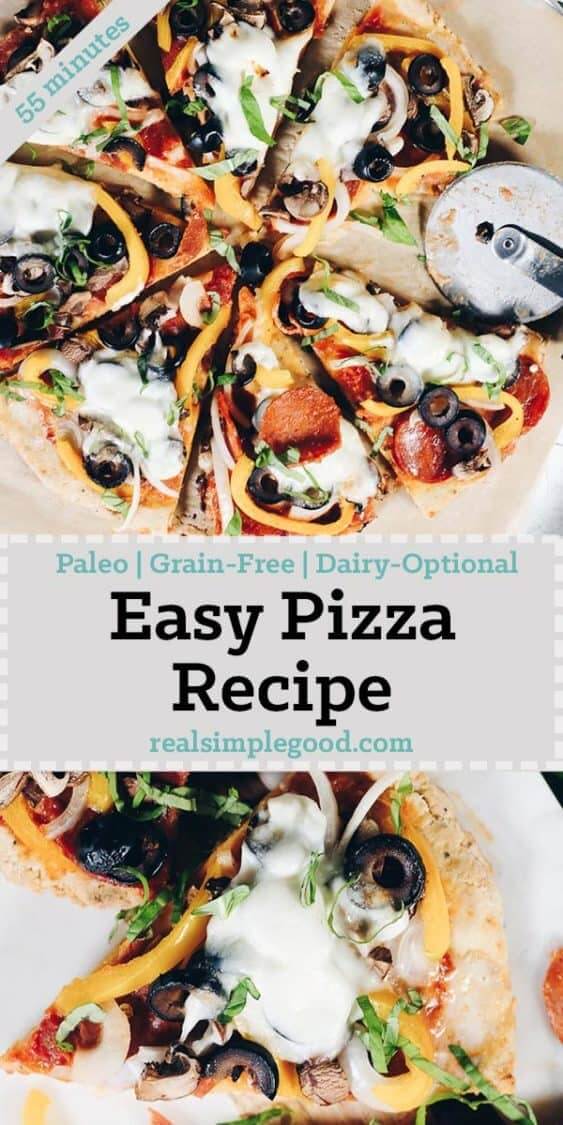 ---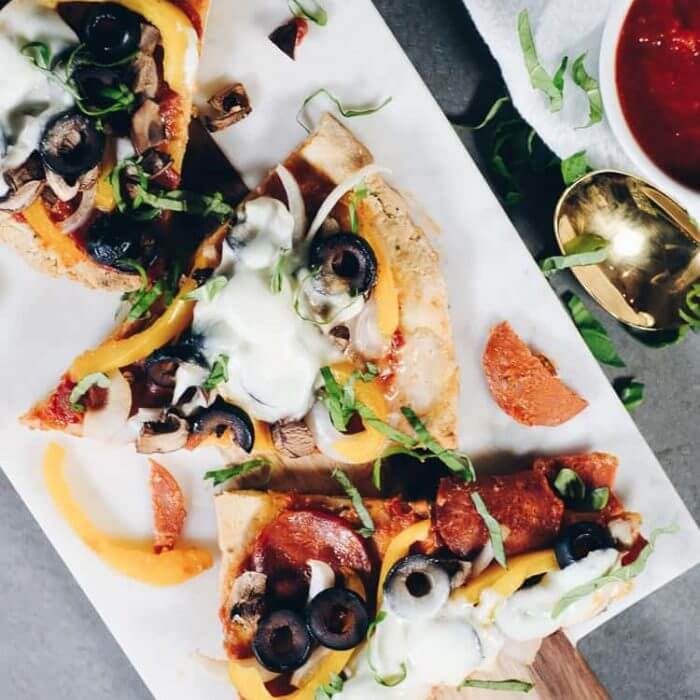 Get the Recipe:
Paleo Pizza Recipe (GF, Grain-Free + Dairy-Optional)
This Paleo pizza recipe is not only delicious, but also uncomplicated and easily customized.

Ingredients
For the crust:
1.5 cups almond flour
1 cup tapioca flour
1 tsp sea salt
1 tsp garlic powder
1 tsp basil
1/2 tsp ground pepper
2 eggs
2 tbsp grass-fed butter, ghee or coconut oil
1/8 cup water
For the toppings:
1/2 cup marinara sauce
5 oz pepperoni, thinly sliced
1/8 onion, thinly sliced
1/2 cup olives, thinly sliced
1/2 bell pepper, thinly sliced
1/2 cup mushrooms, thinly sliced
7 oz buffalo mozzarella, sliced into rounds, (optional)
Fresh basil, (to garnish)
Instructions
Preheat oven to 350° Fahrenheit, and line a baking sheet with parchment paper. Sprinkle a little tapioca flour onto the parchment and set aside.

Place all of the dry crust ingredients a large mixing bowl. Whisk until everything is evenly combined.


Make a little hole in the flour mixture. It's like a little moat for your wet ingredients.


Add eggs, and use a fork to whisk them. Then add melted butter (make sure it's cooled a bit so it doesn't cook the eggs). Start to stir the eggs and butter into the dry ingredients. Slowly add water, using less or more, until everything is combined. It will be a thicker, sticky dough.


Scoop out the dough onto the parchment lined pan with tapioca flour. Sprinkle more tapioca flour on top of the dough. Spread the dough out with your hands into a circular shape. You want to get it to about 3/8 inch thick.


Place pizza crust in the oven to bake for 20 minutes.


While the crust is baking, prep all of the toppings as noted and set aside.


Once crust has baked for 20 minutes, remove from oven and turn oven up to 400° Fahrenheit.


Carefully place toppings on pizza crust in the order listed above. The buffalo mozzarella is last and optional. Just place hearty rounds of it on the pizza. It will melt and spread out a bit. Save the fresh basil for a garnish once the pizza is done.


Place pizza back in the oven to cook for 15 more minutes. Once done, remove from oven and place on a cutting board. Slice into 8 pieces and top with fresh basil. Serve with side salad if desired.