What's better than our baked chicken tenders you ask?! Our baked ranch chicken tenders are taking it up a notch. If you've been using our paleo ranch seasoning, you have probably found some creative ways to incorporate it into your cooking. We love it on chicken tenders because rather than dipping our regular baked chicken tenders in ranch sauce, the ranch flavor is baked right into the chicken tenders. You can dip them in your favorite sauces in addition to the built-in ranch flavor! My favorite dips are mustard and honey mustard. 
There they are straight out of the oven. You can see the ranch seasoning crusted right onto the tenders. Don't you just want to take a bite!?
We paired them with our simple sweet potato fries. The ranchy chicken tenders with the slightly sweet, paprika dusted sweet potato fries just go perfectly together. We love that it's a much healthier version of typical fast food favorites, all baked rather than fried and family friendly.
Pick these baked ranch chicken tenders up and dip them in your favorite sauces, and let us know how you like them by leaving a comment below. Also, take a picture and tag it on Instagram @realsimplegood so we can check it out!
---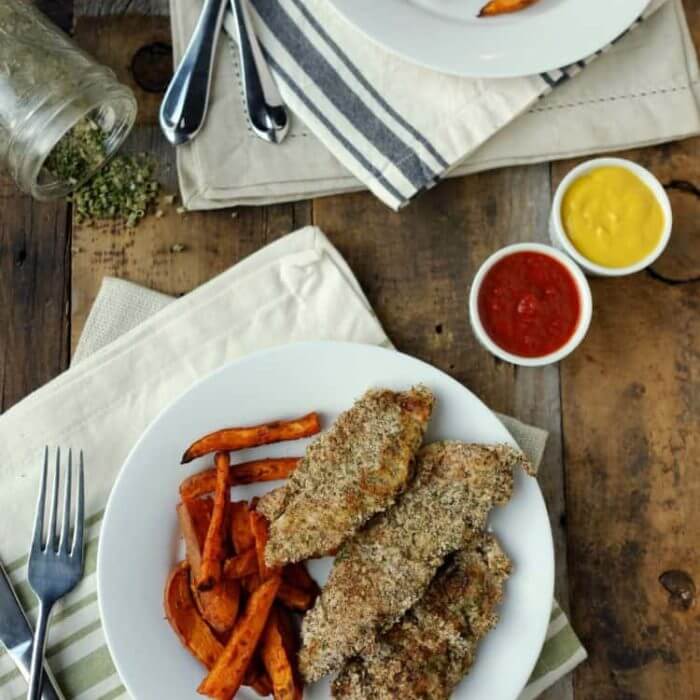 Get the Recipe:
Baked Ranch Chicken Tenders (Paleo + Whole30)
Our Paleo + Whole30 baked ranch chicken tenders are taking it up a notch.The ranch seasoned coating is perfect for dipping into your favorite sauces. 
Instructions
Preheat your oven to 450 degrees fahrenheit.

Line a baking sheet with parchment paper and set nearby.

In a pie tin, or other shallow dish, combine the almond flour, tapioca flour, ranch seasoning, salt and pepper.

Whisk your eggs in a separate bowl with the milk.

Pat dry each chicken tender with paper towels.

Place one of the tenders in the egg mixture and cover completely. It should be well coated.

Next, dredge the egg covered chicken tender in the flour mixture. Coat it well, pressing the chicken tender down into the mixture.

Place the coated chicken tender on your parchment lined baking sheet.

Repeat until all of the chicken tenders are coated and resting on your baking sheets.

Place your baking sheets in the oven and bake for 9 minutes.

Remove from the oven, flip the tenders over and bake for another 9 minutes.

Remove from the oven and serve these yummy baked chicken tenders up!

We love to dip them in honey mustard, ketchup, or your other favorite sauces.