Why you'll love this recipe
Flavor bomb – The lightly breaded and fried chicken is seasoned with Chinese 5-spice and tossed with some fresno peppers and onions. These simple ingredients are so salty and delicious!
Quick + Easy – From start to finish, this meal is ready and on the table in under 30 minutes. You can pair it with some rice or cauliflower rice for a super quick and delicious weeknight meal.
Versatile – The chicken will go with any stir fry veggies, so feel free to make this over and over again with any vegetables you want. We like broccoli and green beans for some variety on this recipe.
Making Salt and Pepper Chicken
The prep for this dish takes a little bit of time, but it's worth it. Once you start cooking it only takes about 10 minutes of active cooking time.
Chop chicken into pieces and prepare the flour mixture and eggs for coating.
Dip the chicken pieces in the egg, then the flour to coat.
Cook the chicken to get that perfectly brown crust.
Quickly sauté the peppers and onions.
Mix the chicken back in and serve!
Check out another popular takeout remake recipe of ours! Sweet Potato Chicken Pad Thai
A Note on the Ingredients
If you haven't cooked with Chinese five-spice powder before, you are missing out! It's the perfect mix of sweet smelling and savory tasting spices that mixes well with chicken.
It's traditionally a mix of:
Cinnamon
Fennel
Cloves
Star Anise
Sichuan Peppercorn (or white pepper)
It's used liberally in this recipe (along with salt and pepper). However, you can adjust any of the seasonings as needed to suit your taste.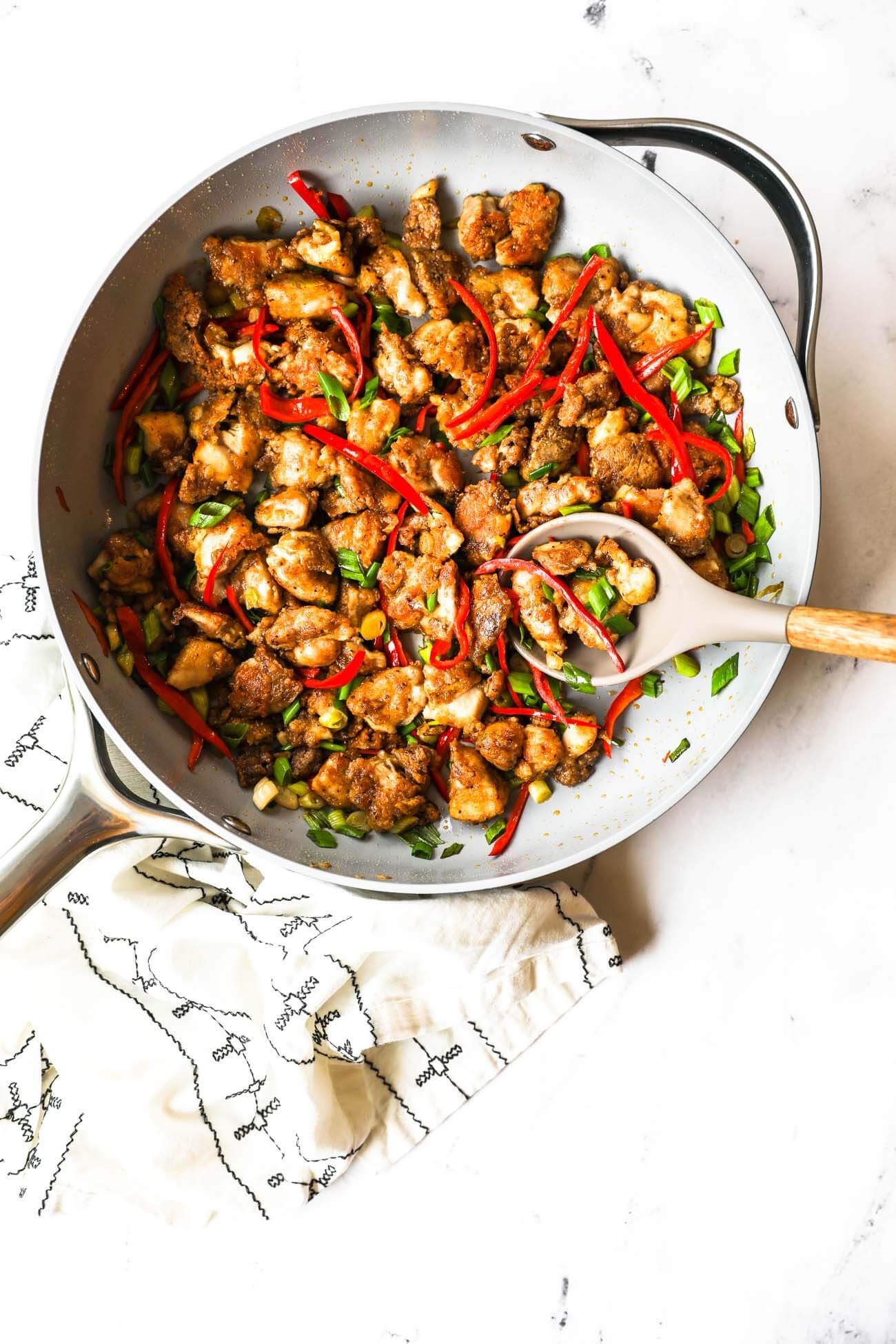 What to Serve with Chinese Inspired Salt and Pepper Chicken
If you're not just eating it straight out of the pan, here are some easy serving options for this recipe:
Over rice or cauliflower rice.
In a lettuce wrap for a healthy appetizer option.
Served cold as leftovers on top of greens or chopped cabbage for a salad.
Another option is to simply add more stir-fry veggies when cooking (broccoli, snow peas, etc.) to make a more complete meal. Just add them in to cook at step 7 of the recipe (with the onion and pepper).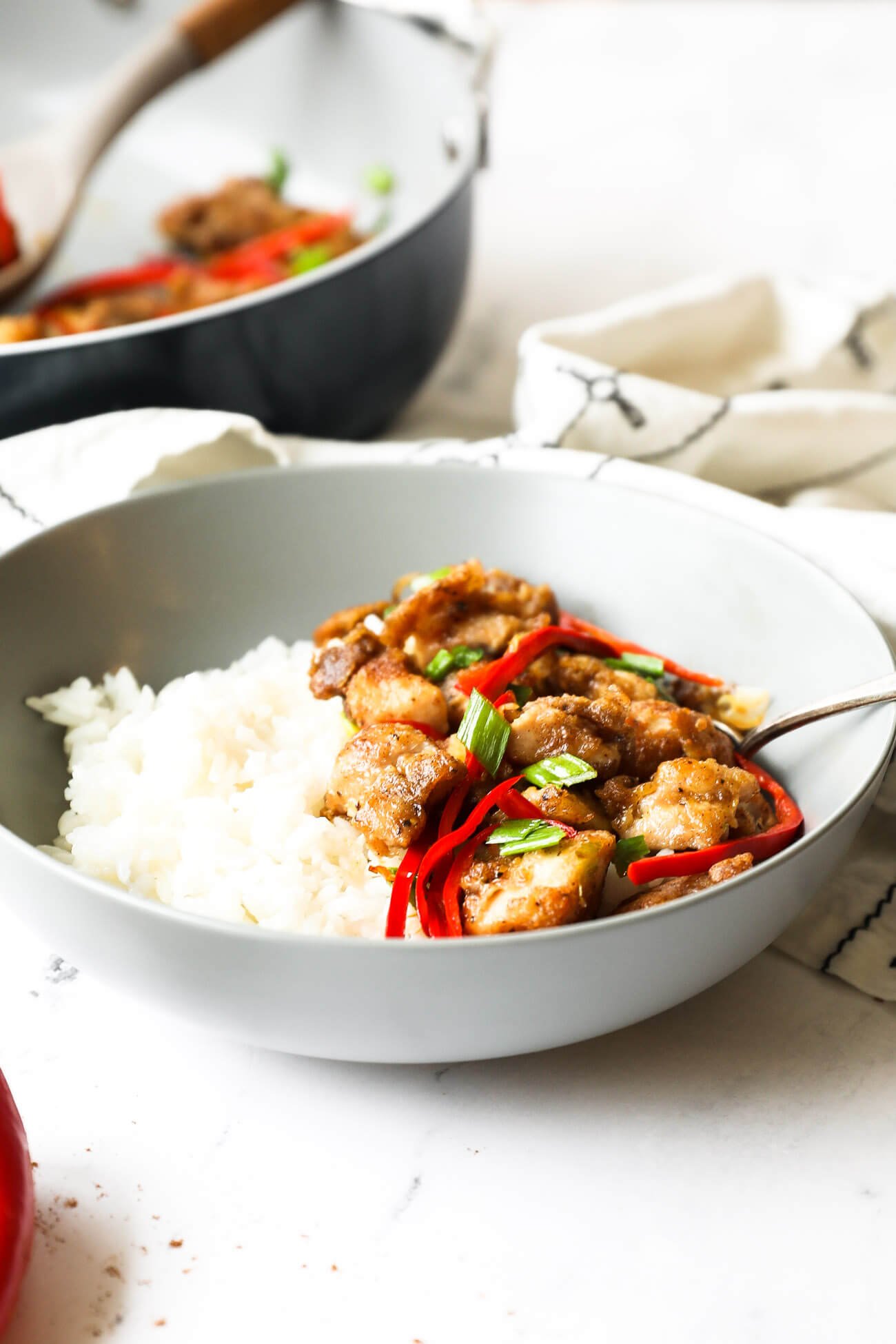 More Healthy Takeout Remake Recipes to Try
Your Turn to Try This Easy Stir Fry Recipe
I just know that you'll love the unique flavors in this easy salt and pepper chicken. The seasoned battered crispy chicken pieces mixed with peppers and onions is the best combination of salt, spice and crunch.
If you try the recipe, be sure to add a comment and rating below to let us know how it goes. Also, take a pic to share on Instagram and tag us @realsimplegood. We love to see what you're cooking!
---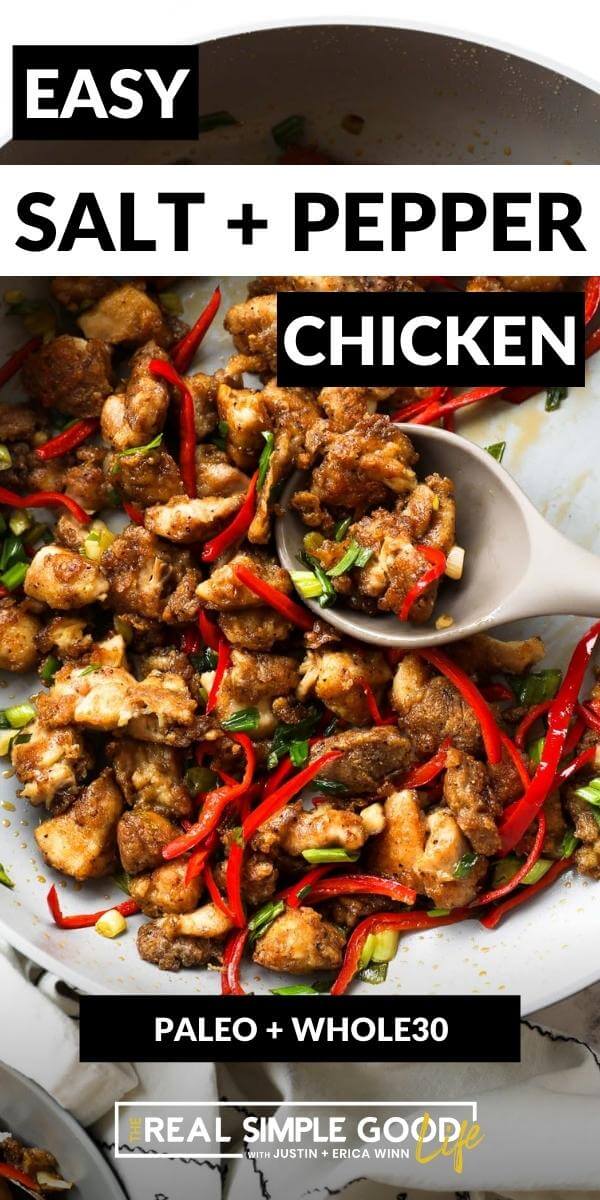 ---
Like this Recipe?
SHARE IT NOW OR PIN IT FOR LATER!
---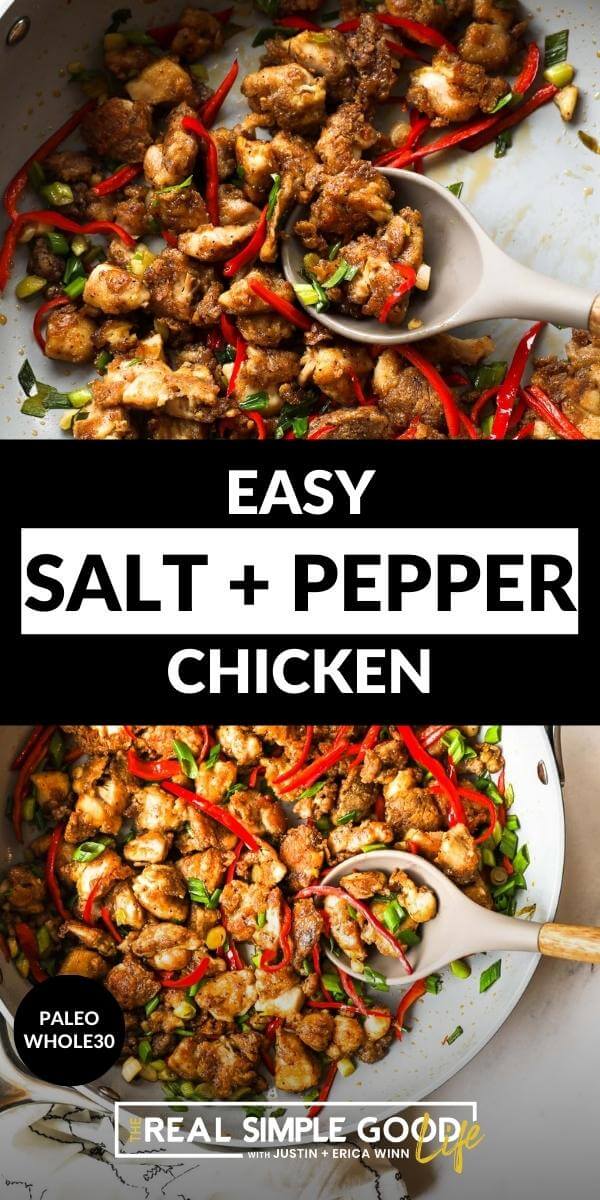 ---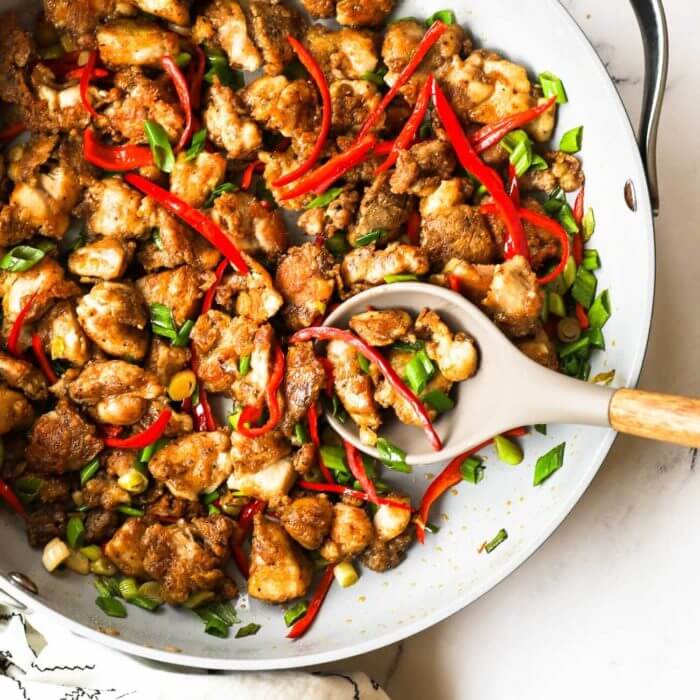 Get the Recipe:
Easy 25-Minute Salt and Pepper Chicken
Deliciously salty, a little crunchy and amazingly simple, this easy salt and pepper chicken is a classic takeout remake recipe! Made with breasts or thighs, the Chinese-inspired seasoned crispy chicken is mixed with peppers and onions for a flavorful stir-fry meal.
Ingredients
2 tbsp sesame oil, divided
1 lb boneless skinless chicken breasts or thighs, cut into bite-sized pieces
4 green onions, diced, (the white and green parts are used in separate steps)
5 fresno peppers, stem and seeds removed and diced, (can be spicy, sub 1 red bell pepper for a less spicy option)
1/2 cup tapioca flour, (can sub corn starch – not strict Paleo or Whole30)
1 tsp sea salt
1 tsp pepper
2 tsp Chinese five-spice
2 Eggs
Instructions
Cut chicken into bite sized pieces and set aside. Prep peppers and onions as noted.

Place the tapioca starch on a plate. Add in the salt, pepper and Chinese five-spice and lightly stir with a fork to mix the seasonings with the flour.

Whisk the eggs in a bowl.

Set up the chicken pieces, whisked egg, flour mixture and a clean plate in a line. Dip the chicken pieces in the egg, dredge them in the flour to coat and then place them on the clean plate. Repeat until all chicken pieces are coated. NOTE: Don't worry about getting every piece perfectly coated or if the chicken pieces clump together, you can break the pieces up when cooking. Just coat the pieces with the flour as much as you can.

Heat a large skillet or wok over medium-high heat and add in 1 tbsp sesame oil. Once the oil is shimmering, add in the chicken.

Cook the chicken for 2-3 minutes on each side, until all sides are golden brown and the pieces are cooked completely. Break up any clumps as needed to cook evenly and separate out the individual chicken pieces. Once cooked, carefully transfer the chicken to a plate or bowl.

In the same skillet, add another 1 tbsp of sesame oil. Add in the white pieces of the onion and the peppers and sauté for 2-3 minutes, until they just start to soften.

Next, add the green parts of the onions to the skillet. Add the cooked chicken back into the skillet and cook for 1-2 more minutes. Stir everything together to mix.

Remove from heat and serve.