So the seasons shifted and pretty much all we've done is create total comfort food at our house. Like for real…this loaded cauliflower casserole is just one of many examples of the hearty and totally cozy dishes we've been working on. We've got so much to share with you in the this last quarter of this year!
The Topping
Alright, let's just get right to it and discuss the topping! It's a mixture made with soaked and softened cashews, which gives it a creamy texture. The cashews combined with garlic and smoked paprika become almost like a cheesy-hummus type topping over a bed of cauliflower, mushrooms, chicken and bacon. We added some chives in the mix too for a little greenery and extra flavor! All around, it's a super tasty combo!
All The Comfort Without The Grains Or Dairy
We love making delicious comfort foods that taste fabulous without grains and dairy. The truth is that we get to fully enjoy the comfort foods we make because we don't suffer the after effects that would typically follow eating grains and dairy. That's the best part about this hearty and loaded cauliflower casserole – you can fully indulge and enjoy every bite!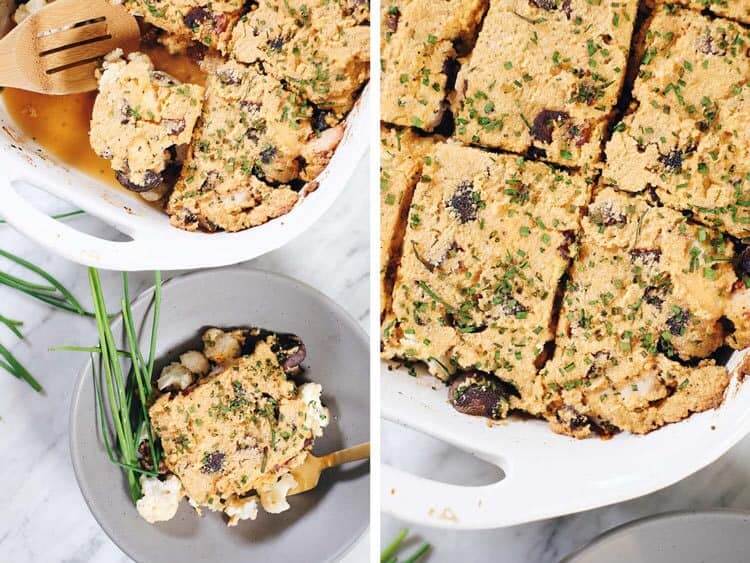 The Leftovers Are Just As Good
Another great thing about making a big casserole like this one is that you have leftovers. And we love utilizing leftovers for lunches or dinner on a busy day when we won't have time to prepare a dinner. This loaded cauliflower casserole makes great leftovers that taste just as good reheated! You really can't beat the combo of smoked paprika in the topping with the creamy cashews, bacon, chicken, cauliflower and mushrooms!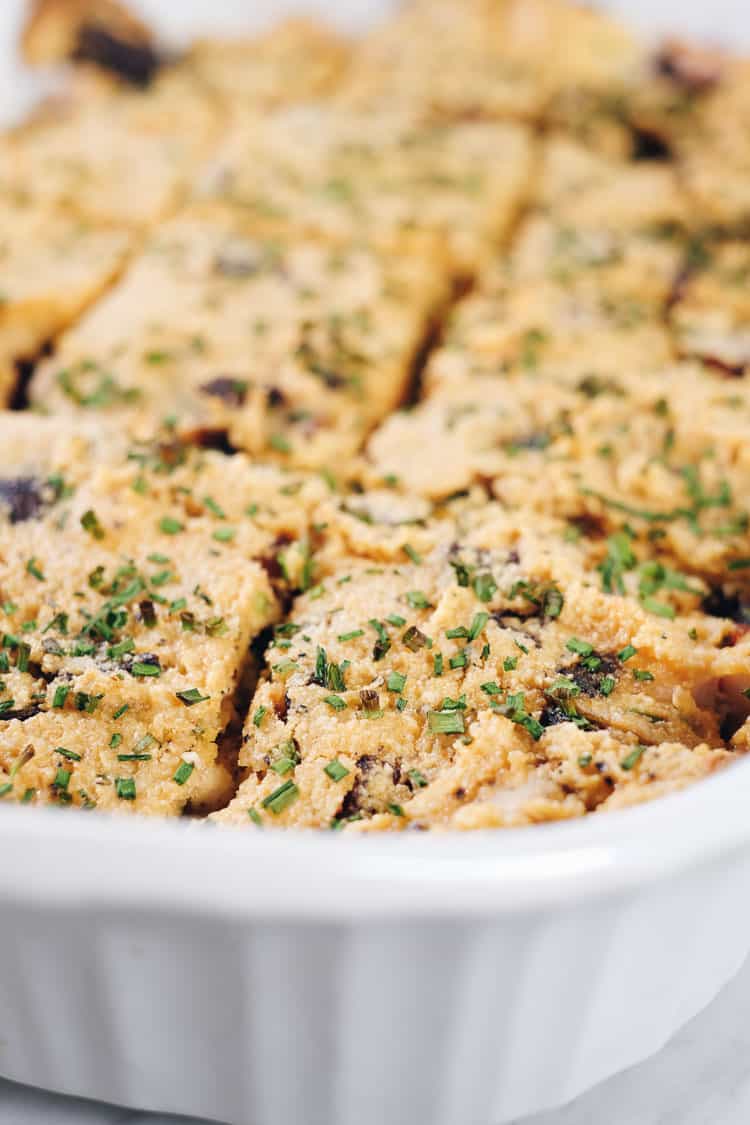 More Comfort Food Recipes
Your Turn To Try Our Loaded Cauliflower Casserole
The time for all the comfort foods is upon us! Give this loaded cauliflower casserole a try, and let us know how it goes by leaving a comment below. Also, take a photo and tag us on Instagram @realsimplegood, so we can check it out!
---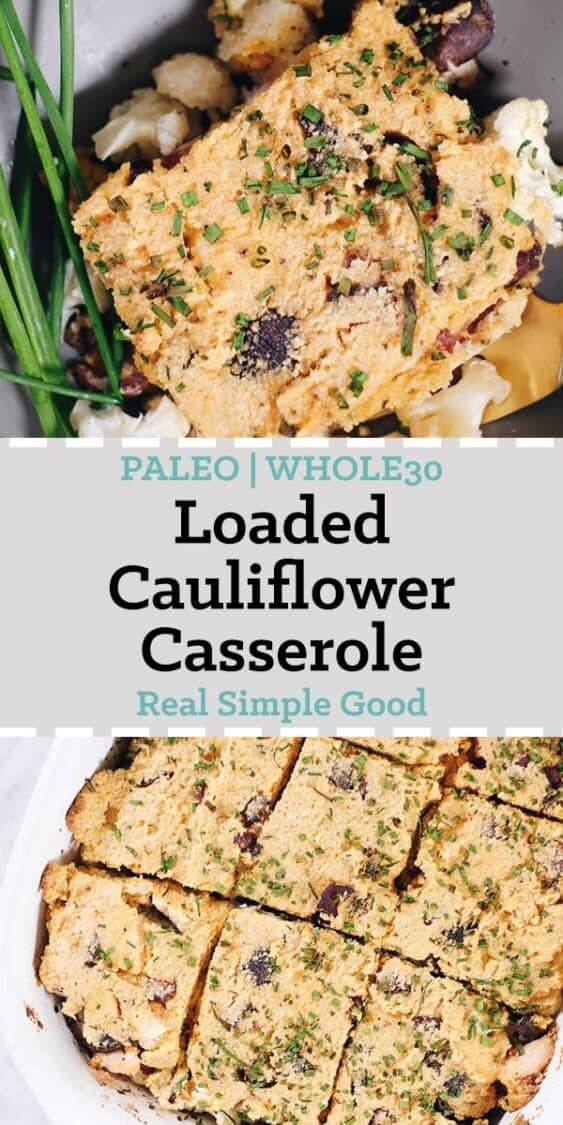 ---
Get the Recipe:
Loaded Cauliflower Casserole Recipe
This Paleo and Whole30 Loaded Cauliflower Casserole is a hearty and totally cozy dish made without the gluten, grains or dairy!
Ingredients
For the topping:
2 cups raw cashews
4 cloves garlic
1 tsp sea salt
1/2 tsp ground pepper
1/2 tsp smoked paprika
2 tsp lemon juice, (about 1/2 lemon)
1/2 cup water
For the casserole:
8 pieces bacon, diced
3 boneless skinless chicken breasts, cut into small cubes
1 head cauliflower, cut into florets
8 oz mushrooms, halved
1/2 cup chives, diced
1 tbsp butter or ghee, (or coconut oil for dairy free)
Salt and pepper
Instructions
Place cashews into a bowl or container and pour enough water over them to cover. Set aside for at least 2 hours or overnight.

Drain and rinse the cashews after they have soaked. Place the cashews and remaining topping ingredients into a food processor. Process until it reaches a creamy, hummus-like consistency. Place in the refrigerator while you make the rest of the casserole.

Dice bacon and cut chicken breasts as noted. Cut up cauliflower, mushrooms and chives as well.

Heat a large skillet over medium heat and add diced bacon. Cook, stirring occasionally, until the bacon is just getting crispy, about 6-7 minutes. Remove and place on a paper towel lined plate.

Preheat oven to 400° Fahrenheit and grease a 9x13 baking dish with butter or ghee.

Spread the cauliflower and mushrooms out in the baking dish and mix together. Next, nestle the chicken pieces in with the cauliflower. Season everything with salt and pepper (about 1 tsp each) all over.

Sprinkle the bacon and 1/2 of the chives over the top of everything. Spread the topping over the top in an even layer. Sprinkle on the remaining chives on as the final topping.

Place dish the oven to roast for about 30-40 minutes, or until the chicken is completely done measuring an internal temperature of 165 degrees. Allow to cool for a few minutes before serving.