Ice cream has long been a favorite of mine, and chocolate chip cookie dough is my favorite flavor. I just love the texture, the savory/sweet combo, and it pairs well with our paleo chocolate chip fudge brownies, so what's not to love!? And yes, in case you're wondering I am still trying to entice everyone else to buy an ice cream maker. It's way too fun! So…get on it already!

This recipe is easily executed, especially if you've made our vanilla ice cream before. The cookie dough part is quick and painless too. I recommend preparing the cookie dough first and then letting it chill in the freezer for a few while you get the vanilla ice cream ready. This is a tasty and simple way to dress up your paleo ice cream. Give it a try!
---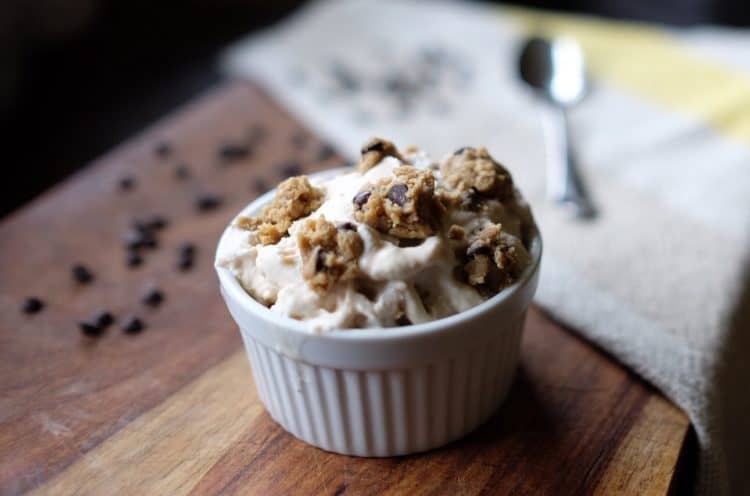 PALEO CHOCOLATE CHIP COOKIE DOUGH ICE CREAM
Print Recipe
Rate Recipe
Share by Email
Ingredients
For the chocolate chip cookie dough:
For the vanilla ice cream:
Want more recipes like this?
SIGN UP FOR OUR LATEST RECIPES:
Instructions
Prepare the chocolate chip cookie dough first.

In a mixing bowl, combine all of the ingredients except for the chocolate chips. It will look similar to usual cookie dough in texture.

Fold in the chocolate chips.

Place the cookie dough in the freezer to chill while you prepare the ice cream base.

In a medium mixing bowl whisk all of the ice cream ingredients until combined. Note: If you use chilled coconut milk it will reduce the cooking time.

Remove the cookie dough from the freezer.

While the ice cream is churning, add chunks of cookie dough to your liking. I had a little leftover which you could store in the freezer for a yummy treat another time or you could just eat the rest of it while you wait for the ice cream to finish.

Once the ice cream reaches the consistency you prefer turn off the ice cream maker and serve.