Why you'll love this smoked tri-tip recipe
It's super-simple to get tender, juicy tri-tip in the smoker AND get that perfect sear on the outside.
A great beginner smoker recipe, the only tool you need is an instant read meat thermometer to get the steak cooked exactly how you want it.
The delicious homemade tri-tip rub is made with staple seasonings and is the perfect rub for any smoked meat.
When smoked to medium rare, tri-tip is amazingly tender and pairs well with any bbq side dish you choose!
Related ->> Check out this Unbelievably Easy Smoked Meatloaf
Step-by-step instructions for tri-tip on the Traeger or other pellet grill
Tips from an experienced smokemaster
Tri-tip shape – Because the tri-tip is shaped like a boomerang, it will have one larger, thicker end. Be sure to take the temperature readings from the thickest part of the steak as it will be lower than the thin tip. See below.
You will naturally get some variation in doneness with tri-tip due to the shape. Take measurements from multiple places if needed and make sure the thickest pieces are cooked to the temperature you want.
Reverse sear – The reverse sear in this recipe is the best way to get that "crispy" outer crust on the steak. It can be done in a cast iron skillet or by cranking up the heat on the grill to do the final sear.
Temperature – Follow the recipe carefully and start the reverse sear when the tri-tip is 5 degrees away from your desired final temperature. This will allow you to do the searing step without overcooking the meat.
Cutting – You want to cut the tri-tip into slices against the grain. This will give you the tender, juicy pieces you want for serving. Tri-tip is an unusual cut, and the grain does not run consistently throughout. Always cut through the grain and not with it (see cutting tips).
How long to smoke tri-tip
When smoking tri-tip at 225°, you can expect it to take approximately 30-minutes per pound to smoke.
This will vary depending on the consistency of your temperature, the wood (or pellets) used and the temperature you want to cook your meat to.
I recommend cooking tri-tip to medium rare (125°-130°). It's incredibly tender and juicy when cooked to this temperature and sliced against the grain.
Refer to the table below for common temperature ranges if you desire a different doneness.
| Doneness | Final Temperature |
| --- | --- |
| Rare | 120-125° Fahrenheit |
| Medium rare | 125-130° Fahrenheit |
| Medium | 130-140° Fahrenheit |
| Medium well | 145-150° Fahrenheit |
| Well done | 150°+ Fahrenheit |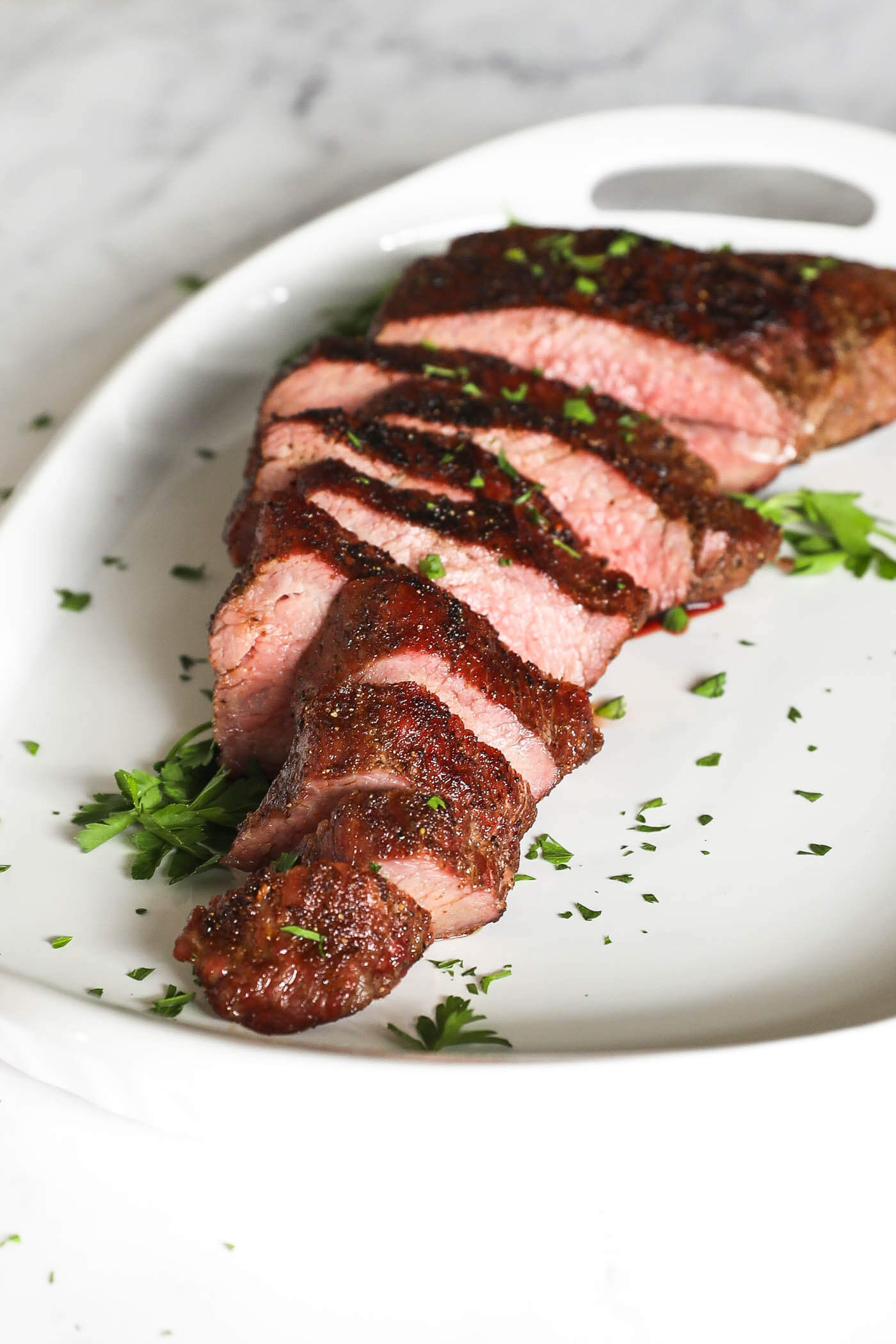 Cutting tips
For the most tender bites of tri-tip, you want to cut it into pieces against the grain. It's easiest to see the grain of the meat when it is raw, see below.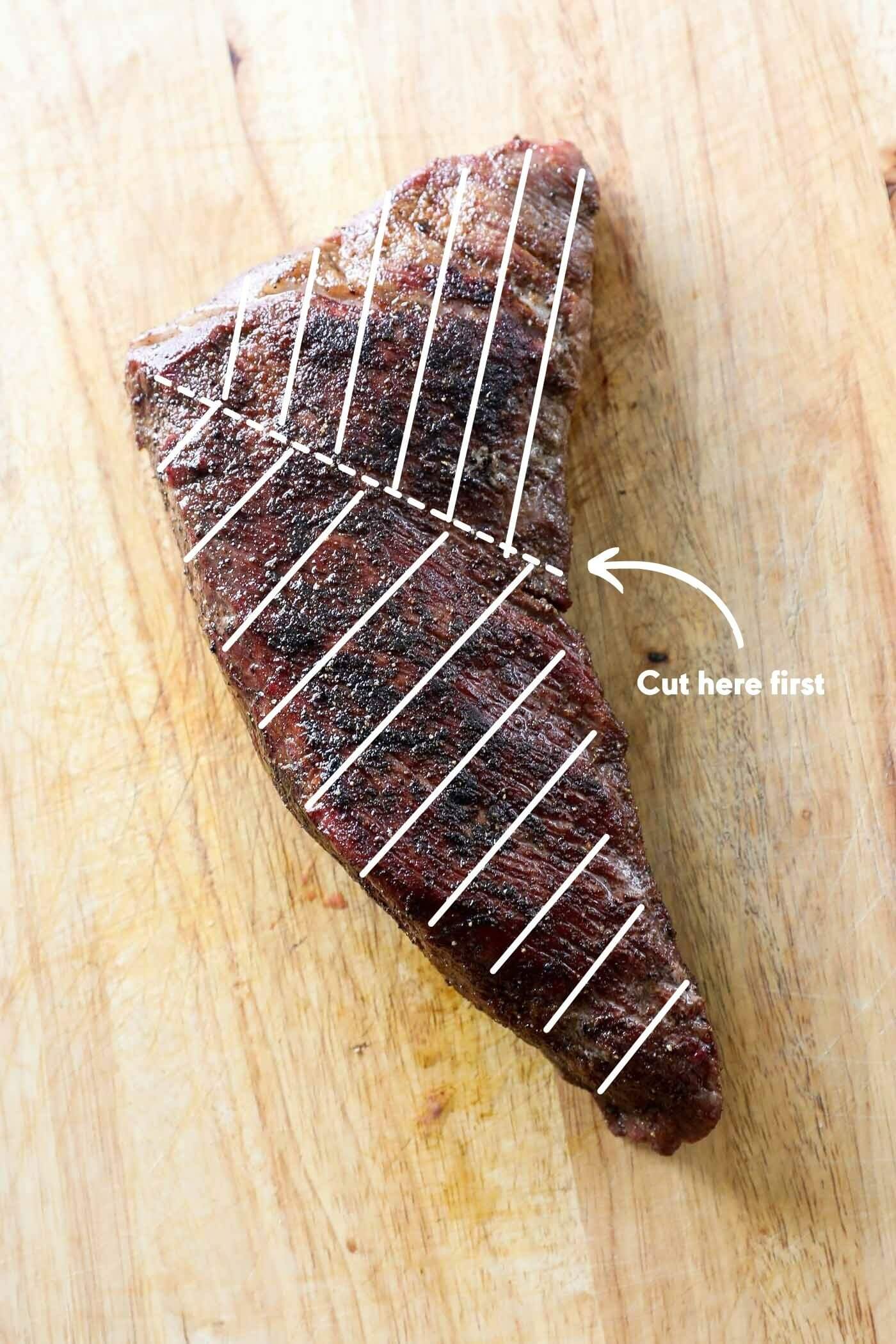 If you cut the meat with the grain, it will be tough and chewy. So, be sure to take note of the grain direction and cut accordingly.
We hope you love this smoker recipe as much as we do!
Don't forget to leave a quick star rating and review below, we read every comment and truly appreciate your feedback. Also, be sure to browse the rest of our easy grilling recipes to find some other favorites too!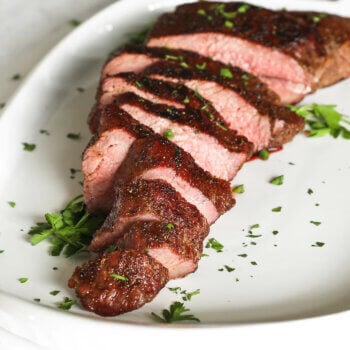 Get the Recipe:
Beginner Smoked Tri-Tip (Reverse Sear, Perfect Crust)
Get that deliciously juicy, smoked tri-tip with a perfectly seasoned crust. A great beginner recipe for anyone new to cooking a tri-tip, just follow the detailed step-by-step instructions below.
Ingredients
2 lb tri-tip roast, (see notes for approximate smoking time per pound)
2 tbsp olive oil, (divided, can sub other cooking oil)
For the tri-tip rub:
1 tsp sea salt
1 tsp coconut sugar, (can use brown sugar, can omit for Whole30 or lower carb)
1/2 tsp ground pepper
1/2 tsp garlic powder
1/2 tsp onion powder
1/2 tsp chili powder
1/2 tsp paprika
Instructions
Preheat your smoker to 225° Fahrenheit.

Prepare the tri-tip rub by adding all of the ingredients to a small bowl or ramekin and mixing well.

Trim the tri-tip. Using a small and sharp knife, remove any fatty pieces and discard them. Also, trim off as much of the membrane and white silver skin as possible, being careful not to remove too much meat.Note: Most tri-tip will be pre-trimmed, but taking a few minutes to trim off any remaining pieces is important and will result in a better final cut of meat.

Place the trimmed tri-tip on a sheet pan. Drizzle about 2 tbsp of all over the roast and brush or rub it all over.

Sprinkle the seasoning rub all over both sides of the tri-tip. Use your hands if needed to rub the seasoning all over and completely coat the outside.

Place the tri-tip directly in your smoker. Smoke at 225°, until the internal temperature reaches 5 degrees from your desired end temperature (125° for medium rare, which is what I recommend for tri-tip). Note: See the recipe notes below about finished temperatures for rare to medium-well for this step. Cooking time will vary, but plan on about 1.5 – 2 hours.

Remove the tri-tip from the smoker and carefully set it on a cutting board. Heat a large cast iron skillet over medium-high heat and add about 2 tbsp of cooking oil.

Once the pan is hot, place the tri-tip roast in the pan and sear it for 1-2 minutes per side to develop a seared, crispy crust on the outside. Note: You can also simply sear the tri-tip on the grill or pellet grill. Just remove the tri-tip as noted above and crank the heat up to high-heat. Once the grill is hot, sear it quickly on all sides as noted above. See the recipe notes below about the final finished temperatures for rare to medium-well for this step.

Remove the seared tri-tip and set it aside to rest for 10 minutes. Slice it against the grain for serving.
Notes
When smoking tri-tip at 225°, you can expect it to take approximately 30-minutes per pound to smoke. This is a rough estimate and always check your meat with an instant-read thermometer and cook to temperature and not time.
For step #6, pull off your tri-tip roast at the following temperature:
Rare: 120° F
Medium Rare: 125° F
Medium: 130° F
Medium Well: 140° F
For step #8, your tri-tip roast should be at the following temperature after searing:
Rare: 120-125° F
Medium Rare: 125-130° F
Medium: 130-140° F
Medium Well: 145-150° F
Nutrition amounts provided are per serving and an estimate provided for those following a Ketogenic or low-carb diet. See our full nutrition information disclosure here. 
Calories: 425kcal, Carbohydrates: 2g, Protein: 47g, Fat: 25g