I swear the weather shifts to warmer temperatures and all I crave are light dinners, summer produce and bubbly beverages. This Paleo + Whole30 spinach blueberry salad is a great way to use seasonal produce and load up on all the veggies! The homemade blueberry dressing has no added sugar and is a tasty addition to any salad!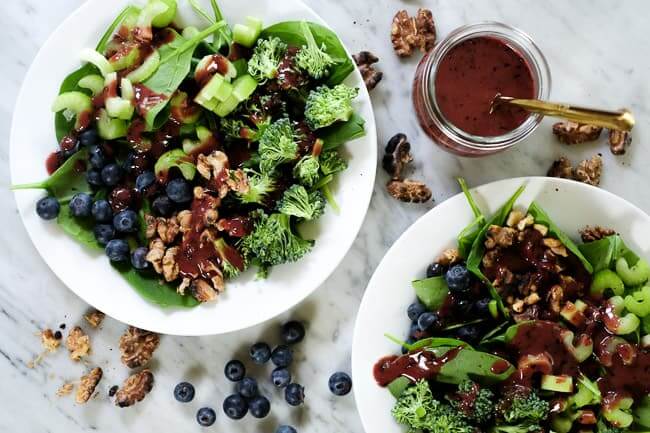 Berry Season – My Favorite Season
I think summer produce (and sunshine) are what make this my favorite time of the year! Blueberries are my favorite, and Justin's mom has a bunch of mature blueberry bushes that yield the juiciest and most luscious blueberries! They are perfect for this spinach blueberry salad! We've made this with blueberries, but I have to think that you could easily substitute other berries like blackberries or raspberries and end up with a real tasty dressing! You'll have to let us know if you give any other berries a try.
Toast The Walnuts
I know…it's one extra step to toast the walnuts. Don't skip this step though! It only takes a few minutes and is SOOOO worth the effort. You will love the crispy bits around the edges, and it adds an extra bit of flavor and depth to the walnuts. Plus, the aroma is kind of magical, and the walnuts will stay crispy even though you layer on all the dressing to your spinach blueberry salad!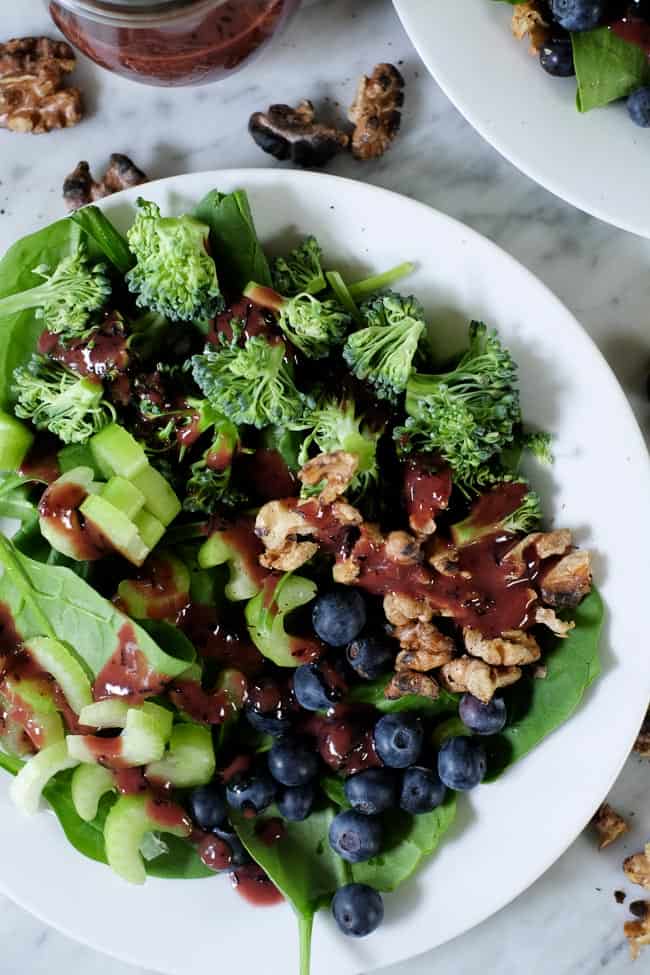 Top It With Some Protein
You can really use your favorite protein to add a little extra heartiness to this spinach blueberry salad. We just cooked up some chicken breast when we took photos for this post, but you could use a burger patty, meatballs, etc. Pretty much whatever you have on hand, put it on top and call it good!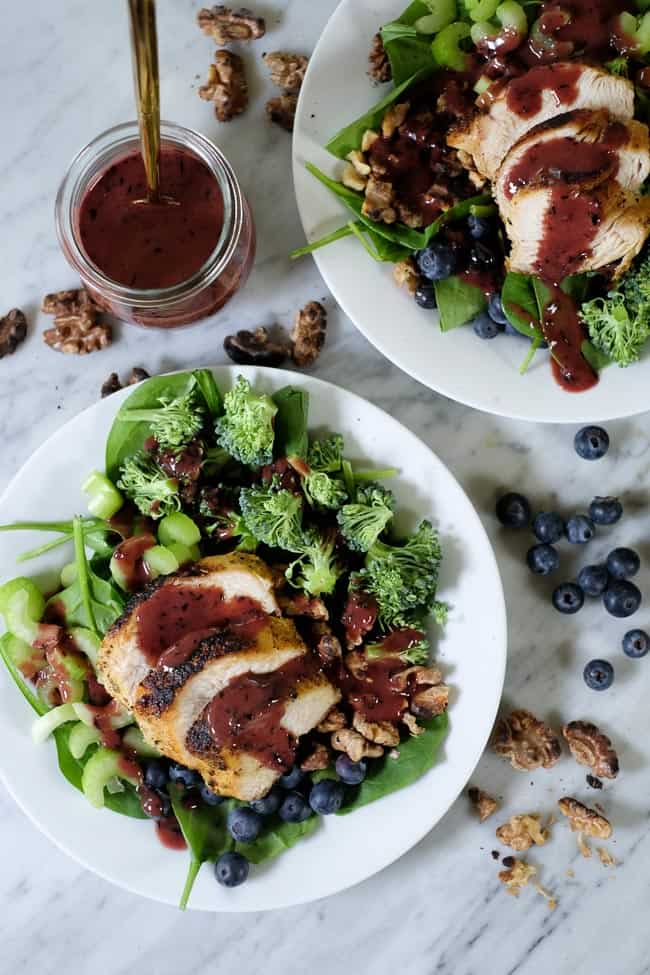 Some Other Summer Salads To Make
Your Turn To Try Our Spinach Blueberry Salad
Get your summer off to a good start with this Paleo + Whole30 spinach blueberry salad! You'll love the homemade dressing with the veggies and toasted walnuts! Leave a comment below, and let us know how it goes! Take a photo and tag us on Instagram @realsimplegood, so we can check it out! And give us a follow if you don't already!
LIKE THIS RECIPE? SHARE IT NOW OR PIN IT FOR LATER!
---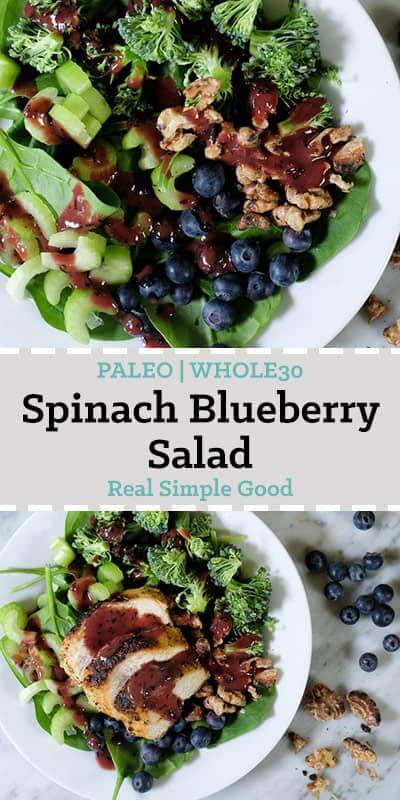 ---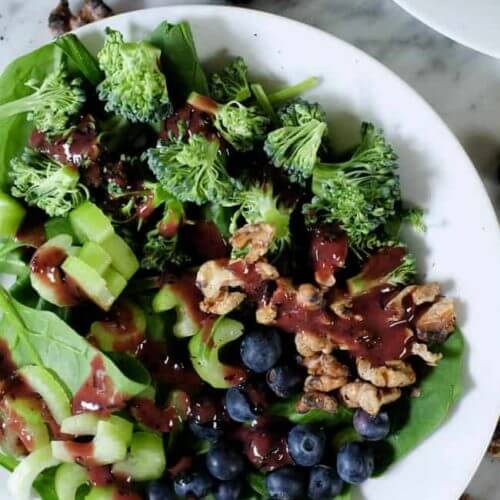 Get the Recipe:
Spinach Blueberry Salad
This Paleo + Whole30 spinach blueberry salad has seasonal produce and the blueberry dressing has no added sugar. It's a quick and easy weeknight meal.
Ingredients
For the salad:
6 cups spinach
2 cups broccoli florets, bite sized
4 celery stalks, diced
1 cup fresh blueberries
3/4 cup toasted walnuts, chopped
Instructions
To make the dressing, add all of the dressing ingredients to a food processor or high-powered blender and process well. Set aside while you toast walnuts and make the salad.

In a medium skillet over medium heat, add walnuts to skillet and toast, tossing or stirring frequently, until aromatic and the edges get crispy.

Add all of the salad ingredients to a bowl, pour in the dressing and toss to mix. Serve as a side or you could add some cooked chicken, burger patty, or turkey/chicken meatballs to add some protein.