Why you'll love this easy pad Thai recipe
The simple sauce is the perfect balance of sweet and tangy and uses only 4 ingredients!
With a little prep, everything cooks quickly in a single pan and is a great weeknight dinner option.
It's very versatile – you could sub chicken or shrimp for the protein and even add in some different veggies. You do you!
This healthy pad Thai is gluten-free and great for anyone with dietary restrictions.
Related ->> Healthy Sweet Potato Noodle Chicken Pad Thai
How to make beef pad Thai (step-by-step)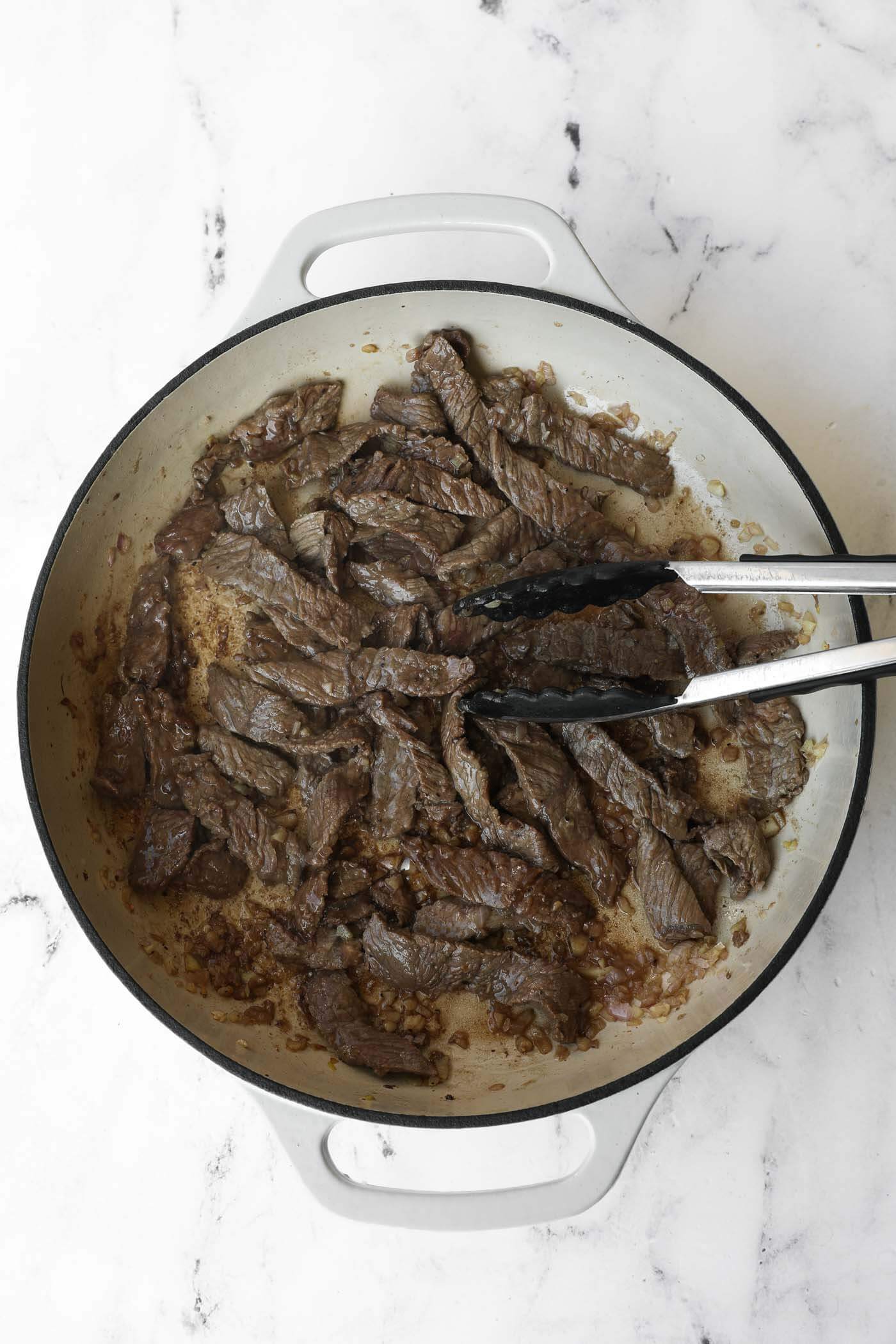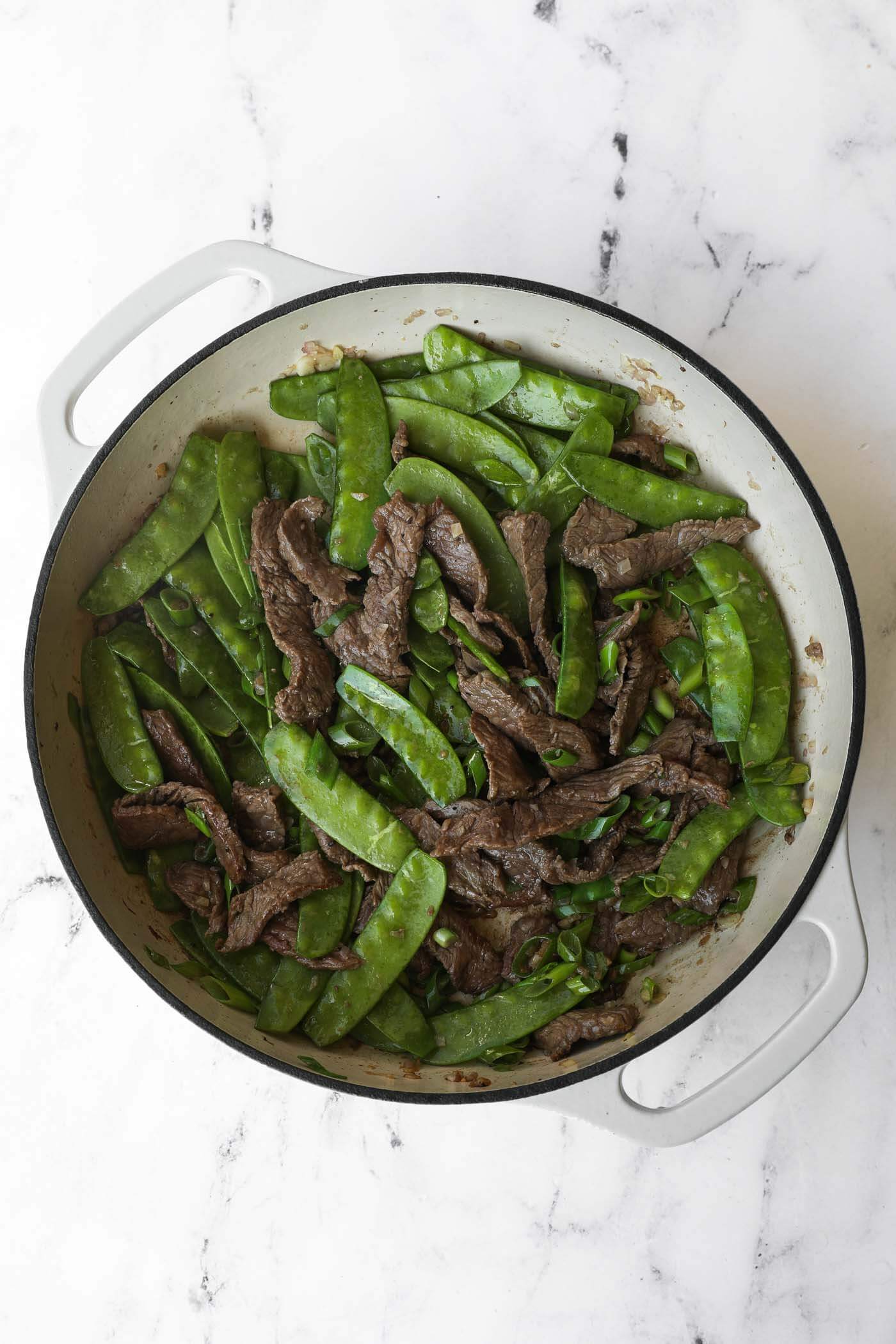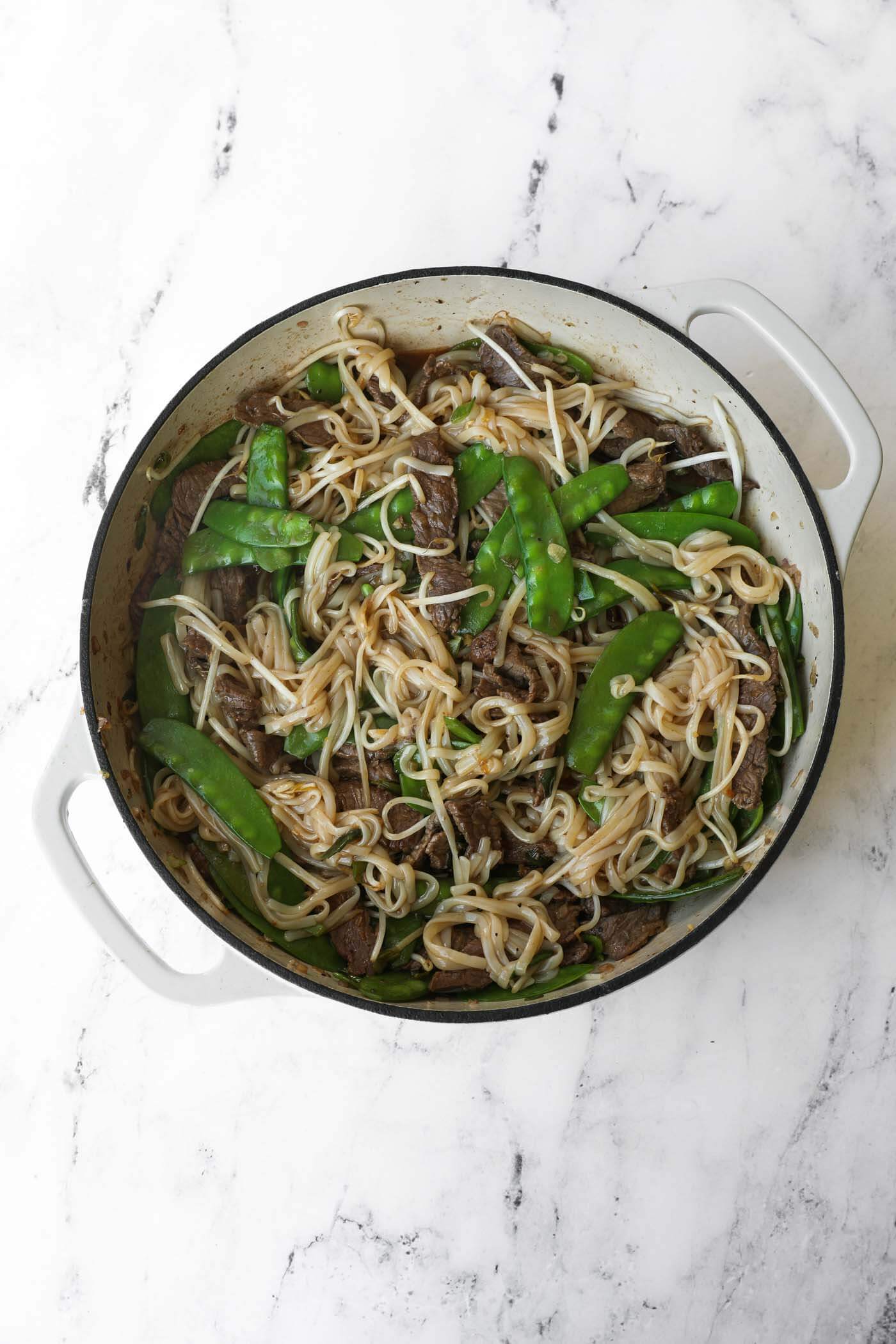 Ingredient notes
Rice noodles – Be sure to use pad Thai rice noodles. These noodles are medium width and rice noodles soak up the delicious sauce.
Steak – Sirloin steak is the best steak to use and the easiest to slice into thin strips. Other options are skirt steak or flank steak but they will be a little harder to slice up.
Coconut sugar – If you don't have coconut sugar on hand you can use brown sugar.
Coconut aminos – Soy sauce or liquid aminos can be used, but they are a little saltier and less sweet than coconut aminos. Or, you could use our DIY coconut aminos substitute recipe.
Tips from an expert home cook
Don't overcook the rice noodles. You want them to be soft, bendy, and pliable – but not mushy.
Slice the steak into very thin strips. This not only speeds up the cooking time, it makes the the beef blend in with the dish better and easier to eat (not chewy).
It's ok to add other veggies like broccoli florets or sliced peppers. Just add them in at step 6, and you will likely need to cook them longer than the noted time (cook to your preference).
If you substitute another protein, like chicken or shrimp, adjust the cooking time as needed and be sure to cook them completely through.
Other Thai-inspired recipes to try
We hope you love this recipe as much as we do!
Don't forget to leave a quick star rating and review below, we read every comment and truly appreciate your feedback. Also, be sure to browse the rest of our quick and easy recipes to find some other favorites too!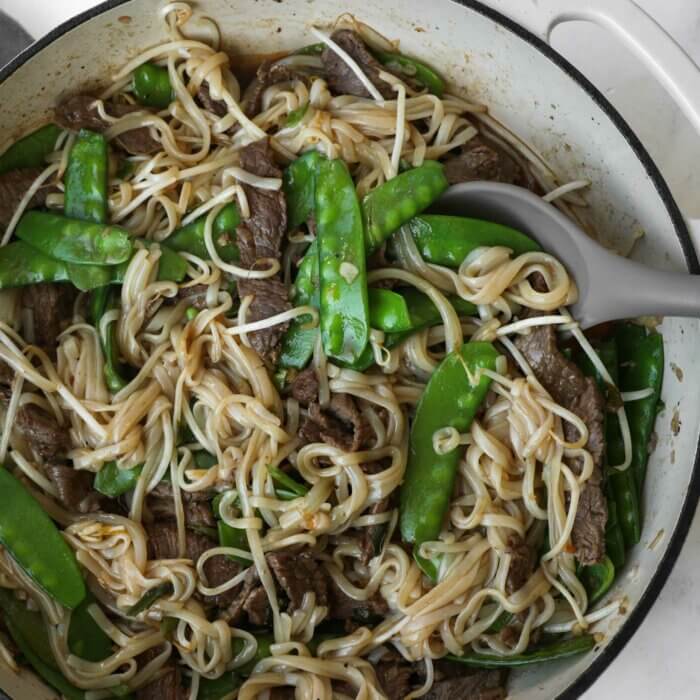 Get the Recipe:
Easy, Authentic Beef Pad Thai
This easy and authentic-tasting beef pad Thai recipe is simple to make and ready in about 30 minutes! The amazing sauce is made with 4 simple ingredients and coats the beef and soft rice noodles with the perfect sweet-tangy sauce. Enjoy this takeout remake!
Ingredients
For the beef pad thai:
8 ounces pad thai noodles, (rice noodles)
1 lb steak, thinly sliced , (sirloin or skirt steak work best)
1 shallot, finely diced
4 cloves garlic, minced
4 green onions, cut into small pieces
2 cups fresh bean sprouts, (about 4 oz)
3 cups snow peas, ends trimmed, (about 8 oz)
1 tbsp sesame oil
Salt and pepper, (one medium pinch each)
For garnish (optional):
lime wedges
red pepper flakes
Instructions
Prep the noodles:
Cook the rice noodles according to the package instructions. Once cooked to al dente (just soft and pliable throughout), drain and set aside. While the noodles cook, you can prep the sauce and other ingredients.
Prep the sauce:
Add the sauce ingredients to a small bowl or jar and mix well. Set aside.
Prep the steak and veggies:
Slice the beef into very thin strips so it will cook quickly. Prepare the shallot, garlic, green onions and snow peas as noted.
Cook:
Heat sesame oil in a large skillet over medium heat. Once the pan is hot, add in the shallot and garlic. Cook, stirring frequently, for 2-3 minutes until they start to soften.

Next, add the beef to cook. Season with a medium pinch of salt and pepper and cook the steak for 1-2 minutes per side, depending on the thickness. It should be just cooked through.

Once the steak strips are cooked, add the snow peas and green onions. Cook for 2 minutes, stirring frequently.

Add in the noodles and bean sprouts. Pour the pad thai sauce all over the noodles and mix everything together. Stir and cook for 1-2 more minutes, until the sauce is incorporated and covering all the ingredients.

Serve immediately. Add a squeeze of lime juice over the top and red pepper flakes if desired.