This is one of those recipes that never gets old, and for good reason! The combination of lemon juice, butter, garlic, and fresh shrimp (or frozen or pre-cooked) is truly heavenly. Sautéed on the stovetop, the lightly seasoned shrimp is ready in minutes and perfect over noodles (or zoodles), rice and more.
Looking for more? Check out all of our shrimp and seafood recipes!
Making This Easy Lemon Garlic Butter Shrimp
Sometimes the simple recipes are the best. This garlic butter shrimp is easy to make and is so flavorful and fragrant.
Cook the aromatics in butter for a few minutes to soften
Add in more butter, lemon juice and seasonings and simmer the sauce
Cook the shrimp in the sauce for a few minutes
Don't forget to serve the shrimp with a bunch of the sauce spooned on top!
Also, if you love this recipe, you have to try our easy blackened shrimp recipe and these easy shrimp skewers.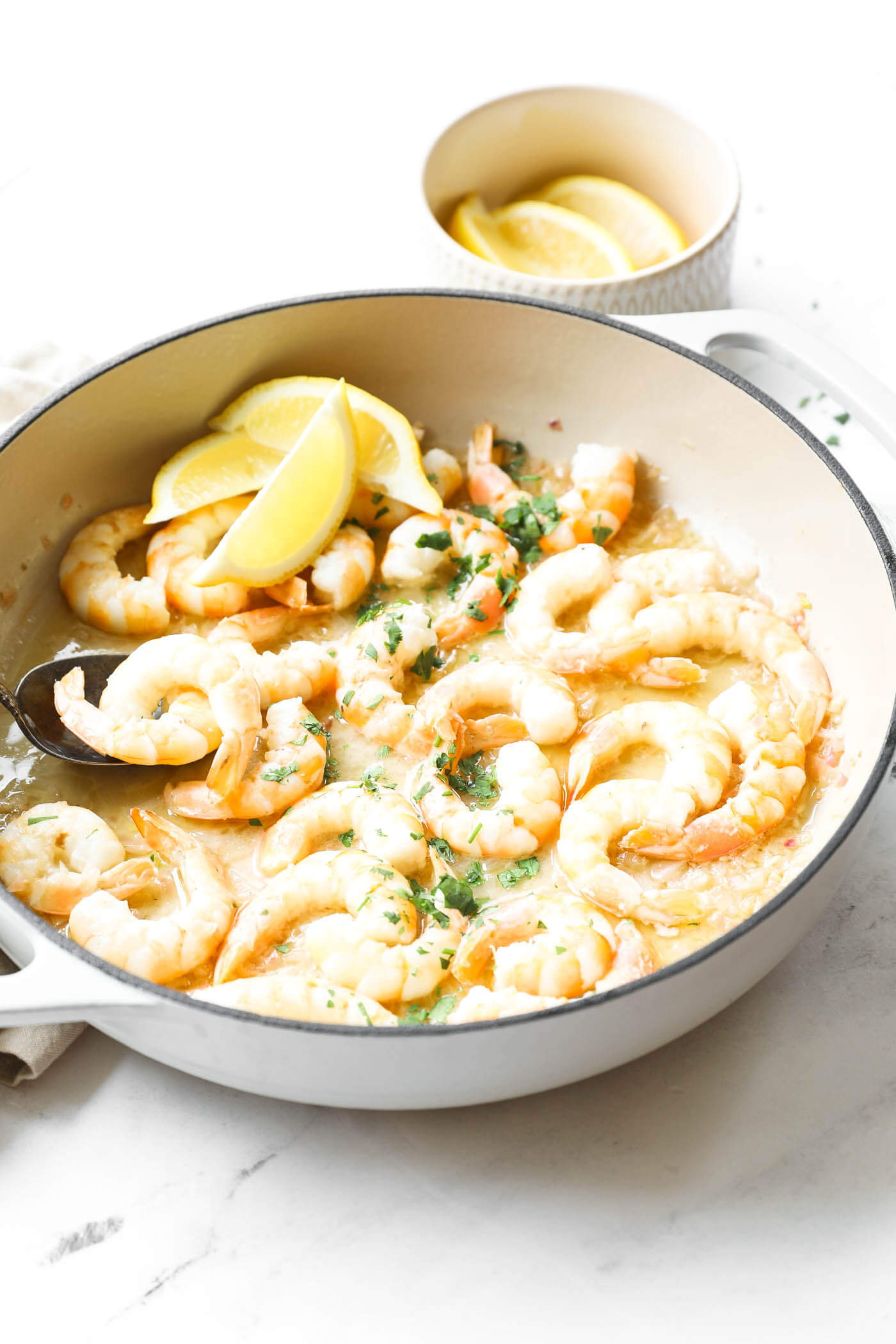 Make it With Any Shrimp (Fresh, Frozen, Pre-Cooked)
We like to use pre-cooked shrimp for this recipe because it makes it so easy! All you have to do is heat everything up and it's done and on the table in no time. You can also make it with fresh or frozen shrimp.
Fresh shrimp – Just follow the recipe and cook the shrimp for about 5-6 minutes total, flipping halfway.
Frozen shrimp – Again, just follow the recipe but allow the shrimp to cook slightly longer, until it's pink on the outside and opaque throughout.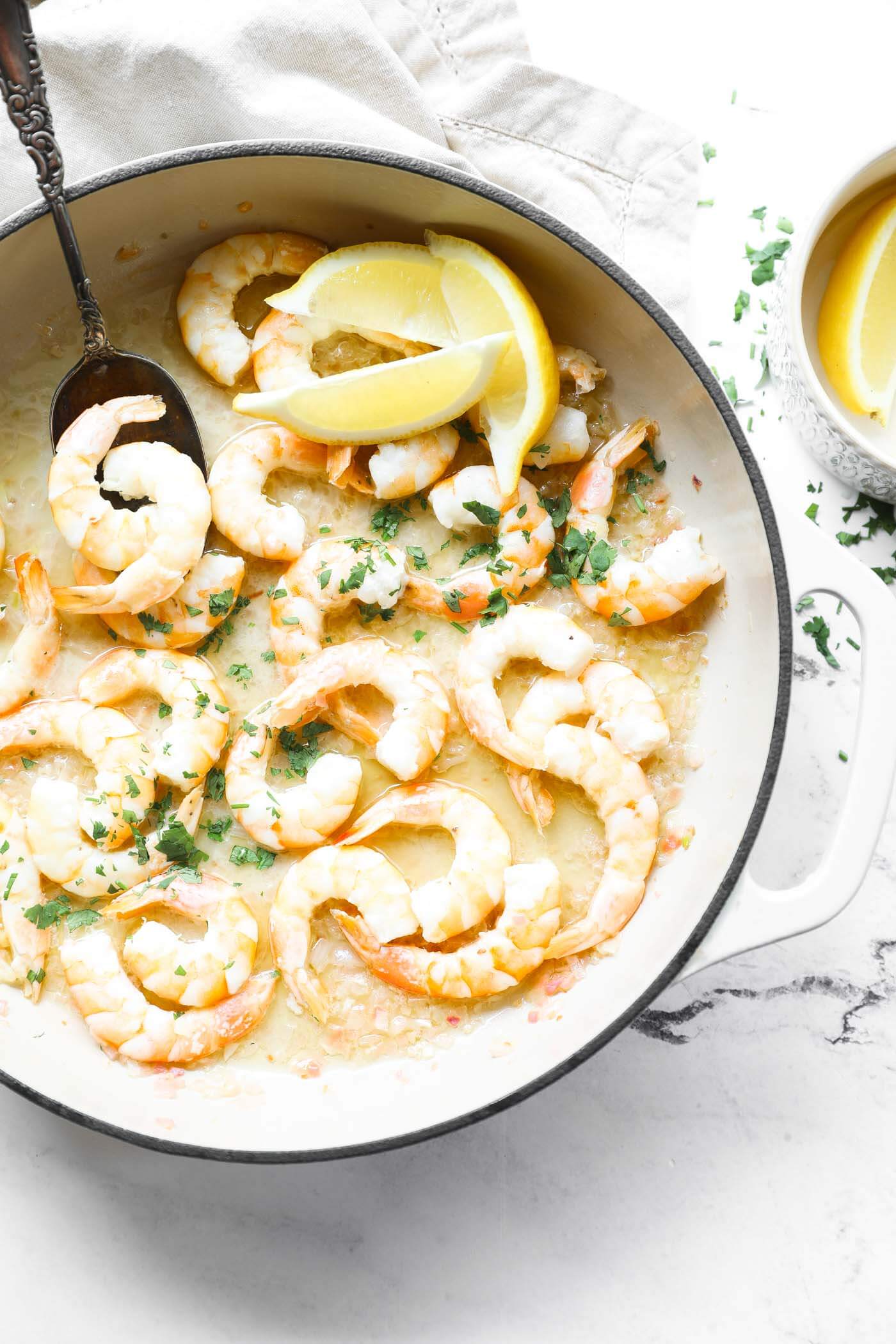 How to Serve This Lemon Garlic Butter Shrimp
Some ideas:
Over regular, gluten-free or zucchini noodles
With rice or cauliflower rice
With some steamed, sautéed or roasted veggies
As a delicious appetizer, just add toothpicks!
Your Turn to Make This Easy Shrimp Recipe
Grab your shrimp and whip up this quick and easy recipe! You'll love how simple and tasty it is with such a delicious, buttery sauce.
If you try it, be sure to leave a rating and comment below and let us know how it goes. Also, take a pic to share on Instagram. Tag us @realsimplegood, we love to see what you're cooking!
---
Get the Recipe:
Easy Garlic Butter Shrimp (Twist of Lemon!)
This is the easiest stovetop shrimp recipe. The combination of garlic, butter, lemon, and fresh shrimp (or frozen or pre-cooked) is truly heavenly.
Ingredients
1/2 pound medium shrimp, peeled and deveined
3 tbsp butter, (can sub ghee for Whole30)
6 cloves garlic, minced
1 medium shallot, diced
Juice of 1 lemon
1/4 cup chicken stock, (or you can substitute dry white wine)
1/2 tsp red pepper flakes, (optional if you like a little spice)
Salt and pepper to taste
Instructions
Heat a large pan over medium heat.

Once the pan is hot, add in 1 tbsp. of the butter to melt. Once the butter has melted add in the shallot to cook, stirring occasionally. Cook until the shallot softens and becomes translucent, about 3 minutes. Stir frequently to prevent burning.

Add in the garlic, cook for about two minutes. Stir frequently to prevent burning.

Next, add in the remaining butter, lemon juice, chicken stock and red pepper flakes, if using. Season with salt and pepper.

Stirring frequently, simmer the sauce for 3-4 minutes until it cooks down a little.

Add in the shrimp to warm up for a couple of minutes. If using fresh shrimp, cook until the shrimp just turns pink throughout, about 5 minutes total (flipping halfway).

Serve the garlic butter shrimp with a few spoonfuls of sauce.