Zucchini noodles (often called "zoodles") are a great low carb, gluten-free and grain-free pasta option! This post will share how to make zoodles with a spiralizer, hand held spiralizer or veggie peeler.
The post also includes:
How To Make Zoodles (Options)
There are several ways you can turn zucchini into noodles. And you may want to try to use a kitchen tool you already have rather than investing in another gadget. Check out these three options and see the zoodles they make.
Spiralizer – this is hands down our favorite tool for turning veggies into noodles. It's also the quickest and least finicky option. Cut the ends off of your zucchini and load it into the spiralizer and start spinning. It has different blade options to allow for different sized noodles, from super thin to wider noodles.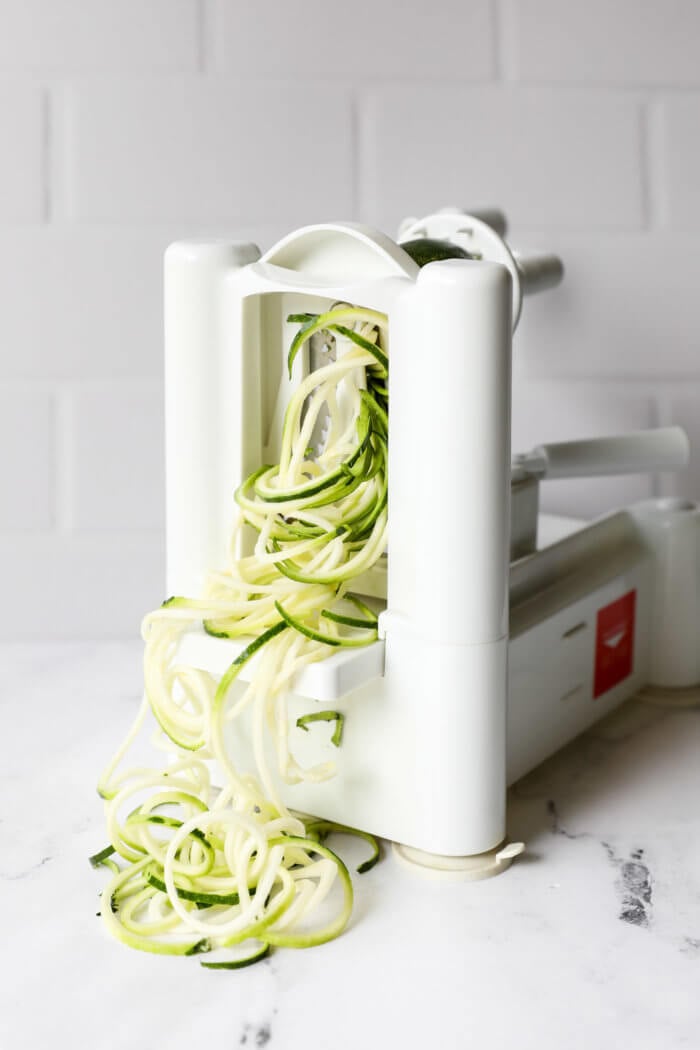 Handheld Spiralizer – this option works, but feels a little harder and take a little more time since the turning isn't as smooth as with the stand up spiralizer above. It also has a few different blade options to create the noodle shape and size of your choice.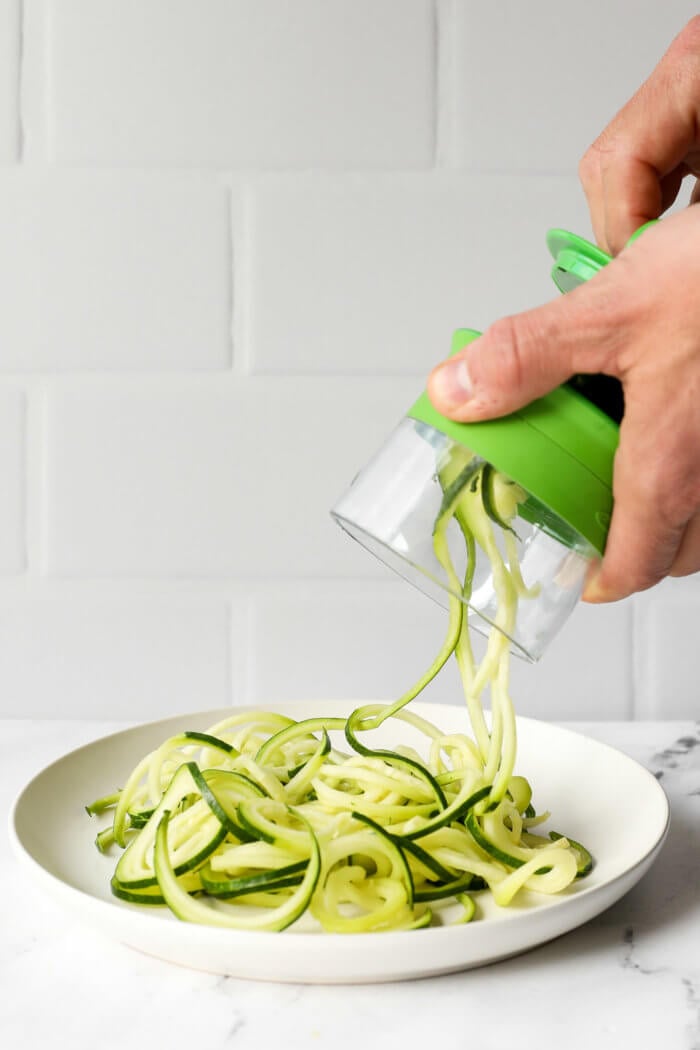 Julienne Vegetable Peeler – this option makes thin straight noodles, but is my least favorite spiralizer. It feels like you end up wasting some of the zucchini and if you're accident prone, be careful or use one of the other options above.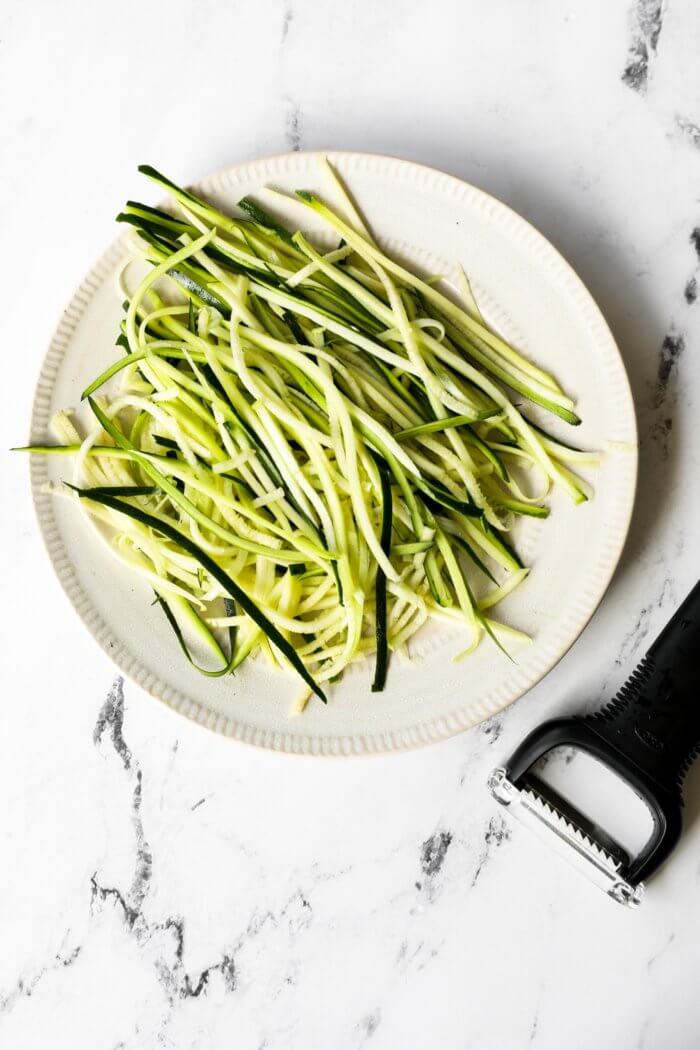 How to Cook Zoodles
There are a few different ways you can cook your zoodles, and I have a tip for when to keep them raw a little further down. The key here is to not overcook them!
Zucchini is nearly all water, so when you go to cook zucchini noodles it releases the water content of the vegetable. And if you overcook them, you'll end up with a watery, mushy pile of zoodles.
Here are my favorite ways to cook zoodles on the stove, in the microwave or in the oven.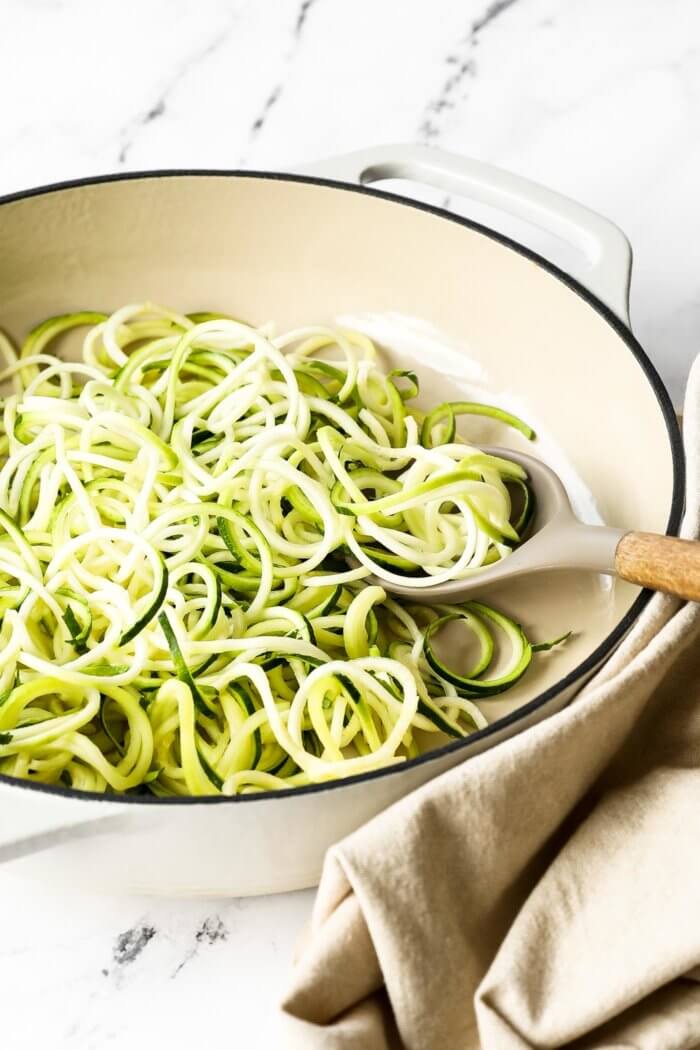 Saute – toss them in a skillet over medium heat with a little olive or avocado oil for 1-2 minutes. We use this method most often because we are usually cooking something else on the stove as well, so it's convenient.
Microwave – heat your zoodles in a glass bowl for 1 minute. If needed, heat for longer in 30 second increments to avoid overcooking. This is super easy!
Roast – line a baking sheet with parchment paper and spread your zoodles out on the pan and roast at 200° for about 10-12 minutes. Honestly, this is my least favorite option. It takes extra effort and doesn't result in a "better" zoodle. We mostly only bake zoodles in a recipe like our Easy Zucchini Casserole or Zucchini Lasagna.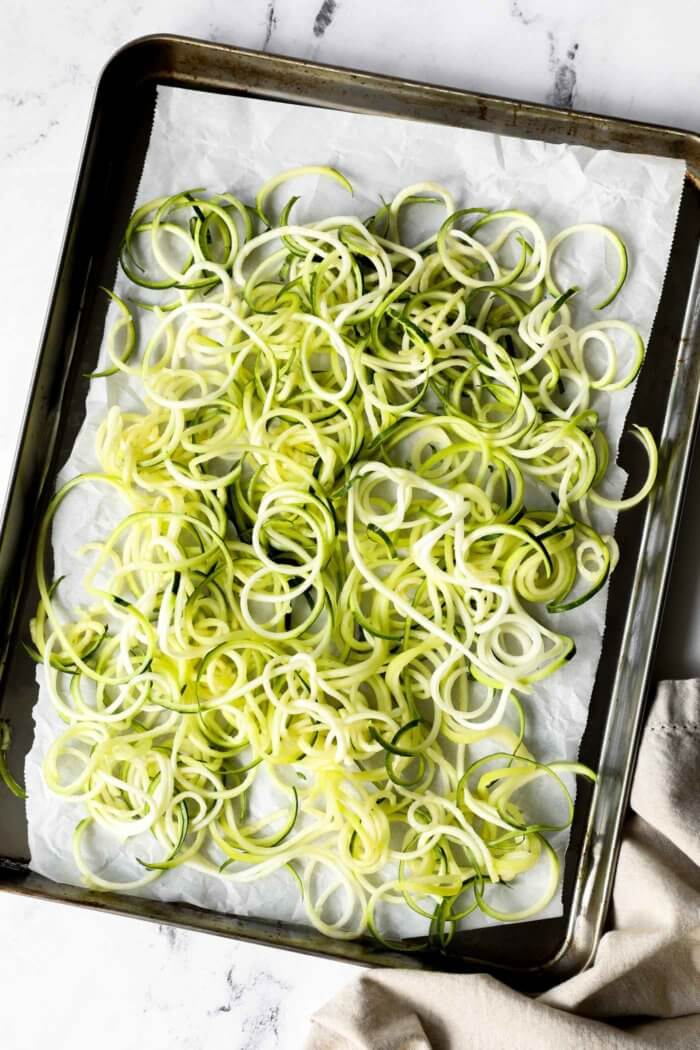 Tips For Avoiding Watery, Soggy Zoodles
It's easy to end up with watery, mushy zoodles. Here are some tips to avoid this!
Squeeze them out before cooking – ring them out in some paper towels or a lightweight dish towel
Don't overcook them – stick to the cook times and methods above
Add them into soups and sauces at the very end – they'll get cooked just being in the warm soup or sauce
Eat them raw – add them to a salad raw or if you're going to be eating them with anything else that's warm, simply toss raw zoodles with the rest of the warmed up ingredients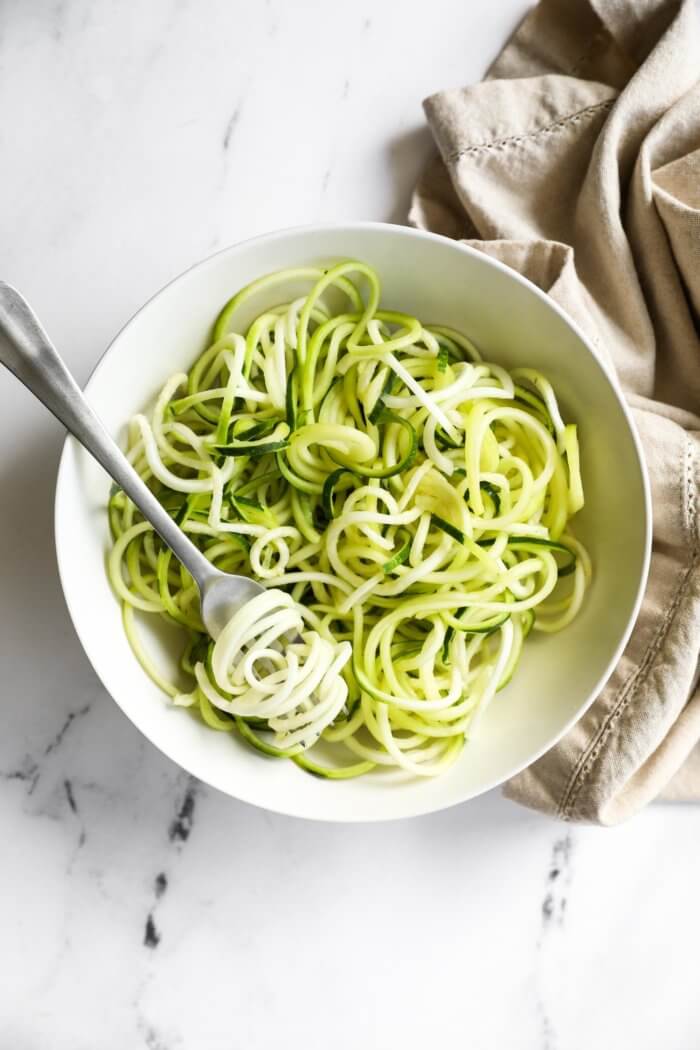 Some Recipes With Zucchini Noodles
Your Turn to Make Zoodles
Whether you've been wanting to try making zucchini noodles or you've been searching for to avoid mushy zoodles, use this post to make them delicious every time!
Leave a comment and rating below to let us know how it goes. And tag us in your posts on Instagram @realsimplegood, so we can check it out. We love to see what you're making!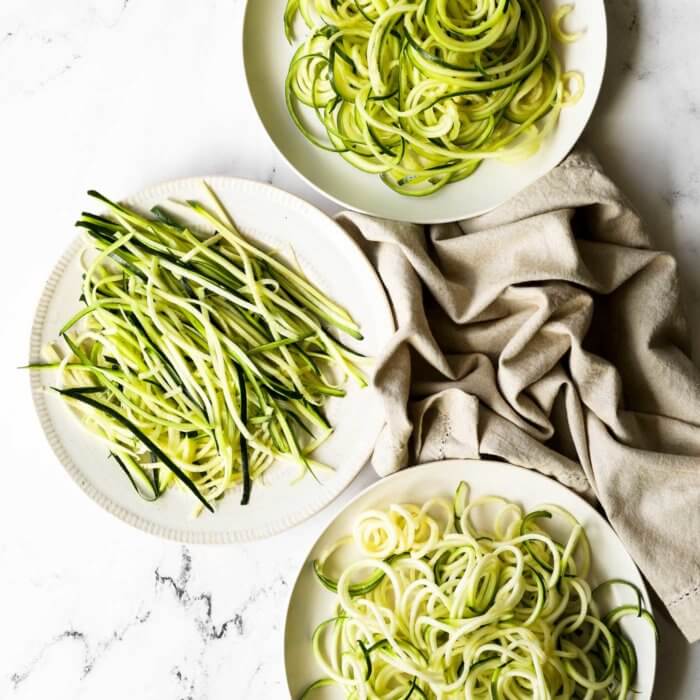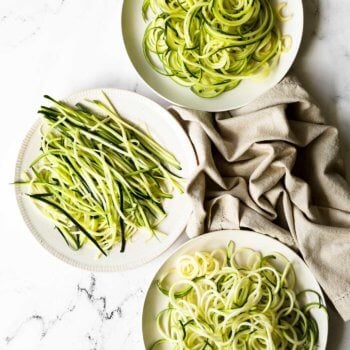 Get the Recipe:
How to Cook and Avoid Watery, Soggy Zucchini Noodles
Zoodles are great, but how do you cook them so they don't become a watery, soggy mess? We have tips for how to make zucchini noodles and the best ways to cook them!
Ingredients
1 zucchini, spiralized, (see methods noted in post above)
1 tbsp olive oil, or other cooking oil of choice
Salt and pepper, to taste
Instructions
Heat a skillet over medium heat and add in the oil.

Once the pan is hot, add the zoodles in and sprinkle with a little salt and pepper. Cook, stirring frequently, for 1-2 minutes or until the noodles are warmed through. Don't overcook, just warm up the noodles to keep them from becoming watery and mushy.