These roasted spicy nuts need just 5 minutes of prep and are a good Whole30 compliant snack. The nut mix includes cashews, almonds, walnuts and hazelnuts but will work with any mix of nuts you choose.
An Easy Recipe for Spiced Nuts
This homemade nut mix is much healthier than store bought options. Here's how you'll make it:
Mix up the seasonings
Toss the nuts in a little oil and coat with the seasonings
Bake in the oven for 15 minutes
Allow the nuts to cool and serve warm or at room temperature
Looking for more healthy snacks? Check out this listing of Whole30 Snacks!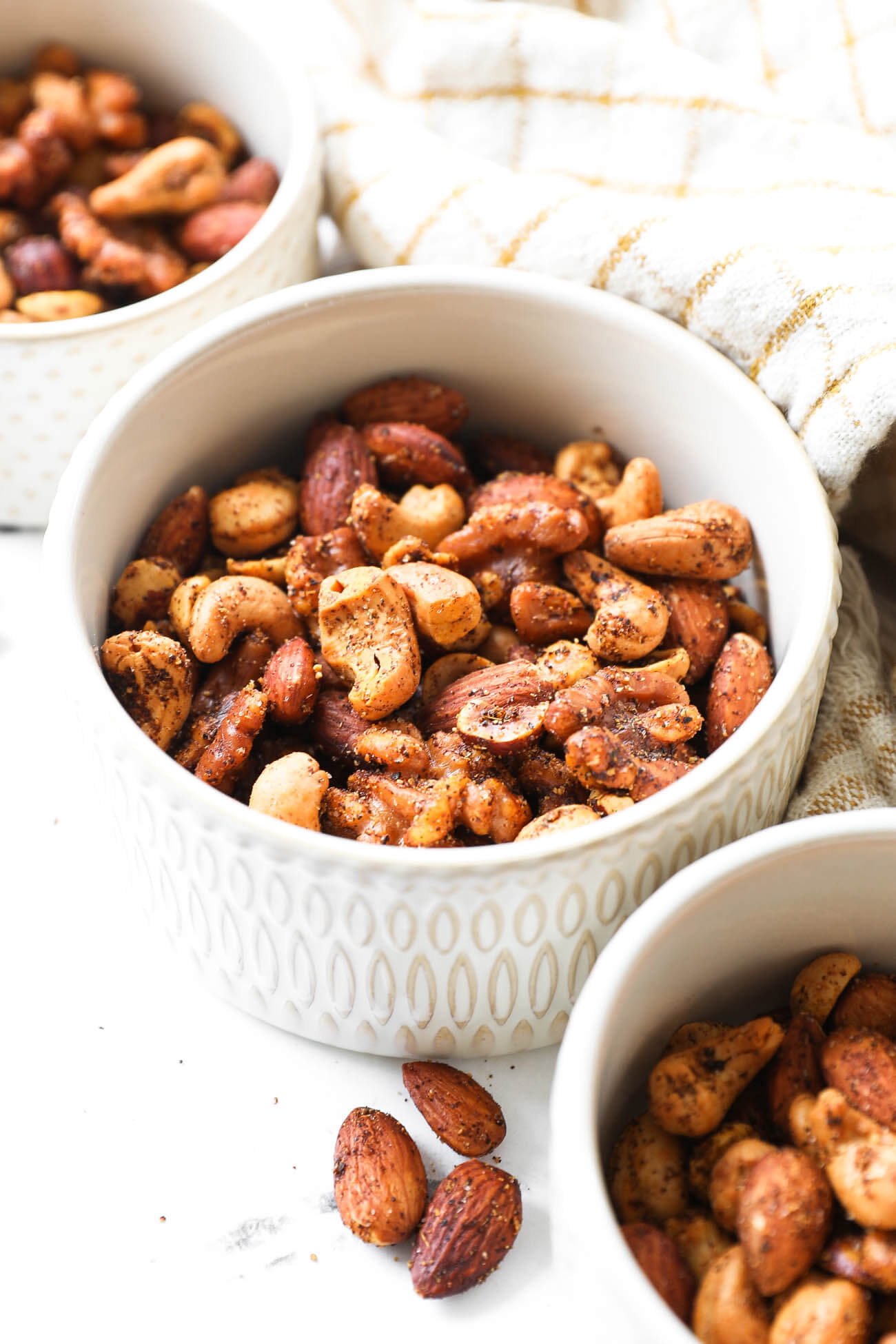 How Long To Roast Nuts?
I've found that roasting nuts at 350° Fahrenheit for about 15 minutes cooks them perfectly.
If you cook them at a higher temp you risk burning them and at a lower temp they take longer and never get that "toasted" taste and texture.
Just make sure you pull the sheet pan out carefully halfway through and gently stir the nut mix so it cooks evenly. You'll get great results every time!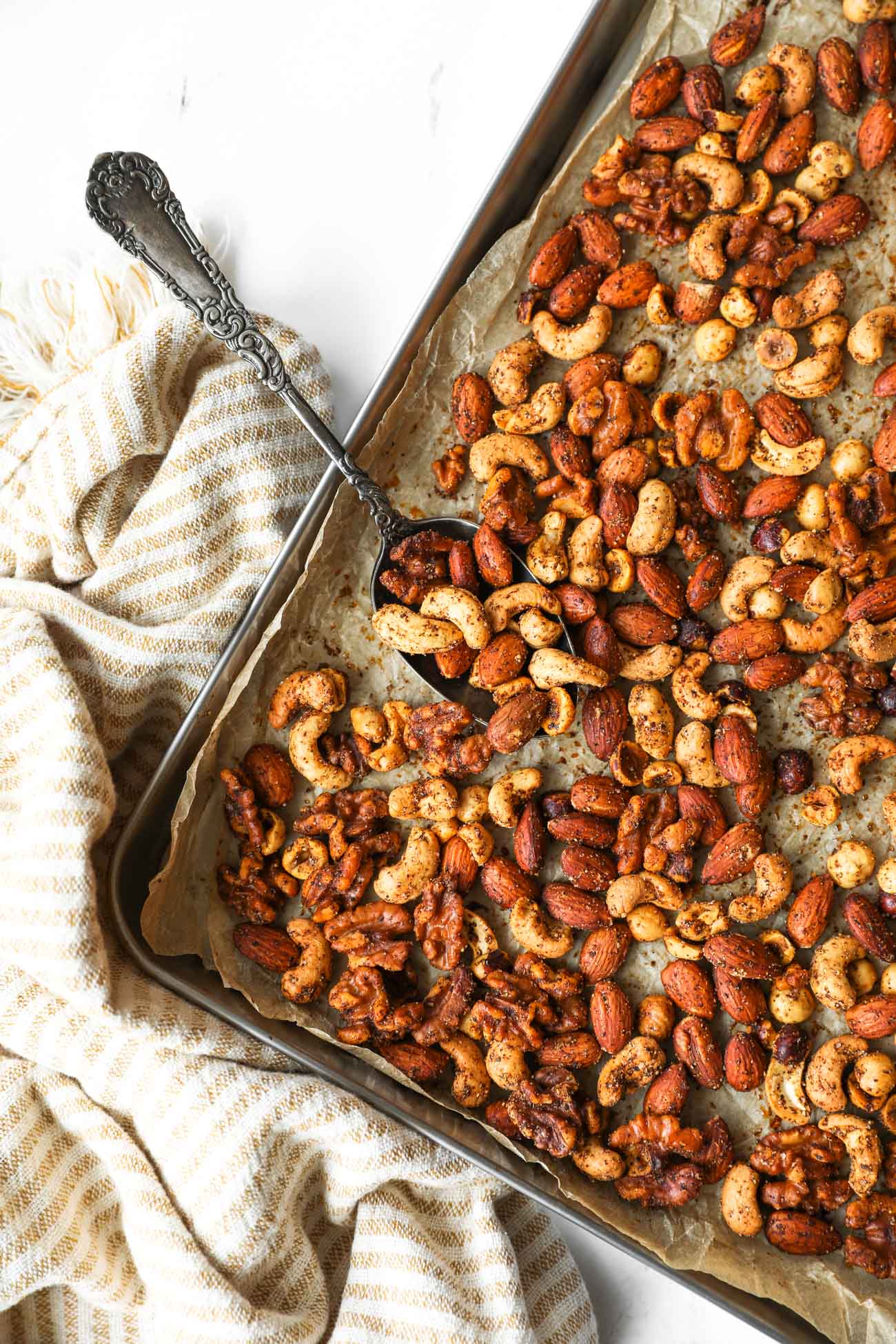 Tips for Keeping the Seasoning on Homemade Spicy Nuts
To help the seasonings stick to homemade roasted nuts, here's what to do:
Coat the nuts completely with your preferred oil (avocado or olive oil work great)
Immediately toss the nuts with the seasoning mixture
Gently stir the nuts to mix when cooking and don't shake them around a lot
Following these tips will help keep the seasonings on the nuts. However, some will always fall off into the container.
But who doesn't enjoy those last few handfuls with extra seasoning?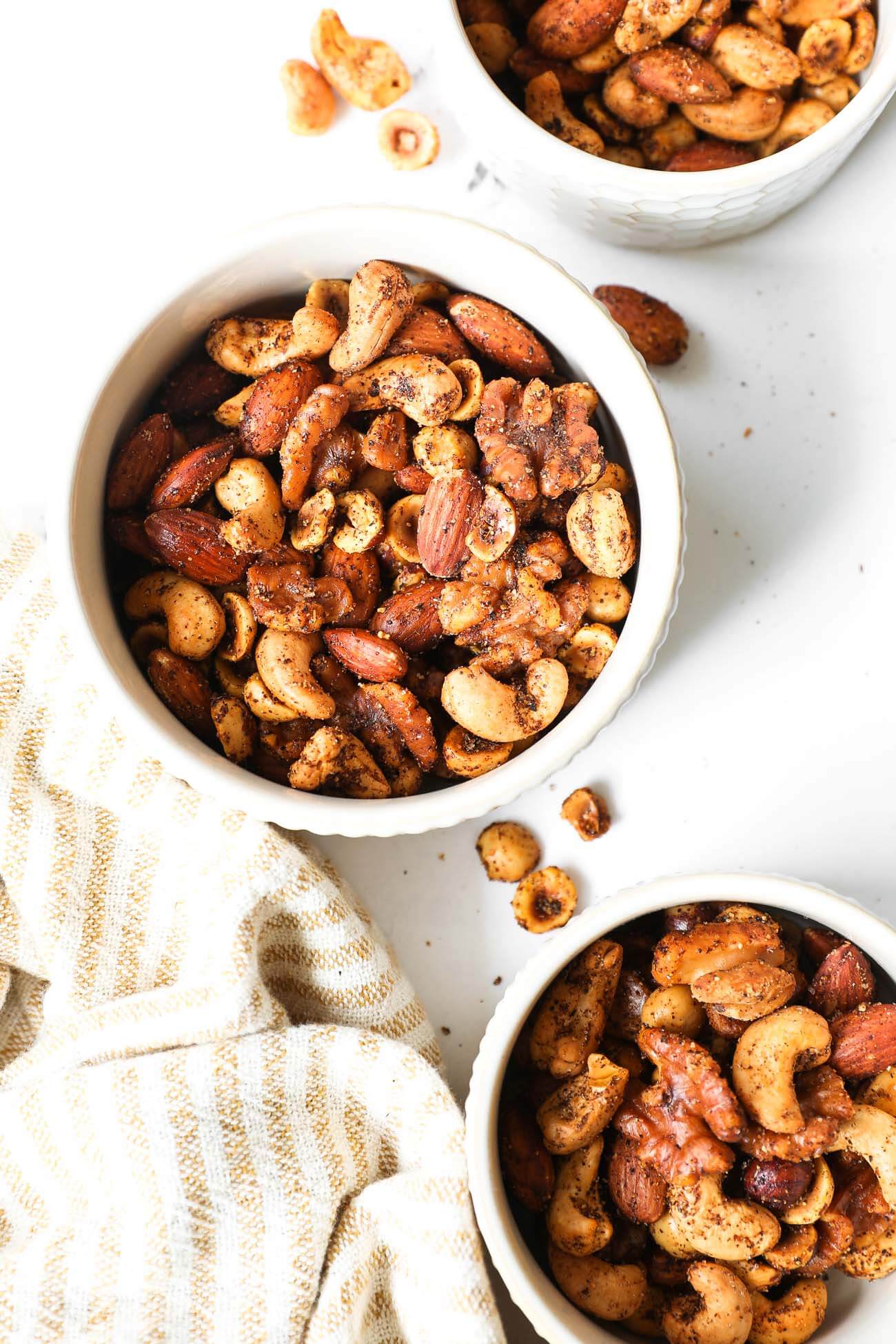 A Note on the Nut Mix
We chose a mix of nuts that we always have on hand in our cupboard for this recipe. However, you can really use any mixture of nuts you choose.
You can substitute macadamia nuts for a lower carb option if you're doing keto. You can change the ratios to have more almonds or cashews, just keep the total amount of nuts at 4 cups.
Nuts with ridges on them (walnuts, pecans, etc.) will "soak up" the seasoning more, so keep that in mind.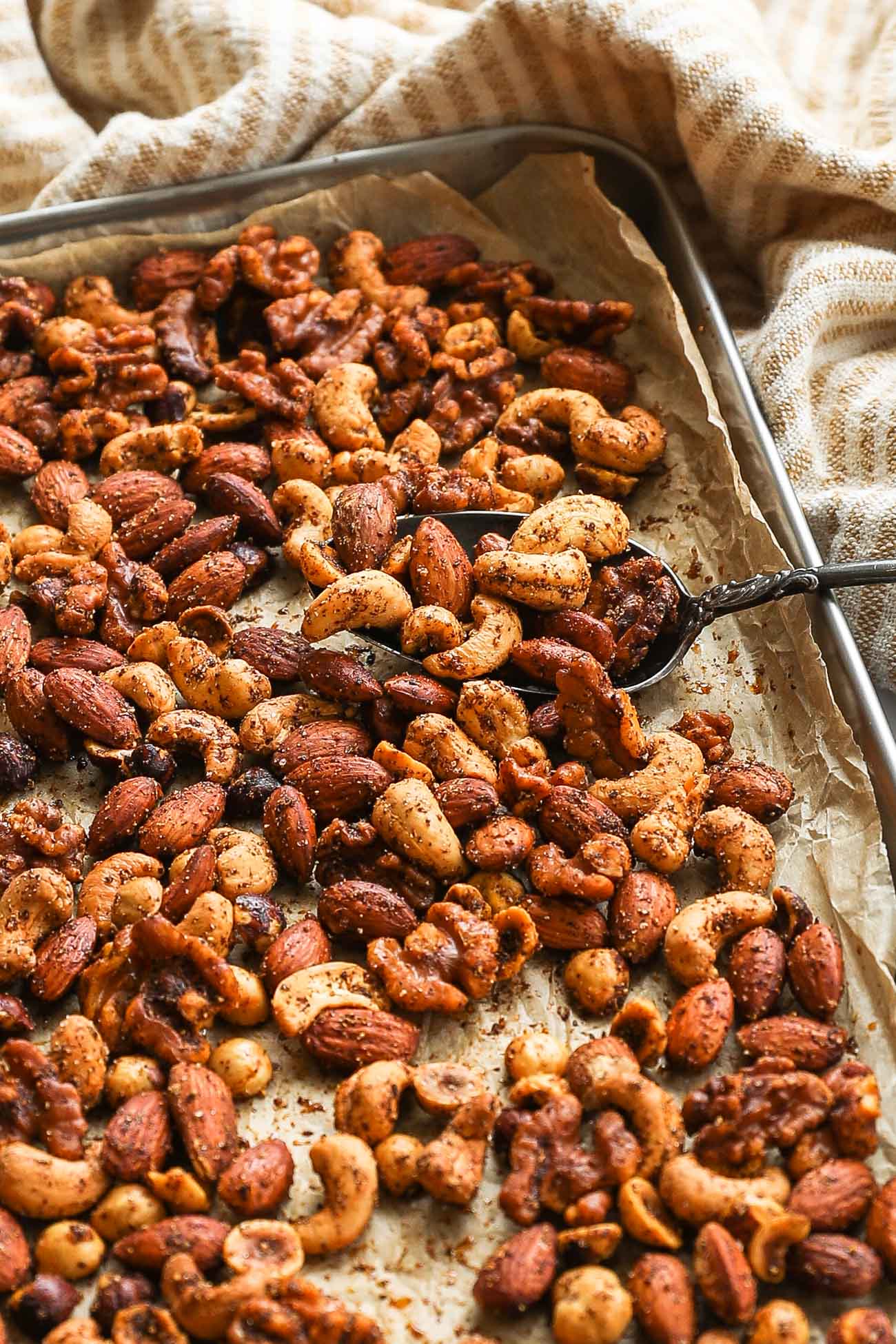 Your Turn to Make This Easy Spicy Nut Mix
Go ahead and roast a batch of these spicy nuts! They are addicting and a great snack for while you're out and about on a busy day.
Let us know how it goes by leaving a comment below. Also, take a photo and tag us on Instagram @realsimplegood, so we can check it out. We love to see what you're making!
---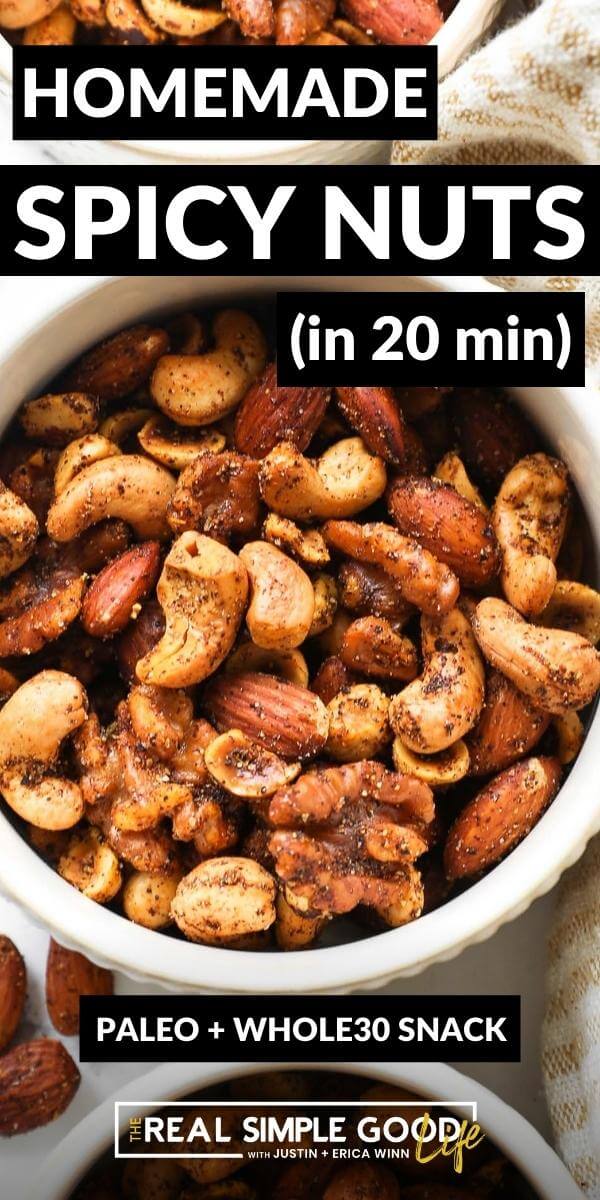 ---
Like this Recipe?
SHARE IT NOW OR PIN IT FOR LATER!
---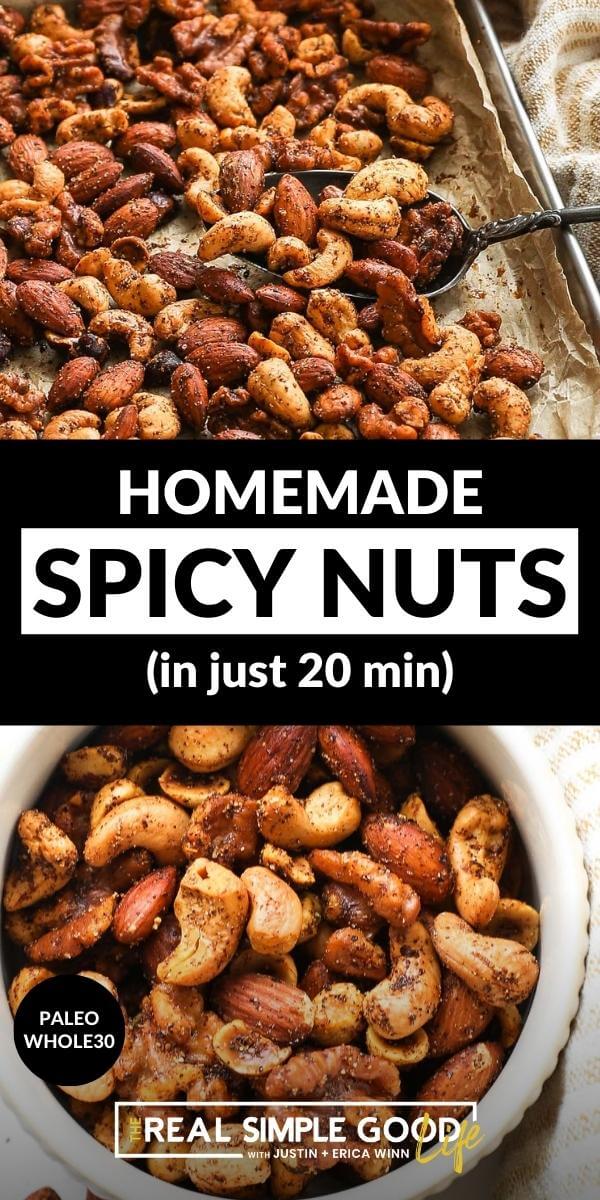 ---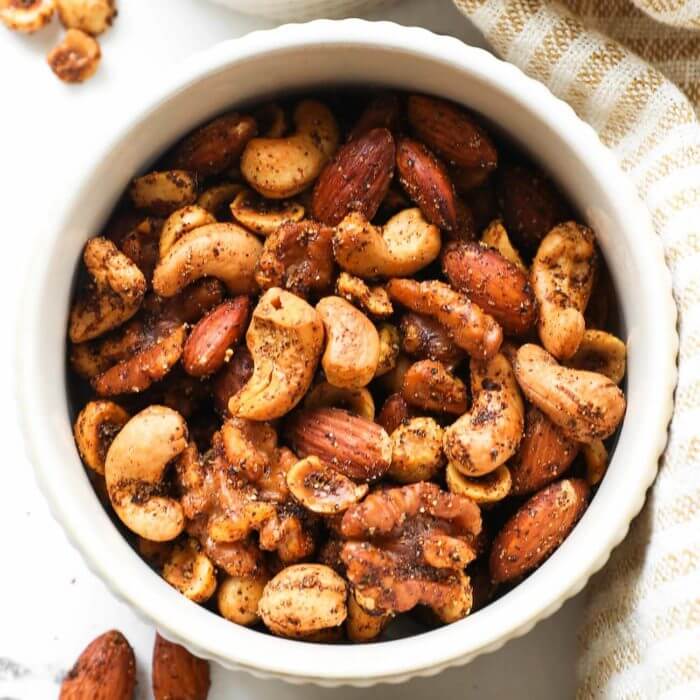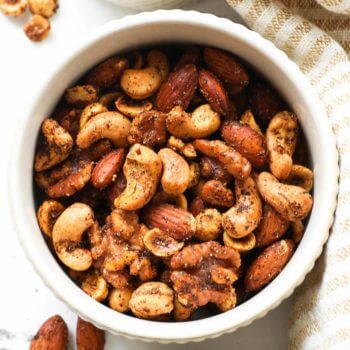 Get the Recipe:
Homemade Spicy Nuts in 20 Minutes (Whole30)
These perfectly seasoned, spicy nuts need just 5 minutes of prep, and are a good Whole30 compliant snack. They are much healthier than any store-bought alternative. The nut mix includes cashews, almonds, walnuts and hazelnuts, plus we share instructions for roasting the nuts just right.
Ingredients
Instructions
Preheat oven to 350° Fahrenheit and line a sheet pan with parchment paper.

Add all of the nuts to a bowl. Prepare the spice mixture by combining all the seasonings in a small bowl or ramekin and mixing.

Drizzle the nuts with the olive oil and toss to coat. Sprinkle the seasoning mixture all over the nuts and toss to coat again.

Place nuts in a single layer on the sheet pan. Place in the oven to roast for 15 minutes, removing halfway through to stir.NOTE: All ovens cook differently, so adjust your cooking time as needed. Start checking the nuts around 10 minutes and remove them when cooked. They will start to burn/blacken a little if you leave them in too long.

Remove nuts from oven and allow them to cool.

Store in an airtight container at room temperature for up to 2 weeks.
Notes
Nutrition amounts noted are per serving and an estimate provided for those following a Ketogenic or low-carb diet. See our full nutrition information disclosure here.  
Calories: 200kcal, Carbohydrates: 7g, Protein: 6g, Fat: 18g, Saturated Fat: 2g, Fiber: 3g