With perfectly seared pork chops that are smothered in a creamy sauce and mixed with onions and mushrooms, these creamy pork chops are the ultimate in healthy comfort food. If you are looking for a 30 minute Paleo + Whole30 meal that is savory and satisfying, this is the recipe for you.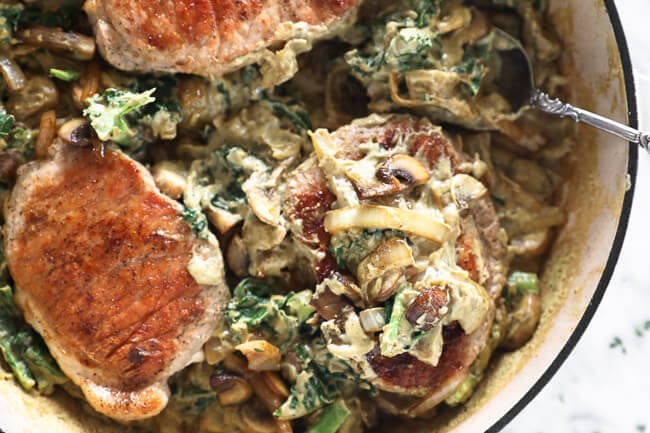 What's the sauce for these creamy pork chops?
We've created an easy to make, flavorful sauce that's dairy-free so it's Paleo and Whole30 friendly. It's made with cashews, chicken broth, mustard, fish sauce, nutritional yeast and some seasonings. It has a tangy, umami filled flavor that we just know you'll love. It's a thick and creamy sauce that pairs perfectly with the pan seared pork chops.
What if I don't like fish sauce?
We get it, some people don't like fish sauce. While I might think those people are crazy and don't know what they are missing, to each his (or her) own. So, if you are looking to eliminate the fish sauce from the creamy sauce here are a few options:
Replace it with coconut aminos
Use tamari, soy sauce or liquid aminos (not Paleo or Whole30)
Just omit it from the recipe completely. If you omit it, taste the sauce and add more salt if needed. Fish sauce is salty, so you'll need to add more salt to compensate.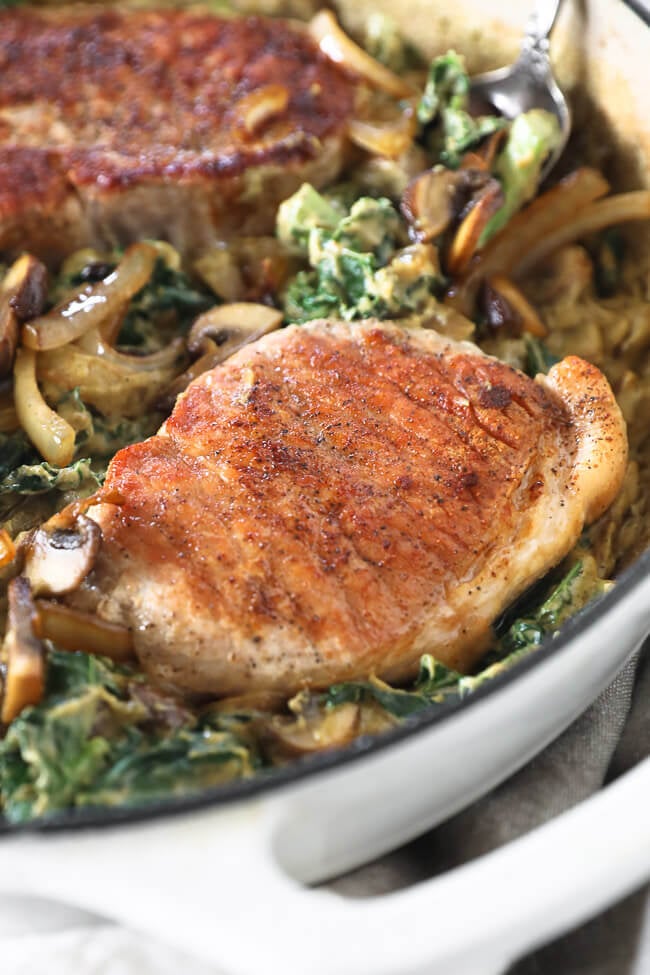 Tips for cooking pork chops
Pork chops are easy to cook, but they are also easy to overcook. If you overcook them, they will become dry and tough. So how do you get them cooked just the right amount?
Adjust the cooking time in the recipe if you have pork chops that are bone in, thinner than one inch or thicker than one inch (see recipe notes).
Watch them carefully after flipping. They may only need a couple of minutes after being flipped over (again, depending on the thickness).
Use a meat thermometer. Pork chops should be cooked to an internal temperature of 145° Fahrenheit.
When in doubt, slice one of the chops open with a knife. If it's still pink in the middle cook it a little longer until the pink is just turning to white.
Other healthy comfort food recipes
Your turn to try these creamy pork chops
I have a feeling that this will be your new favorite pork chop recipe! Make it for your family and see what they think about the creamy sauce over the seared pork chops. Leave a comment below, and let us know how it goes. Also, take a pic to share on Instagram. Tag us @realsimplegood, we love to see what you're cooking!
---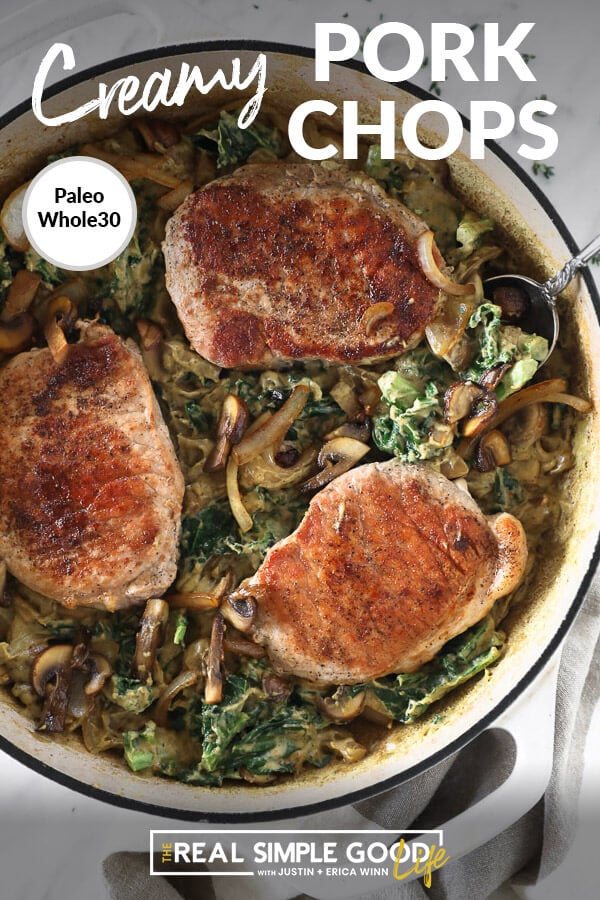 ---
Like this Recipe?
SHARE IT NOW OR PIN IT FOR LATER!
---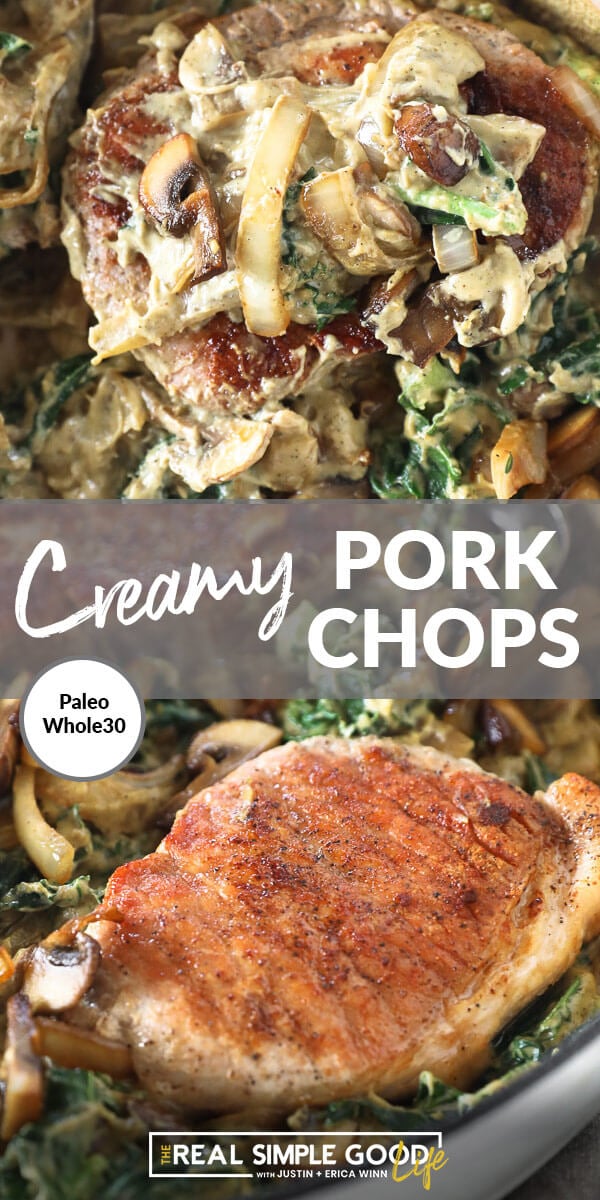 ---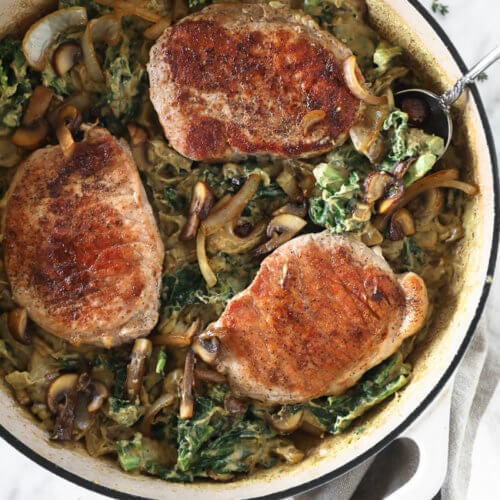 Get the Recipe:
30-Minute Skillet Creamy Pork Chops (Dairy-Free)
Perfectly seared pork chops smothered in a creamy dairy-free sauce mixed with onions and mushrooms. These creamy pork chops are the ultimate healthy comfort food and are also gluten-free, Paleo and Whole30.
Ingredients
For the sauce:
1 cup raw whole cashews
1/2 lemon, juice of
1 cup chicken broth, (plus more if desired to thin the sauce, see step #6)
1 tbsp fresh thyme, (plus more for topping if desired)
1 tbsp nutritional yeast
2 tbsp yellow mustard, (or mustard of choice)
1 tbsp fish sauce
2 tsp Italian seasoning
1/2 tsp garlic powder
1/2 tsp ground black pepper
1/2 tsp sea salt
For the rest:
4 pork chops, about 1 inch thick , (see recipe notes)
1 tbsp ghee, (sub avocado or olive oil for dairy-free)
Salt and pepper
1 onion, diced
8 oz mushrooms, sliced
4 cups kale, roughly chopped, (or sub spinach, arugula or other greens)
Instructions
Make the sauce by placing all of the sauce ingredients in a high powered blender. Blend until smooth and creamy and set aside.

Prep onion, mushrooms, kale and thyme for topping (optional) as noted. Season pork chops with salt and pepper on both sides.

Heat a large skillet over medium and add 1 tbsp ghee. Once the ghee is hot and shimmering, add pork chops. Cook pork chops, undisturbed for about 4-5 minutes. Flip and cook for another 3-4 minutes, or until the chops are cooked to your liking. Remove from the skillet and set aside. Cover to keep warm. (See recipe notes)

If the skillet is dry, add another tbsp of ghee to the skillet. Add onion to cook, scraping up any bits from the bottom of the skillet. Cook, stirring occasionally, until the onions begin to soften, about 3 minutes.

Add mushrooms to the skillet. Cook for another 2-3 minutes, until the mushrooms shrink and soften.

Turn heat to medium-low and pour the sauce into the pan with the mushrooms and onions. Cook, stirring constantly for 2 minutes or so to warm the sauce. If the sauce is too thick, simply add in more chicken broth, 1-2 tbsp at a time to thin it out to your desired consistency.

Add the kale in and mix it in with the sauce. Cook another 1-2 minutes, until kale softens and wilts.

Nestle the pork chops back in with the chicken for a one pan serving option. Or, simply plate the pork chops and spoon sauce over the top. Top with optional fresh thyme if desired. Enjoy.
Notes
Depending on the thickness of your pork chops, you may need to adjust the cooking time noted in the recipe. This recipe is written for boneless pork chops about 1 inch thick. If you have thin chops they will cook quickly and thicker chops will take longer. Bone in chops tend to take a little longer to cook (approx 2-3 minutes per side). I prefer my chops juicy and not overcooked, so the recipe reflects that desired state. Adjust to suit your tastes.