We've been making at least one soup each week and with the chilly weather, it's one my favorite ways to stay cozy. This Paleo, Whole30 + Vegan curried butternut squash soup is dairy-free, creamy and full of flavor! Plus, it has the health benefits of curry spices and turmeric, all while being quick and easy to make in your Instant Pot!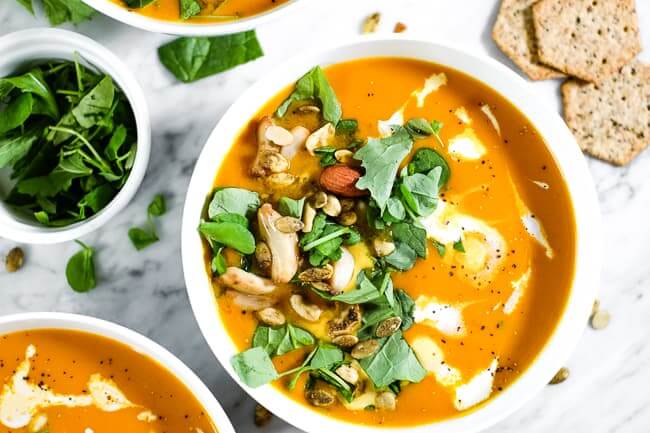 So Quick In The Instant Pot
The formal cooking time for this curried butternut squash soup is only 5 minutes at high pressure in your Instant Pot! What?! That's so fast! We love how quick and easy this one is to throw together. One note is that it does take about 10-15 minutes for the Instant Pot to build up pressure, so there's a little extra cooking time to consider. It kind of bugs me that most Instant Pot recipes just list "cooking time" but don't take into account the amount of time it takes to build up pressure in the pot. Anyway, that's a rant for another day I guess. All in all, you can expect to have this soup made in just about 35 minutes, and it tastes like you simmered it all day on your stove!
Tips For Peeling Butternut Squash
When I go to peel a butternut squash for this curried butternut squash soup (or any other recipe), I follow these steps. First, I cut off the ends of the squash so they are flat and there's no wiggling around. Next, I slice the squash in half lengthwise and scoop out the seeds. I like to use a paring knife to carefully slice along the outer edges in a downward motion to peel the skin off. Then, I chop each half into half moon shapes and cube it from there. It's not too hard and is really pretty quick once you get going, and after you've done it a time or two. If you're not feeling so confident with your knife skills, you can also look for pre-peeled and cubed butternut squash at your local grocery store. We can find it at Trader Joe's and Whole Foods where we live.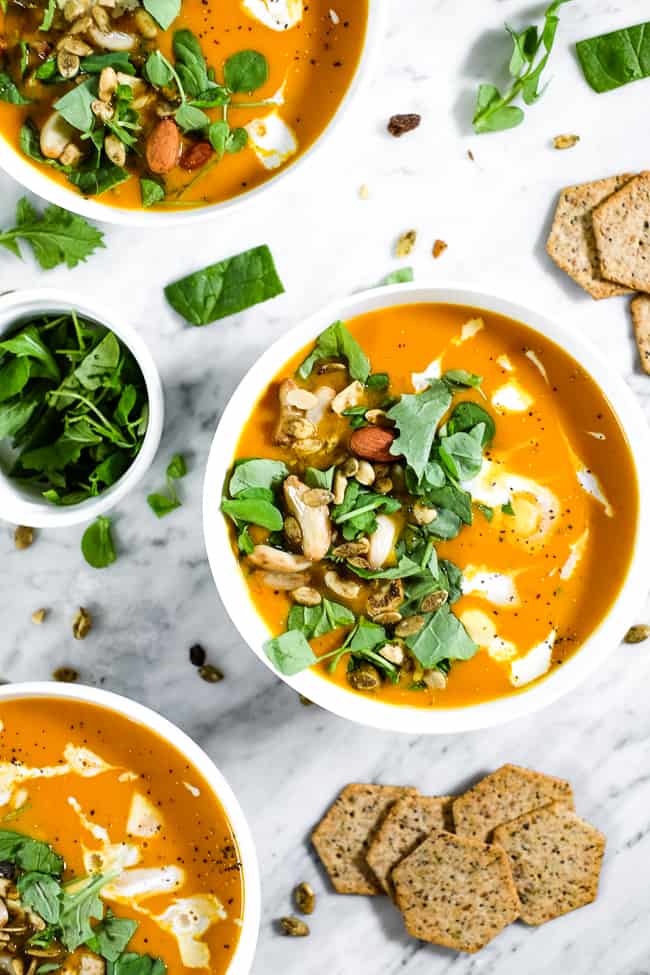 All The Toppings
If you've never tried adding toppings to your soup, you are 100% missing out! Just sayin. It adds texture, flavor, crunch and it's just fun and pretty, too! Some of my favorite toppings for this curried butternut squash soup are chopped greens – spicy ones and cilantro are my jam, roasted garlic, bacon (if you're not Vegan), chopped nuts or Lark Ellen Farm sprouted trail mix, a drizzle of more coconut milk and some fresh ground pepper. Soooo good!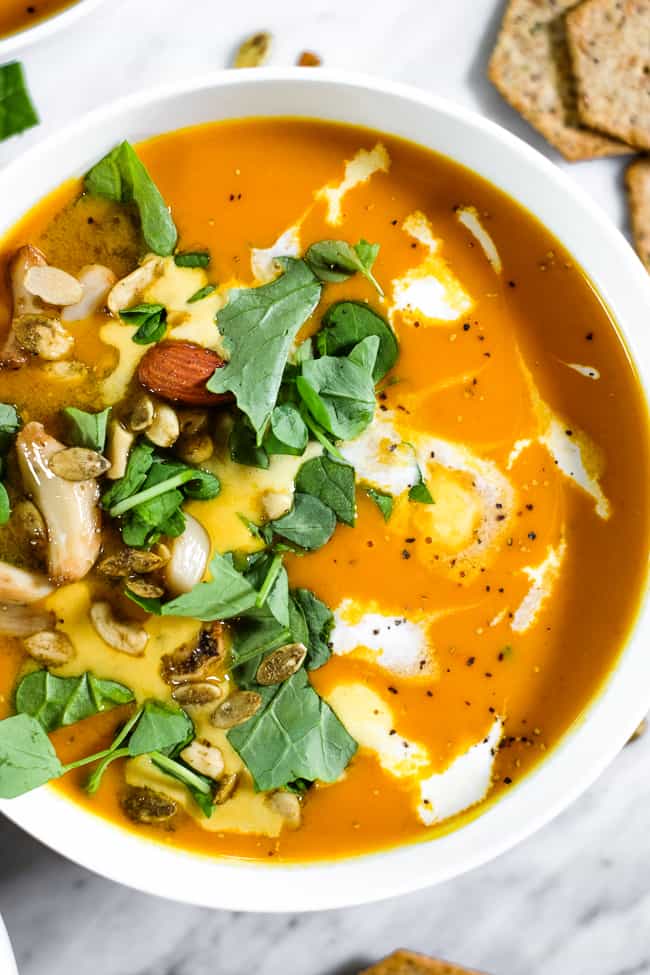 Some Other Soups To Try
Your Turn To Try Our Curried Butternut Squash Soup
Whether you are planning to make a big meal over the weekend or just need a quick and easy meal, make this curried butternut squash soup! It's been a favorite, cozy go-to for me so far this Fall and Winter! Leave a comment below to let us know how it goes, and take a pic to share on social media! Tag us on Instagram @realsimplegood, and give us a follow if you don't already! We'd love to stay connected!
LIKE THIS RECIPE? SHARE IT NOW OR PIN IT FOR LATER!
---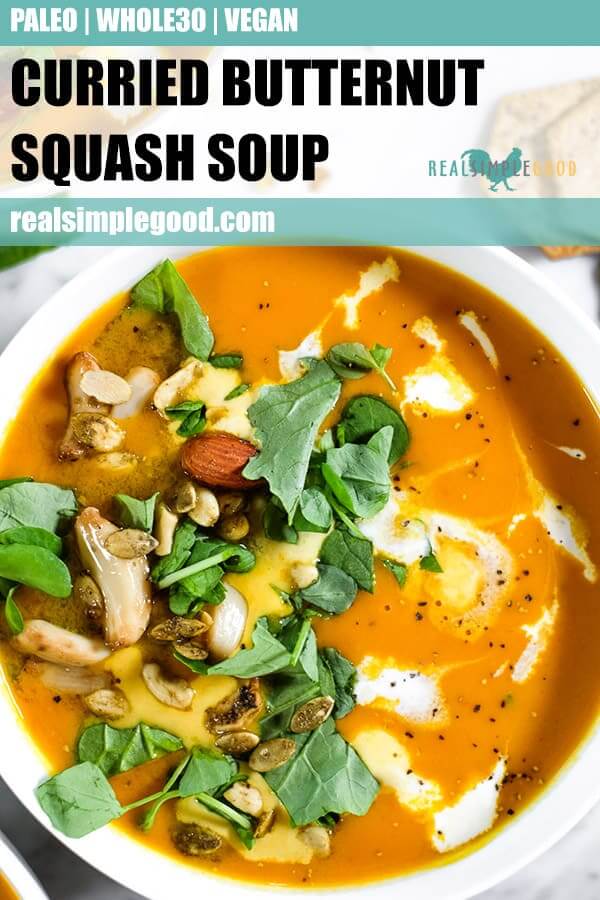 ---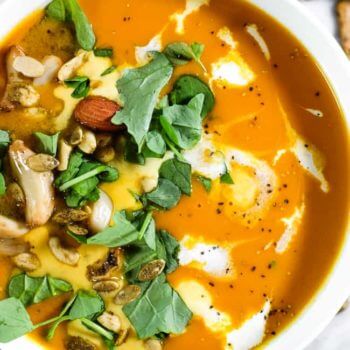 Get the Recipe:
Curried Butternut Squash Soup (Paleo, Whole30 + Vegan)
This Paleo, Whole30 + Vegan curried butternut squash soup is quick, easy, dairy-free, creamy and full of flavor! It has health benefits of curry spices too!
Ingredients
1 butternut squash, peeled and cubed, (about 3 pounds)
1 shallot, peeled and diced
4 cloves garlic, minced
1 tbsp coconut oil
2 tbsp red curry paste
1 tbsp tomato paste
1 tsp turmeric
4 cups chicken bone broth, (we love Osso Good Bones; sub veggie broth for Vegan)
1 cup full fat coconut, (plus more for topping)
Salt and pepper, to taste
Optional toppings:
Fresh cilantro, chopped
Chopped pistachios or other nuts
Fresh greens, chopped
Roasted garlic
Bacon bits
Kraut
Instructions
Cut ends off butternut squash and slice in half lengthwise. Remove seeds and then peel with a paring knife or peeler. Chop into cubes.

Prep shallot and garlic as noted. Press the "Sauté" button on the Instant Pot and add coconut oil. Once melted, add the shallot and cook, stirring occasionally for 3-4 minutes.

Add garlic, and cook until fragrant. Press the "Cancel/Keep Warm" button, and add the butternut squash, curry paste, tomato paste, turmeric and bone broth. Secure the lid on the Instant Pot and close the pressure valve. Press the "Manual" button or "Pressure Cook" and cook on high pressure for 5 minutes.

When the soup is done cooking, quick release the pressure. Blend the contents of the Instant Pot to a smooth consistency with an immersion blender (or carefully transfer contents to a blender and blend).


Stir in coconut milk. Taste and season with salt and pepper as desired. Ladle into bowls, and top with additional coconut milk, chopped cilantro and chopped pistachios.