We may not eat at the golden arches anymore, but we can still enjoy a healthy version of that special sauce! An easy 5 minute recipe, this low-carb copycat big mac sauce is so simple and delicious. Slather it on burgers or chicken, dress up a salad or dip some fries in it!
How to make big mac sauce
Spoiler alert – the McDonald's special sauce isn't really all that secret or special. It's not a complicated recipe, so it's easy to make a healthy homemade version with common ingredients from your pantry. Here's all you need:
The step-by-step instructions are about as easy as it gets:
Mix – Simply add the ingredients to a bowl or jar and whisk to mix.
Refrigerate – Cover and refrigerate for an hour or more allow the flavors to blend. You can serve immediately also if you can't wait.
Serve – Mix the sauce before serving. Slather it on burgers, use it for dipping or as dressing for a big mac salad.
Store Leftovers – Store any leftovers in an airtight container in the fridge for up to 2 weeks. Mix the sauce before serving.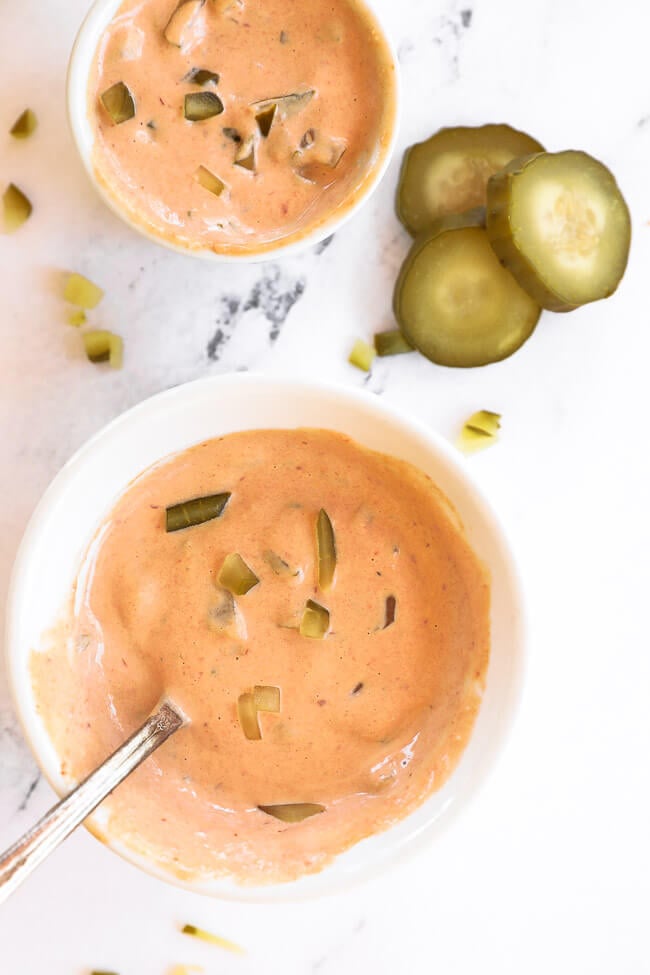 Making it healthy
Making this sauce healthy is actually pretty easy. With just a few tweaks to "common" ingredients that would normally go in a big mac sauce, we've made this recipe Paleo, Whole30 and Keto friendly!
Here are the swaps we made to make this recipe healthier.
Avocado oil instead of vegetable oil – Here is a link explaining the benefits of avocado oil. Here is another link explaining why you shouldn't eat highly processed industrial seed/vegetable oils.
Tomato paste, seasonings and vinegar instead of ketchup – Most of the ketchup bottles you find in the store are filled with sugar and other additives you don't need.
Dill pickle instead of sweet relish – Using a dill pickle eliminates the extra sugar you'd get in a sweet relish and adds a tangy flavor that's better than the original.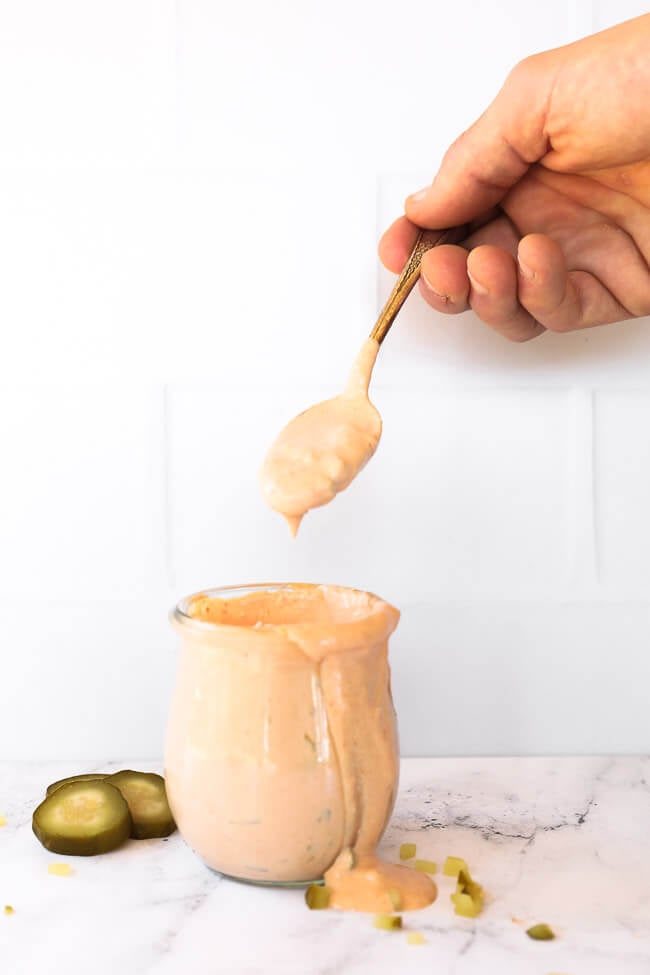 How to use this big mac sauce
The options for using this sauce are really endless, you'll be amazed at how quickly you go through a batch!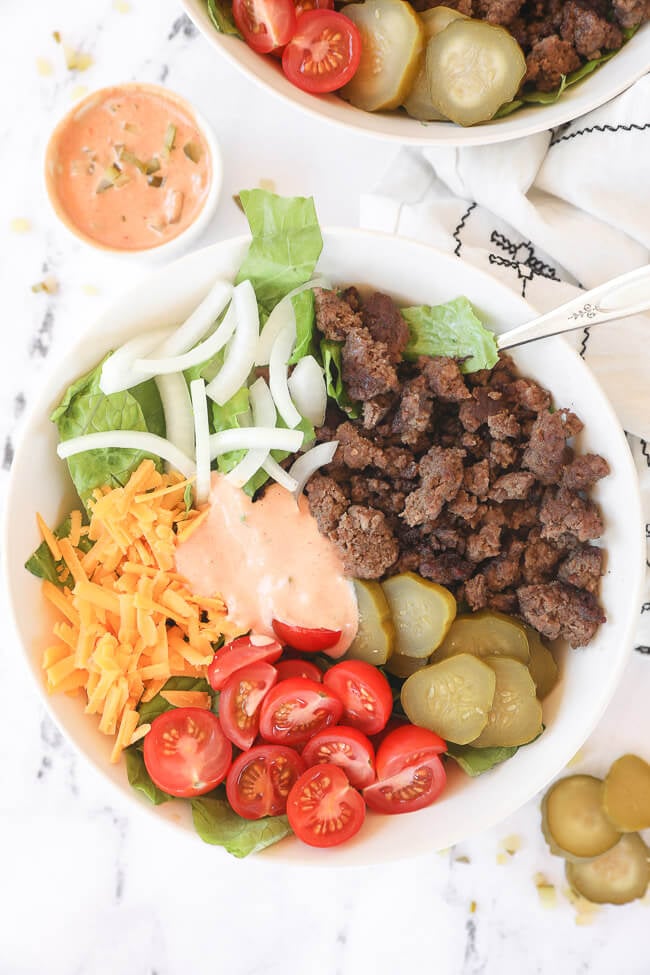 Your turn to try this copycat McDonald's special sauce
Get ready for this better than the real thing big mac sauce! Whip up a batch and get creative with how you use it. Let us know how it goes by leaving a comment below. Also, take a photo and tag us on Instagram @realsimplegood, we love to see what you are cooking!
---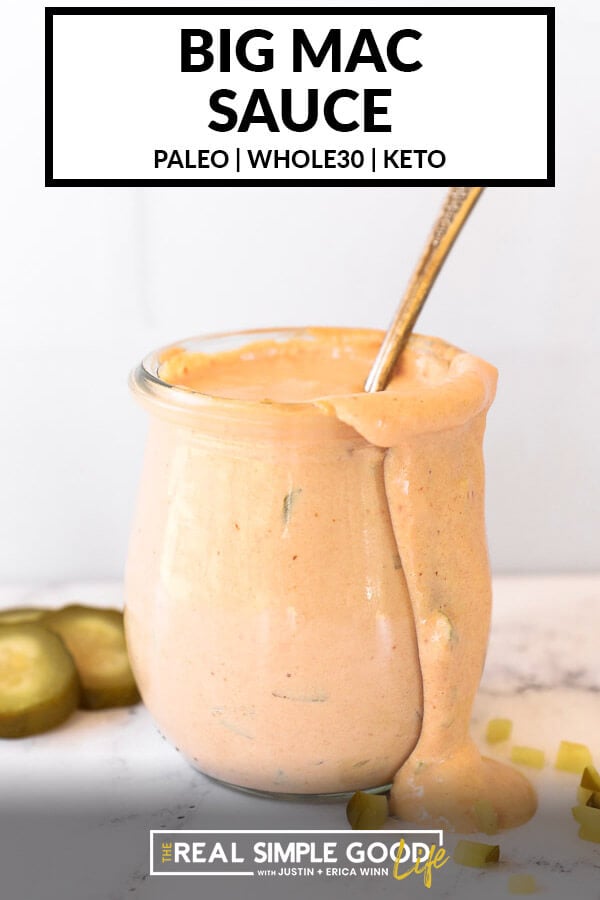 ---
Like this Recipe?
SHARE IT NOW OR PIN IT FOR LATER!
---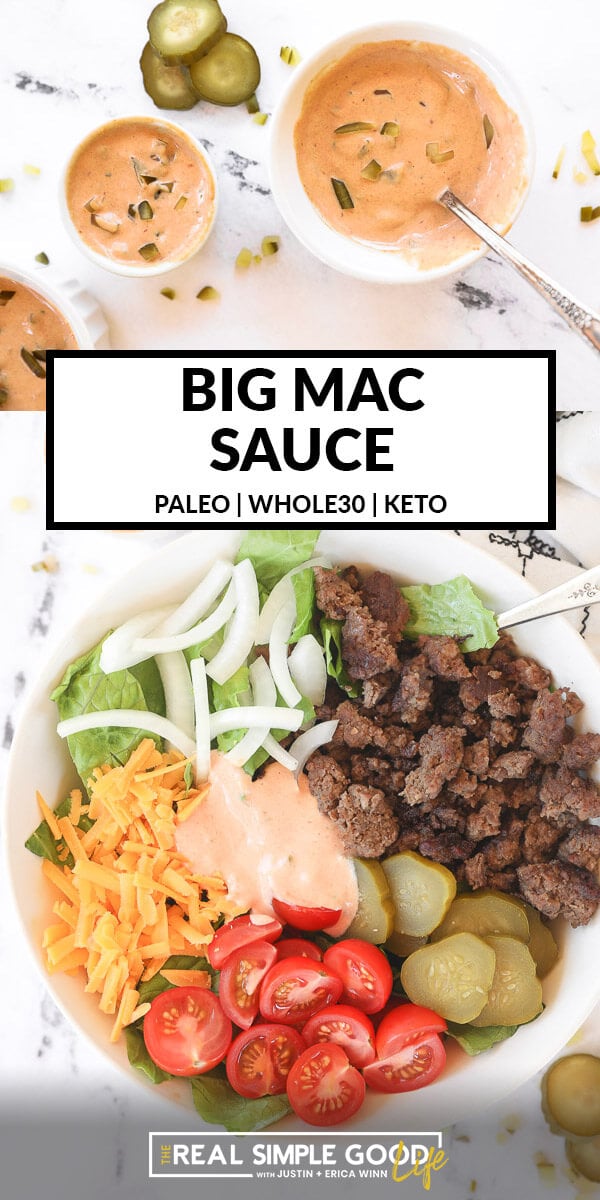 ---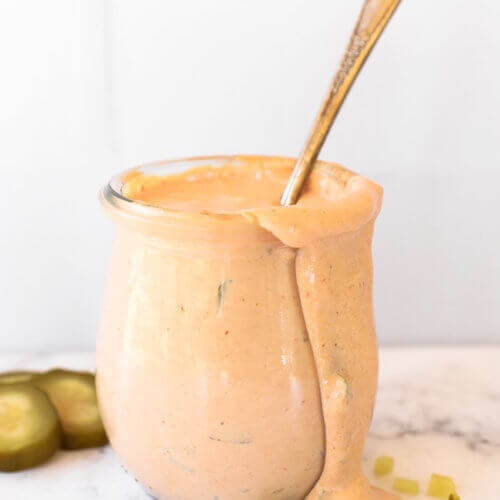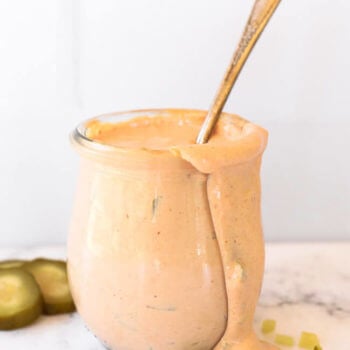 Get the Recipe:
Healthy, 5-Minute Big Mac Sauce (Copycat Recipe)
This healthy big mac sauce is a 5-minute recipe made with common pantry ingredients and avocado oil mayo. Use it on burgers, fries, salads or for dipping!
Ingredients
1 cup mayo
1/4 cup white vinegar
1/4 cup tomato paste
2 tsp mustard
1/2 tsp garlic powder
1/2 tsp onion powder
1 medium dill pickle, finely diced, (can sub relish)
Instructions
Combine all of the ingredients in a bowl or pint jar and mix well with a whisk. Cover and refrigerate for up to 2 weeks.
Notes
Nutrition facts are per serving (1 tbsp for this recipe) and are an estimate provided for those following a Ketogenic or low-carb diet. See our full nutrition information disclosure here. 
Calories: 58kcal, Carbohydrates: 1g, Protein: 1g, Fat: 6g, Saturated Fat: 1g, Fiber: 1g