Fall hit and ever since we've pretty much just been cooking up all the comfort foods and using our Instant Pot or Crockpot non-stop! This year pulled pork in the in the Instant Pot was a must, and we went all in with this Instant Pot Whole30 Pulled Pork with BBQ Sauce! You won't find a yummier Whole30 friendly BBQ sauce!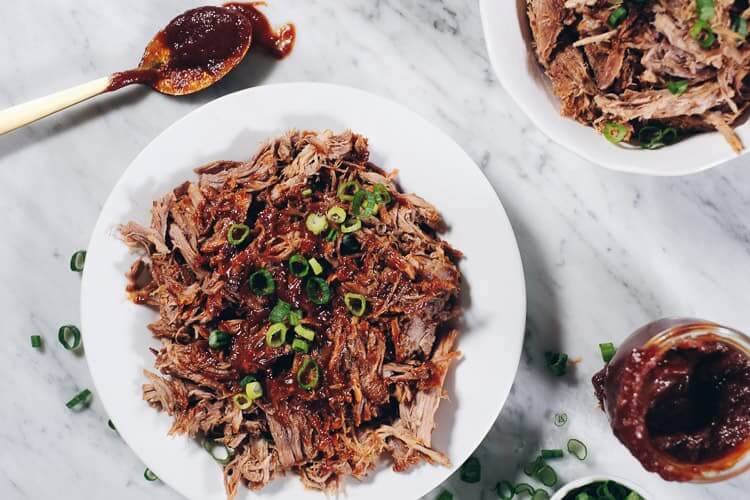 Do You Instant Pot?
We held out on getting an Instant Pot when they first started to gain popularity because we were pretty satisfied with our Crockpot and slow cooking. I mean what's not to love about the Crockpot, right? However, we passed up on the Black Friday deals for the Instant Pot, and then regretted it for an entire year! Ha! So, last year on Black Friday it was our main priority. It was a solid purchase, especially for speeding up the cooking time on something like this Whole30 pulled pork. We'd love to hear about some of your favorite Instant Pot recipes. And if you don't have an Instant Pot yet (this is the one we have), you should go ahead and pick one up, but in the meantime you can also make this Whole30 pulled pork in a Crockpot following these instructions.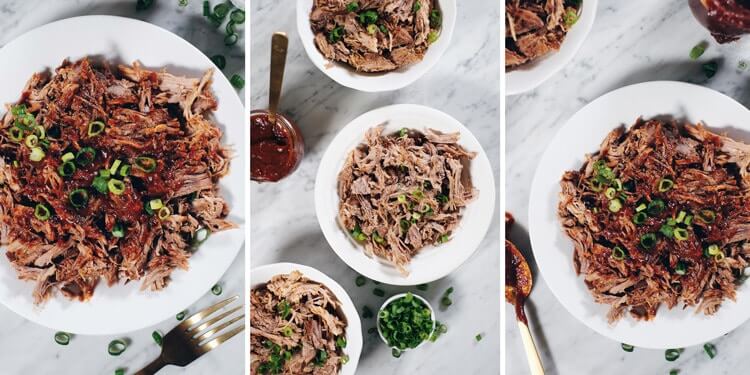 Whole30 BBQ Sauce
We love making sauces and marinades at home and find they actually taste so much better than store bought anyhow. Obviously the main benefit is that you get to control the ingredients, using only real food and ditching all of the added preservatives and fillers. If you are newer to making your own sauces or are just looking for some Paleo friendly recipes, make sure you check out our post 5 Easy Homemade Marinade Recipes. We actually have a BBQ sauce recipe in that post, but created a Whole30 compliant version for this Whole30 pulled pork, sweetened with dates. You will love the thick and rich texture and flavors of this sauce.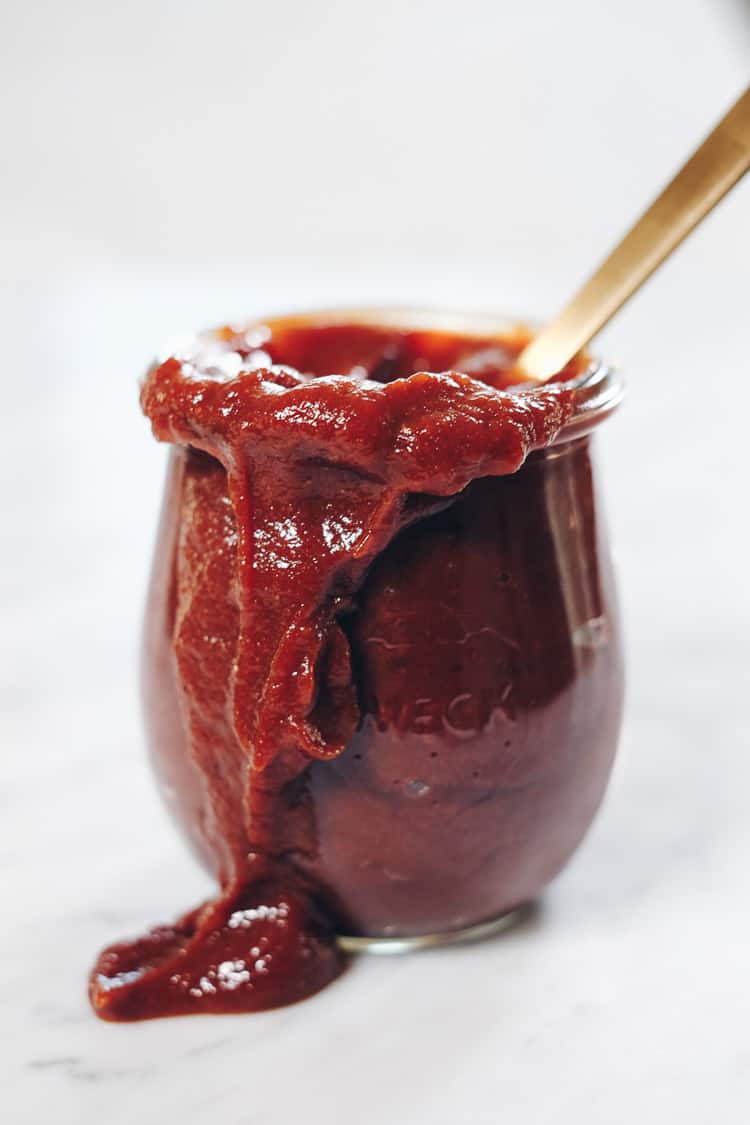 Our Favorite Ways To Enjoy This Instant Pot Whole30 Pulled Pork
We love pulled pork and will enjoy it just about any way we can! We love having it over greens and veggies with the BBQ sauce smothered all over. It's great between two smashed plantains used as a bun (see this recipe). Smashed plantain pulled pork sliders are pretty much life changing good! You could make pulled pork sandwiches using a gluten-free bread or roll and then mixing up a quick cole slaw to go with. You could even put the pulled pork into a soup or casserole. Seriously, there are so many options. What are some favorite ways you can think of to enjoy our Whole30 pulled pork?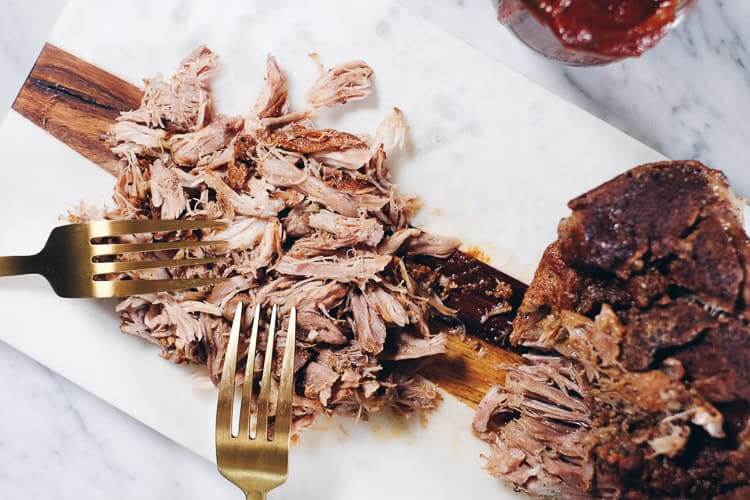 Crockpot Recipes That You Could Play With In The Instant Pot
Your Turn To Try Our Instant Pot Whole30 Pulled Pork With BBQ Sauce
If you haven't already, just go ahead and get an Instant Pot already! 😉 Then, make this Whole30 pulled pork with BBQ sauce! Let us know how it goes by leaving a comment below. Also, take a photo and tag us on Instagram @realsimplegood, so we can check it out!
---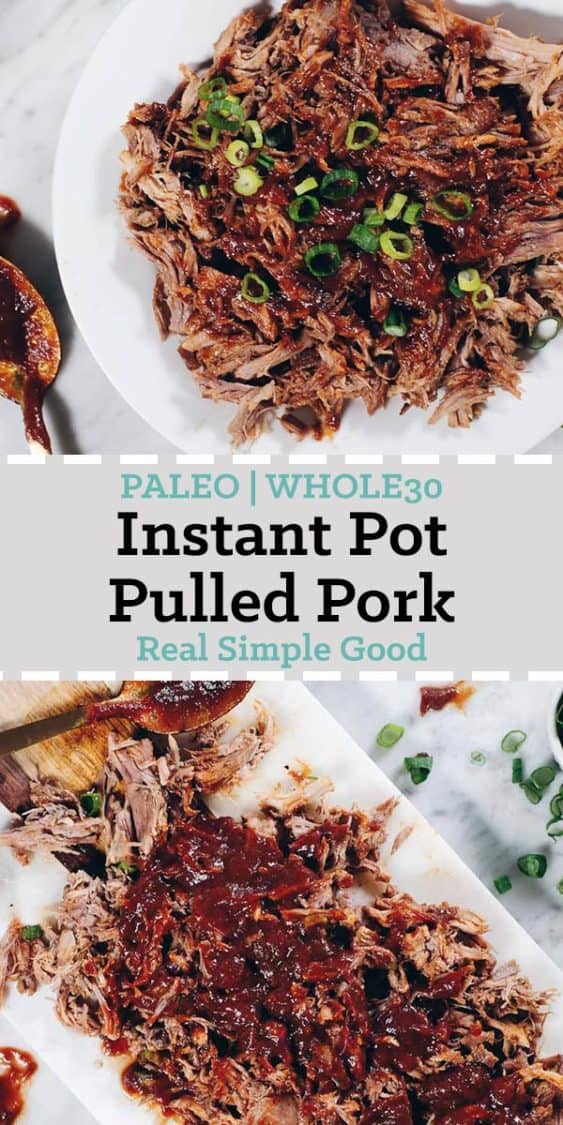 ---
Instant Pot Whole30 Pulled Pork With BBQ Sauce (Paleo + Whole30)
This Instant Pot Whole30 Pulled Pork with BBQ Sauce is the perfect way to utilize your Instant Pot! Also, we made the yummiest Whole30 friendly BBQ Sauce!

Print Recipe
Rate Recipe
Share by Email
Ingredients
4

lb

organic bone-in pork shoulder

1

tbsp

sea salt

1

tbsp

ground pepper

1

tbsp

garlic powder

1

tbsp

onion powder

1

tbsp

chili powder

1

tbsp

smoked paprika

2

cups

chicken stock

(or bone broth)
For the BBQ sauce:
1/4

cup

tomato paste

4-6

dates, soaked for 10-15 minutes in warm water to soften then drained

2

tsp

garlic powder

2

tsp

chili powder

1/2

cup

coconut aminos

(see recipe notes)
Want more recipes like this?
SIGN UP FOR OUR LATEST RECIPES:
Instructions
Place all of the seasonings in a small bowl and mix well to make the spice rub.

Cut your roast into two pieces if needed to make it more manageable and fit easily. Massage the spice rub all over the meat. You may have some left over if you have a smaller cut of meat.


Place the pork into the Instant Pot skin side up and pour the chicken stock in.


Cook for 90 minutes on the manual setting, with the vent closed.


Once you get the pork in the Instant Pot, make the BBQ sauce. Place all of the sauce ingredients in a blender or food processor and run continuously to combine all the ingredients until smooth. Stop to scrape sides down as needed and restart. Store in fridge until pork is done.

Once pork is done, let the pressure release naturally (about 10-15 minutes). Don't do a quick release.


Remove the pork from the Instant Pot and place it on a cutting board. Shred with two forks or tongs. Pour the sauce over the pork and mix it in. Serve and enjoy!