We love how quick and easy these Keto salmon patties are to make. You can make them for meal prep over the weekend to have on hand for weekday lunches, or they are great for an easy weeknight dinner. They're also Paleo + Whole30 friendly as well!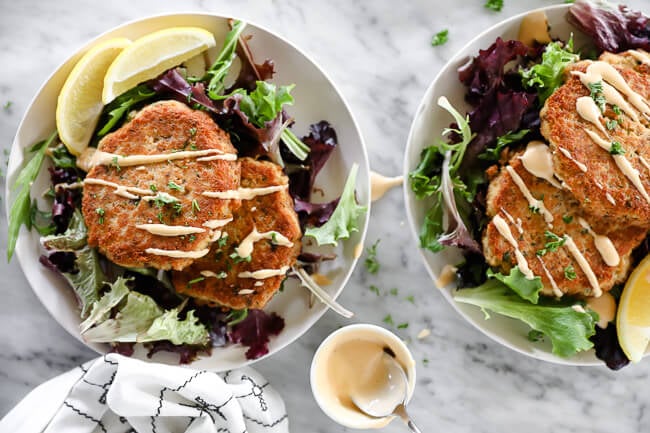 Some tricks for getting your salmon patties to stay together well
We use canned salmon to make these Keto salmon patties, and while you're mixing them up it can feel like they're going to be hard to get to stick together, so we've got some tips.
Mix everything up in a bowl with your hands, but don't over mix. Just combine the ingredients evenly and then set aside until you're ready to cook them on the stove.
Wait to form the salmon mixture into patties until right before you place them in the skillet. This will help you avoid over-handling them.
Let them cook up undisturbed for about 4 minutes before you try to flip them. As they develop a crispy outer crust, they will stick together better.
The eggs in the patties are optional, but it does help to bind them. It still works without, but they will tend to have a little more trouble staying together, so make sure to follow the tips above.
Making aioli at home
It's not scary – let's just get that out of the way! Don't be intimidated by the idea of making aioli at home. Some tips for making it at home are below.
Make sure you use a container or jar that is just slightly wider than your immersion blender. We use a wide-mouth pint jar.
When you start blending with the immersion blender, hold it at the bottom until the sauce turns thick and creamy. You'll see it change color and texture. After the bottom of the jar turns creamy, slowly move the blender up to the top of the jar. Plunge the blender slowly up and down a couple of times, and that's it!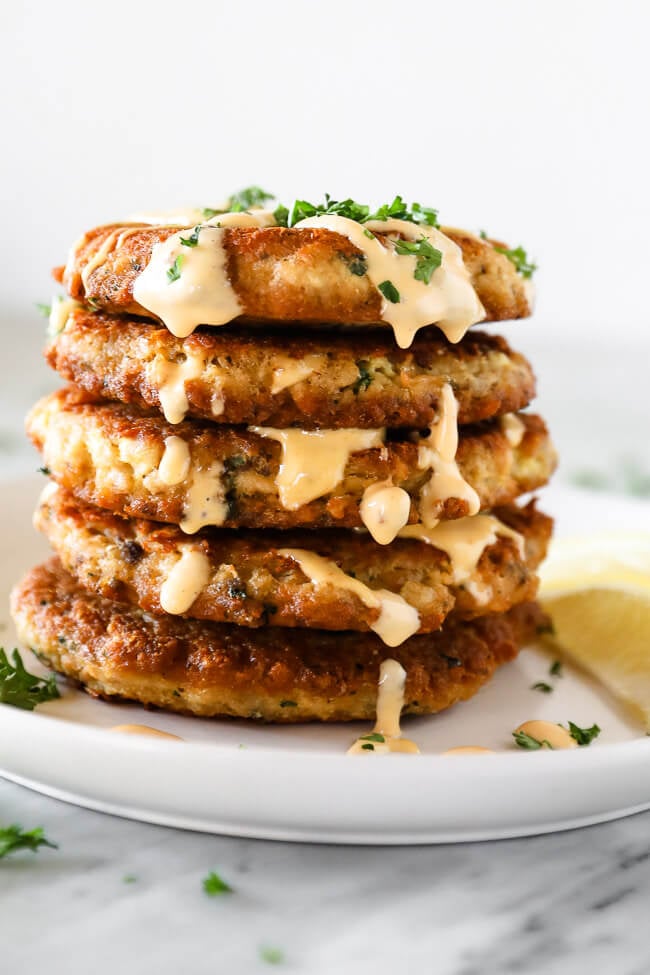 Why make your own sauces at home
We used to just buy mayo all the time at the store, and well….it's freaking expensive when you go through it quickly like we tend to and like you might as well. So, finally Justin decided to start making mayos, aioli sauces and other sauces, and we've saved a ton of money. It's fun playing with different flavor combinations and just feels good being more resourceful in the kitchen! You should really try, and we give you a simple spicy aioli recipe to go with these salmon patties. And here are some other homemade sauce and seasoning posts you might enjoy!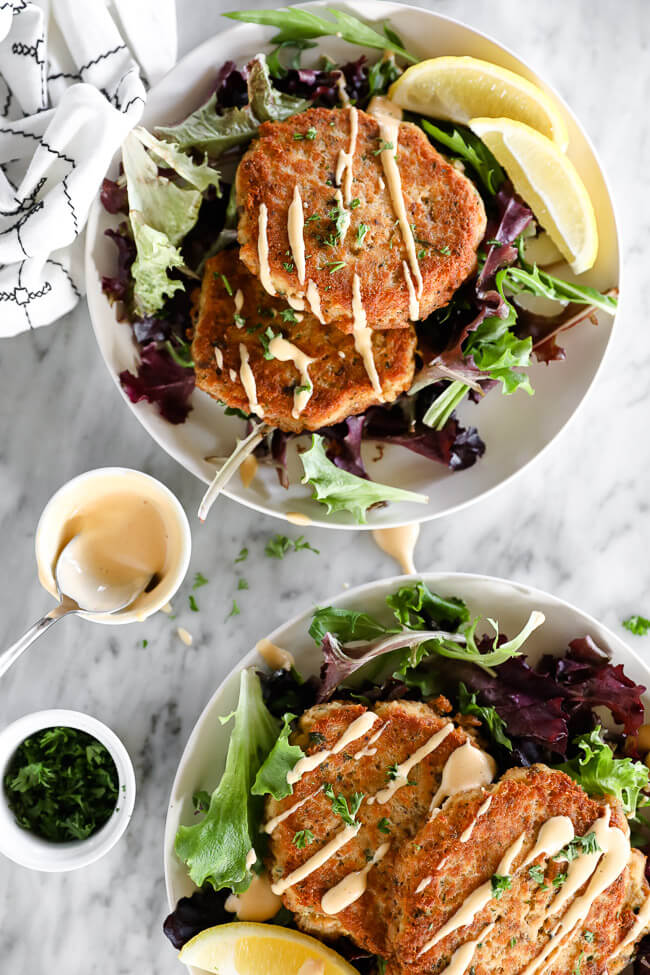 Your turn to make these Keto salmon patties and tasty spicy aioli sauce!
Want to prep some lunches or just need a quick and easy weeknight dinner!? Make these Keto salmon patties and pair them with some greens or roasted veggies. Leave a comment below to let us know how it goes. Also, take a pic to share on social media. Tag us @realsimplegood on Instagram so we can check it out. We love seeing what you're cooking, and sometimes we even share in our stories too! Make sure to give us a follow if you don't already – let's stay connected!
---
---
Like this Recipe?
SHARE IT NOW OR PIN IT FOR LATER!
---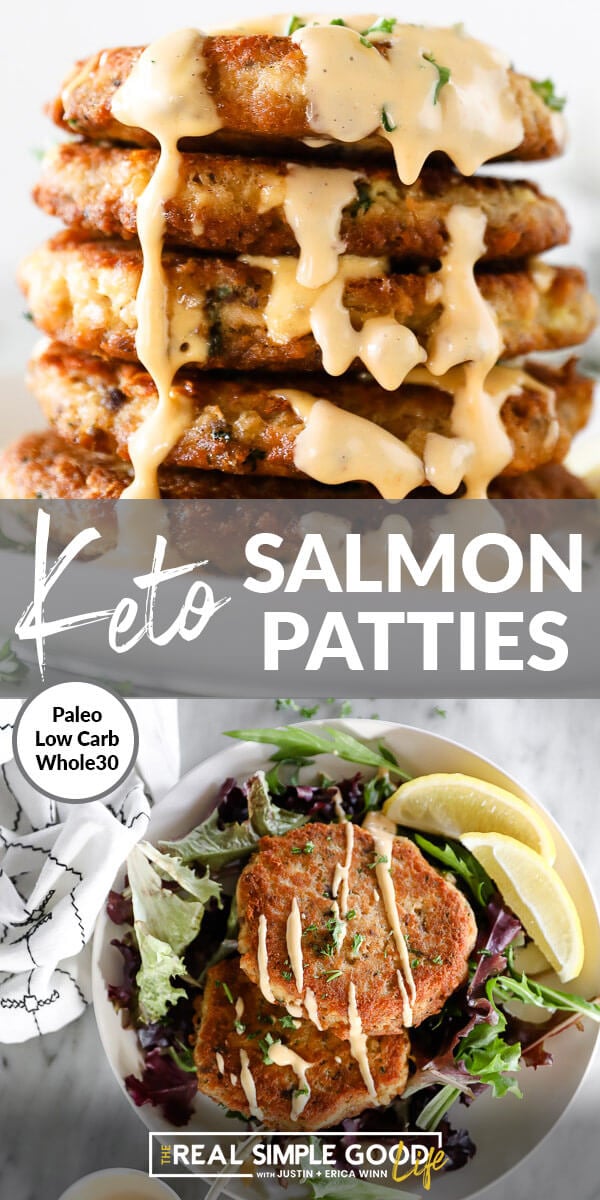 ---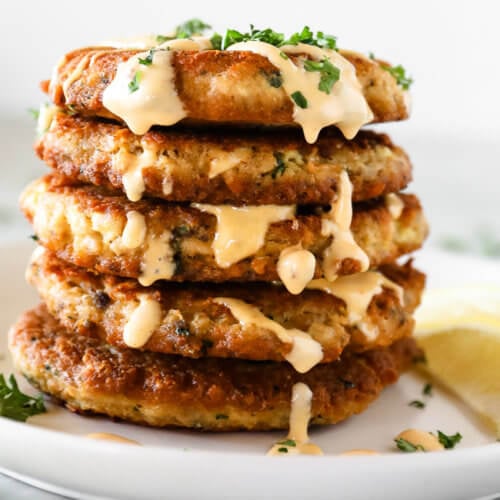 Get the Recipe:
Keto Salmon Patties (Paleo + Whole30)
We love how quick and easy these Keto salmon patties are to make. Great for meal prep or an easy weeknight dinner. Paleo + Whole30 friendly as well!
Ingredients
4 cans wild salmon, drained, (6 oz cans)
2 eggs, (optional)
2 tbsp arrowroot flour
2 cloves garlic, minced, (or sub about 1 tbsp garlic oil)
2 tbsp parsley, finely diced
1 lemon, juice and zest
1 tsp sea salt
1 tsp ground black pepper
2 tbsp avocado oil
For the spicy aioli:
3/4 cup avocado oil
1 eggs
1/4 tsp sea salt
1/2 tsp mustard powder
1 tbsp hot sauce, (more or less to taste)
Instructions
Place all of the sauce ingredients in a pint jar or 2 cup pyrex measuring cup. You want a container just wide enough for your immersion blender and this recipe was created specifically to fit a wide mouth pint jar.

Place the immersion blender at the bottom of the container. Start blending while holding the blender at the bottom. Don't move the blender from the bottom until the sauce begins to emulsify and thicken. Once it starts to thicken, slowly move the immersion blender to the top until all of the oil is completely mixed in. It should result in a thick, mayo-like sauce. You will have extra sauce, and you're goint to want to put it on everything!

For the salmon patties, prep garlic, parsley and lemon as noted. Add all of the ingredients for the salmon patties, except the avocado oil, to a medium size bowl. Mix everything together with your hands, but avoid overmixing, just combine the ingredients evenly.

Heat a large skillet over medium heat and add 1 tbsp avocado oil.

Once the skillet is hot, form salmon into patties and place in the skillet to cook. Cook, without disturbing, for 3-4 minutes on each side, until golden brown on the outside. If you need to cook in batches, wait to form into patties until right when you drop them in the pan and add more oil between batches.

Drizzle some of the sauce over the salmon patties and enjoy. We like to serve them over a bed of green or with roasted veggies and cauliflower rice.
Notes
Nutrition facts are an estimate provided for those following a Ketogenic or low-carb diet and do not include the topping/serving items for this recipe. See our full nutrition information disclosure here. 
Calories: 485kcal, Carbohydrates: 4g, Protein: 29g, Fat: 40g, Saturated Fat: 5g, Fiber: 1g